#1138: Tell Me That You Love Me by Paul Anka
Peak Month: November 1957
8 weeks on CKWX chart
Peak Position #15
Peak Position on Billboard Hot 100 ~ did not chart
YouTube.com: "Tell Me That You Love Me"
Lyrics: "Tell Me That You Love Me"
Paul Anka was 16 years old when he had a number one hit with "Diana" in 1957, a song he wrote about a girl in the church he attended. (Diana Ayoub, who inspired Anka to write the song, died in December 2022). He continued to have a string of Top Ten and Top 20 hits into 1963 in Canada, the United States, the UK and Italy. But with the British Invasion, Paul Anka was sidelined not to return to the pop charts until his #1 hit in 1974, "You're Having My Baby". The song was a duet with Odia Coates. The duo enjoyed a string of Top 20 hits in Canada and the USA including 1974's "One Man Woman/One Woman Man" and 1975's "I Don't Like To Sleep Alone" and "(I Believe) There's Nothing Stronger Than Our Love".

Paul Anka was born in Ottawa, Canada, in 1941. His father was Syrian-American and his mother was Canadian-Lebanese. His career has included writing songs for others. "She's A Lady" became a signature song for Tom Jones. He also wrote the English lyrics to "My Way" for Frank Sinatra. He appeared in his first movie in 1958, Let's Rock, a movie about the new rock 'n roll phenomenon, and in the 1962 army film, The Longest Day. Anka also appeared in the 1960-61 NBC crime series, Dan Raven, in a cameo as himself. Anka also wrote the The Tonight Show with Johnny Carson Theme Song, reworked from Anka's earlier recording of "Toot Sweet".
Between August 1957, with his debut of "Diana", and the spring of 1961, Paul Anka had charted sixteen singles into the Top 30 of the Billboard Hot 100. These include "Put Your Head On My Shoulder" and "Lonely Boy". On October 23, 1957, Paul Anka appeared in concert at the Georgia Auditorium in Vancouver. Others on the stage included Buddy Holly and The Crickets, Buddy Knox, Eddie Cochran and Frankie Lymon and the Teenagers.
Twelve other single releases in this timeframe were less successful. With such a parade of single releases Anka kept himself on the pop charts constantly 'til 1961 and sporadically into 1963. For most radio markets his follow up hit was "You Are My Destiny". However, in Vancouver, Ottawa (#2), Hull, Quebec (#1), and the United Kingdom (#25), Anka charted "Tell Me That You Love Me" in the fall of 1957, prior to the chart run of "You Are My Destiny" that began in December 1957.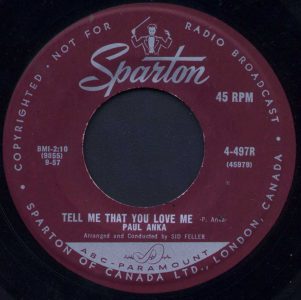 "Tell Me That You Love Me" is a song expressing the need for assurance from a love interest that the feelings of love are mutual. The issue of reciprocity is central to love and romance. Mutual attraction is for both males and females a most highly valued characteristic in a potential mate. People like to hear that they are desired. The lover wants to be loved in return, to be kissed as well as to kiss. The lover is ready to be committed, but expects to find similar commitment in the beloved's attitude. The lack of reciprocity, that is, the knowledge that you are not loved by your beloved, usually leads to a decrease in love intensity, and ultimately, to rejection (even in some cases humiliation). This decrease does not tend to be immediate. The one suffering from unrequited love persists in trying to win the other's heart. Indeed, many books, plays and movies feature as their theme aspiring lovers persisting doggedly to win the hearts of their beloved. In some cases, love may even briefly intensify while one tries to win the other's heart.
A comic treatment of unrequited love is found in William Shakespeare's The Merry Wives of Windsor. Falstaff arrives in Windsor very short on money. He decides, to obtain financial advantage, that he will court two wealthy married women, Mistress Ford and Mistress Page. Falstaff decides to send the women identical love letters and asks his servants – Pistol and Nym – to deliver them to the wives. When they refuse, Falstaff sacks them, and, in revenge, the men tell Ford and Page (the husbands) of Falstaff's intentions. Page is not concerned, but the jealous Ford persuades the Host of the Garter Inn to introduce him to Falstaff as a 'Master Brook' so that he can find out Falstaff's plans. When Mistress Page and Mistress Ford each receive their letters from Falstaff, each goes to tell the other. They quickly find that the letters are almost identical. The "merry wives" are not interested in the ageing, overweight Falstaff as a suitor. However, for the sake of their own amusement and to gain revenge for his indecent assumptions towards them both, they pretend to respond to his advances. This all results in great embarrassment for Falstaff as the plot unfolds over the course of the play.
In light of the reciprocal nature of romantic love, a major characteristic of love is the lack of indifference. Indifference expresses the absence of any expressed preference for a suitor and corresponds to the absence of emotional sensitivity. Therefore, people in love prefer to be hurt by the beloved rather than treated indifferently. There is a saying that it is better to break someone's heart than to do nothing with it. In her 1962 Top Ten hit, "Second Hand Love," Connie Francis sings "I'd rather have this kind of (second hand) love than not see you at all/My friends all say I'm better off if we should drift apart/But every day I hope and pray I'll be first in your heart."
After "Tell Me That You Love Me", Paul Anka had not only an ascendant pop music career. He began starring in numbers of movies. These include cameo appearances singing them songs like "Adam And Eve" in The Private Lives of Adam And Eve in 1960. In 1961 Anka also starred in the movie, Look in Any Window, where he played a peeping tom. He also appeared in an episode of the Danny Thomas Show in April of '61. As well, he starred that year as himself in a documentary called The Seasons of Youth.
Though he experienced a downturn in success on the pop charts after the early 60s, he was a much sought-after performer. From April 16-26th, 1966, Paul Anka gave eleven consecutive concerts at The Cave in Vancouver.
Anka later would appear in The Red Skelton Show in 1965 and the crime series, Kojak, in 1974. In late summer 1974, Paul Anka and Odia Coates duet "You're Having My Baby" climbed to #1 for three weeks on the Billboard Hot 100. Anka performed in concert at the Pacific Coliseum on August 25, 1977.
In 1982 he hosted his own entertainment series called The Paul Anka Show. Anka has been a guest in countless TV shows including The Gilmore Girls. In 2005 Paul Anka released his 25th studio album, Rock Swings. It was a collection of covers of 1980's-90's pop-rock hits, including Spandau Ballet's "True", The Pet Shop Boys "It's A Sin" and Eric Clapton's "Tears In Heaven". After his album was released, Anka was given a star on Canada's Walk of Fame in Toronto. In 2006, Paul Anka recorded a duet with Italian 60's pop singer Adriano Celentano with a new version of "Diana". The song went to #3 on the Italian pop charts.
On October 4, 2007, Paul Anka appeared in concert at the Centre for Performing Arts in Vancouver.
In 2013 Anka recorded his 28th studio album, Duets, to celebrate 55 years in the music business. On the album he sings duets with Willie Nelson, Dolly Parton, Celine Dion, Tom Jones, Leon Russell, Patti LaBelle, George Benson and others. On August 28, 2015, Anka returned to the Vancouver suburb of Coquitlam to perform at the Hard Rock Casino. As of June 2017, Paul Anka continues to perform in concert and currently has sixteen upcoming shows on his website's concert schedule in places like Savannah (GA), Reno (NV) and Palm Desert (CA).
June 4, 2017
Ray McGinnis
References:
Heidi Parker, "He's Married Again! Paul Anka, 75, Weds His Girlfriend of Six Years In Beverly Hills With Mogul Pal Warren Buffet in Attendance," Daily Mail, London, UK, October 29, 2016.
Jay Weston, "Paul Anka's "My Way," Reviewed From the Inside!," Huffington Post, December 6, 2017.
Paul Anka bio, Capitolint.com.
Harry Foster, Let's Rock, Columbia Pictures, 1958.
Charles F. Haas, Girls Town, Metro-Goldwyn-Mayer, 1959
Mickey Rooney, The Private Lives of Adam And Eve, Universal Pictures, 1960
"The Real Paul Anka," The Gilmore Girls, The WB Network, 2006
Dan Raven, NBC, 1961
Paul Anka, "Red Roses For A Blue Lady," The Red Skelton Hour, CBS, 1965
"Tonight My Love, Tonight," Danny Thomas Show, ABC, 1961
William Shakespeare, "The Merry Wives of Windsor".
"Diana Ayoub, Ottawa woman who inspired Anka hit, dead at 83," CBC, December 6, 2022.
"CKWX Top 50," CKWX 1130 AM, Vancouver, BC, November 10, 1957.
For more song reviews on this website visit the Countdown.