#1210: That's When Your Heartaches Begin by Elvis Presley
Peak Month: April 1957
3 weeks on Vancouver's Red Robinson chart
Peak Position #4
Peak Position on Billboard Hot 100 ~ #58
YouTube.com: "That's When Your Heartaches Begin"
Lyrics: "That's When Your Heartaches Begin"
On July 18, 1953, Elvis Presley recorded "That's When Your Heartaches Begin" at a Sun Records session in Memphis, Tennessee. He paid $3.98 ($35.26 in 2017 dollars) for studio time to allow recording of a double-sided single. The demo he recorded at the time he was 18 years old. On the A-side, he recorded "My Happiness", later made famous by Connie Francis in 1958. He would later revisit the song on at least two occasions. The first was as the 38th of 47 songs recorded on December 4, 1956, during the Million Dollar Quartet sessions on December 4, 1956. In these sessions Elvis is one of four musicians playing along with Carl Perkins, Jerry Lee Lewis and Johnny Cash. His final version of the song was recorded at the Radio Recorders Studio on Santa Monica Boulevard in Los Angeles on January 13, 1957. It was the B-side to "All Shook Up".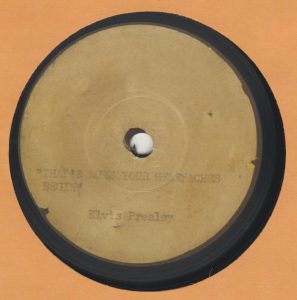 The original demo for "That's When Your Heartaches Begin" by Elvis at Sun Records in '53 is pictured above. Author, Brian Tarling, of Vancouver's Charted Songs has written that the "Presley's could not afford and did not own a record player at that time. Elvis left Sun with the record and went to his friend's (Ed Leek) house to listen to it. He left the record at Leek's house and never listened to it again. A few years later, Leek realized he had a valuable record and stored it in a safe. In the late 80's Leek approach Sun and sold the right to the recordings (both sides) but not the record itself. Sun immediately contacted RCA Victor records and RCA acquired the rights via license from SUN in respect to My Happiness. The song was released by RCA in 1990 on the album Great Performances. Subsequently RCA acquired from Sun the rights to "That's When Your Heartaches Begin." It was first released in 1992 on the 5 CD box set 'Elvis The King Of Rock 'N' Roll The Complete 50's Masters'. I'm not sure when Ed Leek passed away, but presumably no later than 2014. His niece, Lorina Hilburn, auctioned the record at Graceland in early 2015. Jack White, owner of Third Man Records, was the successful bidder ($300,000 US funds)."
The song was originally recorded by Shep Fields and his Rippling Rhythm Orchestra in 1937.
The song was written by Fred Fisher, William Raskin and George Brown. Fisher was born as Alfred Breitenbach in Cologne. His parents were Max and Theodora Breitenbach. After visiting the United States in 1892, he immigrated in 1900, where he adopted the name Fred Fischer. In 1905 he wrote one of the popular "Coon Songs" of the Jim Crow era with its racial stereotyping of African-Americans called "If The Man In The Moon Were A Coon". The song argued that the Man in the Moon must be white.
The song sold three million sales in sheet music in 1905-07 when the population of America was around 84 million. Compared to present-day America with a population of about 327 million, Fisher's 1905 "Coon Song" did as well as a song today that might achieve sales of over 12 million digital sales. The origins of the idea of a man (or a race of men) in the moon dates back at least to a late 1620s novel by English writer Francis Godwin called The Man in the Moone, about a utopian paradise and a race of people who lived on the moon called the Lunars.
With his share of proceeds from three million sales of sheet music for "If the Man in the Moon Were a Coon," Fisher founded the Fred Fischer Music Publishing Company in 1907. Fisher went on to write a Top Ten hit in 1919-20 called "Dardanella". His 1913 composition called "Peg O' My Heart" later ended up being a #4 hit for Buddy Clark in 1947. Fisher's "Chicago" was popularized by Frank Sinatra 35 years later in 1957.
Fisher's co-writer for "That's When Your Heartaches Begin", George Brown, was the pseudonym for Billy Hill. Hill also wrote "Empty Saddles (In The Old Corral)" for Bing Crosby, "In The Chapel In The Moonlight" a Top Ten hit for Kitty Kallen in 1954. Hill also composed "There's A Cabin In The Pines" recorded by Louis Armstrong, Bing Crosby and others. A third co-writer, William Raskin, does not appear in any Internet search.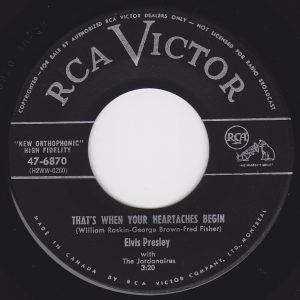 Clearly, a love triangle was a recipe for heartache, and Elvis' recording struck a chord with Vancouver record buyers, as well as the even more popular A-side, "All Shook Up". Elvis' version of "That's When Your Heartaches Begin" showcased a mix of both sung and spoken lyrics. He would make use of this approach to singing a song in his #1 hit of 1960, "Are You Lonesome Tonight".
According to author Mark Lewisohn in The Complete Beatles Chronicles, The Beatles performed "That's When Your Heartaches Begin" live between the years 1959 and 1961. They performed the song in Liverpool, UK, and Hamburg, Germany, with Paul McCartney on lead vocal. In his book The Beatles: The Ultimate Recording Guide, Allen J. Weiner comments that a recording from a 1960 home rehearsal existed. It has been released on pirated recordings.
1957 was a very good year for "the king of rock 'n roll" in Vancouver. He began the year with the single "Poor Boy" at #1 on January 4th, ending its fourth week topping the chart. Then on February 1st "Too Much" landed at #1 on Red Robinson's charts for five weeks. On March 22 "All Shook Up" started a ten week run at #1. Shortly after, "(Let Me Be Your) Teddy Bear" climbed to #1 on June 14 and stayed on top for four weeks. This was replaced by "Mean Woman Blues" that kept the top spot for ten weeks. Only the Everly Brothers managed to bump Elvis out of the #1 spot for a week with "Wake Up Little Susie". Then "Jailhouse Rock" knocked off the Everly Brothers and was #1 in Vancouver for seven weeks. Elvis replaced himself on the Vancouver charts on November 18th with "You're So Square (Baby I Don't Care)". In all Elvis was on top of either Red Robinson's Teen Canteen charts or the CKWX charts for 41 of 52 weeks during 1957. Consider too that from September 14, 1956, to December 28, 1956, Elvis Presley had one of his singles at the top of Red Robinson's Teen Canteen chart for 15 of 16 weeks. (The only other song to top the Vancouver charts in the fall of 1956 was "Green Door" by Jim Lowe & the High Fives). In total, Elvis Presley had 24 charted songs in the Top Ten in Vancouver during 1957, an amazing feat. "That's When Your Heartaches Begin" was in good company.
January 23, 2017
Ray McGinnis
References:
Elvis Presley bio, Rolling Stone, New York, NY.
She Fields and his Rippling Rhythm Orchestra, "That's When Your Heartaches Begin," Bluebird, 1937
Elvis Presley, "That's When Your Heartaches Begin," Sun Records, 1953
Lichter, Paul. The Boy Who Dared to Rock: The Definitive Elvis. Garden City, NY, Dolphin Books, 1978.
Elizabeth Nix, 7 Fascinating Facts About Elvis Presley, History.com, July 1, 2014
Sauers, Wendy. Elvis Presley: A Complete Reference. Jefferson, NC: McFarland, 1984.
Danny Collins and Sophie Roberts, Found Dog? Why do people think Elvis Presley is still alive, where have the latest sightings been and when did The King die?, The Sun, London, UK, November 7, 2017.
Doll, Susan M. Understanding Elvis: Southern Roots vs. Star Image (Studies in American Popular History and Culture). Routledge, Abingdon, UK, 2017.
Lewisohn, Mark. The Complete Beatles Chronicles. London, UK, Hamlyn, 2000.
Weiner, Allen J. The Beatles: The Ultimate Recording Guide. Checkmark Books, New York, NY, 1992.
Fred Fisher bio, Songwriters Hall of Fame.
If The Man In The Moon Were A Coon, Weird Universe.com
If The Man In The Moon Were A Coon, Song Facts.com
Coon Songs and Racial Stereotypes in American Popular Song, Parlor Songs.com
Ada Jones, "If the Man in the Moon were a Coon," 1906
The Last Round-Up – A Tribute to Billy Hill, American Music Preservation.com, 2006.
email from Brian Tarling of Vancouver's Charted Songs
For more song reviews visit the Countdown.