#205: The Boy Next Door by the Secrets
Peak Month: January 1964
12 weeks on Vancouver's CFUN chart
Peak Position #2
Peak Position on Billboard Hot 100 ~ #18
YouTube: "The Boy Next Door"
Lyrics: "The Boy Next Door"
The Secrets were a female vocal group from Cleveland, Ohio. The original members included lead singer Karen Gray Cipriani, (born 1943), alto and bass singer Carole Raymont McGoldrick, high dum-dee-dum singer Jackie Allen Schwegler, (born 1943), and soprano Patty Miller, (also born 1943). Karen told Spectropop, "My father was in a barbershop quartet back in the 1920s. I think that I got my singing ability from him," Carole took tap dancing and ballet lessons. She also sang "Take Me Out To The Ballgame" at a recital at the age of eight. Patty sang in church and school choirs. The future Secrets met at Shaw High School in Cleveland. They also got to know Tom King, who later was a member of The Outsiders who had a Top Ten hit in 1966 with "Time Won't Let Me".
After the girls graduated from Shaw High School, they started singing. At their first performance a piano accompanist asked them what their name was. As they didn't have one, they were introduced as The Sonnets, which was the brand name of the piano the accompanist was playing. At a performance at the Chateau on the west side of Cleveland, promoter Redda Robbins heard the group, which by that time had been named the Secrets. Robbins helped the young women, now each 20-years old, make connections. After making a demo in Philadelphia, the Secrets got a record deal with Philips in New York City.
In the Philips record studio, the Secrets spent a lot of time working on what was expected to be the A-side of the single: "Learnin' To Forget". The song had lots of violins and professional hand clappers. The B-side, "The Boy Next Door", was something the group put together quickly and it was a filler to get the record out to radio stations.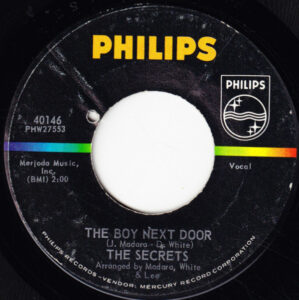 Karen told Spectropop in the mid-90s, "a DJ in Buffalo accidentally turned it over to the other side, and started playing 'The Boy Next Door.' And it took off. It was all live in the studio, we sang with the session musicians. And we had one of the most fantastic guitar players, Al Caiola, on 'The Boy Next Door.'" After World War II, Al Caiola worked with the CBS Orchestra in Manhattan, and for 10 years and worked on shows hosted by Ed Sullivan, Jackie Gleason, Arthur Godfrey and Steve Allen. He wrote the theme for the TV western, Bonanza. Caiola was in the recording studio for many pop hits, including "Diana", "Lonely Boy", "Put Your Head On My Shoulder" and "Puppy Love" for Paul Anka; "Blueberry Hill" for Louis Armstrong; "DeDe Dinah" and "Venus" for Frankie Avalon; "Don't Sleep in the Subway" and "This Is My Song" for Petula Clark; "Come-On-A-My House"; "This Ole House" and "Hey There" for Rosemary Clooney; "Don't Let The Stars Get In Your Eyes" and "Temptation" for Perry Como; "Rave On" for the Crickets; "Mack The Knife", "Queen of the Hop", "Splish Splash" and "Dream Lover" for Bobby Darin; "Spanish Eyes" for Al Martino; "Canadian Sunset" and "Butterfly" for Andy Williams; "Tiger", "Turn Me Loose" and "Hound Dog Man" for Fabian; "Theme From A Summer Place" for Percy Faith; "Theme From Exodus" for Ferrante & Teicher; "Oh My Pa-Pa" and "Dungaree Doll" for Eddie Fisher; "Love Is A Many Splendored Thing", "No Not Much", "Standing On The Corner" and "Moments To Remember" for the Four Lads; "It Doesn't Matter Anymore" and "True Love Ways" for Buddy Holly; "Spanish Harlem" and "Stand By Me" for Ben E. King; "Chances Are", "It's Not For Me To Say" and "The Twelfth of Never" for Johnny Mathis; "Calendar Girl", "Breaking Up Is Hard To Do" and "Happy Birthday Sweet Sixteen" for Neil Sedaka; "Runaway", "Hats Off To Larry" and "Little Town Flirt" for Del Shannon; "Mrs. Robinson" and "Bridge Over Troubled Waters" for Simon & Garfunkel; "Washington Square" for the Village Stompers; "What A Difference A Day Makes" for Dinah Washington; and "C. C. Rider" for Chuck Willis.
"The Boy Next Door" was cowritten by David White and Johnny Madara. David Ernest White Tricker was born in Philadelphia in 1939. In 1955 he joined a doo-wop group named The Juvenaires. In 1957, White, Madara and fellow bandmate Artie Singer cowrote a song called "Do The Bop". When they introduced the song to Dick Clark, he suggested they change the title to "At The Hop". The group changed the lyrics a bit and also changed their name to Danny & The Juniors. "At The Hop" a number-one hit for the first seven weeks of 1958. It later was featured in the 1973 film American Graffitti. A followup Top 20 hit for the group was "Rock and Roll is Here to Stay", cowritten by David White. With Danny & the Juniors, White appeared in Patti Page's TV show The Big Record, Merv Griffin's Saturday Night Prom, The Pat Boone Chevy Showroom, and Dick Clark's Saturday Night Beechnut Show.
John L. Medora was born in Philadelphia in 1936. He later had the songs he wrote credited to John (or Johnny) Madara. With David White, Madara cowr0te "The Fly" for Chubby Checker in 1961, which climbed to #7 on the Billboard Hot 100. In 1963 the songwriting duo of Marada and White cowrote "You Don't Own Me", a #2 hit for three consecutive weeks for Lesley Gore in February 1964. The song was kept out of the number-one spot by The Beatles "I Want To Hold Your Hand". In 1965 Madara and White wrote another #2 hit, this time for former lead singer of the Dovells, Len Barry, titled "1-2-3".
One of the studio musicians for "The Boy Next Door" was drummer Bobby Gregg. Robert Grego was born in 1936 in Philadelphia. Bobby Gregg was a member of Paul Whiteman's TV Teen Club Show and he toured with Whiteman for six years. In the 50's, Gregg also played with Steve Gibson and the Redcaps, touring across the country for 5 years. Gregg started recording sessions with Cameo/Parkway in Philadelphia in the early 60's. He played drums, sometimes uncredited, for Chubby Checker on "Pony Time", "Let's Twist Again", "The Fly", "Slow Twisting'" and "Limbo Rock"; Dee Dee Sharp on "Mashed Potato Time" and "Ride"; Bobby Rydell on "Volare", "Wild One", "Swingin' School", "Little Bitty Girl", "The Cha-Cha-Cha" and "Forget Him", The Dovells on "Bristol Stomp" and "You Can't Sit Down"; The Orlons "The Way-Wahtusi", "Don't Hang Up" and "South Street"; and for The Tymes "So Much In Love". Gregg later played drums for Bob Dylan's "Subterranean Homesick Blues", "Like A Rolling Stone", "Positively 4th Street" and "Rainy Day Women #12 & 35"; and "Sounds Of Silence" for Simon & Garfunkel. Gregg also was a drummer for The Peter, Paul and Mary Album (1966) and Changes for folk duo Jim & Jean.
"The Boy Next Door" is a song about the shift from childhood to adolescent curiosity: "The boy next door has really got me dreaming'. But I remember when he was a little demon….The boy next door used to take all my toys away. But now he's busy keeping all the boys away." In a lyric reflective of the Angels' "My Boyfriend's Back", the Secrets sing "He's jealous as can be, but that's alright with me. He told all the other guys, 'stay away if you value your life.'"
"The Boy Next Door" peaked at #1 in Seattle, #2 in Vancouver (BC) and Tuscaloosa (AL), #3 in Spokane (WA), #4 in Lansing (MI), #5 in Providence (RI) and Erie (PA), #6 in Mobile (AL) and Wilkes-Barre (PA), #7 in Springfield (MA), Reading (PA), and Pittsburgh, #8 in Buffalo, Chicago, and Indianapolis (IN), and #9 in Worcester (MA), Ann Arbor (MI), and Detroit.
The Secrets performed in concerts variously with Dionne Warwick, Lou Christie, Lesley Gore, Vic Dana and Connie Francis.
"The Boy Next Door" sold 870,000 copies. Carole told Spectropop "We had some more tunes that we did in our show that we could have put on an album." Karen added, "We were told that if you had a million-dollar seller, then you got to do an album."
A followup release in January 1964, "Hey Big Boy", made the Top 20 in Miami, and the Top 30 in Providence, RI, and Salt Lake City. In Canada, the single charted briefly in Hamilton, Ontario. The song contained a line reflecting the narrator's dilemma: "You're in 12th grade and I'm in 8th, what'll I do when you graduate?"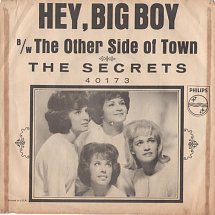 A third single release, "Here He Comes Now", made the Top 20 in the Secrets hometown of Cleveland, and nearby Erie, Pennsylvania. The single got airplay in Windsor, Ontario, but was passed over elsewhere in Canada. A final single release, "He Doesn't Want You", charted briefly in Philadelphia on WIBG-AM.
Jackie told Spectropop "…we didn't officially tell anyone that we were quitting. They figured it out pretty quick when we turned down a couple of shows that anyone who was serious about making it in the business would have given their eye teeth for. One of them was 12 weeks at the New York World's Fair, and the other was to join Bob Hope's Christmas Tour, meeting him in Newfoundland or Greenland. If you were planning to try to make a career in singing, you'd be a damn fool to turn that down, wouldn't you! And those shows would probably have had a great impact on our future. But our last records were not supported by the company, because we were turning down offers and they saw that we were not 'keepers.' If I were in their shoes, I'd so the same thing!"
The Secrets disbanded in 1965. In John Clemente's Girl Groups: Fabulous Females Who Rocked the World, Patty reveals "I am the one who would not have quit! I wanted to continue, but not alone. I admit, because I really enjoyed the excitement of this lifestyle." However, Karen was getting ready to marry, as was Jackie, who soon moved to start a new chapter of her life in Indiana.
In subsequent years, Karen focused on theatre and was a featured performer in a Naples, Florida, production of Ellie Greenwich's life story, Leader of the Pack. Carole McGoldrick died in 2010.
Songwriters, White and Madara, formed a folk-pop trio in 1965 named The Spokesmen.
They recorded a parody of Barry McGuire's "Eve Of Destruction" titled "The Dawn Of Correction". The song was anti-communist, and lauded Mutually Assured Destruction as a commendable policy of deterrence to stave off nuclear annihilation. In the song The Spokesmen also celebrated accomplishments under American democracy, including voter registration, freedom to demonstrate at protests, land irrigation, vaccination, and the United Nations.
Later in his career, Madara produced several albums for Wayne Newton.
In 2013, White and Danny and the Juniors were inducted into The Broadcast Pioneers Hall of Fame in Philadelphia. Also in 2013, White and John Madara were inducted into The Walk of Fame by The Philadelphia Music Alliance. David White died at the age of 79 in Las Vegas.
References:
Doc Rock, "The Secrets," Spectropop.com.
Russ Strathdee and Gary Copeland, "Bobby Gregg," Russ & Gary's "The Best Years of Music," December 13, 2013.
John Clemente, Girl Groups: Fabulous Females Who Rocked the World, (Author House, 2013).
"Dave White, Hitmaker with Danny & The Juniors, Dies at 79," New York Times, March 31, 2019.
Aaron S. Robertson,"Exclusive Interview: David White of Danny & The Juniors," Milwaukee Opportunities, May 9, 2013.
Mike Barnes, "Al Caiola, Guitarist on Themes for 'Bonanza' and 'The Magnificent Seven,' Dies at 96," Hollywood Reporter, November 11, 2016. "C-FUNTASTIC FIFTY," CFUN 1410 AM, Vancouver, BC, January 6, 1964.
For more song reviews visit the Countdown.