#291: The Day The Rains Came by Jane Morgan
Peak Month: Octcober 1958
15 weeks on Vancouver's CKWX chart
Peak Position #4
Peak Position on Billboard Hot 100 ~ #21
YouTube: "The Day That The Rains Came"
Lyrics: "The Day That The Rains Came"
Florence Catherine Currier was born in 1924 in the suburbs of Boston. Her family moved to Florida when she was four-years-old. When she was five, Florence started taking voice lessons as well as piano. In the summertime, she was a child actor in theater productions at the Kennebunkport Playhouse in Kennebunkport, Maine. The Playhouse was founded by her brother. At the age of 17, in the summer of 1941, she was listed as the Treasurer of the Kennebunkport Playhouse. During her years at school, she competed in singing competitions with other students across Florida and the Southeast. Upon graduating from high school in Daytona Beach, she was accepted into the Juilliard School of Music in Manhattan. She had plans to become an opera singer, and studied opera at the school.
In order to help her pay for her schooling at Juilliard, Florence Currier sang in nightclubs, restaurants, at bar mitzvahs and other private functions. This led to a steady job as the singer at the high society Roseland Ballroom at 1658 Broadway at 51st Street. She was paid $25 a week ($383 in 2021 dollars), and worked six nights a week. While still at the music school, bandleader Art Mooney heard her in 1944 and hired her. It was Art Mooney who changed Florence Currier's name to Jane Morgan. The name was drawn from the first name of his vocalist, Janie Ford, and the last name of another of his vocalists named Marian Morgan.
In 1948, French bandleader Bernard Hilda invited her to come with him to Paris, and perform at his new nightclub by the Eiffel Tower named the Club des Champs-Élysées. Morgan gave two shows a night of a set of American songs. As she had learned French and Italian from her mother, Morgan brushed up on her French and soon her concert song list of Cole Porter, George Gershwin, and some popular French songs, were all performed in French.
Her recordings with Hilda, including "Mon blond", "C'est Tout" and "La Raspa", became hit singles in France and elsewhere in Europe. In 1949 Morgan and Hilda had a weekly variety show on French TV, and her record contracts included French Polydor, Parlophone and Philips.
In 1952 Jane Morgan appeared as a solo act bilingual at the Ritz-Carlton Montreal. She returned to New York that year with regular performances in upscale nightclubs and her own radio show on NBC, which featured the 50-piece NBC Symphony Orchestra. Morgan additionally had regular performances at the St. Regis Hotel across from Central Park. In 1954, Jane Morgan travelled to London for shows at the Savoy Theatre and the London Palladium.
As she was pegged as a French singer, her new label – Kapp Records – had her record "Baseball, Baseball" in 1954. Her debut album in 1956 was titled The American Girl from Paris. It featured pop standards that included "I Didn't Know What Time It Was", "It Might As Well Be Spring", "I'll Be Seeing You", "Thanks For The Memory" and "When The World Was Young". Her first charting single in the USA was "Two Different Worlds" in 1956.
In early 1957 Jane Morgan charted "From Our First Hello To Our Last Goodbye" on the CKWX Top Fifty in Vancouver (BC). Later that year Morgan joined The Troubadors to record "Fascination". Although written in 1904 by F.D. Marchetti as "Valse Tzigane", the song was modified in Paris at the Folies Bergère as a "strip" number. English lyrics were added in 1932 by Dick Manning in 1932, and French lyrics in 1942. The song was played throughout the 1957 film Love in the Afternoon. Morgan's recording was released in late 1957 and remained on the Billboard charts for 29 weeks. It peaked at #5 in Vancouver.
Late in 1957, she had a Top 30 hit in Vancouver with "I'm New At The Game (Of Romance)", which charted for 14 weeks. In 1958 Jane Morgan charted "I've Got Bells On My Heart" to #21 in Vancouver. That fall she released "The Day The Rains Came".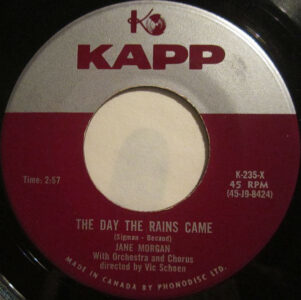 "The Day the Rains Came" is a French song by Gilbert Becaud called "Le jour où la pluie viendra". On the single release, Morgan sang the English version on one side and the French version – "Le Jour Ou La Pluie Viendra" – on the other. Pierre Delanoë was born in Paris in 1918, with his birth name Pierre Charles Marcel Napoléon Leroyer. He met Gilbert Bécaud after World War II, and the pair sang in clubs in the beginning. They shifted to Delanoë writing lyrics and Bécaud composing music. The songwriting team wrote "Et maintenant", a hit in France which was equally a hit in English, translated as "What Now My Love". In 1955 the pair composed "Je t'appartiens", which was translated in English as "Let It Be Me" – a hit for both the Everly Brothers, and later Betty Everett and Jerry Butler.
Among his many compositions, Delanoë wrote "La Goualante du pauvre jean", which Edith Piaf recorded in 1954. And in 1958 he co-wrote the winner of the Eurovision Song Contest – "Dors, mon amour" ("Sleep, My Love"). He died at the age of 88 in 2006.
Gilbert Bécaud was born in 1927 in the French Riviera city of Toulon. Learning piano during his childhood, he had further studies in music at the Conservatoire de Nice. But he left school to join the French Resistance during World War II. Among his other compositions is "Seul sur son étoile", which was translated in English as "It Must Be Him", a #3 hit for Vicki Carr in 1967. He recorded a number of operas, and released over twenty studio albums between 1953 and 1999. As well, he was cast in a half a dozen films. Bécaud died at the age of 71 of lung cancer in 2001.
Composer of the English lyric "The Day The Rains Came" is Carl Sigman. He was born in 1909 in Brooklyn. In the 1940s he co-wrote "Pennsylvania 6-5000" for Glenn Miller, and "Crazy He Calls Me" for Billie Holiday in 1949. The song was covered by Dinah Washington, Anita O'Day and many others. In 1957 he wrote the English lyrics for "Till", derived from the French song "Prière Sans Espoir". And in 1961 Sigman wrote the English translation for "Et maintenant", which was rendered "What Now My Love?" Sigman also wrote the Christmas tune "A Marshmallow World"; Vaughan Monroe's number one hit in 1947, "Ballerina"; a number one hit in 1949 for Mel Tormé titled "Careless Hands"; "Civilization" by the Andrews Sisters and Danny Kaye; "Ebb Tide" for Vic Damone; "It's All In The Game" for Tommy Edwards in 1951 and a number-one hit in 1958; "Shangri-La" for the Four Coins and "(Where Do I Begin?) Love Story" for Andy Williams in 1970. Sigman died at the age of 91 in 2000.
"The Day The Rains Came" is a song using rainfall, and what it provides nature, as a simile for the blossoming of young love. Now lilacs can bloom, fields can grow greener. In response to the rainfall, willow trees reach their branches up to the sky, robins sing, mountain streams rush to overflowing. Dry river beds are gone, so too, are dusty valleys. And so too are dusty and dry hearts replenished with "love sweet love."
As Jane Morgan sings: "Love sweet love, rain sweet rain."
"The Day The Rains Came" peaked at #1 in Manchester (NH) and Hull (PQ), #3 in Burlington (VT), #4 in Vancouver (BC), La Grange (IL), and Toronto, #5 in Buffalo, Los Angeles and Las Vegas, #6 in Norfolk (VA) and Denver, #7 in Janesville (WI), Ottawa (ON), and Chicago, #8 in Pittsburgh, and #9 in Dearborn (MI). The song also topped the pop charts in the UK. This led to her first television special, Spectacular: the Jane Morgan Hour in early 1959. In November 1959 Morgan was featured in the jazz special, Timex-All-Star Jazz III.
In 1959 she also had a Top 30 hit in the UK with "If Only I Could Live My Life Again". As well, she charted "Love Is Like Champagne" to #2 in Hull, Quebec, and #6 in Ottawa (ON). And "With Open Arms" was a number-one hit in Hull, staying in the Top Ten for 22 weeks from July to November in 1959.
She released an English-version of the 1960 Italian Eurovision Song Contest entrant, "Romantica", originally performed by Renato Rascel. The single was a Top 40 hit for Morgan in the UK. While "Where's The Boy (I Never Met)" was a Top Ten hit in Hull, Quebec. On the West Coast, Morgan had a Top 30 hit in Vancouver with "Lord And Master". The lyrics included "You are my Lord and master. I am the slave of your heart." In 1961, Jane Morgan performed "The Second Time Around" at the 33rd Academy Awards, a Best Song nominee from the film High Time. One more single titled "It Takes Love" made the pop charts in Vancouver (BC) in the summer of 1961.
In the the 60s Morgan appeared in numerous Broadway, including Kiss Me Kate, Can-Can, The King and I, Gentlemen Prefer Blondes, Anniversary Waltz, Bells Are Ringing, Hello Dolly, Affairs of State and more.
Morgan performed at the Queen Elizabeth Hotel in Montreal in 1964. That year she was on Broadway as a lead singer in a run of the Ziegfield Follies. And in 1969, Morgan succeeded Janis Paige in Mame. She recalled later, "Being on Broadway was one of the most exciting things in my life because I had always dreamed of it."
In 1966 Jane Morgan appeared at the 38th Academy Awards and sang Best Song nominee "I Will Wait For You", from the film The Umbrellas of Cherbourg. That year she began to have hits on the Billboard Adult Contemporary chart. These included classy covers of Len Barry's "1-2-3" and Bob Lind's "Elusive Butterfly". In March 1968 she appeared on ABC for a tribute to Edith Piaf in The Jane Morgan Special.
In 1970 Jane Morgan recorded his 32nd and final album titled In Nashville. In addition to tracks like "Make The World Go Away", was a spoof on the Johnny Cash single "A Boy Named Sue", titled "A Girl Named Johnny Cash". On February 15, 1971, she performed a duet-medley with Johnny Cash on his TV show, with Cash singing lines from "A Boy Named Sue", and Morgan interspersing lines from "A Girl Named Johnny Cash".
Morgan performed for French President Charles de Gaulle, and for five U.S. Presidents: John F. Kennedy, Richard Nixon, Gerald Ford, Jimmy Carter and George W. Bush. During her career she appeared on the Ed Sullivan Show on over fifty occasions. Jane Morgan also also was a guest on The Colgate Comedy Hour, The Jack Benny Show, The Patti Page Oldsmobile Show, twice on The Jackie Gleason Show, The Jonathan Winters Show, The George Jessel Show, The Laraine Day Show, American Bandstand, The Red Skelton Show, The Joey Bishop Show, The Gary Moore Show, The Val Doonican Show, The David Frost Show, The Bob Newhart Show, six times on Perry Como's Kraft Music Hall, three times on both The Jimmy Dean Show and The Dean Martin Show, nine times on The Mike Douglas Show, and fifteen occasions as a guest on The Tonight Show Starring Johnny Carson, twelve occasions on The Merv Griffin Show. Her career also included a few dramatic roles in episodes of Peter Gunn and It Takes A Thief, as well as What's My Line.
Jane Morgan retired from performing in 1973, but has appeared occasionally over the years at special events and benefits. In 2011 she got her star on the Hollywood Walk of Fame.
June 25, 2021
Ray McGinnis
References:
"Jane Morgan," Wikipedia.org.
"Jane Morgan," IMDb.com.
"Roseland Ballroom," matchpro.org.
Jane Morgan, "A Girl Named Johnny Cash," RCA, 1970.
Betty Everett and Jerry Butler, "Let It Be Me", 1964.
Vicki Carr, "It Must Be Him", 1967.
Douglas Martin, "Carl Sigman, 91, Songsmith Who Made Generations Hum," New York Times, September 30, 2000.
"Pierre Delanoë," Wikipedia.org.
"Gilbert Bécaud," Wikipedia.org.
"Sensational Sixty," CKWX 1130 AM, Vancouver, BC, October 27, 1958.
For more song reviews visit the Countdown.