#578: The Great Snowman by Bob Luman
Peak Month: April 1961
8 weeks on CFUN's Vancouver Charts
Peak Position ~ #4
Peak Position on Billboard Hot 100 ~ did not chart
Peak Position on Cashbox Singles chart ~ #100
YouTube.com: "The Great Snowman"
Lyrics: "The Great Snowman"
Bob Luman was born in Blackjack, Texas, in 1937. Before 1955 the only hits Bob Luman had were on the baseball field. He was an outstanding baseball player for his school team in Kilgore, Texas. He also fronted a band that performed the country hits. But after seeing Elvis Presley perform in Kilgore in May 1955, Luman was resolved that his hits going forward would be "Rockabilly hits."

In 1956 Luman won a talent contest in Tyler, Texas, after performing "Blue Suede Shoes" at the suggestion of Johnny Horton. Winning the contest led to a contract to replace Johnny Cash on the Louisiana Hayride. With that invitation, Luman turned down an offer from the Pittsburgh Pirates to join spring training. Bob Luman signed with Imperial Records in 1957, and his first session was at Sellars Studio in Dallas, where he recorded the Rockabilly classic, "Red Cadillac And A Black Mustache". That year Bob Luman appeared on the country TV show in LA called Town Hall Party. He also appeared in a rock 'n roll movie called Carnival Rock. He released a number of singles in the late 50s, including "Dreamy Doll" that climbed to #8 in Ottawa, Canada, in 1959.
In 1959 Ricky Nelson met Bob Luman and his band who were rehearsing down the hall in a studio at Imperial Records in Hollywood. So impressed was Nelson with the band that he gave them an offer they couldn't refuse and Nelson hired them away from Luman. So frustrated was Bob Luman with this turn of events that he announced at a concert that he was going to pursue a baseball career. Don and Phil Everly were in the audience and afterward convinced Luman to record "Let's Think About Living". The tune became a Top Ten hit for Luman in 1960.
Bob Luman was anticipating a break-through with a Top Ten hit. But then he was drafted into the United States Army just prior to the single's released. While he was in the army, Warner Brothers kept releasing singles. A number of these were hits in Vancouver, though not in the USA. These include "The Great Snowman".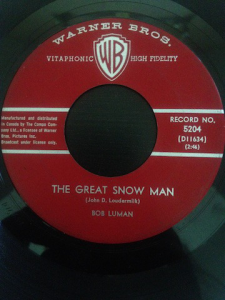 "The Great Snowman" was written by John D. Loudermilk. He was born in Durham, North Carolina, in 1934. Although he had a middle initial, D, the "D" wasn't short for any middle name. His father, John D Loudermilk Sr., was an illiterate carpenter. When John D Loudermilk Jr. was seven his dad gave him a ukulele made from a cigar box. John learned to play guitar in his youth and began to write poems and songs. His poetry was inspired after he began to read the works of Kahlil Gibran. In his late teens, in the early 50's, John D Jr. wrote a poem titled "A Rose And A Baby Ruth." It concerned a teenage couple who have a quarrel and the boy gives his girlfriend a rose and a Baby Ruth candy bar to make up. Loudermilk put notes to the poem and played the sung version on a local TV station. This caught the attention of country singer, George Hamilton IV. The song was published in 1956 and became a Top Ten hit on both the Country and Pop charts on Billboard Magazine. The following year, Loudermilk penned "Sittin' In The Balcony" for Eddie Cochran. Once that became a hit, Loudermilk's songwriting career was launched. He co-wrote "Waterloo," a #1 country hit and #4 pop hit in 1959 for country singer, Stonewall Jackson.
In the early 60's Loudermilk continued to have success as a songwriter. Sue Thompson had two Top Ten hits on the pop and country charts in 1961 written by Loudermilk: "Sad Movies (Make Me Cry)" and "Norman." The Everly Brothers also scored a Top Ten hit in 1961 by John D. Loudermilk, titled "Ebony Eyes." In 1961, in addition to Bob Luman's "The Great Snowman", John D Loudermilk penned "Top 40, News, Weather And Sports" for Mark Dinning. Loudermilk also sang his own Top 40 hit on the Billboard Hot 100 titled "Language Of Love." The song made the Top Ten in Vancouver in 1961. In 1962, Loudermilk had several more hits recorded by other singers, including "If The Boy Only Knew" by Sue Thompson. Kris Jensen had a hit with "Torture". Loudermilk also recorded several more songs he penned: "Angela Jones", "Calling Dr. Casey" and "Road Hog".
John Loudermilk had other songs on the US charts in 1962. "Thou Shalt Not Steal" was a minor hit in the USA and did not chart in Vancouver. However, in 1964, it was a Top 20 hit for Dick and Dee Dee. That same year Loudermilk's 1960 composition, "Tobacco Road", became a Top Ten hit in the UK for the Nashville Teens. Johnny Tillotson had a Top Ten hit in early 1964 with "Talk Back Trembling Lips" written by Loudermilk. And in 1965, another one of John D Loudermilk's songs, "This Little Bird", became a Top Ten hit in Vancouver and the UK for Marianne Faithfull. In 1967, Loudermilk won a Grammy Award for Best Liner Notes for his album Suburban Attitudes in Country Verse. And a song he wrote in 1962, "Then You Can Tell Me Goodbye", became a Top Ten hit for The Casinos. In March of 1968, Glen Campbell had a Top 40 hit and a #1 hit in Vancouver with Loudermilk's tune, "I Wanna Live". And in 1968, another of Loudermilk's songs got critical acclaim when Don Fardon released "Indian Reservation." The song was a #1 hit for Paul Revere And The Raiders in 1971.
"The Great Snowman" is a song about a guy named Jimmy Jones. He is the handsomest guy in town and breaks all the "pretty girls hearts". He is known for flattering his dates, a kind of snow job, since he had a heart made of snow. But one day he meets someone named Linda Lou who "'started melting him down." He gets married and they have six kids. He doesn't wear fancy clothes anymore, but his reputation as the great snowman has melted away. As an aside, it may have helped DJ's in Vancouver spinning "The Great Snowman" as Jimmy Jones also happened to be a pop singer with two #1 hits in Vancouver in 1960 titled "Good Timin'" and "Handy Man".
A snowman is a common creation, often by children, in climates that enjoy seasonal snowfall. typical snowmen consist of three large snowballs of different sizes with some additional accoutrements for facial and other features. Due to the sculptability of snow, there is also a wide variety of other styles. Common accessories include branches for arms, chunks of coal for eyes and mouth, with a carrot used for a nose. A hat and scarf are often included to dress the snowman.The earliest artistic depiction of a snowman in art is found in the Book of Hours from 1380. The earliest known photograph of a snowman was taken in 1853 by Welsh photographer Mary Dillwyn, the original of which is in the collections of the National Library of Wales.
In 1950 Gene Autry recorded "Frosty The Snowman". The song has become a seasonal favorite. The song's lyrics describe how a snowman named Frosty is brought to life by a magical silk hat that a group of children find and place on his head. Frosty enjoys roaming throughout town with the children who constructed him, only stopping once at a crosswalk when the policeman directing traffic orders pedestrians to stop. Frosty finally says goodbye to the children and comforts them, promising he will be back again someday.
Bob Luman may have hoped "The Great Snowman" might become as big a hit as "Frosty The Snowman". However, with the snow melted away, "The Great Snowman" had just a few regional breakouts. It peaked at #4 in Vancouver (BC), #13 in San Francisco and Davenport (IA) and #18 in Shreveport (LA). It failed to crack the Billboard Hot 100, but managed to chart at #100 on the Cashbox singles chart in the USA.
Next, "Private Eye" climbed to #3 on the pop charts on CKWX in August '61. Luman charted a few more songs on the Vancouver pop charts the following years. "You're Everything", which peaked at #20 in December 1962, was his most successful. But as Luman was in the army he was not able to support his single releases with any concert tours. So in the USA "Let's Think About Living" was his only hit. "You're Everything" was Luman's eighth single release after "Let's Think About Living", all which failed to crack the Billboard Hot 100. In October 1963 Bob Luman and Sue Thompson had a Top 20 hit on CFUN in Vancouver titled "I Like Your Kind Of Love". The song was a cover of a 1957 hit by Andy Williams.
Bob Luman was invited to become a member of the legendary Grand Ole Opry in 1964. It was an uneasy relationship at times because Luman's turbo-charged rockabilly performances didn't always meet with the approval of the more traditional, mainstay Opry artists. Bob Luman's successful career included thirty-eight recordings on the national charts. One of his last was "Lonely Women Make Good Lovers" which climbed to #4 on the Canadian and US country charts in 1971. Bob Luman released over sixty singles from the late 50s until 1978. He died that year at the age of 41 of pneumonia.
August 7, 2019
Ray McGinnis
References:
Shaun Mather and Phil Davies, "Let's Think About Luman," Rockabilly Hall of Fame, February 1999.
Randy McDaniel, "What Ever Happened to Bob Luman?," KXRB, Sioux Falls, South Dakota, October 22, 2015.
Dik, "Bob Luman," Black Cat Rockabilly, September 2012.
Julie Thanki, "Songwriter John D. Loudermilk Dead at 82," The Tennesseean, Nashville, TN, September 22, 2016.
"John D Loudermilk Obituary: Singer and Songwriter Best Known for Tobacco Road, a Big Hit for the Nashville Teens in 1964," Guardian, September 27, 2016.
"C-FUNTASTIC FIFTY," CFUN 1410 AM, Vancouver, BC, April 8, 1961.
For more song reviews visit the Countdown.