#840: The Happy Song by Otis Redding
Peak Month: June 1968
7 weeks on Vancouver's CKLG chart
Peak Position: #5
1 week Hit Bound
Peak Position on Billboard Hot 100 ~ #25
YouTube.com link: "The Happy Song"
Lyrics: "The Happy Song (Dum Dum)"
Otis Ray Redding Jr. was born in Dawson, Georgia, in 1941. At the age of two he moved to Macon, Georgia. His dad was a sharecropper and subsequently worked at the Air Force base at Macon. In his childhood he sang at a local African-American church choir and learned to play the guitar and piano. While he was a teenager, Otis performed gospel songs on Sundays on a local radio station, WIBB, earning $6 for each appearance. When his father got tuberculosis in 1956, Otis quit school to earn extra cash for his family. He worked as a well digger and a gas station hop. In 1958 he won a $5 prize at a teenage talent contest fifteen weeks in a row. In 1958 he joined Pat T. Cake and the Mighty Panthers and toured the chitlin circuit in the Deep South. Soon afterward, he joined the Upsetters to replace Little Richard who had given up rock 'n roll for religion.
Otis Redding got married and began writing songs. In 1961 he went into the office of Confederate Records in Macon, Georgia. He met Bobby Smith who recorded Redding's first single. Smith recalls, "Otis and I went on the road promoting "Shout Bamalama". Stopping at Augusta radio station WTHB, we were told by the DJ it would be played if it were taken off the Confederate-flagged record label. I promised to do so. We went on to Columbia, SC and met with a program director, Big Saul at radio station WOIC, who also promised heavy play, but only if the label was changed…. As we drove and listened to legendary DJ John R on Nashville 's WLAC, Otis said, "Bobby, if that man played my record I would think I had made it". When we returned to Macon , I wasted no time creating the Orbit label and putting "Shout Bamalama" on it." The B-side was "Fat Gal", with Otis Redding's backing group, The Pinetoppers, credited on the label.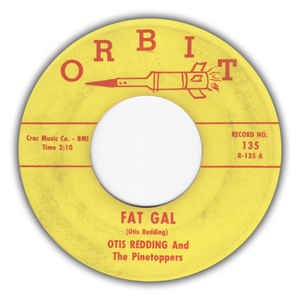 Once "Shout Bamalama" was getting airplay Stax Records executives took notice and offered Otis Redding a record deal. Redding switched over to Stax. His first single for Stax was "These Arms Of Mine", which made it to #1 in Beaumont, Texas, #6 on WKLO in Louisville (KY) and #9 in Atlanta. A subsequent release, "Pain In My Heart", topped the charts in Griffin, Georgia, "#4 in Winston-Salem, NC, and WAMS in Wilmington, Delaware, and #6 in Tucson, AZ, in the winter of 1963-64. In the summer of '64, Otis had another hit crossing into Top 40 radio with "Security". The single climbed to #3 in Charleston, SC, and #4 in Atlanta. Redding had a string of hits on the R&B charts, and "Mr. Pitiful" was his second Top Ten single on the Billboard R&B charts. It also made it to #41 on the Billboard Hot 100 in February 1965, thanks to cracking the Top Ten on Top 40 radio in Winston-Salem (NC), Atlanta and Marietta, Georgia. The single also made the Top 40 on CFUN in Vancouver.
In 1965 Otis Redding co-wrote "I've Been Loving You Too Long". The soul ballad climbed to #2 on the R&B chart, his third Top Ten single on the Billboard R&B chart. Significantly, the song also climbed to #21 on the Billboard Hot 100 and #15 on Vancouver's CKLG. In the fall of '65 Otis Redding took a song he wrote titled "Respect" to #2 on the R&B charts. The song was covered by Aretha Franklin in 1967 becoming one of her signature songs.
In 1966 Redding's cover of the Rolling Stones' "(I Can't Get No) Satisfaction" became his fifth Top Ten hit on the Billboard R&B chart. In November 1966 Otis Redding recorded a song titled "Try A Little Tenderness". He was backed by Booker T & the MG's. The song was originally recorded in 1932 variously by Ruth Etting, Ted Lewis and Bing Crosby. Redding's version became his seventh Top Ten R&B hit in the winter of 1966-67.
In early 1967 Otis Redding co-wrote with Arthur Conley "Sweet Soul Music". The song was based on the Sam Cooke song "Yeah Man", and Cooke was posthumously given songwriting credits. The song exceeded one million sales, climbing to #2 on the Billboard Hot 100 and the Billboard R&B chart. It wound up the #17 song for the year on the Billboard Year-End Hot 100 Singles of 1967 and #16 for the year-end Cashbox Top 100 Pop Singles of 1967. While Aretha Franklin's "Respect" was #1 on both the pop and R&B charts in May 1967, Redding's "Tramp" climbed to #2 on the R&B chart.
In June 1967 Otis Redding joined Jimi Hendrix, Janis Joplin, the Who, Eric Burdon and The Animals, Jefferson Airplane, Grateful Dead and the Mamas & the Papas at the Monterey Pop Festival. In August '67 Otis spent the month on a houseboat in Sausalito, spending lots of time looking at the San Francisco Bay when he wasn't performing at San Francisco's Basin Street West.
In September '67 Otis Redding had surgery on an abnormal growth of tissue on his larynx (voice box). In 1967 Otis Redding was earning $35,000 USF a week. He bought a private airplane. Redding, who was 6'1″ and 220 pounds was athletic and considered a leader and an inspiration.
Otis Redding died when his small private plane crashed on December 10, 1967, into Lake Monona, near Madison, Wisconsin. The temperatures of the water were in the 30F-40F range. A police boat arrived on the scene twenty minutes after the crash. But the singer had already drowned. He was 26-years old. Just three days prior Redding had finished recording "(Sittin' On) The Dock Of The Bay". In February 1968, the song climbed to #1 in the USA and #3 in the UK. Before he died he was booked to appear on The Ed Sullivan Show and the Smothers Brothers Show. In 1969 "(Sittin' On) The Dock Of The Bay)" won two Grammy Awards, one for Best R&B Vocal Performance and the other for Best Rhythm & Blues Song. The Dock Of The Bay album climbed to #4 on the Billboard Album chart.
In the spring of 1968 Atco Records released an album titled The Immortal Otis Redding. From the album there were four singles released that included "I've Got Dreams To Remember", "Amen", "Hard To Handle" and "The Happy Song (Dum-Dum)". Both "I've Got Dreams To Remember" and "The Happy Song (Dum-Dum)" climbed into the Top Ten of the Billboard R&B chart.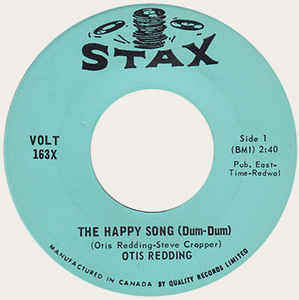 "The Happy Song (Dum-Dum)" is about a loving relationship. The singer's only "joy" is his baby. When it's a stormy night she turns out the lights and squeezes him. The next verse cuts to a scene at breakfast where his gal brings him his meal to the table. After a day at work, when he gets back home he's greeted with her big grin. The sexual innuendo lets the listener know the lady has reason to grin.
"The Happy Song (Dum-Dum)" reached #2 in Atlanta and Boston, #5 in Vancouver (BC) and Kansas City (MO), #7 in Toronto and Akron (OH), #8 in Birmingham (AL) #9 in Washington D.C. and #10 in Memphis and Wilmington (DL).
Of his ten live album releases, Historic Performances Recorded at the Monterey International Pop Festival was the biggest seller, climbing to #16 on the Billboard pop album chart. The album featured five tracks by Otis Redding and four tracks from the Jimi Hendrix Experience. Otis Redding had eleven studio albums, five released posthumously.
In 1993 Otis Redding appeared on a United States postage stamp. Along U.S. Route 80, the Otis Redding Memorial Bridge crosses the Ocmulgee River in Macon, Georgia. In 1999 Otis Redding was posthumously honored with the Grammy Lifetime Achievement Award. Two of his songs have been inducted into the Grammy Hall of Fame: "I've Been Loving You Too Long" in 2011 and "Try A Little Tenderness" in 2015.
May 11, 2019
Ray McGinnis
References:
Will Hermes, "Epic New Otis Redding Biography Sheds Light on the Singer's Life and Times," Rolling Stone, August 2, 2017.
Rob Bowman, Soulsville U.S.A.: The Story of Stax Records, (Schirmer Trade, 1997) 40.
Geoff Brown, Otis Redding: Try A Little Tenderness, (Canongate, 2001) 10.
Jonathan Gould, Otis Redding: An Unfinished Life, (Crown Archetype, 2017)
Bobby Smith, "Confederate Record Co.: The True Story of Confederate Record Co. and Otis Redding," Confederate Record C. Tripod.com.
Peter Guralnick, Sweet Soul Music: Rhythm and Blues and the Southern Dream of Freedom, (Back Bay Books, 1999) 159-184, 379-396.
Chester Higgins, "Eyewitness Tells Of Redding's Violent Death: 'I Guess God Was With Me,' Says," Jet, December 28, 1967.
"Boss 30," CKLG 730 AM, Vancouver, BC, June 8, 1968.
For more song reviews visit the Countdown.