#859: The Rebel – Johnny Yuma by Johnny Cash
Peak Month: May 1961
7 weeks on Vancouver's CKWX chart
Peak Position #6
Peak Position on Billboard Hot 100 ~ #108
YouTube.com: "The Rebel – Johnny Yuma"
"The Rebel – Johnny Yuma" lyrics
John R. "Johnny" Cash was born in Kingsland, Arkansas, in 1932. At the age of five he started working with his sharecropping parents and siblings in the cotton fields. During his childhood his family home was flooded twice. He began singing and playing guitar by the age of 12. He moved to Detroit in his late teens for work. He was drafted and served in the U.S. Air Force as a Morse Code Intercept Operator for Soviet Army transmissions at a base in Germany from 1950 to 1954. When he was discharged from the military he and his new wife, Liberto, moved to Memphis. Cash worked as an appliance salesman while trying to get a break in the music industry. Cash got to audition with Sun Records in 1954. He had his first charting single on the Billboard Country charts in 1955 titled "Cry! Cry! Cry!" Subsequently single releases, "So Doggone Lonesome" and "I Walk The Line" climbed to #4 and #1 on the Country charts. The latter hit also was his first debut on the Billboard pop charts where it made it to #17 in 1956.

By the end of the 1950's Johnny Cash was a household name. Cash appeared on The Ed Sullivan Show, The Tonight Show Starring Johnny Carson and other variety shows. He managed to chart five singles to the #1 spot on the Billboard Country charts. Two of these, "Ballad of a Teenage Queen" and "Guess Things Happen That Way", were his most notable pop crossovers, besides "I Walk The Line". By the time Cash released "The Rebel – Johnny Yuma" he had thirteen Top Ten country hits in the USA, though no Top Ten hits on the Billboard Hot 100. "The Rebel – Johnny Yuma" was the third Top Ten hit for Johnny Cash from September 1956 into the early 60's.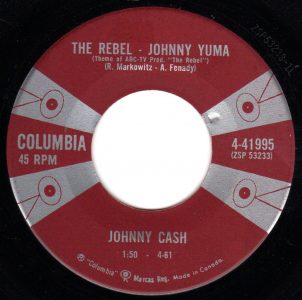 "The Rebel – Johnny Yuma" was based on The Rebel, a TV series from October 1959 to September 1961 spanning 76 episodes. Johnny Yuma was an ex-Confederate soldier who wandered the West. In his travels he came across people who needed his help that was freely rendered. He kept journals on his travels. Nick Adam's played Johnny Yuma as a brooding, troubled man. Johnny Yuma was a good fit for Johnny Cash to sing about as it was consistent with a bad boy and outlaw image Cash was identified with. The song peaked at #8 in Grand Rapids, Michigan, and #11 in San Francisco. It stayed below the Billboard Hot 100, peaking at #108. In in Vancouver the tune had its best chart run in North America where it climbed to #6.
"The Rebel – Johnny Yuma" was part of the wild west motif, iconic for American males to emulate. Cash had appeared in an episode of Shotgun Slade in 1959 and Wagon Train the same year. In 1961 he appeared in The Deputy, a TV show about a deputy who is also storekeeper who only used his gun reluctantly to confront criminals. Cash also starred in a crime film in 1961 titled Five Minutes to Live. He later starred in a western in 1971 called A Gunfight. During the cultivation of his outlaw image, Johnny Cash was on a downward spiral starting in 1958 where for nine years he abused drugs and alcohol. His addiction to drugs and alcohol was owed, in part, to a schedule of up to 300 concerts a year for many years. The hectic pace was very stressful. He was arrested in 1965 for trying to smuggle amphetamines over the Mexican border in his guitar case. He was given a suspended sentence and fined. His struggles with drugs and alcohol led to divorce in 1966.
By 1968 Johnny Cash was pulling his life back together and recorded a live album in a jail called At Folsom Prison. Cash had a #2 hit in 1969 titled "A Boy Named Sue", which received the Country Music Song of the Year award from the Country Music Association. As well, he received the Best Country Male Vocal for the song in 1970 at the Grammy Awards. Cash also won a Grammy Award that year for Best Album Notes for his text for Bob Dylan's Nashville Skyline. In the fall of 1969 he hosted The Johnny Cash Show on ABC TV for two years. He used the show to explore controversial issues like the plight of the American Indian, prison reform and the conflict in Vietnam.
In 1982 Cash recorded an album with Carl Perkins and Jerry Lee Lewis called The Survivors Live. Each had been part of the Million Dollar Quartet at Sun Records with Elvis Presley on December 4, 1956. In 1986 Cash was joined by Perkins, Lewis and Roy Orbison to recored an album titled Class of '55.
Between 1954 and 2003 Johnny Cash recorded 96 albums and 153 singles. Of these 89 singles made the Top 30 on the Billboard Country singles chart. In 2005 Joaquin Phoenix played the starring role of Johnny Cash in the biopic of the artists tumultuous life.
March 15, 2018
Ray McGinnis
References:
Johnny Cash – Biography, Johnny Cash.com
Johnny Cash – Biography, Rolling Stone.com
Five Minutes To Live ~ trailer, Sutton Pictures, 1961.
The Death of Gray episode, The Rebel, 1959.
James Mangold, Director, Walk The Line ~ Trailer, 20th Century Fox, 2005.
"Fabulous Forty," CKWX 1130 AM, Vancouver, BC, May 13, 1961.
For more song reviews visit the Countdown.