#344: The Straight Life by Bobby Goldsboro
Peak Month: December 1968
10 weeks on Vancouver's CKLG chart
Peak Position #3
Peak Position on Billboard Hot 100 ~ #36
YouTube: "The Straight Life"
Lyrics: "The Straight Life"
Bobby Goldsboro was born in Mariana, Florida, in the Florida Panhandle in 1941. Shortly after his birth his family moved 35 miles north to Dothan, Alabama, where he was raised. Goldsboro learned is musical skills as he grew, by the age of twenty-one, Goldsboro became a guitarist for Roy Orbison. From 1962 to 1964 Goldsboro toured with Orbison, including the tour where The Beatles appeared as the opening act on the UK tour with Orbison as headliner. He roomed with Roy Orbison and they became close friends. In 1962, Goldsboro released his first of four singles on Laurie Records. Only one of these, "Molly," made the Billboard Hot 100, and only marginally.
Having switched labels, United Artists had sent him three songs to choose from in advance of recording, hopefully, a hit record. But after sitting and listening to the three songs, Bobby thought none of them were hit material. So he sat down in his parents living room and wrote "See The Funny Little Clown". The song peaked at #9 on the Billboard Hot 100 when Goldsboro was turning 23 years old. but didn't appear on the CFUN charts in 1964. That year Goldsboro was the opening act on tour with the Rolling Stones. Subsequently, he was the opening act on a tour headlined by the Four Seasons. The following year he was the opening act on tour with The Beach Boys.
After "See The Funny Little Clown", Bobby Goldsboro released several more singles. "Whenever He Holds You" peaked at #39 on the Billboard charts. Then, a Burt Bacharach-Hal David song titled "Me Japanese Boy I Love You", stalled at #74. Although the song about a Japanese boy and his affection for a Japanese girl was sweet-natured, the third person narration in the song didn't connect with radio audiences during Beatlemania. Goldsboro's next release, "I Don't Know You Anymore". It failed to crack the Billboard Hot 100. Bobby Goldsboro was beginning to wonder if he was going to be remembered as a one-hit-wonder. Then he recorded "Little Things". The song went to #13 on the Billboard Hot 100. But consistent success eluded him. Of his next twelve singles released between 1965 and 1968, only three made the Top 40, and only marginally.
One of the singles he released during this period was "Broomstick Cowboy". Dick Clark had Bobby Goldsboro perform on American Bandstand. However, he told Goldsboro that ABC wouldn't let "Broomstick Cowboy" be played on the show. ABC banned the song from all the ABC affiliated radio stations. The song's lyrics told about a young boy who plays with his broomstick cowboy and his toys. Then he has to become a soldier and fight in a war. He has to "learn to hate" and "learn to kill." The lyrics teach: "It's always been that way, my son, I guess it always will." But the song that lamented the change in the boy who now has to call a man his enemy he once called friend and questioning why people have to die was too controversial. Many DJ's gave the song a pass and it peaked at #53 on the national charts. Goldsboro recalls, "half the stations in the country wouldn't play it ('Broomstick Cowboy')." On American Bandstand Dick Clark told Bobby Goldsboro he had to sing the B-side to "Broomstick Cowboy," titled "Ain't Got Time For Happy." Nonetheless, "Broomstick Cowboy" peaked at #6 in San Jose (CA), #7 in Orlando (FL), #10 in Knoxville (TN) and Nashville (TN)
In 1968, Goldsboro had an international best-selling single called "Honey", written by Bobby Russell, selling over five million records. His follow up single was "Autumn of My Life" is a song Bobby Goldsboro wrote and recorded as a single for his album Word Pictures.This was on the follow up album to Honey.
Goldsboro next Top 40 hit was "The Straight Life" in the winter of 1968-69.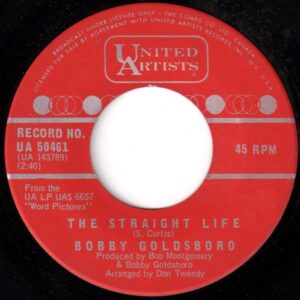 "The Straight Life" was written by Sonny Curtis. Born in 1937, Sonny Curtis was born in a dugout in 1937 in Meadow, Texas. His parents were cotton farmers contending with the Dust Bowl of the Great Depression. He was a teenage pal and lead guitarist with Buddy Holly in Lubbock, Texas, in a pre-Crickets band called The Three Tunes. Sonny is his actual first name, not a nickname. Although Curtis had gone on the road with other musicians by the time Buddy Holly put together The Crickets in 1957, Curtis joined The Crickets after Holly's death in 1959. Soon, he took over the lead vocalist role in addition to lead guitar. As the credits show, he was part of the band for the 1960 album In Style with The Crickets. On this album they recorded the original versions of two of Curtis's best known songs, "I Fought the Law" (a hit for the Bobby Fuller Four in 1966) and "More Than I Can Say" (a hit for Leo Sayer sixteen years later.)
Soon after Holly died, three of the The Crickets, Jerry Allison, Joe B. Mauldin and Sonny Curtis, began backing the Everly Brothers in concert and in the studio. On January 8, 1960, Curtis was a session musician for Eddie Cochran for his recording of "Three Steps To Heaven". Sonny received his draft notice from the US Army and was away from the music scene from 1960 to 1962. During the two years he was in the military, he wrote one of his classic songs, "Walk Right Back". It was recorded in 1961 by the Everly Brothers and topped the charts in the UK, went Top Ten in the USA and to #5 in Vancouver.
Once out of the US Army, Sonny Curtis released the single, "A Beatle I Want to Be", in response to the Beatlemania in 1964. Sonny Curtis also made an album in 1964 titled Beatle Hits Flamenco Guitar Style that included "Ballad for a Beatle." Among the Beatles hits Curtis covered on the album are "A Hard Day's Night", "All My Loving", "And I Love Her", and "Things We Said Today".
In 1966 Curtis, continued to comment on pop culture and recorded himself as an act billed as The Camps. Using this pseudonym, The Camps released a single titled "The Ballad of Batman". The song went to #1 in Corpus Christi, Texas, and #3 in San Antonio. That March his song, "I Fought The Law" was a Top Ten hit for the Bobby Fuller Four.
During the 70's, along with friend and songwriting companion Don Piestrup, Sonny wrote numerous nationally known jingles for corporations such as McDonald's, Buick, Western Airlines, Honda and Bell Telephone. He also wrote and sang the theme song for the Mary Tyler Moore Show, "Love Is All Around".
"The Straight Life" is a song about a narrator who says he's "just playin' a game in (his) mind." The game he plays is fantasizing about being a drifter dashing through meadows and tasting great wines; Or being in Mexico "drinking tequila goin' out of my mind," and treating women to corn on a cob. On other occasions he imagines himself having nothing to do but chasing after trains, or being on a tropical island where he surfs and has fun with "golden girls in the sand." But what pulls him back from all these daydreams is the woman in his life comes over to him with "crackers and beer." As she blows into his ear, he returns to his present reality, and enjoys just being in love in the here and now. The narrator concedes that his fantasies are all "silly thoughts."
An article in Frontiers titled "Excessive Daydreaming Linked to Obsessive-compulsive Symptoms," discusses the upside and downside of daydreaming. On the upside, scientists agree that daydreaming can provide individuals with a mental break, allow for future planning – like when a dream about a place to vacation or career path emerges in a relaxed mental state, or relieve boredom. However, one can daydream too much. One hopes that the guy in "The Straight Life" is not too absent from his romantic partner. But, if he's playing games in his mind hours on end, it's likely she's going to start to resent doing the lions share in the relationship while he drifts away. After awhile, she'll tire of bringing him crackers and beer.
Researchers have found that for excessive daydreamers there are more negative emotions than positive ones that emerge. Excessive daydreamers experienced depression, anxiety and distress. And when one is daydreaming, the chores around the home start to pile up. The daydreaming can become a habit of avoiding reality on the job and off the job. So, it's fine to have some "silly thoughts," and imagine treating women to corn on a cob in a beach in Mexico. But, one needs nudge oneself out of the daydreaming; And start shucking the corn on the cob and put it in the pot on the stove in your kitchen.
"The Straight Life" climbed to #1 in Dubuque (IA) and Boise (ID), #3 in Vancouver (BC), #4 in San Diego, #5 in Troy (NY), #6 in Corona (CA) and Dayton (OH), #7 in Fresno (CA), Akron (OH), Salt Lake City and Omaha (NE), #8 in Long Beach (CA), Regina (SK) and Tucson (AZ), and #9 in San Francisco.
He had a Top Ten hit in Vancouver in the fall of 1969 with "Muddy Mississippi Line". And in 1970 Goldsboro returned to the pop charts with "Watching Scotty Grow".
In the years that followed Goldsboro had a TV show that ran for three years starting in 1973. He wrote "Behind Closed Doors", a million-selling hit for Charlie Rich. He later formed a company that published the song "Wind Beneath My Wings", a hit for Bette Midler. Over his career he has been a nominated for a Grammy award six times.
In the 1980's Goldsboro began writing the first of his ten best-selling children's books. He also successfully produced 52 episodes of his children's TV series, The Swamp Critters of Lost Lagoon. The effort featured Goldsboro writing the scripts, music, playing all the instruments and doing the voices for each of the animated characters.
In addition to his work as a touring musician, songwriter, author and TV producer, Bobby Goldsboro has become an established painter. According to his official website, Goldsboro's numerous paintings have been purchased by art galleries across America. And they have been sold for as much as $25,000. In the autumn of his real life, Bobby Goldsboro and his second wife, Dianne, have been married since 1985, after a year of courting.
Bobby Goldsboro does not seem to have performed in concert in Vancouver. But in May 1966 was on tour with Gene Pitney, the McCoys, Len Barry and Chad and Jeremy. That month these recording artists appeared on stage for two concerts in Toronto at Massey Hall, one in Ottawa and another in Montreal.
February 19, 2021
Ray McGinnis
References:
"About Bobby Goldsboro," Bobby Goldsboro.com.
Warren Lawrence, "Interview with Bobby Goldsboro," WKNY, Kingston, New York, July 7, 2018.
Sonny Curtis bio, Sonny Curtis.com.
The Crickets bios, The Crickets.com.
Al Arnowitz, "Beatlemania in 1964: 'This Has Gotten Entirely Out of Control'," Guardian, 2014.
Tanya Stevens, "Excessive Daydreaming Linked to Obsessive-compulsive Symptoms," Frontiers, August 17, 2018.
"Boss 30," CKLG 730 AM, Vancouver, BC, December 13, 1968.
For more song reviews visit the Countdown.