#617: The Touchables by Dickie Goodman
Peak Month: March 1961
7 weeks on Vancouver's CKWX's chart
Peak Position #3 on CFUN
Peak Position on Billboard Hot 100 ~ #60
YouTube.com link: "The Touchables"
Lyrics: "The Touchables"
Richard Dorian Goodman was born in Brooklyn in 1934. His father, Saul, a Russian Jew immigrated to the USA. Saul's brother Herman already lived in America. It was Herman who told Saul to tell the folks at Ellis Island that your surname is Goodman. No one in Dickie Goodman's household ever learned what his father's surname was back in Russia. The family lived in Long Island in the town of Hewlett. On July 8, 1947, the press reported that U.S. Army personnel had recovered a "flying disc" in the Roswell Army Air Field near Roswell, New Mexico. There were reports of people interviewed who had handled the debris from the flying disc. And some people said they saw aliens. Dickie Goodman was 13 and the story made a strong impression on him. In 1955 Dickie Goodman was studying for a Law degree and writing songs on the side at Hanson's Drug Store at 51st Street and Seventh Avenue in Manhattan. He got acquainted with another struggling artist named Bobby Darin who ended up living in the Dickie Goodman's parents home for a spell. In early '56, Goodman had a song he wrote titled "Why Should We Break Up". It was recorded by the Sonnets, a doo wop R&B group from Harlem.
In 1956 Bill Buchanan and Dickie Goodman met at 20th Century Fox in the music department. While working on a song together, they came up with the idea of a disc jockey show being interrupted by reports of a flying saucer. They created a technique of script-writing where an on-the-spot reporter would make statements and ask questions, including interviewing ordinary passers-by and celebrities. The technique was called the "break-in" record, an early precursor of sampling. Spoken word dialogue was interspersed with clips of popular songs. In June 1956 they released a four-minute retelling of Orson Welles The War Of The Worlds radio drama from October 1938. It was titled "The Flying Saucer Parts 1 & 2". The record climbed to #3 on the Billboard chart and was the #30 song for the year 1956.
The single had audio clips from "The Great Pretender", "(You've Got) The Magic Touch" and "My Prayer" by The Platters, "I Want You To Be My Girl" by Frankie Lymon and the Teenagers, "Long Tally Sally" and "Tutti Frutti" by Little Richard, "Heartbreak Hotel" by Elvis Presley, "Band Of Gold" by Don Cherry, "Earth Angel" by The Penguins, "Ain't That A Shame" by Fats Domino, "See You Later Alligator" by Bill Haley & His Comets, "Maybellene by Chuck Berry and "Blue Suede Shoes" by Carl Perkins. ABC and NBC hesitated to playlist the single on their syndicated radio station networks. They worried that listeners might think they were listening to a radio broadcast of a real invasion of flying saucers. While he was still only 21 years old, Dickie Goodman was the president of Luniverse Records with its first single, "Flying Saucer Parts 1 & 2". One of his buddies who he played pool with was Burt Bacharach.
With all these recording artists and record labels hearing clips from their songs played on the radio without earning them any royalties, Buchanan and Goodman ended up in court. They were charged with copyright infringement. But the judge in the case ruled their sampled mix was considered a parody, and was an entirely new original material.
In addition to the use of cutting and splicing, "The Flying Saucer" used a speeded up human voice to create the voices of the aliens. This technique was replicated in Sheb Wooley's "The Purple People Eater," David Seville's "Witch Doctor" and "The Chipmunk Song".
Later in 1956, with the trial over, Buchanan and Goodman released "Buchanan And Goodman On Trial", which entered the Billboard pop charts. In 1957 a sequel novelty record, "Flying Saucer the 2nd" climbed to #18 on the Billboard chart. In 1959, Dickie Goodman and Bill Buchanan parted ways and Buchanan went on to write songs in the Brill Building. Buchanan co-wrote"Please Don't Ask About Barbara", a hit for Bobby Vee in 1962. Buchanan's co-writer was Jack Keller who had penned "Everybody's Somebody's Fool" and "My Heart Has A Mind Of It's Own" for Connie Francis. Keller also penned "Venus In Blue Jeans" for Jimmy Clanton in 1962.
Meanwhile, in 1959 Dickie Goodman teamed up with Mickey Shorr under the billing of Spencer and Spencer. They released a very dark comedic imagining of what "Russian Bandstand", in contrast to American Bandstand, would be like. For audience members, on that fictional recording, death by gunshot was the punishment for not liking the songs featured on the USSR's TV show. This record was released at the height of the Cold War. Nonetheless, the single didn't break into the Billboard Hot 100.
In the 1960-61 season The Untouchables was eighth highest rated TV show in America with over 27 million viewers. The show was a crime drama based on the memoir of American Prohibition agent Eliot Ness. In 1930 Ness headed up a squad of detectives who worked with the United States attorney to target the illegal breweries and supply routes of Chicago mob boss, Al Capone, while gathering evidence of conspiracy to violate the National Prohibition Act. Between March and August 1931, Ness's agents destroyed bootlegging operations worth an estimated $500,000 and representing an additional $2 million in lost income for Capone. The Untouchables raids cost Capone over $9 million in lost revenue. The Untouchables ability to get information for the raids was an extensive wire-tapping operation. Failed attempts by members of the Capone gang to bribe or intimidate Ness and his agents inspired Charles Schwarz of the Chicago Daily News to dub them as "untouchables."
The popularity of The Untouchables gave Dickie Goodman an idea to create another "break-in" song which he titled "The Touchables".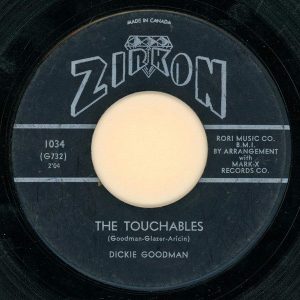 "The Touchables" included "break-in's" from "Are You Lonesome Tonight" by Elvis Presley, "North To Alaska" by Johnny Horton, "Sailor" by Lolita, "You're Sixteen" by Johnny Burnette, "Artificial Flowers" by Bobby Darin, Joe Jones "You Talk Too Much" and Bobby Vee's "Rubber Ball". It also included a "break-in" from The Untouchables TV show theme music."The Touchables" climbed to #1 in Chicago and Rochester (NY), #3 in Syracuse (NY), Baton Rouge (LA) and Vancouver (BC), #7 in Cleveland, #8 in Denver and Worcester (MA) and #9 in New York City.
In Vancouver, the DJ's at C-FUN did a parody of "The Touchables" titled "The Corruptibles". It was written by Dave McCormick and narrated by Brian Lord.
YouTube.com: "The Corruptibles"
The narration began of "The Corruptibles" began with Brian Lord saying, "April 1st 1961, April Fools Day, the notorious Al Corn Pone Empire of the Roaring Twenties has been reorganized. Heading the empire is Al Corn Pone Jr…." The recording was made as a promo by the radio station. In Brian Tarling's Vancouver's Charted Songs '56 to '78*, he clarifies that the recording did not sell in record stores either in Vancouver or elsewhere. Tarling writes of "The Corruptibles", "It was not available for purchase, but several copies were given away at random times at local Dairy Queen outlets." In "The Corruptibles" the "break-in" tunes included "Star Crossed Lovers" by Eddy And Teddy; "D In Love" by Cliff Richard; "Happy Birthday Blues" by Kathy Young & The Innocents; "Baby Sittin' Boogie" by Buzz Clifford; "Where The Boys Are" by Connie Francis; "Three Wheels On My Wagon" by Dick Van Dyke; "Ebony Eyes" by The Everly Brothers; "Little Miss Stuck Up" by The Playmates; "Baby Blue" by The Echoes; "Blue Moon" by The Marcels; "Surrender" by Elvis Presley; "Top Forty News, Weather And Sports" by Mark Dinning; "I've Told Every Little Star" by Linda Scott; "Shop Around" by The Miracles; "Lazy River" by Bobby Darin and more. Though "The Corruptibles" spent four weeks on the C-FUNTASTIC FIFTY chart and peaked at #6. "The Corruptibles" is not given an individual song review on this website due to "The Corruptibles" not being available for purchase.
In October '61, Dickie Goodman charted "Berlin Top Ten" to #27 on the CKWX Fabulous Forty. And over Christmas 1961 "Santa & The Touchables" was on the radio in Vancouver. In the summer of 1962, Goodman charted "Ben Crazy", a parody of the TV show Ben Casey. In 1966 Goodman saw "Batman & His Grandmother" climb to #3 in Edmonton, Alberta. In the summer of 1973, Goodman had a "break-in" record commenting on the Watergate conspiracy titled "Watergrate". And in the winter of 1973-74 Goodman's satire of the 1973 energy crisis, "Energy Crisis '74", climbed to #10 on CKLW in Windsor (ON). But it was his parody of the film Jaws with his "break-in" record, "Mr. Jaws", that won him his biggest seller as a solo recording artist. In 1975 "Mr. Jaws" climbed to #4 on the Billboard Hot 100 and #1 on the Cashbox chart. Here in Vancouver, the parody climbed to #1 on CKLG, #1 in Hamilton (ON) and #2 in Windsor (ON). His final notable chart run was to #48 on the Billboard Hot 100 in 1977 with "Kong", a parody of the 1976 film King Kong.
In addition to his own recordings, Dickie Goodman had his songs recorded by the mid-50's R&B group the Nutmegs and Jo Ann Campbell. He also produced records for Diane Renay and the Glass Bottle who had a hit Goodman produced in 1971 titled "I Ain't Got Time Anymore". The song climbed to #9 in Vancouver but only #36 on the Billboard Hot 100.
In 1989, Goodman died by his own hand with a gunshot to the head. Scott Shannon at radio station WPLJ in New York said "Dickie Goodman was a creative genius. The entire music industry misses him." His son Jon Goodman has tried to keep his father's legacy alive by releasing a series of 'Best Of' recordings of his Dickie Goodman's catalogue of recordings. In 2000, Jon Goodman also published a biography of his father titled The King of Novelty: Dickie Goodman.
March 29, 2019
Ray McGinnis
References:
Brian Tarling, Vancouver's Charted Songs '56 to '78*, vancouverschartedsongs.ca, p. 131.
Nick Talevski, Rock Obituaries: Knocking On Heaven's Door, (Omnibus Press, 2006), p. 58.
Chuck Miller, "Dickie Goodman – the Music Pioneer You Never Heard Of," Times-Union, Albany, NY, September 30, 2010.
Jon Goodman, The King of Novelty: Dickie Goodman, Xlibris, 2000.
"C-FUN-Tastic 50," CFUN 1410 AM, Vancouver, BC, March 11, 1961.
For more song reviews visit the Countdown.