#1382: The Twelfth Rose by The Browns
Peak Month: June 1963
6 weeks on Vancouver's CFUN chart
Peak Position #17
Twin Pick Hit June 1/63
Peak Position on Billboard Hot 100 ~ did not chart
YouTube.com: "The Twelfth Rose"
Lyrics: "The Twelfth Rose"
Ella Maxine Brown was born in 1931. Jim Ed Brown was born in 1934, and Bonnie Jean Brown was born in 1938. All three siblings were born in Sparkman, Arkansas. The family owned a farm and their father worked in a sawmill. When the family moved to Pine Bluff, an hours drive east, the children began to sing together at church and other social functions. Maxine signed Jim Ed up for a talent contest on KLRA's "Barnyard Frolic,"a radio station in Little Rock. Jim Ed didn't win the contest, but was offered a spot on the radio show's cast. In 1954 Jim and Maxine formed a duo and recorded a single titled "Looking Back To See". They performed it on the Ernest Tubb radio show and it became a #8 hit on the Billboard Country chart that summer.
After Bonnie turned 18-years-old, the three siblings began to perform as a trio and joined the Louisiana Hayride in Shreveport, Louisiana. They also appeared on the country music variety show on ABC-TV called Ozark Jubilee. In 1955 they went on tour with Elvis Presley. A second Top Ten Country hit followed with "Here Today And Gone Tomorrow". This led to a record contract with RCA Victor in 1956. They had two more Top Ten hits on the Country chart titled "I Take The Chance" and "I Heard Bluebirds Sing".
In 1957 Jim Ed Brown was drafted into the U.S. Army. He was discharged in 1959. But that time The Browns had released fifteen singles, eight of which made the Top 20 on the Billboard Country chart. In 1959 they recorded a song called "The Three Bells". It was adapted from the 1946 French tune "Les Trois Cloches", about Jean-François Nicot, made popular in France by Édith Piaf. "The Three Bells spent ten weeks on the top of the Billboard Country chart. The Brown's adaptation, concerning the birth, marriage and death of "Jimmy Brown," stayed on top of the Billboard Hot 100 for four weeks. This was their first appearance on the Hot 100. The song even made it to #10 on the Billboard R&B chart, even though it was clearly not an R&B recording. Such was the appeal of their story of little Jimmy Brown. "The Three Bells" climbed to #1 in Australia, #4 in The Netherlands, #6 in the UK and Norway, #13 in Belgium and #19 in Germany.
"The Three Bells" was nominated for both Record of the Year and the Best Group or Vocal Performance in the Grammy award categories in 1959. The Record of the Year went to "Mack The Knife" by Bobby Darin, and the Best Group or Vocal Performance went to Richard Condie for "The Battle Hymn of the Republic" performed by the Mormon Tabernacle Choir.
The Browns appeared on The Ed Sullivan Show and American Bandstand. They also toured Europe. Their follow up hit was another song with religious overtones written in 1949 titled "Scarlet Ribbons (For Her Hair)". The song recounted a miraculous tale: a father hears his little girl pray before she goes to bed for "scarlet ribbons for her hair". It is late, no stores are open in the town. Because there isn't anywhere the father can buy the ribbons, his heart aches all night long. However, at the first light of morning, he again peeps into his daughters' bedroom and is astonished to see beautiful "scarlet ribbons" in "gay profusion lying there." He says that if he lives to be a hundred, he will never know how the ribbons got there. The song implicitly let listeners know that God answers prayers. The song became a Top Ten country hit and peaked at #13 on the Billboard Hot 100 the week after Christmas Day in 1959, and #16 on CKWX in Vancouver (BC).
In the spring of 1960 The Browns had another Top Ten hit titled "The Old Lamplighter", written in 1946. It had been a number one hit for Sammy Kaye that year, and a #3 hit for Kay Kyser. The lyrics sentimentalize and memorialize the profession of lamplighters, who walked city streets at dusk turning on the gas-powered street lamps and turned them off again at dawn. The lamplighter is pictured as having snowy white hair. The final verse lets us know that the lamplighter turns the stars on at twilight time, and turns them off when day is breaking. The song climbed to #2 on CKWX in Vancouver (BC) and #5 on the Billboard Hot 100.
After these three appearances on the pop charts, The Browns struggled to repeat their success. "Send Me The Pillow You Dream On" stalled at #49 on CFUN in Vancouver (BC) in November 1960. Though it made it to #14 in Toronto on CHUM-AM. The song was one of ten The Browns released after "The Old Lamplighter" between 1960 and 1963, each with little success on either the pop or country charts.
In the spring of 1963 they released a single titled "The Twelfth Rose". It was a Twin Hit Pick on CFUN in Vancouver, signaling the DJ's thought it showed signs of becoming a big hit for The Browns in Vancouver.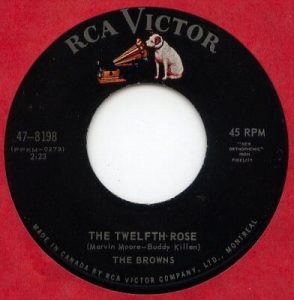 "The Twelfth Rose" was co-written by Buddy Killen and Marvin Moore. William Doyce Killen was born in Florence, Alabama in 1932. At the age of 18 Killen moved to Nashville. He joined the Grand Ole Opry and played double-bass. He also got gigs as a musicians with Hank Williams, Cowboy Copas and Jim Reeves. In 1953, the manager of the radio station, Jack Stapp, asked him to work at his new publishing company, Tree Music. In 1955 Mae Boren Axton showed Buddy Killen a song she co-wrote titled "Heartbreak Hotel". Killen encouraged Axton to show it to Elvis Presley, which she did at a November 1955 country music convention in Nashville. Presley recorded the song in January 1956 and it became a number one song for seven weeks starting in April. In 1960, Killen wrote the US Top Ten hit "Forever" for the Little Dippers (an offshoot of the Anita Kerr Singers). Other songs he wrote became country hits. These include "Open Up Your Heart" (Buck Owens, 1966), "I Can't Wait Any Longer" (Bill Anderson, 1978), "I May Never Get to Heaven" (Conway Twitty, 1979), "Watchin' the Girls Go By" (Ronnie McDowell, 1981) and "All Tied Up" (Ronnie McDowell, 1986). Buddy Killen also wrote and produced Joe Tex's disco novelty "Ain't Gonna Bump No More (With No Big Fat Woman)", a hit in 1977.
But Killen turned down a composition by Jimmy Driftwood in 1957 of a song called "Battle Of New Orleans". The song ended up being a multi-million seller for Johnny Horton in 1959. He wrote songs for Petula Clark, Don Gibson, Wanda Jackson, Faron Young, Conway Twitty, Johnny Cash, BJ Thomas, Aretha Franklin, Bonnie Guitar, Ronnie Hawkins and Jerry Lee Lewis.
Marvin Moore wrote "A Pretty Woman Is A Deadly Weapon", a Top 30 hit for Eddy Howard in 1951. "Green Door" in 1956 for Jim Lowe and the High Fives, which became a #2 hit on the Billboard pop chart. In December 1956 "I Dreamed" became a #9 hit for Betty Johnson. In 1957 Moore wrote "Four Walls" for Jim Reeves, a number one hit on the Billboard Country chart. Betty Johnson had a minor hit with Moore's "You Can't Get To Heaven On Roller Skates" in 1959. Marvin Moore also wrote songs that were recorded by Les Paul and Mary Ford, Kitty Kallen, Vaughan Monroe, the Four Aces, Sia Malmkvist, Tommy Leonetti, Gene McDaniels, Cathy Carr, Johnny Tillotson, Diane Ray and others.
"The Twelfth Rose" is a song told from the vantage point of a suitor who tries to woo a woman by sending her eleven red roses. Sentimentally, he tells her that the twelfth rose "is you." We don't know how long this gal was flattered by the gesture. But the next verse tells us that she got married to somebody else. Overcome by his own sense of loss at not being the groom, the narrator of the song tells us he sent the bride eleven red roses once again and told her "the twelfth rose is you." The third verse finds us back at the church sanctuary, however this time it is at her funeral. He sends eleven white roses at this occasion, and tells his departed sweetheart the twelfth white rose "is you." The narrative framework for the song loosely resembled "The Three Bells". But instead of a song about one person's birth, marriage and death, "The Twelfth Rose" was about dating, observing a marriage of a lost love and later, her funeral.
The red rose began its symbolic history in Greek and Roman iconography, where it was tied to Aphrodite, or Venus, the goddess of love. Later, in early Christian times it became associated with the virtue of Virgin Mary. In the time of William Shakespeare it had become a poetic standard that he, and later Gertrude Stein, both famously played with in their works. Throughout its long history, the red rose still reigns as the ultimate symbol of passionate affection. When it comes to traditional sympathy flowers, white funeral flowers – roses, lillies, orchids – symbolize the return of the departed soul to purity and innocence, and denote honor and reverence for the life that has been lost.
"The Twelfth Rose" climbed to #17 on CFUN in Vancouver (BC) and KJR in Seattle, and #25 in San Antonio (TX). Also in 1963 The Browns were inducted into the Grand Ole Opry.
In 1964, the Browns received a nomination for a Best Vocal Group Performance Grammy for their album, Grand Ole Opry Favorites. However, in the year of Beatlemania, The Browns lost the nomination to the Beatles' A Hard Day's Night. In 1967 they received a Grammy nomination for Best Sacred Performance for their album The Old Country Church, but lost out of Elvis Presley for How Great Thou Art. That year Bonnie Brown quit the trio and devoted her life to raising a family, and The Browns officially split later in 1967.
In 1965 Jim Ed Brown began to pursue a solo career, while still making records with The Browns. Between 1965 and 1981 he released fifty singles, a dozen of which made the Top Ten on the Billboard Country chart. He also recorded twenty-four studio albums. Some of his recordings were duets with Helen Cornelius. Brown hosted the Country Music Greats Radio Show from 2003 to 2015. The show was broadcast out of Nashville and had a weekly audience of over one million, across 300 radio stations in America.
Maxine Brown had a short-lived solo career, releasing one album in 1969, before dedicating her life to raising her children.
In 2015, The Browns were inducted into the Country Music Hall of Fame. Jim Ed Brown died later in 2015. Sister Bonnie Brown died in 2016. Both died of lung cancer. Maxine Brown Russell died in 2019 at the age of 87 from complications resulting from kidney disease.
October 26, 2019
Ray McGinnis
References:
Joey Gill, "Country Musician Maxine Brown Russell of The Browns Dies at 87," WSMV, Nashville, January 21, 2019.
Stephen L. Betts, "Maxine Brown, Country Music Hall of Fame Singer, Dead at 87," Rolling Stone, January 22, 2019.
"Bonnie Brown Obituary," Legacy.com,
"Buddy Killen: Music Publisher and Songwriter," Independent, UK, December 7, 2006.
"Marvin Moore songs," Musicvf.com.
"The Old Lamp-lighter," Wikipedia.org.
Tony Rufo, The Complete Book of Pop Music Wit & Wisdom, (Tyndale, 2006) 68-69.
Randall Franks, "The Browns to the Country Music Hall of Fame," Randall Franks.com, April 18, 2015.
"Jim Ed Brown, Country Singer, Dies at 81," Variety, June 11, 2015.
"C-FUNTASTIC FIFTY," CFUN 1410 AM, Vancouver, BC, June 29, 1963.
For more song reviews visit the Countdown.