#418: The Universal Soldier by Glen Campbell
Peak Month: September-October 1965
8 weeks on Vancouver's CFUN's chart
Peak Position #2
Peak Position on Billboard Hot 100 ~ #45
YouTube.com link: "The Universal Soldier"
Lyrics: "The Universal Soldier"
Glen Travis Campbell was born in 1936 in the village of Billstown, Arkansas. His dad was a sharecropper. He moved to Albuquerque, New Mexico, and at the age of 18 joined his uncle's band, Dick Bills and the Sandia Mountain Boys. Campbell also had guest spots on a local KOB children's TV show, K Circle B Time. In 1958, Campbell formed the Western Wranglers. In 1960 he moved to LA and joined The Champs of "Tequila" fame. Campbell also became a session musician in a group that would become known as The Wrecking Crew. During this time Glen Campbell played on recordings for Bobby Darin, Ricky Nelson, Dean Martin, Nat King Cole, The Monkees, Nancy Sinatra, Merle Haggard, Jan and Dean, Elvis Presley, Frank Sinatra and others. He recorded his first single in 1961 titled "Turn Around Look At Me."
In the mid-60's Campbell appeared as a regular on Shindig!and Hollywood Jamboree. He also was a studio musician for The Beach Boys 1966 album, Pet Sounds, and for four months was a member of The Beach Boys and went on tour with them when Brian Wilson was ill. That same year Campbell was part of a backing band for Rick Nelson on a tour of the Far East.
In 1965, Campbell appeared as part of a band in the film drama Baby The Rain Must Fall, starring Lee Remick and Steve McQueen. The film, concerning a rockabilly singer who goes to jail after stabbing a man in a bar during a drunken brawl, featured the Glen Yarborough Top 20 hit "Baby The Rain Must Fall". That year he also recorded a song titled "The Universal Soldier".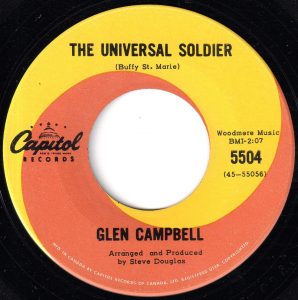 "The Universal Soldier" was written by Buffy Sainte Marie in 1963. The first cover of the song was actually by the Highwaymen, and released as a single in September of that year. Buffy Sainte-Marie recorded the song for her 1964 album It's My Way! In 1942 Beverly Sainte-Marie was born on the Piapot Cree Reserve in southwestern Saskatchewan. From her early childhood she was called Buffy. As a child she was orphaned. Her aunt and uncle in Maine of Mi'kmaq First Nation descent then adopted her. Growing up in Maine, Buffy taught herself how to play piano and guitar. After high school took Fine Arts courses at the University of Massachussetts in Amherst to study in the Fine Arts fields, continuing to write music in her spare time. She graduated in the Top Ten in her class but chose to devote her life to music. She began to appear at coffee houses in the folk music circuit in New England, barely making ends meet.
From New England she moved back to Canada and appeared in Toronto's Yorkville district, known at the time for hippies and the counterculture movement. She played on stage with other blossoming folk singers including Leonard Cohen, Joni Mitchell, and Neil Young. Spanning her career, she recorded songs written by those artists, and they each recorded some of her compositions.
From Toronto Sainte-Marie moved to New York's Greenwich Village. It was there she gained a reputation as a gifted songwriter and performer. The subject of many of her songs reflected her observations of modernity and social issues. Buffy Sainte-Marie was the first Canadian First Nations pop singer to get a deal with a major record company. She signed with Vanguard Records who released her 1964 debut album, It's My Way! Some of her earliest songs displayed both a tenacious spirit and quiet wisdom.
One of the songs on her debut album was the anti-Vietnam War anthem "Universal Soldier", covered by Donovan, Glen Campbell and others. The song went to #5 for Donovan in the UK, #11 in Vancouver (BC) and #53 in the USA. As a result Billboard Magazine named Buffy Sainte-Marie Best New Artist in 1965. Inspired by her witnessing wounded Vietnam veterans getting off the bus after returning home, political and anti-war songs would become a hallmark of her career. But unlike Donovan, her entire first album was original music, almost unheard of a new artist at the time. Sainte-Marie was gaining popularity, appearing on several TV programs including several appearances on The Tonight Show With Johnny Carson. Concurrently, her anti-Vietnam War stance also alienated her from many audiences. She was reportedly blacklisted because her name appeared on a White House list of performers "who deserved to be suppressed." Her song, "Until It's Time For You To Go", has been recorded by over two hundred recording artists.
In the six verses in "The Universal Soldier" listeners are introduced to soldiers of different heights, ages, religious and political backgrounds. The Universal Soldier fights for democracy and communism, Hitler, Caesar, Canada, Germany, the USA, Russia and Japan. In each instance the Universal Soldier "is the one who must decide who's to live and who's to die, but he never sees the writing on the wall." He always thinks he is fighting for peace, but doesn't understand he is perpetuating warfare. The songs' message is that finally, for those at least in democracies, his orders to fight come from the ordinary citizens who allow all the killing – in their name and on behalf of their nation – to go on. The lyrics argue that the crux of the problem is "without him all this killing can't go on."
Buffy Sainte-Marie was aware of something called the Military-Industrial-Complex which American President Dwight Eisenhower spoke about in a final speech to the nation broadcast on January 17, 1961. Eisenhower was the latest among early to mid-20th Century military personnel who warned about the racket of war-making as a for-profit industry. Citizens were encouraged to consider when politicians led the charge to go to war, if the enemy needed to be defeated or if there needed to be an enemy in order for shareholders of armaments companies to keep making profits.
"The Universal Soldier" peaked at #2 in Vancouver (BC), #3 in Seattle, #4 in Orlando (FL), and #6 in Sacramento. In Australia Campbell's single peaked in the Top Five in both Tasmania and Melbourne. Campbell's version was popular in some radio markets in North America, and Donovan's in others. Neither version cracked the Top 40 on the Billboard Hot 100, with Glen Campbell's stalling at #45.
In 1967, Campbell appeared in The Cool Ones, a film concerning a millionaire rock promoter who teams up with a pop singer and a dancer in a romantic match as a publicity stunt for a new television series.
By 1967 Glen Campbell had his first song climb into the Top 30 of the Billboard Hot 100, "By The Time I Get To Phoenix," which peaked at #26. He won several Grammy Awards in 1968 for the song: Best Contemporary Male Solo Vocal Performance and Best Vocal Performance, Male. In addition, he won two Grammy Awards for "Gentle On My Mind". These were for Best Country & Western Solo Vocal Performance, Male, and Best Country & Western Recording.
In March 1968 Campbell released the album Hey Little One. It featured his cover of the Dorsey Burnette song "Hey Little One". Campbell's cover went to #13 on the Billboard Country charts in the spring of '68. It had also been a track on By The Time I Get To Phoenix. Campbell's next single release was from his Hey Little One album, titled "I Wanna Live".
With a handful of Grammy Awards Glen Campbell's next and twelfth album, Witchita Lineman, was highly anticipated. It included the title track and "Dreams Of The Everyday Housewife," as the two single releases from the album.
In October 1968, Campbell released "Wichita Lineman", which climbed to #1 on the Billboard Country chart and on CKLG in Vancouver (BC), and #3 on the Billboard Hot 100. The single received two Grammy Award nominations, one for Record of the Year and the other for Best Contemporary Pop Vocal Performance – Male. "Wichita Lineman" received a Grammy Hall of Fame Award in 2000 for its historical significance and lasting quality.
In 1969, Campbell had a Top 20 duet with Bobbie Gentry titled "Let It Be Me". Next he recorded a Vietnam War protest song called "Galveston", written by Jimmy Webb. The song originally had the lyrics "Wonder if she could forget me/I'd go home if they would let me/Put down this gun/And go to Galveston." But Glen Campbell altered "Put down this gun" to "I clean this gun," connoting a soldier more content to remain at his post. The song climbed to #1 on CKLG in early April 1969 in Vancouver and #4 on the Billboard Hot 100. In June '69, Glen Campbell had a #7 hit in Vancouver with "Where's The Playground Susie." The tune stalled at #26 in the USA.
In the summer of 1969, Campbell starred opposite John Wayne and Kim Darby in the Western drama True Grit. The title song from the film was Glen Campbell's next Top 40 hit, debuting on July 18th on the CKLG Boss 30. It peaked at #3 in Vancouver on August 15, 1969, kept out of the #1 spot by the Rolling Stones "Honky Tonk Woman" and Jackie DeShannon's "Put A Little Love In Your Heart". "True Grit" received both a Golden Globe and an Academy Award nomination for Best Song. Glen Campbell's follow up hit was "Try A Little Kindness", which peaked at #16 in Vancouver in November of '69.
The pinnacle of his career was his #1 hit in 1975 called "Rhinestone Cowboy". In 1980, Campbell starred alongside Clint Eastwood and Ruth Gordon in Any Which Way You Can. In 1986, Glen Campbell appeared in the role of Capt. Hazeltine, in the comedy-western Uphill All The Way, alongside Frank Gorshin, Sheb Wooley, Roy Clark, Mel Tillis and Burl Ives. In 2008, Campbell appeared as himself in the documentary film, The Wrecking Crew, about a group of studio musicians in L.A. who were featured on hundreds of Top 30 hits in the '60's. Glen Campbell died on August 8th, at the age of 81 after being diagnosed with Alzheimer's disease since 2011.
July 15, 2020
Ray McGinnis
References:
Petticoat Junction, CBS, January 4, 1969.
Dave Laing, "Glen Campbell Obituary," Guardian, UK, August 8, 2017.
Jeff Gage, "Flashback: Watch Glen Campbell's Nimble Medley of Beach Boys Hits: Country Great Blazes Through "Good Vibrations," "Surfin USA," "California Girls" and more," Rolling Stone, August 9, 2017.
Roger Ebert, "True Grit Movie Review," Roger Ebert.com, July 1, 1969.
Buffy Sainte-Marie bio, The Canadian Encyclopedia
Tim Lewis, "Buffy Sainte-Marie: 'My Music is Much More Diverse than Almost any Singer You Can Think of'," Guardian, August 2, 2015
"Buffy Sainte-Marie's unedited interview with Rosanna Deerchild," CBC, September 27, 2015
"'So Much More Than a Musician:' Buffy Sainte-Marie Biography Announced," CBC, March 30, 2017
"C-FUNTASTIC FIFTY," CFUN 1410 AM, Vancouver, BC, October 2, 1965.
For more song reviews visit the Countdown.