#1329: The Wonder Of You by Ray Peterson
Peak Month: April 1964
7 weeks on Vancouver's CFUN chart
Peak Position #14
Peak Position on Billboard Hot 100 ~ #70
YouTube.com: "The Wonder Of You"
Lyrics: "The Wonder Of You"
Ray T. Peterson was born in Denton, Texas, in 1939. He became an athlete in high school. But he contracted polio at the age of fifteen. He had thought singing was for sissies, but with polio he focused on his vocal gift. He took singing lessons and developed a four-octave range. Ray Peterson was told he would never walk again. And then his doctors told him he could only walk with crutches. Peterson persevered and performed at singing contests in San Antonio. He won some contests and was flown out to Los Angeles to appear with Bob Hope in a telethon for polio victims. By 1957 he moved to Los Angeles and got a contract with RCA Victor that fall.
In November 1957 Ray Peterson released a cover of the Little Willie John's summer of '56 R&B hit "Fever". Peterson stuck close to the original by Little Willie John, and appeared on the Ed Sullivan Show on December 8, 1957, to sing the tune. Peggy Lee released a live version of "Fever" six months later in June 1958 and credited Ray Peterson with introducing her to the song. In his cover of "Fever" Ray Peterson showed off an amazing vocal range. Jayne Mansfield threw a party for him.
His second single, "Shirley Purley" was a rollicking rockabilly tune which made the Top 40 in Toronto. His third single, "Suddenly", was written by Jo Ann Belvin, the wife of R&B singer Jessie Belvin. Peterson and the Belvin's were close and he became a godfather to Jessie and Jo Ann Belvin's second son. (Jessie and Jo Ann Belvin died in a car crash on February 6, 1960). A fourth release in 1958, "Richer Than I" failed to chart.
Ray Peterson's first national pop hit was "The Wonder Of You" in 1959. That year it climbed to #23 on the CKWX Sensational Sixty in Vancouver (BC) and #25 on the Billboard Hot 100. Peterson's follow-up release, "Come And Get It", was a flop. Next, he released a cover of the Jessie Belvin R&B hit "Goodnight My Love". But the single stalled on the Billboard Hot 100 at #64. And "Answer Me My Love" got little notice in early 1960.
But in June 1960 Ray Peterson became a household name with his teen tragedy novelty hit "Tell Laura I Love Her". In the song Laura's boyfriend, Tommy, dies in a stock car race while attempting to win the cash prize in order to get her a wedding ring. The song climbed to #2 in Vancouver and #7 on the Billboard Hot 100. It was the first song written by Jeff Barry to become a hit. Barry went on to write other hits including "Chapel Of Love" by the Dixie Cups, "River Deep – Mountain High" by Ike and Tina Turner, "Then He Kissed Me" by the Crystals, "Be My Baby" by the Ronettes, "Do Wah Diddy Diddy" by the Exciter and Manfred Mann, "Leader Of The Pack" for the Shangri-Las, "Sugar Sugar" (with Andy Kim) for the Archies, "Lay A Little Lovin' On Me" for Robin McNamara and "I Honestly Love You" for Olivia Newton-John.
"Tell Laura I Love Her" was part of a genre of tragic tunes about the death of a young person. Other teen tragedy tunes that were hits in Vancouver include "Jimmy Love" by Cathy Carroll, "A Thousand Feet Below" by Terry Tyler, "Star-Crossed Lovers" by Eddy and Teddy, Mark Dinning's "Teen Angel", J. Frank Wilson and the Cavaliers "Last Kiss", Jan And Dean's "Dead Man's Curve", the Everly Brothers' "Ebony Eyes", the Shangri-Las "Leader Of The Pack", Johnny Preston's "Running Bear", Pat Boone's "Moody River" and Dickey Lee's "Patches".
Peterson had another Top Ten hit in the winter of 1960-61 with a cover on an old blues song "Corinna Corinna". The song climbed to #9 on the Billboard Hot 100 and #1 in Vancouver (BC), Calgary, Denver, Buffalo and Erie (PA). "Corinna Corinna" was released on Ray Peterson's own record label which he owned called Dunes Records. He also released two commercial failures on either side of "Corinna Corinna", "Teenage Heartache" and "Sweet Little Kathy". The former tune was co-written by songwriting team Doc Pomus and Mort Shulman, hitmakers for Elvis Presley ("Surrender", "Little Sister"), the Drifters ("Save The Last Dance For Me"), Andy Williams (Can't Get Used To Losing You") and Terry Stafford ("Suspicion"). But "Teenage Heartache" didn't catch on. The latter was co-written by Ray Peterson and Tommy Boyce. But later in 1961 Ray Peterson recovered with a country-pop tune written by Red Sovine titled "Missing You". It climbed to #16 in Vancouver (BC) and #29 on the Billboard Hot 100. Though his next single, "I Could Have Loved You So Well", cracked the Top 20 in Vancouver, it stalled on the Billboard Hot 100 at #57. The song was co-written by Barry Mann and Gerry Goffin. Peterson also appeared again in the Top 30 in Vancouver in 1961 with "I'm Tired".
In the late 50s and early 60s Ray Peterson performed often at the black music theaters in Baltimore, New York City and Washington D.C. He shared the stage with Jackie Wilson, Roy Hamilton, the Impressions, Big Mama Thornton, Little Willie John and others.
In 1962 and 1963 Ray Peterson was falling off the radar as he released five more singles that failed to crack the Billboard Hot 100. His final attempt in 1963 was with another teen tragedy tune called "Give Us Your Blessing". The song was about a teen couple faced with no support from their parents for their relationship. Jimmy and Sue died when their car crashed after they failed to see the detour signs on the road. The song was successfully covered by the Shangri-Las in late 1964.
Peterson's last appearance on the Billboard Hot 100 was in 1964 with a re-issue of "The Wonder Of You".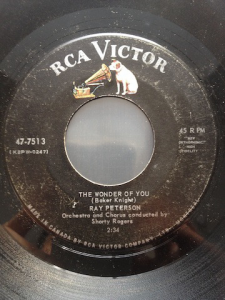 "The Wonder Of You" was written by Thomas Baker Knight Jr. He was born in Birmingham, Alabama, in 1933. When he turned six his father died at the age of 32. As his mother was chronically ill, he lived with various relatives. When he graduated in 1951 he went into the United States Air Force and was discharged in 1954. In the fall of 1954 Knight studied art at the University of Alabama. In 1957 he recorded a single titled "Bring My Cadillac" credited to Baker Knight and The Nightmares. In 1958 he was promised a minor role in a film in Hollywood. Though the offer evaporated, Baker Knight brought his guitar along and befriended Eddie Cochran and his girlfriend Sharon Sheeley who penned "Poor Little Fool" for Ricky Nelson. One thing led to another and Ricky Nelson ended up recording several of Baker Knight's compositions. These include "Lonesome Town", "I Got A Feeling", "Never Be Anyone Else But You" and "Right By My Side". Other recording artists who Baker Knight wrote for include Jerry Lee Lewis, Dean Martin, Frank Sinatra, Gene Vincent, Nancy Sinatra and Roy Orbison.
"The Wonder Of You" is a song about someone who it totally devoted to their mate. Even when no one else can understand them, and when they fail at everything they do, their sweetheart offers them love, hope and consolation. The relationship still has some spark, as the singer reveals "And when you smile the world is brighter. You touch my hand and I'm a king. Your kiss to me is worth a fortune…." The partner in this relationship makes every effort to "lend a hand" to make things work out.
The individual receiving all this love is too aware of their shortcomings. Consequently, they have no idea why they are so fortunate to have this extremely giving person in their life. But the depth and breadth of the love they receive lead them to characterize their lover as someone who bestows wonder.
In an article titled "11 Quotes to Remember When Everything Is Going Wrong," a few thoughts to balance one's perspective include:
Sometimes you just need to talk to a four year old and an 84 year old to understand life again. – Kristen Butler
Sometimes the bad things that happen in our lives put us directly on the path to the best things that will ever happen to us.
Life does not have to be perfect to be wonderful.
No matter how you feel – get up, dress up, show up and never give up.
Overthinking will destroy your mood. Breathe and let go.
For the character in "The Wonder Of You" who gets into a pattern of thinking that everything they do is wrong, this could eventually be a challenge for their encouraging partner. Hopefully, they can find a way to make a mental note of the things they are successful at. Even small things like making a meal, fixing something in the home, completing a task at work, remembering someone's birthday etc. It can be productive to make a list of the things we did that went well at the end of each day in a journal. This can be a way of re-training a negative generalization that very well might not be true. And if there are some things we are doing that are "wrong," we can ask ourselves what the problem is? Is this a task I need to be doing at all? Can I delegate it to someone else? Or, if I am doing something wrong – for example creating roadblocks to communication – make a list of five possible strategies or solutions to solving the obstacle to that is defeating you.
The character in this song also laments that they find that "no one else can understand me." Much as it is great to have a supportive partner, it's also beneficial to have a circle of friends who apprehend you. If your close friends don't appreciate your perspectives, maybe it is time to find some new friends. Alternately, if the people around you don't understand you because of some very anti-social attitudes, it might be worth examining what makes you such an enigma.
Ray Peterson's "The Wonder Of You" had swelling background vocals. Other examples of this in the late 50s and early 60s include "Venus" by Frankie Avalon, "The Day That The Rains Came Down" by Jane Morgan, "Chances Are" by Johnny Mathis, "Apple Green" by June Valli, and "The Wayward Wind" by Gogi Grant.
But in 1964, CFUN re-charted the song and it climbed to #14 on Canada's West Coast. Elsewhere in 1964 Ray Peterson enjoyed a second run with "The Wonder Of You" as it climbed to #3 in Fort Worth (TX), #6 in Sacramento (CA) and #8 in Honolulu. The B-side of "The Wonder Of You" happened to be a re-issue of "Goodnight My Love". In Miami the B-side climbed to #1 for three weeks in April 1964 on WQAM.
In an interview with a DJ from Chattanooga, Tennessee, Ray Peterson told the story of how Baker Knight confided that "The Wonder Of You" was originally written as a gospel song.
In the mid-sixties Ray Peterson recorded a cover of Tommy Roe's 1963 hit "Everybody", and Roy Orbison's "Love Hurts". The latter he performed on American Bandstand on February 6, 1966. It was one of 35 appearances Ray Peterson made on American Bandstand between 1959 and 1966. Ray Peterson's choice to record one of Roy Orbison's songs was likely influenced by Orbison being Peterson's best friend in the recording industry. In 1965 Ray Peterson recorded an album of nightclub songs titled The Other Side Of Ray Peterson. It included his cover of the 1955 hit by Al Hibbler titled "Unchained Melody". His recording was a minor hit in San Diego in March 1965. But it was the Righteous Brothers who took the song into the Top Ten across America in May '65. Other songs Ray Peterson recorded on the album include "You'll Never Walk Alone", "Fly Me To The Moon", "Over The Rainbow", "Love Is A Many Splendored Thing" and "Canadian Sunset".
Ray Peterson tells the story of how Elvis called and asked permission to remake "The Wonder Of You". Peterson told Presley, "You don't have to ask permission, you're Elvis Presley." But Elvis responded, "Yes I do, you're Ray Peterson." Presley recorded a live cover of "The Wonder Of You" in 1970. Elvis' version climbed to #1 in the UK and the Netherlands, #9 on the Billboard Hot 100, and made the Top Ten charts nationally in Australia, Belgium, Canada, South Africa and Sweden. "The Wonder Of You" became one of the staples of Elvis Presley's 35-song set when he was on tour, or in Las Vegas. Since Presley's death "The Wonder of You" is performed every night by at least 1,000 Elvis impersonators around the world.
Peterson became a Baptist minister in the 1970s and by his own account "ministered in over a thousand churches" as a guest preacher and singer. However, he continued to appear on occasion in oldies revival tours across the USA. In 1981 he released a Christian folk rock album called Highest Flight, which was also released as My Father's Place. Peterson has taken part in a number of Pat Boone golf tournaments. He died in 2005 at the age of 66 of cancer.
September 28, 2019
Ray McGinnis
References:
Spencer Leigh, "Baker Knight: Author of such songs as 'Lonesome Town', 'The Wonder of You' and 'Somewhere There's a Someone'," Independent, UK, October 17, 2005.
"11 Quotes to Remember When Everything Is Going Wrong," Power of Positivity.com.
Ray Peterson, "Love Hurts", American Bandstand, February 6, 1966.
"Ray Peterson Interview," American Bandstand, September 19, 1964.
Earl Freudenberg, "Ray Peterson Interview," Hey Earl Show, WDOD, Chattanooga, Tennessee, October 2000.
Dave Laing, "Ray Peterson: Singer Famed for his 1960s Hit, Tell Laura I Love Her," Guardian, February 1, 2005.
"C-FUNTASTIC FIFTY," CFUN 1410 AM, Vancouver, BC, April 11, 1964.
For more song reviews visit the Countdown.