#771: Theme For A Dream by Cliff Richard
Peak Month: April 1961
8 weeks on Vancouver's CFUN chart
Peak Position #6 CFUN
Peak Position #4 CKWX
Peak Position on Billboard Hot 100 ~ did not chart
YouTube.com link: "Theme For A Dream"
Lyrics: "Theme For A Dream"
Cliff Richard was born Harry Roger Webb on October 14, 1940, in the city of Lucknow in Uttar Pradesh, India. In 1940 Lucknow was part of the British Raj, as India was not yet an independent country. Webb's father worked on as a catering manager for the Indian Railways. His mother raised Harry and his three sisters. In 1948, when India had become independent, the Webb family took a boat to Essex, England, and began a new chapter. At the age of 16 Harry Webb was given a guitar by his father. Harry then formed a vocal group called the Quintones. Webb was interested in skiffle music, a type of jug band music, popularized by "The King of Skiffle," Scottish singer Lonnie Donegan who had an international hit in 1955 called "Rock Island Line".
In 1958 Webb became the lead singer of a British rock group named the Drifters. It was during this time that Harry Greatorex, who was promoting the band, gave Harry Webb the stage name, "Cliff Richard."As rock and roll made some people think of rocks, Greatorex reasoned that "Cliff" would be a rock solid name for the young 18 year old Harry Webb. Cliff Richard would go on to record nearly 150 singles that made it onto the UK charts. While his popularity in the USA was erratic, he was a big seller in Vancouver. On this survey of 1,410 songs he appears on 22 occasions.
Cliff Richard had his first single on the Vancouver charts peak at number one in the fall of 1959. "Living Doll" became an auspicious beginning for a recording artist. Fans in Vancouver were wild about Richards. He had a string of hits between 1959 and 1966, and again in the late 70s onward. Of 26 singles that charted on the Vancouver pop charts, only two didn't climb into the Top 20. His third Top Ten single was "Theme For A Dream". Richard first sang the song on TV in England on March 2, 1961.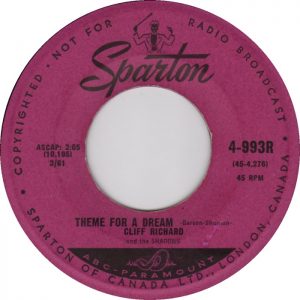 "Theme For A Dream" is a song about a guy who has found an angel. In the "dream" he describes, each time he touches her, "a chime rings out" saying "I love you." And each time he kisses her "music fills with starlight." This is all happening the moment she begins to hold him tight in her arms. When she holds him, the dream begins again. In her 1954 #1 hit, "Little Things Mean A Lot", Kitty Kalen sings "Blow me a kiss from across the room/Say I look nice when I'm not/Touch my hair as you pass my chair/Little things mean a lot." In a Psychology Today article titled "Why A Lover's Touch is so Powerful," Aaron Ben-Zeev writes that couples who hug each other a lot have lowered blood pressure. He writes that studies have shown when couples are physically affectionate and offer warm embraces, this makes it easier for the couple to resolve conflicts. A Ph. D., Ben-Zeev concludes, "in Greek mythology, King Midas's touch turned to everything he touched into gold. Lovers can turn their partners into happy people with a physical and mental golden touch." So when Cliff Richard is singing about the game changing difference felt when held tight by the woman of his dreams, he is describing that place of bliss and aliveness that studies have born out over recent decades.
"Theme For A Dream" was co-written by Mort Garson. Garson was born in Saint John, New Brunswick. Garson also wrote "Our Day Will Come" for Ruby & The Romantics in 1963. He went on to prominently arrange for other artists including the Sandpipers on their 1966 hit, "Guantanamera", and Glen Campbell's 1968 hit, "By The Time I Get to Phoenix". In 1974, he won a Grammy Award for his composition of "The Little Prince," which accompanied Richard Burton's narration of the children's book. He composed the score for the West End of London musical, Marilyn, in 1983. Earl Shuman, the other co-writer, teamed up with Garson on minor hits for Patti Page and the Belmonts. Shuman had a number one British hit, "Starry Eyed", for Michael Holliday in 1960.
"Theme For A Dream" was Cliff Richard's eleventh Top Ten hit in the UK and his third Top Ten hit in Vancouver, peaking at #6. In the USA the best chart performance was in Salisbury, Maryland, at #9, and in Seattle at #14.
In the UK Cliff Richard had 26 of his first 28 singles, from 1958 reach the Top Ten, which included a record of 23 Top Ten singles in a row, ending in the middle of 1965. Of these 15 singles were non-album singles. It would seem with the coming of the British Invasion that Cliff Richard would be discovered by the American record-buying public. However, it was not to be. He remained almost completely off the radar in the USA until his Top Ten hit in 1976 on the Billboard Hot 100 called "Devil Woman".
In the 1980's he scored again with "We Don't Talk Anymore" and "Dreamin'". Cliff Richard was among the performers at the Diamond Jubilee concert held outside Buckingham Palace in June 2012. Then, on June 30, 2012, he helped to carry the Olympic torch from Derby to Birmingham as part of the torch relay for the 2012 Summer Olympics in London. Cliff Richard has also been active as a philanthropist. In October 2015 he went on tour at the age of 75. Over the course of his recording career, Cliff Richard has had 68 singles reach the Top Ten on the UK singles chart between 1958 and 2008.
June 20, 2018
Ray McGinnis
References:
Cliff's Career, Cliff Richard.org.
Jimmy Gateley, Musician Bio.org, July 14, 2017.
Aaron Ben-Zeev, Why A Lover's Touch is so Powerful, Psychology Today, May 18, 2014.
"The Fabulous Forty," CKWX 1130 AM, Vancouver, BC, May 6, 1961.
For more song reviews visit the Countdown.