#1002: Theme From Dixie by Duane Eddy
Peak Month: April 1961
6 weeks on Vancouver's CFUN chart
Peak Position #6
Peak Position on Billboard Hot 100 ~ #39
Twin Pick Hit ~ March 11, 1961
YouTube.com: "Theme From Dixie"
Duane Eddy was born in Corning, New York, in 1938. When he turned five years old he started to play guitar. His family moved to Coolidge, Arizona, in 1954. At the age of 16 Eddy got a Chet Atkins Gretch guitar. In 1954, at Coolidge High School Duane met Jimmy Delbridge who shared his love of music. Both boys played guitar and sang. In short order they were appearing on local radio in Coolidge, KCKY, as Jimmy and Duane. Jimmy sang best and Duane was a superior guitar player. Duane persuaded Jimmy leave the guitar behind and play piano. During 1955 local Phoenix disc jockey Lee Hazlewood was informally managing the duo. In June '55 Hazlewood drove Eddy and Jimmy Dell (as he was now known) to Ramsey Recording Studio in Phoenix. In the studio the duo recorded the first of Hazelwood's songs, "Soda Fountain Girl" and "I Want Some Lovin' Baby". These were old hillbilly tunes backed by Buddy Long & the Western Melody Boys.
In February 1956, Jimmy and Duane appeared on The Arizona Hayride on KRUX in Glendale, Arizona. Duane Eddy and Lee Hazlewood became acquainted on the Arizona Hayride with Al Casey and his guitar-playing wife Vivian (professionally known as Corki Casey), drummer Connie Conway and jack-of-all trades Donnie Owens. At the time Jimmy Dell was getting cold feet about playing rock 'n roll because of religious objections. Duane Eddy tired of Dell's scruples and went ahead with his blossoming career. In 1957 he recorded "Ramrod" which was credited to Duane Eddy and His Rock-A-Billies. The single got little notice.
Eddy released his first album, Have 'Twangy' Guitar Will Travel on January 9, 1958. It is a mix of early rock & roll, swing, country and blues, and contains several covers as well as original compositions. He and the band known as The Rebels, Al Casey on rhythm guitar, his wife Corki Casey also on rhythm guitar, Steve Douglas on sax, Buddy Wheeler on bass and both Mike Bermani and Bob Taylor on drums; who along with several guest musicians were joined by The Sharps (later known as The Rivingtons), who contributed non-lyrical vocals, whoops and hollers. The album spent 82 weeks on the Billboard album chart into 1960, peaking at #5. Duane Eddy was one of the first rock 'n roll recording artists to successfully chart an album into the Top Ten of the album charts.
His first single release from the album was "Movin' and Groovin'", a minor hit, which began with a riff the Beach Boys would borrow to open their 1962 hit "Surfin' U.S.A.". It was his next single release, "Rebel Rouser", which put Duane Eddy on the map. The instrumental climbed to #6 on the Billboard Hot 100 in the summer of 1958, and #2 on CKWX in Vancouver (BC).
Next, Eddy re-released "Ramrod", which cracked the Top 40 on the Hot 100 peaking at #27, and #18 in Vancouver (BC). He followed up with another track from Have 'Twangy' Guitar Will Travel titled "Cannonball". This single climbed to #15 on the Hot 100 and #8 in Vancouver (BC), his second Top Ten hit in '58. While "The Lonely One" stalled at #23 in early 1959 on the Billboard Hot 100, it climbed to #5 in Vancouver (BC). Duane Eddy consistently outperformed with his singles north of the United States border, here on the West Coast. In the summer of '59 "Forty Miles Of Bad Road" peaked at #9 on the Hot 100 and #8 in Vancouver (BC).
Duane Eddy enjoyed his biggest seller in 1960 with the title theme to the film Because They're Young. The movie starred Dick Clark from American Bandstand, James Darren and Duane Eddy (as himself). The plot concerned a crusading high school teacher who tries to help his troubled students. "Because They're Young" climbed to #2 in Vancouver (BC) and the UK, and #4 on the Billboard Hot 100. Later in 1960 Duane Eddy released an instrumental single titled "Peter Gunn" which was a cover of the Henri Mancini TV show theme. Eddy's version climbed to #6 on the UK singles chart.
Next, Duane Eddy released "Pepe", a cover of the theme song from the movie of the same name in 1960. His next single release was "Theme From Dixie".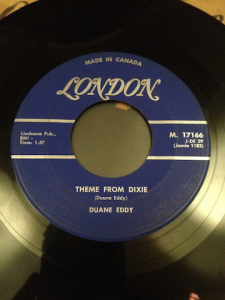 "Theme From Dixie" was taken from "Dixie", a song written by Daniel Decatur Emmett. Emmett was born in Ohio in 1815 and the founder of the first troupe of blackface minstrel performers, the Virginia Mintrels. Blackface performance involved white men painting their faces and hands black to impersonate caricatures of African-American men and women. It had been introduced into American society a decade earlier by Thomas D. Rice when he created the character of Jim Crow in 1832. Rice went from one theater to another, singing a song he wrote in 1828 titled "Jump Jim Crow". Rice became known as "Jim Crow Rice". Thomas D. Rice claimed to have been inspired to write and perform the song after seeing a crippled black stable groom, who sang and danced as he did his work. As a result of Rice's fame, the term Jim Crow had become a pejorative term for African Americans by 1838. Later racial segregation laws passed in the Deep South were called Jim Crow laws.
In 1843, Daniel Emmett's Virginia Minstrels performance at a theater in New York City, was the first to "black up" an entire band rather than one or two performers. In 2019 photos of Canadian Prime Minister Justin Trudeau wearing blackface, as recently as 2001, appeared during the Canadian federal election. It caused a scandal during the campaign, although Trudeau won re-election. Another song written and performed by Daniel Emmett and his Virginia Minstrels was "Polly Wolly Doodle".
Emmett wrote "Dixie" in 1859 and it was first performed by Bryants Minstrels in at the Mechanics Hall in New York City on April 4, 1859. The song became an instant hit, especially in the Deep South, and a rallying cry for pre-Civil War secessionist sentiment. The song was traditionally played at a tempo slower than the way it was played a century later in versions like in Duane Eddy's "Theme From Dixie". "Dixie" was composed as a walkaround. The walkaround often was performed as the finale to the first half of the minstrel show, the opening semicircle.
The opening verse romanticized the life of slaves working on a plantation "Oh, I wish I was in the land of cotton/old times there are not forgotten/look away, look away, look away, Dixie land." Most of the following verses concern romantic flirtations between a slave and his "ole missus." The narrator of the song recalls how much he likes to eat "buckwheat cakes and Injun batter." In the chorus the singer offers fondly, "I wish I were in Dixie, hooray, hooray!" The final verse concludes: "Then hoe it down and scratch your gravel/To Dixie's Land I'm bound to travel/look away, look away, look away Dixie land."
For slaves living in the Deep South there was another side to life. In 1704 South Carolina was the first jurisdiction to establish slave patrols. The practice spread across the Deep South. Slave patrols consisted mostly of white citizens. Most people in slave patrols came from working and middle-class conditions. In some southern states, the militia and army served as slave patrols. In other southern states, slave patrols came about from colonial or state government legislation. Slave patrols typically rode on horseback in groups of four or five. Though slaves were allowed to travel, the slave patrols subjected them to questioning, searches, and other forms of harassment. Being whipped and beaten for non-compliant, and even compliant slaves, could be expected. More than floggings and beatings, however, slaves feared the threat of being placed on the auction block and being separated from their families. If caught by patrols and returned to their masters, being placed on the auction block was an option for masters who no longer wanted to deal with their non-compliant slaves.
"Dixie" was typically played at dedications of Confederate monuments like the Confederate Private Monument in Nashville, Tennessee on June 19, 1909. The monument is of a Confederate private in uniform, resting on a boulder, holding a rifle. The word "Dixie" refers to currency issued first by the Citizens State Bank in the French Quarter of New Orleans and then by other banks in Louisiana. These banks issued ten-dollar notes labeled Dix on the reverse side, French for "ten." The notes were known as "Dixies" by southerners, and the area around New Orleans and the French-speaking parts of Louisiana came to be known as "Dixieland". Eventually, usage of the term Dixie came to refer to the Southern states in general, all land south of the Mason-Dixon line (Maryland and Pennsylvania border), established in 1767.
Although "Dixie" was written by a northerner, and sung by Blackface minstrels, the sentiment "In Dixie land I'll take my stand to live and die in Dixie," struck a chord with Southerners who wanted to leave the Union. "Dixie" was performed by a New Orleans blackface troupe named the Rumsey and Newcomb Minstrels in March 1860. Their rendition of "Dixie" resulted in seven encores. When South Carolina voted to secede from the United States on December 20, 1860. The following states also voted to secede: Mississippi (January 9, 1861), Florida (January 10, 1861), Alabama (January 11, 1861), Georgia (January 19, 1861), Louisiana (January 26, 1861), Texas (February 1, 1861), Virginia (April 17, 1861), Arkansas (May 6, 1861), North Carolina (May 20, 1861), and Tennessee (June 8, 1861). On the occasion of each vote to secede the state legislature played "Dixie" after the results of the vote were recorded. On February 18, 1861, "Dixie" became an unofficial anthem for the South when it was played during the inauguration of Jefferson Davis as President of the Confederate States.
Though Duane Eddy's title for the instrumental was "Theme From Dixie", this referred only to the song and not to a film. For most people instrumental performances of the tune only conjure the South generically. But when the song is sung with its lyrics, it becomes politically divisive. In 1968 the University of Miami banned the song. Many African-American and liberal commentators have questioned the choice to perform the song, seeing it as epitomizing a recalcitrant pro-slavery South. While conservative commentators have protested that to not sing the song is a form of cultural genocide. And so the debate continues to this day. For Duane Eddy, born in Corning, New York, the choice to record the tune may have been quite innocent.
"Theme From Dixie" peaked at #6 in Vancouver (BC) and Davenport (IA), #10 in Tucson (AZ), #11 in Philadelphia and Minneapolis/St. Paul, #13 in Lakeland (FL), #14 in Denver, and #17 in Chicago.
Between July 1958 and September 1961 Duane Eddy had a single on the pop charts in Vancouver (BC) for 142 out of 169 weeks. Duane Eddy was a part of the instrumental pop-rock background in the late 1950's into the mid-60's. From 1958 to 1964 he scored 28 singles in the Billboard Hot 100. Of these, only three would reach the Billboard Top Ten. Meanwhile, in Vancouver, "Pepe" was one of nine top ten singles for the guitar player of the 23 that charted locally.
Over the years Duane Eddy has appeared as a session musician on recordings by Sanford Clark, Ray Sharpe, B.J. Thomas, Emmylou Harris, Phil Everly, The Ventures, Kenny Rogers, The Art of Noise and The Pretenders. Duane Eddy's band, The Rebels, included saxophone players Steve Douglas and Jim Horn, and pianist Larry Knechtel. Douglas, Horn and Knetchel later became members of the Wrecking Crew of Phil Spector in the Sixties.
Larry Knechtel played on "Mr. Tambourine Man" for The Byrds; "Light My Fire" for The Doors; "Wouldn't It Be Nice", "Sloop John B" and "God Only Knows" for The Beach Boys; "Mrs. Robinson", "A Hazy Shade Of Winter", "At The Zoo", "The Boxer", Bridge Over Troubled Waters", Cecelia" and "El Cóndor Pasa" for Simon & Garfunkel; "Dream A Little Dream Of Me" and "Twelve Thirty" for The Mamas and the Papas; "If I Can Dream" for Elvis Presley; and "Stoney End" for Barbra Streisand. He joined Bread in 1971 and was among the personnel for "Baby I'm-A Want You", Everything I Own" and "Guitar Man".
Jim Horn also was a session musician, along with Larry Knechtel, on the Pet Sounds album for The Beach Boys, especially "Good Vibrations". Horn also featured on recordings of "Up, Up And Away" and "Aquarius/Let The Sunshine In" for the Fifth Dimension; "For All We Know" and "Rainy Days And Mondays" for The Carpenters; "Strangers In The Night" for Frank Sinatra; "River Deep – Mountain High" for Ike and Tina Turner; "Poor Side Of Town" for Johnny Rivers; "Light My Fire" for Jose Feliciano; "Creeque Alley" for The Mamas & the Papas; "Africa" and Rosanna" for Toto; "Got My Mind Set On You" for George Harrison, "You've Lost That Loving Feeling" for The Righteous Brothers, and many others.
Steve Douglas has been a session musician on four of Bob Dylan's later albums, and the Pet Sounds album for The Beach Boys. Douglas also was a session musician for Mink Deville, The Ramones, The Crystals "He's A Rebel" and others.
In 1961 Duane Eddy appeared in the western A Thunder of Drums along with Richard Chamberlain. In 1962 Duane Eddy made his first appearance on TV in an episode of Have Gun, Will Travel. He also appeared in the film The Wild Westerners. In 1968 he appeared in the films The Savage Seven and Kona Coast.
November 13, 2019
Ray McGinnis
References:
"Duane Eddy Cashbox & Billboard Chart Positions," tony50.tripod.com.
"Duane Eddy Inductee," Rock and Roll Hall of Fame, 1994.
"Steve Douglas Is Dead; Rock Saxophonist, 55," New York Times, April 22, 1993.
"Jim Horn," jimhornmusic.com.
"Larry Knechtel, Rock Keyboardist-Arranger, Dies at 69," New York Times, August 25, 2009.
Laurence Hutton, "The Negro On the Stage," Harper's Magazine, June to November 1889, Vol 79. 131-145.
Sally M. Walker, Boundaries: How the Mason-Dixon Line Settled a Family Feud and Divided a Nation, (Candlewick Press, 2014).
"Dixie Originated From Name 'Dix' An Old Currency," New Orleans American, May 29, 1916, Vol 2, No. 150, p. 3.
"Jefferson Davis," Wikipedia.org.
Leyland Cecco, "Trudeau says he Can't Recall How Many Times he Wore Blackface Makeup: Footage Emerges of Third Instance of Canadian Prime Minister in Blackface, with One Month to go Before Election," Guardian, September 20, 2019.
"C-FUNTASTIC FIFTY," CFUN 1410 AM, Vancouver, BC, April 8, 1961.
For more song reviews visit the Countdown.