#856: (There's) Always Something There To Remind Me by Sandie Shaw
Peak Month: December 1964
8 weeks on Vancouver's CFUN chart
Peak Position #6
Peak Position on Billboard Hot 100 ~ #52
YouTube.com: "(There's) Always Something There To Remind Me"
Lyrics: "(There's) Always Something There To Remind Me"
Sandra Ann Goodrich was born in 1947 in Dagenham, a suburb in East London. In 1964 the British press called her the "original Brit Girl." They were referring to her chiseled cheekbones, independent girl about town aura and otherworldliness as she performed on stages barefoot. In 1963, at the age of 16, Sandie Shaw was working as a fashion model for a photography company pitching photos to magazines. She was also singing on stages at night hoping to get a break. Shaw was "discovered" by singer, Adam Faith at a concert in which they both performed. Worked as a photographic fashion model to fill in time. At 17, she began her career as an international singing and recording star. Her first single, "As Long as You're Happy Baby", didn't make the UK charts when it was released in July, 1964. However, Pye Records was confident she would soon be a make it big.
Shaw released "(There's)Always Something There To Remind Me", in September 1964.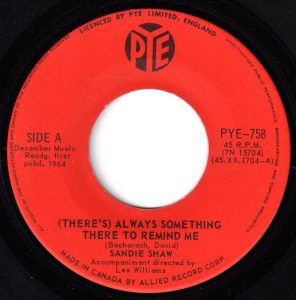 "(There's) Always Something There To Remind Me" knocked Roy Orbison's "Oh, Pretty Woman", out of the #1 spot in the UK in October 1964. She also climbed to #1 in December 1964 in Canada, replacing Bobby Vinton's "Mr. Lonely". Shaw also climbed to #1 with the single in South Africa. She rerecorded the song in French as "Toujours un coin qui me rappelle." It climbed to #19 on the pop charts in France and was covered in 1965 by Eddy Mitchell who had even bigger success taking the song to #2 in France and #3 in Belgium. In North America "Always Something There To Remind Me" climbed to #4 in San Bernardino (CA), #5 in Seattle, #6 in Vancouver and Boston, #8 in Cirpus Christi (TX) and Salem (OR), #9 in Detroit and #10 in Miami.
"Always Something There To Remind Me" was written by Burt Bacharach and Hal David. The song is about one person recalling a relationship that has ended. They find that when they walk along the streets they used to walk arm and arm with their former partner, they are filled with emotion. They are consumed by the memories such that they feel "they will never be free." It is one thing to let your former lover know they'll always be a part of you. But, in this case, the singer has taken it to the next level. It seems that should they find themselves in a new relationship they will continue to dwell on their former romance. Their conviction, "I was born to love you," seems to suggest that their former love is the one and only person they can ever love. In her article, "How to Really Truly Get Over A Breakup," Ashley Ross reminds her readers that most people do move on after a relationship has ended. In a study by the Journal of Positive Psychology, researchers found that 71% of 155 undergraduates who'd experienced a breakup in the previous six months were able to see their lost relationship in a positive light in 11 weeks. Most were able to say yes to the statements "I learned a lot about myself" and "I have grown as a person." The initial heartbreak of a breakup may leave many feeling like they will never be free. But for most people, someone new comes along and the ex-lover is replaced with a new love interest. In 1983, under the title, "Always Something There To Remind Me" British New Wave band, Naked Eyes, took their cover version of the song to #8 on the Billboard Hot 100 and #5 in Ottawa.
Burt Bacharach and Hal David became a force as composers working in the Brill Building starting in the late 50s. They co-wrote "The Story Of My Life" which became a #1 hit for Michael Holliday in 1958 in the UK, and "Magic Moments" for Perry Como another #1 hit in the UK and #4 on the Billboard Hot 100 later that year. In 1961 Bacharach wrote "Tower Of Strength" for Gene McDaniels and "Baby It's You" for The Shirelles. Bacharach and David had a banner year in 1962 with hits that included "The Man Who Shot (Liberty Valance)" (Gene Pitney), "Make It Easy On Yourself" (Jerry Butler), "Don't Make Me Over" (Dionne Warwick) and "Only Love Can Break A Heart" (Gene Pitney). In 1963 the songwriting team enjoyed more accolades with "Wishing And Hoping" (Dusty Springfield), "Blue On Blue" (Bobby Vinton), "Close To You" (The Carpenters, #1 in 1970) and "Anyone Who Had A Heart" (Dionne Warwick). 1964 continued their winning ways with "Walk On By" (Dionne Warwick) as well as their hit with Sandie Shaw. The next year they had a modest hit with "Trains And Boats And Planes" by Billy J. Kramer and the Dakotas (and also Dionne Warwick). In 1965 they had a #3 hit with Tom Jones singing "What's New Pussycat?" Other notable songwriting classics include "I Say A Little Prayer" (Aretha Franklin), "This Guys In Love With You" (Herb Alpert) and "Raindrops Keep Falling On My Head" (BJ Thomas). In the 1980's Burt Bacharach co-wrote with Carol Bayer Sager "On My Own" for Patti Labelle and Michael McDonald and "Arthur's Theme" for Christopher Cross. Both were #1 hits.
In the winter of 1964 Shaw released "Girl Don't Come". Though the song peaked at #2, in the UK it is considered her signature song. She tried to get a visa in America to perform on Shingig! because the U.S. Federation of TV and Radio Artists refused her an American work permit. An Italian version of the song, "E ti avrò", climbed to #11 on the Italian pop charts in 1966. In 1965, Sandie Shaw had another international #1 hit with "Long Live Love". She recorded singles in French, German, Spanish and Italian. In 1967 she became the first British recording artist to perform behind the Iron Curtain with a concert in Prague, Czechoslovakia. Shaw earned Britain its first Eurovision Song Contest win in 1967 with her hit "Puppet On A String." In 1968 she began to design and model her own line of clothes and shoes. Later that year she had her own BBC TV show called The Sandie Shaw Supplement. In 1969, Sandie Shaw had her eighth and final Top Ten hit in the UK, "Monsieur Dupont."After her successful run of hit records in just six years, Sandie Shaw and her husband, fashion designer, Jeff Banks, got ready to give birth to their first child. The British tabloids featured Sandie in month-by-month coverage from after her initial test confirming she was pregnant until the birth of her daughter, Grace.
Sandie Shaw went into semi-retirement from the music industry. In the 1970s she wrote a children's book, a musical and she appeared on stage in Hamlet and in George Bernard Shaw's St. Joan. She separated from Jeff Banks in 1977 after her husband's chronic mismanagement of his fashion design business. In 1978 she became a Buddhist and moved to London with her daughter, Grace. In 1981 Sandie Shaw shared the stage with Chrissie Hynde of the Pretenders. In 1982 Shaw and Banks were legally divorced. Later that year she married film director, Nik Powell. In 1983 Shaw collaborated with new wave band, The Smiths, and charted a Top 30 single on the UK charts titled "Hand In Glove." In 1987 Shaw headlined benefits for AIDS research. She charted four more singles into the lower range of the UK singles chart until 1994. In 1991 she published her autobiography, The World At My Feet. In the early 90s she studied at Oxford and became a licensed as a psychotherapist. In 1998 she became an honorary Professor of Music and a member of the Royal Society of Musicians. In 2002 she married her third husband, Tony, and moved to the West Indies.
Shaw has been an advocate in Britain for giving musicians tax breaks that can spread their royalty and concert performance earnings over a number of years. Recording artists can have a really big year on the pop charts and then be forgotten a year later. The average take home pay over several years is not so much for many musicians, Shaw says. Shaw spoke to members of the British Parliament contending that the best music often has come from singers and musicians from "challenging backgrounds." However, recording artists from working class backgrounds were immediately at a disadvantage when it came to contract negotiations with record companies. Most poor people don't know how to negotiate a record deal, having not been taught to think about finances and to consider the financial implications of what is in a record contract.
Shaw, who said she felt "quite thrilled" about her honour, achieved three UK number one singles in her career and was known for performing barefoot.
March 20, 2018
Ray McGinnis
References:
Sandie Shaw ~ Timeline, Sandie Shaw.com
Charlie Cooper, "My Secret Life: Sandie Shaw, 66, Singer: 'I really don't like wearing clothes'," Independent, London, UK, March 30, 2013.
Glenys Roberts, "Sandy Shaw, the Barefoot Adulteress: How the Eurovision Victory was Nearly Derailed by Her Scandalous Love Life," Daily Mail,UK, December 26, 2010.
"Sandie Shaw 'quite thrilled' to receive MBE from Charles," AOL UK News, February 8, 2018.
"Sandie Shaw: Finance a 'Barrier' for New Artists," BBC, March 27, 2013.
Sandie Shaw, The World At My Feet, (HarperCollins, 1991).
Ashley Ross, "How To Really, Truly Get Over A Breakup," Refinery 29.com, January 10, 2018.
"C-FUNTASTIC FIFTY," CFUN 1410 AM, Vancouver, BC, December 12, 1964.
For more song reviews visit the Countdown.