#346: Thirsty Ears by Powder Blues
Peak Month: September 1981
11 weeks on CKLG's Vancouver Charts
2 weeks Top 20 Extras
Peak Position ~ #7
Peak Position on Billboard Hot 100 ~ did not chart
YouTube: "Thirsty Ears"
Lyrics: "Thirsty Ears"
In 1978 Prism band member, Tom Lavin, left the group to form Powder Blues. Lavin had also recorded and been a member of Denise McCann's backing band. Powder Blues was made up of Tom Lavin on guitar and vocals, Jack Lavin on bass, Mark Hasselbach on trumpet, Duris Maxwell on drums, Wayne Kozak, Gordon Bertram and David Woodward all on saxophone, Bill Hicks on drums and Will MacCalder on keyboards and vocals. Jack Lavin had been a member of Teen Angel. Willie MacCalder was formerly a member of Willie and The Walkers. Duris Maxwell was a former member of Skylark and Doucette. Gordie Bertram had been a member of Foreman Byrnes. Mark Hasselbach had been with Airbrush, a jazz band. David Woodward, born in Arlington, Virginia, had been a member of Toronto's Downchild Blues Band since 1971.
Born in Chicago in 1950, Tom Lavin was raised in a musical family. His father played guitar and harmonica and sang. His brother Jack (born in 1952) played ukulele from the age of six and guitar from the age of eight. Their mother and sisters sang along and played percussion. Tom formed a band in his late teens in Chicago called The Deadly Nightshades. They formed in Glenbrook South High School in Glenview, Illinois, a suburb of Chicago. This was a teen band that did a circuit Chicago area teen clubs that served no alcohol. These were weekend clubs run by the parks board. The Deadly Nightshades played Rolling Stones, The Kinks, Bo Diddley, Chuck Berry, Little Richard and some Motown hits. The band started playing high school dances and started a fan club. They ended up touring with The Turtles and Herman's Hermits. The Deadly Nightshades played Peppers, a legendary blues club in the African-American community at 43rd and Vicennes in the South Side of Chicago. Buddy Guy and other blues greats performed there. During the Vietnam War, Tom Lavin moved to Vancouver in 1969.
Once in Canada, Tom Lavin soon began showing up at gigs in downtown Vancouver. Local musicians were impressed with Lavin, and he got work as a studio musician and song writer. He joined the Vancouver band Prism in 1977. Brother Jack Lavin appeared as a studio musician along with Tom in the bands' self-titled debut album that featured the single "It's Over".
Jack Lavin had moved from the Chicago suburb of Glenview to San Francisco, at the age of sixteen in 1968. He became a roadie for the San Francisco band Cleveland Wrecking Crew. While in San Francisco, Jack Lavin met Janis Joplin, Duane Allman, the Grateful Dead, Steve Miller, Country Joe and the Fish and other recording artists who passed through the Bay Area. Jack Lavin followed his brother, Tom, up to Vancouver and began to establish his roots here in the early 70's.
Duris Maxwell was born in East York, Ontario, in 1946. His family moved to Vancouver in 1948. By the age of 14 he was playing with Evan Kamp and the Trail Riders. In 1964 he joined Little Daddy and the Bachelors, where he met Bobby Taylor. In 1965 he joined The Chessmen along with Terry Jacks. That year he was became the drummer for Bobby Taylor and the Vancouvers. After they disbanded Maxwell went on to play for Jefferson Airplane, Skylark and Doucette.
Willie MacCalder was born in Victoria, British Columbia, in 1946. He grew up in Edmonton, Alberta, and took piano lessons at age nine. His parents didn't allow rock 'n roll to be played in the MacCalder home. But his dad bought his an alto saxophone, and Willie got involved in a band called The Tempests who played at the Pleasantview Community Hall in Edmonton. With the British Invasion, Willie learned to play keyboards. In 1965 he formed a band at the age of 19 named Willie and the Walkers. They got a record deal with Capitol Records in 1967 and Norman Petty, who'd previously recorded Buddy Holly, recorded the band. They had three Top Ten hits in Edmonton and Calgary in 1967 titled "In My Room", "Diamonds And Gold" and "My Friend". This led to concerts sharing the billing with Dino, Desi & Billy, The Box Tops and The Guess Who. Willie & The Walkers split up in 1972. MacCalder moved from Edmonton in 1973 to Vancouver.
Jack Lavin wrote on his website, "In 1978 I was asked to play a week long engagement at a club in Vancouver's seedy Gastown District. The club was called the Spinning Wheel, and there was a house drummer who wanted me to hire the rest of the musicians. The first person I contacted was Edmonton pianist Willie MacCalder. He sang wonderfully and played a boogie style piano with an expertise that I had seldom heard. I next contacted my brother, Tom, who had been living in Vancouver since the late '60s…. This 4-piece band became the nucleus of what later turned out to be the W.C Handy Award winning blues band, Powder Blues."
Powder Blues released their debut album in December 1980, Uncut. The bands website recalls that the album "was shrugged off by the major labels who told the band there was 'no market for the blues'. Undiscouraged, the band sold it off stage and sent it to radio stations whose switchboards lit up with calls asking 'who's that?' After selling 30,000 copies in a few weeks, the same record labels competed to distribute this 'non-commercial' product." The album was playlist by Vancouver's CFOX-FM.
The album contained the single "Doin' It Right", which climbed to #2 in Regina, #3 in Vancouver, #4 in Saskatoon, #5 in Ottawa and #20 in Fredericton, New Brunswick. A follow-up single from the album, "Boppin' With The Blues", climbed to #15 in Fredericton and #20 in Regina. Uncut was nominated at the 1981 Juno Awards for "Album of the Year". Powder Blues was also nominated for the Juno Award's "Most Promising Group of the Year" award which they won. One of the singles, "What've I Been Drinking?", was also very popular and made the playlist on CKLG, though it didn't make the Top 20. The album climbed to Top Five in Vancouver, Regina and Ottawa.
The band's second album, Thirsty Ears, was released in early 1981. The album sold over 50,000 copies earning a gold record in Canada. The title track – "Thirsty Ears" – climbed into the Top 20 on the Canadian RPM singles chart.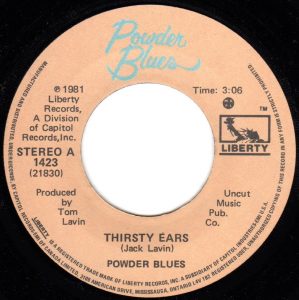 "Thirsty Ears" was written by Jack Lavin. It's a song that references the beginning of Tom and Jack Lavin's musical career's when they first played at the legendary blues club on the South side of Chicago called Peppers. The club in the heart of an African-American neighborhood was no place for white kids. The song tells us the neighborhood was "the meanest by far." The kind of neighborhood is inferred in the line "hey white boy whatcha doin' down here." And a policeman in tells the young white musicians "move away from here." The young age of the Lavin brothers is referenced in the line "I jumped on the bus, I didn't have no car." The "thirsty ears" is a reference to the hunger and yearning to hear and play the blues.
"Thirsty Ears" climbed to #6 in Ottawa, #7 in Toronto, #8 in Vancouver and Regina, #12 in Halifax and #18 in Montreal. The song was written by band member, Jack Lavin. He was nominated for a Juno Award for Songwriter of the Year in 1981 for "Thirsty Ears".
In 1982 Powder Blues went on a world tour and released the album Party Line. In 1983 they released another studio album titled Red Hot/True Blue. With these new recordings, invitations kept coming to appear in concert. Powder Blues went on tour in Europe, including a concert at the Montreaux Jazz Festival. A live album from the concert was released in 1984, along with a 'Best Of' compilation. However, before Live At Montreaux was released, Jack Lavin left Powder Blues due to artistic differences.
During the height of their popularity Powder Blues played 322 one-nighters. The obstacle to their playing 365 one-nighters was local clubs and pubs were often closed every Monday. The opened a concert for The Who and also went on tour in Texas with a then relative unknown Stevie Ray Vaughan. Though Powder Blues released two more singles in the mid-80's, their record sales were confined to their albums.
While their albums continued to sell well, Powder Blues failed to match their chart successes on the singles chart with "Doin' It Right" and "Thirsty Ears". They've released over ten albums over their four decades.
In 1993, Powder Blues released the jazz/swing studio album, Let's Get Loose. In 1997 they released With Lowell Fulson. Fulson was a blues legend whose first R&B hit was "Three O'Clock Blues" in 1948. He had a #1 R&B singles hit in the USA in 1950 titled "Blue Shadows", and in 1955 a #3 hit on the Billboard R&B chart called "Reconsider Baby". The later was named by the Rock and Roll Hall of Fame in 1995 as one of the "500 Songs That Shaped Rock and Roll." And in 1995, Lowell Fulson was nominated for a Grammy Award for Best Traditional Blues Album of the Year: Them Update Blues. Powder Blues collaboration with Lowell Fulson was a musical coup. And it marked one of Fulson's last recordings as he died at the age of 77 in 1999 after complications to diabetes and kidney function.
In 2003 Powder Blues released Swinging' The Blues, an album of R&B band hits including Roy Brown's "Good Rockin' Tonight" from 1947; "Caldonia" a #1 hit for Louis Jordan from 1945; Bobby Blues Bland's #1 1957 R&B hit "Farther On Up The Road" and Big Joe Turner's 1954 classic "Flip, Flop and Fly" and Tiny Bradshaw's #1 R&B hit from 1950 "Oh Well, Oh Well". A release of Blues + Jazz = Blazz in 2004 featured songs popularized by Glen Miller and others.
Over the years Powder Blues have found themselves on in concert tours across North America and Europe traveling with James Brown, Albert Collins, James Cotton, Willie Dixon, John Lee Hooker, B.B. King and Stevie Ray Vaughn. Tom Lavin has won awards as a singer, songwriter and producer. He has produced albums for April Wine, Long John Baldry, Powder Blues, Prism and others.
In 2019 Powder Blues celebrated their 41st year as a performing band. The band, billed as Tom Lavin and the Legendary Powder Blues, recently performed in Courtenay, British Columbia, at the Filberg Theatre in February 2019.
Duris Maxwell played with the Irish Rovers overlapping his years with Powder Blues, and also did work with Heart. He left Powder Blues in 1987 to pursue a law degree. He returned to the stage in 2001 and has performed and recorded over the past two decades as a session musician and touring with recording acts that hire him for the road.
In 1985, Jack Lavin became the house band leader at The Yale and turned the century old pub into a magnet for blues music in Vancouver. Jack Lavin brought Jimmy Page, James Cotton, Otis Rush, Mitch Kashmar of WAR, and Lowell Fulson to The Yale. In 1994, Jack Lavin moved on to the Fairview pub and in 2003 joined a group called the Kingpins. Jack Lavin has also appeared in concert in Japan.
In 2018, Willie MacCalder was inducted into the Edmonton Blues Hall of Fame. Over the years MacCalder ended up working with Jim Byrnes, Lowell Fulson, Long John Baldry, Ferron and others.
David Woodward became became a jazz ensemble leader, winning the Alcan National Jazz Award. An exceptional recording musician and composer, he has played, written and arranged sessions for countless commercials, movie and television scores and albums over the decades.
In 1981, while continuing to play with Powder Blues, Gabriel Mark Hasselbach released his first solo album. Over the decades, Hasselbach has contributed to hundreds of advertisements for both television and radio. His clients include General Motors, Kentucky Fried Chicken, McDonalds, National Geographic, Pontiac, and Sony. He has music credits on a number of films including the drama directed by Paul Haggis titled Crash, which won Best Picture at the Academy Awards in 2006; And the 1999 film Double Jeopardy, starring Tommy Lee Jones and Ashley Judd. In 1988, Mark Hasselbach at Australia's Expo 88 in Brisbane. In 1997, Mark and his 22-piece orchestra helped celebrate the opening of the newly upgraded Vancouver International Airport. In 2000, Mark recorded a live album at the Maui Arts Cultural Center, in Kahului, Maui. With the release of Mid Century Modern Vol. 1, in 2018, Gabriel Mark Hasselbach has released over 16 studio albums since 1981. Nine of his songs have appeared on the Billboard Smooth Jazz Songs chart between 2011 and 2017. In 2011, he won the Album of the Year award at the Canadian Smooth Jazz Awards in Mississauga. Between January 9 and March 6, 2019, Mark Hasselbach performed fourteen concerts in the Greater Vancouver area.
February 15, 2021
Ray McGinnis
References:
Powder Blues bio, Powder Blues.net.
Mike Devlin, "Bluesman Tom Lavin Plays Just For the Thrill of It," Victoria Times-Colonist, May 26, 2006.
Jack Lavin bio, Jack Lavin.com.
Mark Moldowan, "Know Your History – The Yale," Georgia Straight, March 30, 2006.
Joe Leary, Tom Lavin Interview – The Early Years, Conversation, Vancouver, BC, 1988.
"The Nightshades On Gear," Garage Hangover.com, December 29, 2016.
Paul Trynka, "Obituary: Lowell Fulson," Independent, March 16, 1999.
Roger Levesque, "Blues Hall of Fame Inducts Rock 'n' Roller From Edmonton Early Blues Scene," Edmonton Journal, Edmonton, Alberta, May 24, 2018.
Brock Silversides, "The Rise and Fall of Willie & The Walkers," It's Psychedelic Baby.com.
"Gabriel Mark Hasselbach info," Gabriel Jazz.com.
For more song reviews visit the Countdown.