#2: This Wheel's On Fire by Julie Driscoll, Brian Auger and the Trinity
City: Belleville, Ontario
Radio Station: CJBQ
Peak Month: August 1968
Peak Position in Belleville ~ #7
Peak position in Vancouver ~ did not chart
Peak Position on Billboard Hot 100 ~ #106
YouTube.com: "This Wheel's On Fire"
Lyrics: "This Wheel's On Fire"
Julie Driscoll was born in 1947 in London. She became a professional musician in her teens, singing in nightclubs with her dad's band. She recorded her first single on Columbia Records, titled "Take Me By The Hand", when she was fifteen. Hearing that maker-shaker Giorgio Gomelsky was looking for a 'girl' singer to record, she approached him at his club in Richmond, The Crawdaddy. While waiting for a suitable song for her, Gomelsky and organist Brian Auger started putting together a soul revue that would be called Steampacket. Julie was chosen as one of the frontline singers. In 1965, at the age of seventeen, she joined fellow vocalists Long John Baldry and Rod Stewart, Auger, bassist Rick Brown and drummer Mickey Waller. Julie Driscoll & the Brian Auger Trinity emerged out of Steampacket around 1966, when Baldry and Stewart left to pursue solo careers. The new group continued the revue format to considerable live success performing.

Brian Albert Gordon Auger was born in 1939 in Hammersmith, West London. He learned to play the piano and the organ. He played as a session musician on keyboards for the Yardbirds 1965 hit "For Your Love".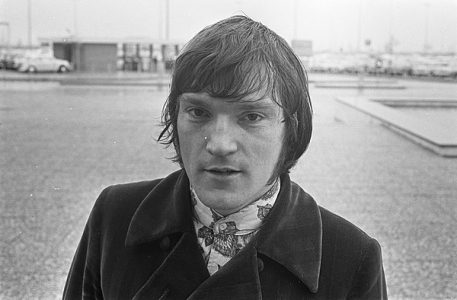 Brian Auger, 1968
In 1967 Julie Driscoll, Brian Auger & the Trinity released their debut album Open. It climbed to #12 on the UK Pop Album chart. In 1968, Julie Driscoll and Brian Auger released the album Jools/Brian. It was a blend of jazz, rock, soul and pop. Tracks from the album included a hip version of the 1962 Booker T & the MGs instrumental, now titled "Green Onions '65". Separately, the band released a single cover of "This Wheel's On Fire".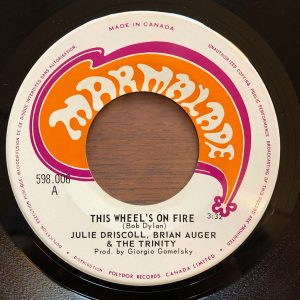 "This Wheel's On Fire" is a song written by Bob Dylan, with Rick Danko. Robert Allen Zimmerman (Bob Dylan) was born in Duluth, Minnesota, in 1941. In his childhood he took up piano and guitar. He was fond of poetry as well as music, especially Elvis Presley and Jerry Lee Lewis. In university he studied the poetry of Dylan Thomas. When he began to perform folk music in public, Zimmerman chose the name Bob Dylan as a tribute to Dylan Thomas. He moved to New York City and hung out in Greenwich Village, playing in folk clubs. In 1962 he released a self-titled album that reached #13 on the UK albums chart. However, back in North America the album got little notice. But when he released The Freewheelin' Bob Dylan in May 1963. One of the tracks from the album was "Blowin' In The Wind", a #2 hit for two weeks for Peter, Paul and Mary on the Billboard Hot 100 in August '63.
On April 9, 1965, Bob Dylan made his first concert appearance in Vancouver at the Queen Elizabeth Theatre. He performed his tenth concert in Vancouver in 2012. Over his career Bob Dylan has released 39 studio albums. He's also released 13 live albums, 14 bootleg albums and 19 compilation albums. In 2016 Bob Dylan won the Nobel Prize for Literature. For more about Bob Dylan see my review of "I Threw It All Away".
Rick Danko was born in Blayney, Ontario, in 1943. He made his musical debut playing a four-string tenor banjo for his first-grade classmates. Around the age of 12 he formed the Rick Danko Band. In 1960, his band the Starlights opened a concert for Ronnie Hawkins. That year, Hawkins invited Danko to join the Hawks as rhythm guitarist, and in September 1960 as Hawkins bassist. Danko, together with the other members of the Hawks, parted amicably with Ronnie Hawkins in early 1964. They were known as the Levon Helm Sextet. In 1967, Rick Danko found a house in West Saugerties, New York, known as Big Pink. It was there that The Basement Tapes were recorded, including the original "This Wheel's On Fire".
Rick Danko remained with The Band until 1976. In 1977, he released his debut solo album, Rick Danko. In 1979, Danko opened shows for Boz Scaggs on tour. Through the 80s and the 90s, Danko focused on both his solo career and also a reformed version of The Band. In 1999, at the age of 55, Rick Danko died in his sleep of heart failure.
The wheel on fire seems to be the singer anticipating death in the time ahead: "best notify my next of kin, this wheel will explode." Is the singer going to burn or wear themselves out, exploding years before their time? The singer may be speaking to could be a friend, an enemy, or even God. At the start of each verse, the singer addresses someone reminding them "If your memory serves you well." At the end of each verse the singer states "But you know that we would meet again if your memory serves you well."
The singer confides "no man alive will come to you with another tale to tell." Is it death that will come with a tale to tell? Or are all those (men) alive set adrift from narrative and meaning-making? And why is the singer going to "unpack all my bags and sit before it gets too late?" Is the singer a guest who is sitting in a place they are visiting temporarily? In another verse, the singer is going to "confiscate your lace…and hide it in your case." With Dylan's writing, we are left with many possibilities. In the final verse, the singer is confronted with an encounter "after every plan had failed and there was nothing more to tell." This could be in the twilight of one's life, when the capacity to manifest new projects and plans is in the past.
The song was originally recorded in 1967 on The Basement Tapes. In 1968, Dylan and Danko recorded the song for the album Music from Big Pink. This was the debut study album by The Band.
With its use of distortion, phasing, the evocative imagery of the song's title and the group's flamboyant dress, this version is closely associated with the psychedelic era in British music. The arrangement featured prominent use of both Hammond organ and mellotron.
"This Wheel's On Fire" climbed to #7 in Belleville (ON), #8 in Santa Rosa (CA), #9 in Montgomery (AL), #10 in San Francisco, and San Jose (CA), #11 in Regina (SK), and #15 in Toronto.
Other recording artists who have recorded "This Wheels's On Fire" include the Byrds, Hamilton Camp, Elvis Costello, the Hollies, Ian and Sylvia, Kylie Minogue, and Siouxsie and the Banshees. Driscoll recorded the song again in the early 1990s with Adrian Edmondson as the theme to the BBC comedy series Absolutely Fabulous.
In 1969, Driscoll and Auger were cast in leading roles for a television special titled 33+1⁄3 Revolutions per Monkee. The special featured Auger and Driscoll taking The Monkees through various stages of evolution until they are ready to brainwash the world via commercial exploitation. Trapped in giant test tubes, the four are stripped of all personal identity and names: Micky Dolenz becomes Monkee #1, Peter Tork becomes Monkee #2, Michael Nesmith Monkee #3, and Davy Jones Monkee #4. Auger and Driscoll observe each Monkees' minds as the four attempt to regain their stripped personal identities through their fantasies.
In 1969, Driscoll was twenty-one and had been gigging and touring constantly in Britain, Europe and in the States, where the group had opened for Led Zeppelin in California. Looking back she reflected, "I was four years solidly on the road with Auge, from Steampacket onwards. We had one week off in all that time. It was totally living out of a suitcase. I was exhausted. When I left, I was doing a lot of writing and composing but I really didn't like the thing of going out and being recognized. I hated the lack of anonymity."
In 1969, Driscoll released her first solo album, 1969. In 1976, she released her second solo album, Sunset Glow. In 1999 she released a third solo album titled Shadow Puppeteer. She married and in collaboration with her husband, Keith, Julie Tippets has been releasing over a dozen albums the past two decades as part of the Spontaneous Music Ensemble.
In 1970, Brian Auger formed the Oblivion Express, a jazz fusion ensemble. Between 1970 and 2022, Auger's band released 14 studio albums and four live albums.
August 2, 2023
Ray McGinnis
References:
Duncan Heining, "Julie Tippetts: Didn't You Used To Be Julie Driscoll?," All About Jazz, December 7, 2016.
Adam Sweeting, "Rick Danko: Rock aristocrat who built the soaring sound behind Bob Dylan," Guardian, December 17, 1999.
Alan Light, "The Freewheelin' Bob Dylan': Inside His First Classic," Rolling Stone, May 27, 2016.
Clinton Heylin, Bob Dylan: Behind The Shades Revisited, (HarperCollins, 2003), 314.
Ben Sisario, Alexandra Alter and Sewell Chan, "Bob Dylan Wins Nobel Prize, Redefining Boundaries of Literature," New York Times, October 13, 2016.
Peter Daddone, "Brian Auger in Conversation," Jazz Review, March 29, 2012.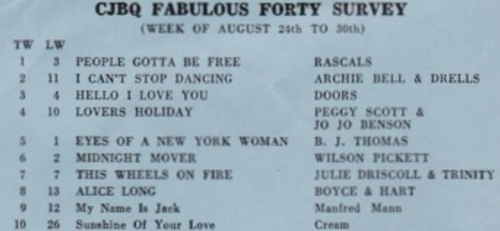 CJBQ AM 800, Belleville, Ontario, Top Ten from August 24, 1968
For more song reviews visit the Countdown.