#1346: A Thousand Feet Below by Terry Tyler
Peak Month: November 1961
6 weeks on Vancouver's CKWX chart
Peak Position #14
1 week Hot Prospects
Peak Position on Billboard Hot 100 ~ did not chart
YouTube.com link: "A Thousand Feet Below"
Terry Tyler was a rockabilly singer born in Tennessee. He recorded "A Thousand Feet Below" for a small label in Philadelphia named Landa. This was a record company that mostly recorded R&B records. Landa had only one Top 40 hit among the 38 singles they released. Twenty-six of the record label's releases occurred in 1961-62. The one hit record Landa recorded was "Get Out (And Let Me Cry)" by Harold Melvin and the Bluenotes in 1965. "Get Out" peaked at #38 on the Billboard Hot 100.

In the late 50s and early 60s there was a genre of music called teen tragedy. The songs concerned fateful circumstances of teenage lovers. Their relationship usually ended because of a fatality. In "Endless Sleep", Jody Reynold's "baby" throws herself into the sea after an argument. Her life is spared when he swims out to save her. Reynolds "happy ending" was due to his original version, ending in the girlfriend drowning, was deemed to morbid by Demon Record Co. In Mark Dinning's "Teen Angel", a young woman runs back into a car stalled at the railway tracks after being pulled out. She runs back to get her high school ring and dies in the car and train collision. Paul Peterson sings, in "Tell Laura I Love Her", about Tommy's choice to enter a stock car race, hopeful to win the race in order to be able to afford a wedding ring to give to Laura. He dies when his car flips over. J. Frank Wilson and the Cavaliers had a #1 hit in 1964 called "Last Kiss". It concerned an accident with a stalled car resulting in a death of the female passenger. Jan And Dean had a hit with "Dead Man's Curve." In the song the driver of the Stingray survives a crash, but the driver of the XKE dies after his sports car slides into the curve.
In the Everly Brothers' "Ebony Eyes", a girlfriend in killed in the crash of Flight 1203. The Cheers sang of a guy who was the "terror of Highway 101" who rode his motorcycle into a diesel truck. In "Leader Of The Pack" by The Sharngri-las, Betty's boyfriend, Jimmy, dies in a fatal crash in his motorcycle on a rainy night. Pat Boone sang about a girlfriend who commits suicide by drowning in "Moody River". In Johnny Preston's "Running Bear", two lovers from different Native tribes meet in the middle of a river. After their hands and lips meet, the current pulls them to their death. In "Patches", Dickey Lee sang about a girl who commits suicide by drowning after she doesn't hear back from her boyfriend. She doesn't know the reason he hasn't been in touch is due to his father forbidding them to get married. And Noel Harrison sang, in "A Young Girl", about a rich girl who falls in love with a vagabond. His love devours her and she takes her life at sixteen years of age.
Behind the teen tragedy genre was a cultural event that evoked the tragedy of a young person's life cut short. On September 30, 1955, actor James Dean was driving a Porche Spyder. At 5:45 p.m. he had a collision with a Ford Sedan driven by Donald Turnupseed. Though Dean had not been speeding, he was killed instantly at the intersection in Cholame, California. The town was 121 miles northwest of Bakersfield. The sunlight at that time of day made it almost impossible for the Turnupseed to see the Porche Spyder.
In 1961, Vancouver radio listeners had their share of teen tragedy songs. In addition to "Ebony Eyes" and "Moody River", they bought copies of an obscure song called "Star-Crossed Lovers" by Eddy And Teddy. In the case of "Star-Crossed Lovers," it was another car accident that sealed their fate. And Cathy Carroll, in her song "Jimmy Love", sang about a couple about to get married when the groom is killed after a tree falls on top of him in a lightening strike.
Over in the UK, John Leyton had a hit called "Johnny Remember Me". The song was #1 from August 27 to September 16, 1961. His song concerned "the girl I loved and lost a year ago." Throughout the song there are female vocals creating an ethereal and ghostly vibe. American songwriters, Charlotte Miller-Munn and J. W. Foster, may have heard the song and inspired by the female vocals. In any event, they wrote a song titled "A Thousand Feet Below". When Terry Tyler recorded the single, it featured female vocals similar to those in "Johnny Remember Me".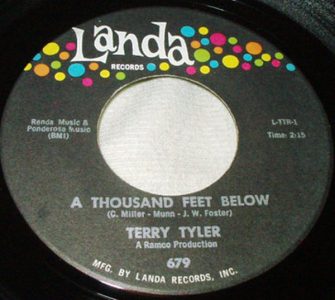 My love went high up that mountain side,
way up as high as she could go.
And I'm the only one who knows why she jumped
to the rock a thousand feet below.
I can see her standing there looking down,
to the rock so far below.
And it tortures me to know that I am the one,
that caused my baby to go.
I-I-I-I-I-I-I can hear her calling,
calling me, I can hear her voice on the wind.
Saying darling, my darling won't you follow me,
and we'll be together again.
I-I-I-I-I-I-I can hear her calling,
calling me from the rock so far below.
And I answer, my baby, I will follow you,
I've made up my mind to go.
I'm gonna go high, high, up that mountain side.
Going up as high as I can go.
The only escape for me is to her,
on the rock a thousand feet below.
I-I-I-I-I-I-I can hear her calling,
calling me from the rock so far below.
I-I-I-I-I-I-I can hear her calling,
calling me from the rock so far below,
far below, far below.
In the song, from the rock a thousand feet below, the troubled girlfriend calls to her boyfriend on the mountain's precipice. She calls to him inviting him to also jump off the cliff to join her on the rock. The outcome is not an example of what Kelly Clarkson was singing about in 2012, "Stronger (What Doesn't Kill You)". It is not the girlfriend, but her ghost calling up to her boyfriend on the cliff. "A Thousand Feet Below" is about a girl who commits suicide by jumping off a thousand foot cliff. The songs' lyrics tell us that the reason she took her life was her boyfriend. He is the only one who has any idea why she took her life. We don't learn what it was that he did to cause her to resolve to take her life. We also don't know why, since she committed suicide, she wanted him to take his life as well so they could be "together again." Might it have been the case that he didn't want to date her anymore? Was he interested in someone else? Listeners can only speculate what led her to her fateful decision. And listeners are left hanging at the end of the song with the boyfriend climbing up to the cliff. Presumably he's going to also jump to the rock one thousand feet below.
Dying by suicide is a difficult topic to bring up in conversation and even more challenging to sing about in a pop song. In a real life scenario, if he decided not to jump, the boyfriend may have sought counseling to get over his loss. "A Thousand Feet Below" climbed to #14 in Vancouver and #20 in San Francisco. It got airplay in Lakeland, Florida. But these were the exceptions. Given the subject matter, other DJ's across Canada and America gave the disc a pass.
Jim Bower of VancouverTop40radio.com offered this back story to the appearance of "A Thousand Feet Below" on CKWX. Bower wrote "Red Robinson seemed to be heavily promoting this song and I think it was largely he who was able to coax the song all the way up to #14 on the WX chart. It might have charted even higher but the problem was that the song hadn't been released in Canada. The WX chart was based not only on votes & requests but also on record sales reported by music outlets around Vancouver, so this song made it to #14 on the strength of votes and requests only. WX seemed to have a bit of an advantage over CFUN at getting new hits on the air although both stations had contacts in the U.S. that allowed them to air new hits long before their Canadian releases in record stores here. Occasionally, as in the Terry Tyler song, a record didn't get a Canadian release at all so it simply died…. It should be added that "A Thousand Feet Below", according to Brian Tarling's book (Vancouver's Charted Songs '56 to '78), did eventually get a Canadian release on the Quality label…. When I was about 13 in 1961 my older sister was dating a young guy named Steve who worked at WX under Red Robinson. (He helped on the phone lines tabulating requests and such for Red). He used to visit my sister every Saturday evening at our home and he always brought records from the WX library which he gave to her, and occasionally one for me. But he couldn't bring her a copy of "A Thousand Feet Below" which she loved, as the station didn't have an extra copy…. Red did mention on the air that the song hadn't been released in Canada, and I believe he was hoping he could help keep it on the chart until it got a Canadian release. Unfortunately it didn't—until sometime later after it was gone (from the CKWX chart)."
Death by suicide leaves loved ones behind trying to pick up the pieces and make sense of the loss. A helpful book on this topic is Did You Know I Would Miss You? by Donaleen Saul. The Victoria (BC) author writes personally about the loss of her own brother, Steve, who took his life at the age of 53. Kathleen Adams, founder of the Center For Journal Therapy in the Denver area, offers this endorsement: "In this brave and necessary work, Donaleen Saul stares straight into the pain of losing a loved one to suicide, the story is compelling and the journal-writing exercises are sensitive and artful, gently guiding the reader through the complexities of this very particular grief." For readers of Did You Know I Would Miss You?, the journal-writing questions have broader application for both our own personal response to Donaleen Saul's story and for any other suicides that have touched our lives.
Terry Tyler switched labels to the Sunland Record Company in Miami. It was there he recorded "Wish Around A Wishing Well" in 1962. The song was a commercial failure and it was Sunland's only single, according to Discogs.com, before the record company folded. Both of Terry Tyler's two recorded singles were penned by Charlotte Miller-Munn. She co-wrote "A Thousand Feet Below" with someone named J.W. Foster who recored a country and western single in the early sixties for Smar-T Records.
But who was Terry Tyler? A granddaughter of his goes by the handle of "tragican" on YouTube.com and wrote me on April 30, 2018, saying "Ray McGinnis, he was born in tennessee and he wrote songs for lonestar, diamond rio, kayte Strong, and a bunch of other people. he's pretty cool." Lonestar is a country music band from Nashville formed in 1992. Diamond Rio is a country and Christian music band formed in Nashville in 1982. Kayte Strong got her first studio album recorded in 2009. Before that she was a backing vocalist and keyboard player on many recordings for other musicians.
May 9, 2018
Ray McGinnis
References:
The Landa Records Story, Rate Your Music.com
"Sunland Record Company," Discogs.com
YouTube.com correspondence with Terry Tyler's granddaughter, April 30, 2018.
Lonestar bio, Lonestarnow.com
Diamond Rio bio, Wikipedia.org
Kayte Strong bio, Kayte.com
Robert Fontenot, "Teen Tragedy Songs: The 50's and 60's," Thought.co, April 24, 2018
Katie Rife, "Screeching Tires and Busting Glass: Defining the Teen-Tragedy Song in 60 Minutes," AV Club, September 14, 2016.
Pam," Splatter Platters: A Look at Teenage Tragedy Songs," Go Retro.com, 2013.
"James Dean Dies in Car Accident – September 30, 1955," History.com.
Saul, Donaleen, Did You Know I Would Miss You?,Did You Know I Would Miss You.com.
Jim Bower emails to Ray McGinnis, August 7, 2019.
Brian Tarling, Vancouver's Charted Songs '56 to '78, vancouverschartedsongs.ca. 2012.
"The Fabulous Forty," CKWX 1130 AM, Vancouver, BC, November 18, 1961.
For more song reviews visit the Countdown.