#534: Touch And Go by The Cars
Peak Month: November 1980
8 weeks on Vancouver's CFUN chart
Peak Position #6
Peak Position on Billboard Hot 100 ~ #37
YouTube.com:"Touch And Go"
Lyrics: "Touch And Go"
According to AllMusic.com music critic, Jason Ankeny, The Grasshoppers were a rock 'n roll band from Cleveland who formed in 1962. There were several lineup changes and Benjamin Orzechowski joined the band in 1964 and became the lead singer. Ben Orr, who was born in 1947, went on to be a lead singer in the New Wave band, The Cars. Jeff Niesel, of Rolling Stone Magazine writes that members of the Grasshoppers Fan Club included Diane Akins, the president of the club. She remembers meeting Ben Orr when the Grasshoppers were an opening act when the Beach Boys performed in Cleveland in November, 1964.

According to Adam Sweeting of The Guardian, Ben Orr "fronted the house band of the TV rock show Upbeat, and was leader of a local group, The Grasshoppers." Upbeat was an American Bandstand style show in the Cleveland region. In 1965 the Grasshoppers recorded "Mod Socks". In Vancouver the tune peaked at #11, while in Cleveland it peaked at #14 on WHK-AM, according to the ARSA website.
Richard Theodore Otcasek was born in Baltimore, Maryland, in 1944. At the age of 16 Ric's family moved to Cleveland. Ben Orr met Ric Ocasek in Cleveland when Orr was with the Grasshoppers performing on a local variety show called Big 5 Show. Ocasek and Orr met up in 1967 in Columbus at Ohio State University. In 1968 they formed a band named ID Nirvana. After moving to Boston in the early 70s, they formed a band called Milkwood with Jason Goodkind, and released an album in 1972. Greg Hawkes was a session musician on saxophone for How's The Weather. Orr, Ocasek and Hawkes were part of Richard and the Rabbits after Milkwood split up.
Gregory A. "Greg" Hawkes was born in western Maryland in 1952. At The Cars induction into the Rock and Roll Hall of Fame in 2018, Hawkes recalled "In 1964, I was 11 years old, and I had been taking piano lessons for 3 or 4 years and frankly, I was getting bored and wanted to give them up. So one day my dad came home and said, "well, I've got tickets to go see The Beatles, but if you want to go, you've got to sign up for another year of piano lessons."
Then Orr and Ocasek performed as an acoustic duo in Cambridge. Then Orr and Ocasek formed Cap'n Swing which included Elliott Easton on guitar. Elliott Easton was born in 1953 in Brooklyn and named Elliot Steinberg at birth. In his acceptance speech at the Rock and Roll Hall of Fame in 2018, Elliott said "In 1956, I was 3 years old and saw Elvis on TV. I had my mom comb my hair into a spit curl just like Elvis, grabbed my Mickey Mouse guitar and checked myself out in the mirror. Already a rock and roller at 3!"
The Cars formed in 1976 with Greg Hawkes on keyboard, Orr on bass, David Robinson on drums, Ric Ocasek on vocals and rhythm guitar and Easton on guitar. Robinson was born in 1949 in the suburbs of Boston. He was in the porto-punk band the Modern Lovers (1970-74) with Jonathan Richman and Jerry Harrison (later of the Talking Heads). Robinson came up with the bands' name and designed the covers for their albums.
The Cars had their first performance by the end of the year and released demos which they shopped around to various record companies. One called "Just What I Needed" got a strong response on AM Top 40 radio in Boston. Subsequently, The Cars were signed with Elektra Records and released their self-titled album in 1978. Other singles included "My Best Friend's Girl" which peaked at #6 in Windsor (ON), and #35 on the Billboard Hot 100. In 1979, a second album titled Candy-O included the single "Let's Go" which peaked at #1 in Vancouver (BC) and Toronto and #14 on the Billboard Hot 100.
Then in 1980 The Cars released their third studio album titled Panorama. The lead single from the album was "Touch And Go".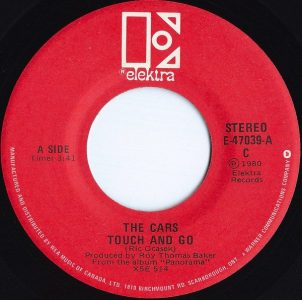 "Touch And Go" was written by Ric Ocasek. The song is an allusion to a sexual encounter. The woman in this guy's life wears tight dresses that make him shake. They touch each other and he touches her star in the hush of midnight. She tells him that with him it's touch and go and he feels as if he's "flying like a cement kite." Touch and go may suggest that once they touch each other they get revved up and go at it as they make love. It's also plausible that this is an allusion a very fast quickie, that after they touch each other they don't linger while making love and it's wham, bam, thank you ma'am. Whatever the duration of their sexual contact, we know from the song that she's all he wants and all he needs.
"Touch And Go" climbed to #2 in Toronto, #6 in Vancouver (BC) and Regina (SK), #7 in Los Angeles and Santa Maria, California.
Between 1978 and 1987 The Cars released six studio albums. They had four Top Ten hits on the Billboard Hot 100 which were "Shake It Up", "You Might Think", "Drive", and "Tonight She Comes". On the strength of The Cars hit, "Drive", Orr appeared on the U.S.A. for Africa ensemble contributing vocals for Africa benefit song "We Are The World". After The Cars disbanded in 1988, Ben Orr formed a band named ORR and worked in several side bands. Orr died in 2000 at the age of 53 of pancreatic cancer.
After The Cars disbanded, Elliott Easton eventually joined Creedence Clearwater Revisited in 1995, which included several former members of Creedence Clearwater Revival. In 2005 Easton and Greg Hawkes formed The New Cars along with Todd Rundgren, former Jefferson Starship drummer Prairie Prince and former Utopia musician Kasim Sulton. Easton later formed the supergroup The Empty Hearts in 2014 with Blondie's Clem Burke, The Romantics Wally Palmar, and Andy Babiuk of The Chesterfield Kings.
When the Cars disbanded, David Robinson stopped playing drums. He opened up an art gallery in Rockport, Massachusetts, where he also sells his own jewelry. In 2011 Ocasek, Easton, Hawkes and Robinson recorded a seventh studio Cars album titled More Like This.
Ric Ocasek released a solo album in 1986 and had a Top 20 single with "Emotion In Motion". Over the years he produced numerous albums for other recording artists. He suffered from coronary artery disease and died of natural causes in 2019.
November 8, 2019
References:
Toby Goldstein, Frozen: The Story Of The Cars, (Olympic Marketing Corp, Hopkins, MN, 1985).
Jeff Niesel, "Friends and Bandmates Pay Tribute to Ben Orr," Rolling Stone, November 13, 2000.
Jane, Scott, "The Cars Take off Fast in Record Derby," The Plain Dealer June 9, 1978.
Adam Sweeting, "Benjamin Orr: Rock Musician Who Found Fame with The Cars," Guardian, October 10, 2002
"Benjamin Orr," Wikipedia.com.
"Carl Maduri discography," Discogs.com.
Jason Ankeny, "The Grasshoppers bio," Allmusic.com.
"Read the Cars' Grateful Rock and Roll Hall of Fame Induction Speeches," Rolling Stone, April 15, 2018.
For more song reviews visit the Countdown.