#398: Tra La La La Suzy by Dean And Jean
Peak Month: January 1964
12 weeks on CFUN's Vancouver Chart
Peak Position ~ #3
Peak Position on Billboard Hot 100 ~ #35
YouTube.com: "Tra La La La Suzy"
Lyrics: "Tra La La La Suzy"
Dean and Jean an African-American recording act from Ohio. They were Welton Young and Brenda Lee Jones. Brenda Lee Jones had previously released "I Ain't Gonna Give Nobody None" on the Apollo label in 1957, backed by the Vocaltones. Welton "Pappy" Young was born in Dayton, Ohio. He learned to play guitar and sing. In 1956 he joined the King Toppers, who subsequently changed their name to the Corvettes. On Marv Goldberg's website, he states that while they were the Corvettes, they played at local Dayton venues like the Democratic Club with Count Basie, and the Fifth Street YMCA. The Corvettes headed for the Big Apple in the fall of '56 and auditioned for the Apollo Amateur Show. They changed their name back to the King Toppers by the end of the year. But the group disbanded by February 1957 when too many members got drafted into the United States Army. Welton Young worked for Western Union and moved back to Dayton. Back in Dayton, Welton Young met Brenda Lee Jones. They had common goals to move advance their musical careers and decided to become a singing duo. In 1958 they signed up with the small Buckeye label and released "Oh Yeah". This was co-written by Young and Jones. Though the song was a hit number, with Chuck Berry-inspired guitar riffs, it was a commercial failure. So Dean and Jean switched labels and got signed with Ember Records in New York City.
Ember was another independent label that had hits with the Five Satins ("In The Still Of The Night") and the Silhouettes ("Get A Job"). In December 1958, Dean and Jean released their debut single on Ember titled "We're Gonna Get Married". It was another effort as a singer-songwriting duo. The song got little chart action. Then in August 1959, they released "Turn It Off" also with Ember Records. The lack of promotion with the Ember label was a catalyst for Dean and Jean to switch record labels.
In 1961 Welton Young and Brenda Lee Jones wrote a song for Dion titled "The Majestic". Originally, it was to be the A-side of a single release with "The Wanderer" as the B-side. But then Laurie Records switched the A and B sides and "The Wanderer" became the hit across North America. Nonetheless, "The Majestic" became a #2 hit in Vancouver (BC), although "The Wanderer" spent four additional weeks on its own on The Fabulous Forty survey on CKWX in January 1962.
In 1962 Dean And Jean released their first single on the Rust label. Their spirited "Dance The Roach" attempted to cash in on the dance craze in the early sixties. The peppy song pictured the whole football team dancing "the Roach." All the players, including "Charlie Brown… just stood in the field going round and around." Of course, cockroaches aren't typically alluring for radio listeners. So the song may have been a non-starter for DJs choosing what to play when they received promotional copies.
The duo released more singles in 1962 with little success. Then in 1963 Young and Jones co-wrote their fifth of six singles, a song titled "Tra La La Suzy".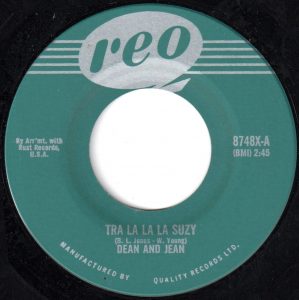 "Tra La La Suzy" is a song about someone who is smitten by a girl named Suzy. But they are anxious that if they ask her out she'll reject their overtures. However, the guy finally gets up the courage to ask Suzy on a date on a Tuesday. Her answer is "Yes. What made you wait so long?" Subsequently, the lyrics tell us the guy is carrying her books at school and "pretty soon you'll marry." In the winter of 1963-64, it seemed that a date on a Tuesday could lead pretty fast to wedding bells.
"Tra La La La Suzy" peaked at #3 in Vancouver (BC), #4 in Buffalo (NY) and Chilliwack (BC), #6 in Birmingham (AL), #7 in Miami, #8 in Columbus (OH), and #9 in Springfield (MA) and Cincinnati (OH). In half the states across the USA "Tra La La La Suzy" got little airplay, and the single stalled at #35 on the Billboard Hot 100.
The duo's next release was "Hey Dean, Hey Jean". The single stalled at #32 on the Billboard Hot 100 while recording artists who were part of the British Invasion occupied nine of the spots between #31 and #1. Six of these were songs by the Beatles, including the Top Five positions. The pair released a third single in the midst of the British Invasion, but in June '64 "I Wanna Be Loved" barely cracked the Hot 100. Both of these songs were written by other songwriters. For the balance of their recording career, Dean and Jean sang songs written by other songwriters.
In 1965 Welton Young arranged two sides for a single by 50s R&B singer Screaming Jay Hawkins.
In 1966 Dean And Jean released "She's Too Respectable". It was a song about female empowerment. The chorus included these lyrics that complained "a woman can't do what a man can do." This was in reference to guys who played around with other girls. The problem, so the song went, was that when it comes to women "she's too respectable" to play around.
Welton Young and Brenda Lee Jones disbanded as a duo in 1966. Welton Young recalls that as Dean And Jean they did so well that at one point they were part of Dick Clark's Caravan Of Stars. Welton finally decided to give it up because "we weren't recording what I wanted and we traveled too much." Initially, touring was fun. But after awhile, the constant traveling began to wear him down.
In the winter of 1966-67 Brenda Lee Jones had a minor solo hit in Dayton, Ohio, and Albany, New York, titled "You're The Love Of My Life". By then she had married and her name was Brenda Lee Melson. In 1974 she released a funk single – under her professional name Brenda Lee Jones – titled "Super Stroke". Her last release was a disco tune in 1976 titled "This Is The Me Me (Not The You You)".
Meanwhile, Welton Young had a song he penned titled "Alimony" covered by Ry Cooder in 1970. And in 1978 Dave Edmunds covered a song Welton Young and Brenda Lee Jones wrote called "Thread The Needle". What happened to either Brenda Lee Jones or Welton Young after the late 70s is lost to the Internet. However numbers YouTube.com comments below several of their hits state that Welton Young died in Dayton, Ohio, in November 2017.
October 19, 2020
Ray McGinnis
References:
"Introduction to Dean and Jean," Mental Itch.
Mary Goldberg, The King Toppers," uncamarvy.com.
"C-FUNTASTIC FIFTY," CFUN 1410 AM, Vancouver, BC, January 18, 1964.
For more song reviews visit the Countdown.