#1107: True, True Happiness by Johnny Tillotson
Peak Month: October 1959
6 weeks on Vancouver's CFUN chart
Peak Position #8
Peak Position on Billboard Hot 100 ~ #54
YouTube.com: "True True Happiness"
Lyrics: "True True Happiness"
In 1939 Johnny Tillotson was born in Jacksonville. He had four Top Ten hits on the Billboard Hot 100 and ten more in the American Top 40. He took an early interest in appearing on stage and by high school had a talent as a singer. In his teens he got a contract to be in the line-up of regular performers on the Jacksonville TV show, McDuff Hayride, hosted by Toby Dowdy. And in the mid-50s Tillotson had his own variety TV show, called The Velda Show, on WFGA. In 1957, a local Jacksonville deejay, Bob Norris, sent a recording of Tillotson singing at a Pet Milk talent contest. He ended up performing on the Grand Ole Opry in Nashville. Cadence Records owner, Archie Bleyer, signed Tillotson to a record contract. "Dreamy Eyes" was his first single released in the fall of 1958. It peaked at #63 on the Billboard Hot 100. It would wait three years before appearing on the pop charts in Vancouver in 1961, peaking at #8, as the song enjoyed a more successful re-issue. In 1959, Tillotson graduated with a B.A. in Journalism and Communications, and then relocated to Manhattan in hopes of a break in the new rock 'n roll music scene.

A second single flopped, but his third release, "True True Happiness", was a modest success climbing to #54 on the US charts and #8 in Vancouver. "True, True Happiness" features spoken word verses between a sung chorus. Tillotson penned one of the best examples of gingerbread pop as he brags "Let me lead you like a steady, take my hand and say you're ready…"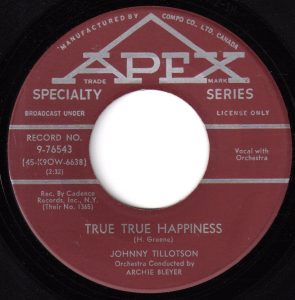 How many teenage guys in the late 50s came up with cheesy lines like "let me lead you like a steady, take my hand and say you're ready?" In another tune from 1959, Ed Byrnes had a few of his own lines to offer Connie Stevens in "Kookie, Kookie, Lend Me Your Comb". These included:
* "I've got smog in my noggin, ever since you made the scene."
* "Now you're on the way, miss, and I'm readin' you just fine. Don't cut out of here till we get on Cloud Nine."
* "You're gonna send me to that planet called, you know it, baby, the end!"
* "If you ever cut out than I'd be a stray cat. 'Cause when I'm flying' solo, nowhere's where I'm at."
Decades later some guys would pop questions to women in night clubs like "how do you like me so far?"
But what is true happiness and what is the cultural context for happiness as a value in the United States of America where Johnny Tillotson was born? In 1689 the philosopher John Locke wrote An Essay Concerning Human Understanding. It is a work concerning the foundation of human knowledge and understanding. In it Locke describes the mind at birth as a blank slate filled later through experience. Locke asserted that "the highest perfection of intellectual nature lies in a careful and constant pursuit of true and solid happiness." That same year Locke published A Letter Concerning Toleration where he seeks to persuade the reader that government is instituted to promote external interests, relating to "life, liberty, and the general welfare," while the church exists to promote internal interests, i.e., salvation. The two serve separate functions, and so, must be a separation between church and state. Thomas Jefferson, who drafted the United States Declaration of Independence in 1776 (with John Adams, Benjamin Franklin among five of the Founding Fathers of the United States) drew on John Locke's words in these two essays to describe three of the Unalienable Rights of every American citizen as "Life, Liberty and the Pursuit of Happiness." By 1959 the phrase had been referenced in the campaigns of many American politicians in over 180 years. Pretty well every American teenager in 1959 knew they had a right to the pursuit of happiness, whatever they thought that meant. Johnny Tillotson's "True, True Happiness" offered its own answer in 1959 to what John Locke had meant in 1689 by the "constant pursuit of true and solid happiness." From the lyrics it becomes clear that true happiness can be found in the true love of a boyfriend or girlfriend.
The song was covered by the chart topping Dutch duo, De Selvera, who were popular in The Netherlands between 1956 and 1962. Consisting of the Limburg sisters Mieke and Selma, De Selvera released "Trouw, Trouw, Trouw" in The Netherlands as a single in 1960. Mieke would later perform in the Dutch adaptation of the musical The Sound of Music.
After releasing mid-50s R&B covers of the Penguin's "Earth Angel" and the late Johnny Ace's "Pledging My Love", Tillotson scored his biggest hit, "Poetry In Motion", in the fall of 1960. It leaped from #27 to #1 on the CFUN chart on October 8, 1960. And it was #1 on CFUN or CKWX for a total of four weeks, spending eight weeks altogether in the Top Ten in Vancouver. While in the USA, the song peaked for one week at #2. Tillotson went on to have several more Top Ten hits in North America, including "Without You", "It Keeps Right On A-Hurtin" and "Talk Back Trembling Lips". The second of these earned him a Grammy Award nomination in 1962, inspired by his dad's terminal illness. Shifting toward country & western and Adult Contemporary music in the mid-60s, Tillotson won a second Grammy Award nomination for his cover of the Guy Mitchell tune "Heartaches By The Number".
In 1965 he sang the theme song for the TV show, Gidget, featuring Sally Field. Tillotson toured the world in concert extensively over the following decades and appeared in several films. In 2014 Johnny Tillotson was inducted into America's Pop Music Hall of Fame. Tillotson continues to tour and in 2016 included Thailand among his international destinations, as well as numbers of concert dates in the 'States. In February and March, 2019, Tillotson is a featured act on several Rockin' in the Caribbean cruises. For more information visit his website: johnnytillotson.com
April 12, 2017
Ray McGinnis
References:
Johnny Tillotson bio, Johnny Tillotson.com
Johnny Tillotson bio, The 60s Official Site.com
N. Rama Lohan, No Retirement for Golden Age Pop and Country Singer Johnny Tillotson, The Star, Selangor Darul Ehsan, Malaysia, September 5, 2014
Locke, John. An Essay Concerning Human Understanding. 1689.
Locke, John. A Letter Concerning Toleration. 1689.
Theme song, Gidget, 1965
Deselvera's, "Trouw, Trouw, Trouw," 1960.
"Hi-Fi Forty," CFUN 1410 AM, Vancouver, BC, October 16, 1959.
For more song reviews visit the Countdown.