#567: Twist My Arm by Tragically Hip
Peak Month: August 1991
9 weeks on Vancouver's CKLG's chart
Peak Position #5
Peak Position on Billboard Hot 100 ~ did not chart
YouTube.com: "Twist My Arm"
Lyrics: "Twist My Arm"
In the early 1980's bass player Gord Sinclair and guitar player Rob Baker were students at Kingston Collegiate Vocational Institute in Kingston, Ontario. They had performed at the collegiate's Variety Show in a band they called The Rodents. In 1984 Baker and Sinclair were in their early twenties. The Tragically Hip formed in 1984 in Kingston, Ontario when the duo added drummer Johnny Fay and lead singer Gordon Downie. Their name came from a skit in the movie Elephant Parts, directed by former Monkee's guitarist Michael Nesmith. The Tragically Hip added Paul Langois, a guitar player, to their line-up in 1986. When they performed at the Horeshoe Tavern in Toronto in the mid-80's, they were sign to a recording contract with MCA after the company president, Bruce Dickinson, saw the band at the tavern. A self-titled EP (Extended Play) was released in 1987 with a couple of singles that got some airplay. The group was launched.
On August 5th and 6th, 1988, the Tragically Hip performed at the Town Pump in Vancouver.
In 1989 the band released their first studio album, Up To Here. The Tragically Hip proceeded to release five singles from the album: "Blow at High Dough", "New Orleans Is Sinking", "Boots Or Hearts", "38 Years Old" and "Trickle Down". The first four of these singles received respectable airplay across Canada. "New Orleans Is Sinking," a fictional tale, got some airplay on mainstream rock stations in the USA. Of the songs off their first studio album, "Boots Or Hearts" charted the best here in Vancouver.
On October 21st, and again on December 31, 1989, the band gave concerts at the 86th Street Music Hall. In 1990 the Tragically Hip appeared in concert on March 23rd at the 86th Street Music Hall, and on December 31st at the Vancouver Convention Centre.
In 1991 the band released Road Apples which featured the debut single "Little Bones". As part of their Road Apples Tour, the Tragically Hip had a five-night stand at the Commodore Ballroom in Vancouver from July 16th to 20th, 1991. Other singles from the Road Apples album followed "Three Pistols" and "Twist My Arm".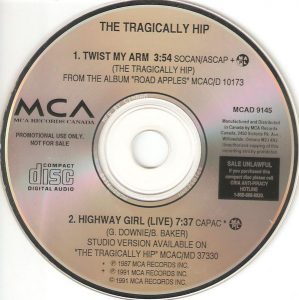 "Twist My Arm" was co-written by bandmates Gordon Downie and Rob Baker. The song is about conflict and drama that people get caught up in competing memetic desires, needing to score points at others expense, or play the victim. The Tragically Hip sing about "double dares, memorized stares" and confide "martyrs don't do much for me."
Is it possible to move beyond being a victim of others' aggression? How do we set boundaries and put an end to escalating conflict without becoming a milk toast or a martyr? In his article in Psychology Today titled "How to Stop Playing the Victim Game," Dr. Robert W. Firestone advises that individuals need to step back and take an inventory of the negative voices that encourage passivity and helplessness. It is important to articulate and imagine how to take action to change a situation where you feel dissatisfied. Imagining how to assert your own needs is a good first step in reclaiming your life instead of getting tied in knots or getting your arm all twisted in order to please or placate others.
"Twist My Arm" climbed to #5 in Vancouver and #13 in Hamilton (ON).
They released four more studio albums during the 1990's. One of these, Fully Completely, featured six single releases. The first single release, "Loaded in the Trunk of a Car" climbed to #11 nationally on the Canadian RPM singles chart. However, the song didn't chart in Vancouver. Still, the third single release from Fully Completely, "Courage (for Hugh MacLennan)", charted in Vancouver.
The Tragically Hip appeared in concert on December 2, 1992, at the PNE Forum. The band performed in Vancouver on July 17, 1993, on Seabird Island.
The Tragically Hip charted 16 songs into the Canadian RPM Top 30, including seven Top Ten hits with "Ahead By A Century" being their first #1 hit in Canada. They repeated their feat of getting a chart topping single in Canada with "In View" in 2006. Between 1990 and 2017, The Tragically Hip have received sixteen Juno Awards in Canada for a range of honors including Best Single, Best Rock Album and Group of the Year.
The songs "Gift Shop" and "Poets" climbed to #4 on the Canadian RPM singles charts in 1996 and 1998. In 1999, the band had a #3 hit across Canada with "Bobcaygeon". "Courage (for Hugh MacLennan)" was the first of fifteen singles to crack the RPM Top Ten on either the Pop chart or the Canadian Alternative/Rock chart. The final song to crack the Top Ten nationally was in 2016 with "In A World Possessed By The Human Mind".
On July 1, 1992, July 13, 1995, and July 17, 1997, the Tragically Hip appeared at the Thunderbird Stadium. They also gave concerts variously on February 25, 1995, November 8, 1996, and November 15th, 2000, all at the Pacific Coliseum; On September 19th and 20th, 2002, at the Queen Elizabeth Theatre; On June 25, 2004, at Richard's on Richards; May 26th, November 3rd, 4th, 6th and 7th, 2006, all at the Commodore Ballroom; March 11th, 1999, and November 14, 2004, and July 12, 2007, all at General Motors Place; On July 22nd, and 23rd, 2009; and September 9th, 10th and 12th, 2013, all at the Orpheum Theatre; And at the Rogers Arena in Vancouver on February 6, 2015. They also gave a concert in the Vancouver suburb of Burnaby on July 15, 2011, in Deer Lake Park.
In 2016 Gordon Downie was diagnosed with cancer and the Tragically Hip did what the media billed as a farewell tour. The Tragically Hip appeared in concert in Vancouver at Rogers Arena on July 24th and 26th. On October 13, 2016, Downie and his brother Mike, along with the Wenjack family, announced the founding of the Gord Downie and Chanie Wenjack Fund to support reconciliation between Indigenous and non-Indigenous peoples. The fund is a part of Downie's legacy and commitment to Canada's First Peoples. Chanie Wenjack was a young aboriginal boy who died trying to escape a residential school, who became the centre of Downie's Secret Path project. The Gord Downie and Chanie Wenjack Fund is a registered charity.
At a gathering of the Assembly of First Nations on December 6, 2016, National Chief Perry Bellegarde honoured Downie with an eagle feather, a symbol of the creator above, for his support of the indigenous peoples of Canada. Bellegarde also bestowed on Downie an honorary aboriginal name, Wicapi Omani, which is Lakota for "man who walks among the stars." Downie spoke before the House of Commons on July 2, 2017, to speak in solidarity with Canada's young indigenous people. Downie died in October 2017.
August 30, 2019
Ray McGinnis
References:
Michael Barclay, Remembering the Life and Legacy of Gordon Downie (1964-2017), MacLeans.ca, October 18, 2017.
Tragically Hip bio, Canadian Bands.com.
Robert W. Firestone, "How to Stop Playing the Victim Game: Challenging Negative Voices is the Way to Overcome a Victimized Orientation," Psychology Today, April 30, 2013.
"Tragically Hip ~ Canada concert dates," setlist.fm.
"CKLG Top 40," CKLG 730 AM, Vancouver, BC, August 19, 1991.
For more song reviews visit the Countdown.