#259: Two by Del Erickson
Peak Month: March 1961
8 weeks on Vancouver's CKWX chart
Peak Position #1
Peak Position on Billboard Hot 100 ~ did not chart
YouTube.com: "Two"
Delmar Walter Erickson was born in 1943 in Hennepin, Minnesota. Buddy Clyde was host of the Dance Party show on CKWX. He wrote these liner notes for the album, Presenting Del Erickson on Thunderbird Records TBLP – 1001.
 Buddy Clyde stated, "I've been asked to write a few glowing words about the young gentleman you're about to meet. When I'm sold on something I have a tendency to get a bit carried away. (Just ask any of my listeners). And Del Erickson is an artist that isn't very hard to get sold on. 
Starting out as an actor in motion pictures, Del has appeared in Blackboard Jungle, Diary Of Anne Frank, Hot Rod Girl and Blue Angel, just to name a few. Also ninety major T.V. productions. From motion pictures to recording Del has succeeded in having two "single" hits. Now he enjoys his new found career as a disc jockey in Vancouver, B.C., of course singing is still a major part of Del's active life.
 This album has established a new plateau in his varied and exciting career. Right now I'm going to ask you to open a bottle of your favourite refreshment, relax and enjoy Del Erickson in person…"
In the 1955 film Blackboard Jungle, Richard Dadier (Glenn Ford) is a teacher at North Manual Trades High School. It is an inner-city school of diverse ethnic backgrounds. He tries to address the anti-social behavior of his students. Del Erickson played one of the students, and can be seen sitting at the left front of the class in a YouTube clip found in the Reference section at the bottom of this article. Later in 1955 Del Erickson appeared in an episode of Highway Patrol titled "Father Thief". In the episode of December 5, 1955, Erickson plays a son who is put in the uncomfortable position of trying to cover up his father's theft of automobile accessories.
In Hot Rod Girl, Del Erickson played a rebellious teenager who gets himself killed in a drag race. Del starred in 1956 in a film with Deborah Kerr and Leif Erickson (no relation) called Tea And Sympathy. The film included the iconic line of dialogue after a woman tries to console her male friend and their encounter ends with an awkward kiss. Laura (Deborah Kerr) says to Tom (John Kerr) "Years from now, when you talk about this, and you will, be kind." Del Erickson also starred in the movie Take a Giant Step in 1959. This was a movie billed with the following text from the movie poster: "Here is the real rage behind the tormented 'blue jeans' generation… Here's what makes them tick… what makes them tough… what makes them tremble… what makes them take a giant step."
His other film that year was Blue Angel, set in West Germany in 1956. Del Erickson plays Lohmann, a bright 17-year-old student who always does his homework. He is referred to by his teacher as "my best pupil." He is teased by his classmates. Lohmann is tripped in the hallway and falls in front of his teacher, as girlie photos from a strip club called the Blue Angel are scattered on the floor. The photos were placed in the pages of Lohmann's books by his classmates. As the plot unfolds the teacher goes to the Blue Angel and ends up falling in love with one of the strippers.
In the fall of 1959 Del Erickson recorded a single "Two"/"Time" on a very small independent record label named Ray Note. "Time" got some airplay on KFXM in San Bernardino (CA) in November of the year. In 1960, Del Erickson appeared on the first episode of the CBC TV series, Cariboo Country.
Del Erickson became a DJ on CKWX from Monday to Friday from 10:30 p.m. to 2:30 a.m. and on Sundays from 12:30 a.m. to 7:30 a.m. He was first listed as a CKWX DJ on an edition of the Fabulous Forty on November 19, 1960. While spinning discs on CKWX, Erickson recorded several singles. The first was "Two", reviving his first single release from 1959, which climbed to #1 on the station in March, 1961.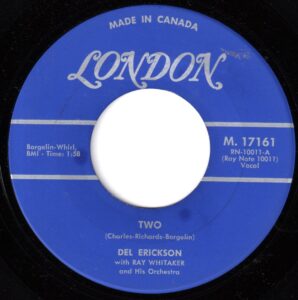 "Two" is a song is about a guy who notices that whenever there is a breakup in a dating relationship "the one broken heart is mine." He candidly advertises that he doesn't want some girl to love him just to "be nice." And he concedes he can't love enough for two, both people need to express their love and say they "care." The lyrics in "Two" add up the math for listeners: "that one and one are two." And Erickson sings about "the magic number two," letting listeners know that there is nothing as splendid as being in love, and what two people can do together. When there are 'two' you "can make happiness come true." Erickson concludes that "love is meant for two."
"Two" bumped "Surrender" by Elvis Presley out of the top spot on the CKWX Fabulous Forty. It was number one in Vancouver, but it didn't chart anywhere else.
Del Erickson's second Top Ten hit on WX was "Rockin' Band". It climbed to #4 on CKWX in August 1961. The B-side, "Mr. Cricket", was briefly on the Fabulous Forty on CKWX debuting at #4 and spending three more weeks on the chart.
CKWX was starting to get bumped in the listener ratings by CFUN by the end of 1961. Jim Bower of Vancouvertop40radio.com writes that by early 1962 "DJs Buddy Clyde, Del Erickson and Nick Sands, [were] playing M-O-R music, as was Cal George…" Someone reading this may know exactly how long Del Erickson remained at CKWX playing M-O-R music after the station stopped publishing the Fabulous Forty on March 3, 1962.
In 1964-65, Del Erickson starred in a TV show, The Baileys of Balboa, about a beachcombing family. Erickson also had a role as an office boy in The Cara Williams Show, a TV series also in 1964-65. The plot featured office associates, Frank and Cara. Both are divorced, but fall in love with each other. They secretly get married. This is because the company they both work for forbids inter-office dating. The plot involved close calls of being found out as being married and living at the same address.
There is virtually nothing on the Internet about whatever happened to Del Erickson after the mid-60's.
Buddy Clyde, who wrote the liner notes on Presenting Del Erickson, was born Clyde Hatton in Hollister, California (southeast of Santa Cruz) in 1936. He got the "buddy" along the way, referring to himself as "your buddy, Clyde Hatton" on his radio shows. Around 1953 Clyde Hatton worked as an assistant to "Jumping George" Oxford on his R&B show at KSAN in Oakland, getting paid a dollar a week. But, in addition to his monetary remuneration, Clyde got the chance to host his own show, "Clyde's Capers," interviewing up-and-coming performers like Johnny Mathis. This exposure got him connected with KPIX-TV where he got a weekly spot called "Teen Time." Then, at age 19, Buddy got hired in 1955 with KMOR in Oroville, California, north of Sacramento. After that Buddy Clyde Hatton got hired to join KOBY in San Francisco, pioneering rock 'n roll, prior to coming to Vancouver.
Buddy Clyde joined CKWX on the 6 a.m. to 9 a.m. show, starting the week of April 11, 1960. He moved back to the USA after CKWX moved to a country and MOR format. By 1965 Buddy Clyde Hatton was a DJ at KWIZ in Santa Ana, California. He became a DJ at KSFO in San Francisco in the 1975 and left in 1986. Since then he branched out to make films that have been broadcast on Discovery and Travel TV stations. He told the Orange County Register in 2009 when they tracked him down "I live now with my large family in Bali Indonesia and come out of semi-retirement occasionally to produce and narrate travel adventure films. Just returned from an assignment for TV and college circuit in Iran."
I wrote to Buddy Clyde Hatton in April 2020 to learn if he knew anything about what happened to Del Erickson. He wrote to tell me "Sadly I lost contact with Del and he seems to not want to be found. Nothing on google or anywhere else on where he went after Vancouver. We had a falling out… and I came back to the USA ."
If anyone knows what Del Erickson did with his life after the mid-'60s, drop me a line.
September 10, 2021
Ray McGinnis
References:
Cariboo Country, Full Cast and Crew, IMBd.com.
Del Erickson, RadioWest.ca, December 8, 2006.
Ben Fong-Torres, "DJ knows draw of radio – and the road," SFGate, May 23, 2013.
Email to Ray McGinnis from Buddy Clyde Hatton, April 18, 2020.
"Fabulous Forty," CKWX 1130 AM, Vancouver, BC, November 19, 1960 (Del Erickson first listed as a DJ)
Del Erickson plays a student who is seated at the left front of the class, while teacher Richard Dadier deals with an anti-social student in Blackboard Jungle, M-G-M, 1955.
Jim Bower, "CKWX 1962: A Retrospective," Vancouvertop40radio.com.
Del Erickson starred in episode of "Father Thief," Highway Patrol, MGM, December 5, 1955.
"Fabulous Forty," CKWX 1130 AM, Vancouver, BC, March 18, 1961.
For more song reviews visit the Countdown.