#259: Unchained Melody by the Righteous Brothers
Peak Month: October-November 1990
12 weeks on Vancouver's CKLG chart
Peak Position #2
Peak Position on Billboard Hot 100 ~ #13
YouTube.com: "Unchained Melody"
Lyrics: "Unchained Melody"
* Note – in 1965 the single was a #1 hit in Vancouver and #4 on Billboard
Robert Lee Hatfield was born in Beaver Dam, Wisconsin, in 1940. Growing up, he worked at his parents dry-cleaning store. He was very athletic and considered becoming a professional basketball player, but decided to pursue a career in music after graduating from high school in 1958. He moved to Long Beach where he entered university at California State. He was in a group named the variations when he met Bill Medley, a member of a quartet called the Paramours. Hatfield joined the vocal group in 1962. However, they decided to change change their name based on a response by an audience member at the end of a concert in Orange County. During a set by the Paramours, Bobby Hatfield and Bill Medley stepped forward on stage to perform a duet dripping with emotion. As the song ended a black Marine stood up and yelled, "That's righteous, brothers."
Bill Medley was born in Santa Ana, California, in 1940. His parents had a swing band and their was always music being played in the family home. In his late teen's Medley and a friend, Don Fiduccia, formed a duo called The Romancers. They wrote a number of songs, two which were recorded by the Canadian pop band, The Diamonds, who'd recently had a hit called "The Stroll". Medley and Fiduccia added others to form The Paramours. Their vocal group got a record contract with Mercury Records and three singles were released in 1961-62 with some minor attention, especially in San Bernardino.
From audience responses like the one from the Black Marine, Bill Medley and Bobby Hatfield seized the moment, left the Paramours and pursued a career as a duo. When Medley was 19, in 1959, he had dated a girl named Lupe Laguna. He wrote a song about her titled "Little Latin Lupe Lu". Hatfield liked the song when Medley introduced him to it, and they decided to included it on their debut album, Right Now! The song stalled at #49 on the Billboard Hot 100, but it climbed to #4 in July 1963 on the CFUN charts in Vancouver. In California their song made it to #4 in Los Angeles, #3 in San Bernardino, #2 in Indio and Palmdale, and #8 in San Francisco.
While their debut single got them some attention in California and Vancouver, the song didn't capture the essence of what the Righteous Brothers were about. Their next five single releases drew on R&B sounds with uptempo tunes like "Try To Find Another Man" and "This Little Girl Of Mine". None most these were hits. Both Bill Medley and Bobby Hatfield were capable of exceptional vocal talent. Both had mastery of their vocals, combining an excellent vocal range with control and tone. As a duo and as soloists, they were able to stand out from other vocal duos of the era. Medley's baritone voice and Hatfield's tenor were a unique combination. But they were still waiting for a breakthrough hit.
That breakthrough hit came in 1965 with the release of a song penned in 1964 for the duo by Cynthia Weil and Barry Mann titled, "You've Lost That Lovin' Feelin'". In 1964, Weil and Mann heard The Four Tops sing "Baby, I Need You've Lovin'", and it inspired them to use it as a template for composing a song for The Righteous Brothers. Medley and Hatfield asked Phil Spector to produce the song. Spector added suggestions to the lyrics and helped Weil and Mann with a bridge in the song that began, "Baby, baby, I'd get down on my knees for you, if you would only love me like you used to do…" Spector also proposed that Bill Medley sing the first verse solo. Bobby Hatfield was upset with the suggestion and wondered what he was supposed to do while Medley sang a solo of the first verse. Spector replied, "You can go directly to the bank." The song went to #1 across North America and in the UK. Over the decades "You've Lost That Lovin' Feelin'" had become the most played song in radio history with over eight million broadcasts. Cher, of Sonny & Cher, was one of the backup singers on the recording.
Initially, all the lead vocals for the duos' songs were by Bill Medley. Radio listeners got used to hearing Bill Medley's deep voice as signature of the Righteous Brothers. Then in 1965, "Unchained Melody" became a number-one hit in Vancouver, and #4 on the Billboard Hot 100. Bobby Hatfield recalled, "It was the B-side of a Carole King/Gerry Goffin song "Hung on You", and all of a sudden the disc jockeys flipped it over and I had an accidental hit. It was kind of cool because Bill was singing lead on all of the songs then, so it was like, 'Wow, who's that little shit with the high voice?'"
Several top selling singles later the Righteous Brothers were looking for a follow-up to their number 1 hit, "(You're My) Soul & Inspiration". They chose to do a cover of "He Will Break Your Heart", a #7 hit for Jerry Butler in 1960. In addition, Butler's recording spent seven, non consecutive, weeks at #1 on the U.S. R&B singles chart. Subsequent cover versions of "He Will Break Your Heart" were released by artists Freddie Scott and by Tony Orlando & Dawn who had a #1 hit with their version in 1974. The Righteous Brothers version peaked at #91 on the Billboard Hot 100 in 1966 and at #7 in Vancouver.
Between the fall of 1966 and 1968, the duo released ten more singles. Six of these failed to chart and the other four were marginal hits. In 1968 Hatfield and Medley split up. Bobby Hatfield was joined by Jimmy Walker to carry on with The Righteous Brothers as a performing and recording act. They released an album in 1969 titled Re-Birth and two singles from the album. But neither the album or the singles made the pop charts. And the duo split up. Meanwhile, Bill Medley embarked on a solo career. He released "Brown Eyed Woman" and "Peace Brother Peace". The tunes made the Top 20 in Vancouver and the Top 50 on the Billboard Hot 100.
In 1974, Bill Medley and Bobby Hatfield reunited and released "Rock And Roll Heaven". The song climbed to #3 in the 'States an #4 in Canada. By the end of 1974 Medley had mysteriously lost his voice. It would take ten years of therapy before he was able to sing in public again. Once he had recovered his voice, Bill Medley recorded a duet with Jennifer Warnes titled, "(I've Had) the Time of My Life", for the 1987 film Dirty Dancing. It became a #1 hit.
In 1990 "Unchained Melody" was featured in the film Ghost starring Patrick Swayze, Demi Moore and Whoopi Goldberg. The song was re-issued as a single. As the song was a #1 hit in 1965 in Vancouver and a #4 hit on the Billboard Hot 100, it didn't qualify for a review on this website. However, the chart performance of the reissue in 1990 made the cut.
The Righteous Brothers re-issue of "Unchained Melody" in 1990 peaked at #1 in New Haven (CT), Buffalo and New York City and Minneapolis/St. Paul, #2 in Vancouver (BC), #5 in Spartanburg (SC), and #7 in Hamilton (ON). The re-issue also topped the pop chart in Melbourne, Australia.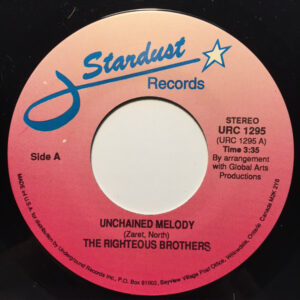 "Unchained Melody" was a song in a film from 1955 about the life of prisoners titled Unchained. The writer of the lyrics was Hy Zaret. According to an obituary in the New York Times in 2007, "Zaret liked to tell about the time the composer Alex North called him to say he had written a song for a movie and needed words. Mr. Zaret replied that he was busy painting his house. But he found time to write the lyrics for "Unchained Melody." The movie itself, "Unchained," a low-budget prison film, turned out to be a lot less memorable than the song. Mr. Zaret, a habitual contrarian, refused a producer's request to include the word "unchained" in his lyrics, though it was impossible to keep it out of the title. The words have again and again evoked a lover's loneliness in recordings by more than 300 artists, including Lena Horne, Guy Lombardo, the Righteous Brothers, Elvis Presley and U2: "Oh, my love, my darling, I've hungered for your touch a long, lonely time. …" In the song's lyrics is a simile. It likens the yearning of the one returning home to be reunited to that of a slowly flowing river that empties into a sea.
Hyman Harry Zaritsky was born in Manhattan in 1907. His parents both emigrated from Russia in the 1890s. Hyman Zaritsky shortened his name to Zaret in 1934. He wrote a song about fire prevention titled "Never Clean With Gasoline," challenged racial prejudice in "Brown-Skinned Cow", and wrote the novelty tunes "Why Are Bananas Picked Green?" and "How Does a Frog Become a Frog?" In 1940 Zaret penned "So You're The One", a #6 hit for Eddy Duchin; "There I Go", a #5 hit for Will Bradley and his Orchestra; In 1941 "It All Comes Back To Me Now" which was most successfully recorded by Gene Krupa charting to #2; as well as "Me And My Sister" which was a number-one hit that year for Jimmy Dorsey; "One Meat Ball" for the Andrews Sisters in 1945, and "Counting The Days" for Frankie Carle and his Orchestra; and in 1952 another Top 20 hit with "You'll Never Get Away" by Don Cornell and Teresa Brewer.
Zaret wrote "So Long, for a While," which became the closing theme song for the variety show Your Hit Parade. The show ran from 1935 to 1953 on the radio and from 1950 to 1959 on television. And "So Long, for a While" was heard on both the radio and TV airings of Your Hit Parade. He died in 2007, just seven weeks prior to his 100th birthday.
The music for "Unchained Melody" was written by Alex North. Born in 1906 as Isadore Soifer, Alex North was also raised by Russian Jews who emigrated to the USA just before North was born. He went on to score music for many films. These include A Streetcar Named Desire (nominated for Best Scoring at the 1951 Academy Awards, but won by A Place in the Sun), Death of a Salesman (nominated for Best Scoring at the 1951 Academy Awards), Viva Zapata! (nominated for Best Scoring at the 1952 Academy Awards), The Rose Tatoo (nominated for Best Scoring at the 1955 Academy Awards), I'll Cry Tomorrow, The Rainmaker (which garnered an Academy Award nomination for Best Music), Spartacus (nominated for Best Music Score at the 1960 Academy Awards), The Children's Hour, Cleopatra (nominated for Best Music Score at 1964 Academy Awards), The Agony and the Ecstasy (nominated for Best Original Score at 1965 Academy Awards), Who's Afraid of Virginia Woolf? (nominated for Best Original Score at 1965 Academy Awards), The Shoes of the Fisherman (nominated for Best Score at 1968 Academy Awards), Shanks (nominated for Best Music at the 1975 Academy Awards), Bite the Bullet (nominated for Best Music at the 1976 Academy Awards), Dragonslayer (nominated for Best Original Score at the 1982 Academy Awards, won by Chariots of Fire), and Under the Volcano (nominated for Best Original Score at the 1986 Academy Awards). One of the last films Alex North scored was Good Morning Vietnam in 1987, a film that also included 11 pop hits from the mid-sixties. North died in 1991 at the age of 80.
In 1955 "Unchained Melody" was nominated for an Academy Award for Best Original Song. However, it lost to "Love Is A Many Splendored Thing". That year the song was a number-one hit for Les Baxter, a #3 pop hit for Al Hibbler (and #1 R&B hit), and #6 pop hit for Roy Hamilton (and #1 R&B hit).
In 1990 the Righteous Brothers re-issue of their 1965 Top Ten hit "Unchained Melody" climbed to #1 in New Haven (CT), Buffalo, New York City, Minneapolis/St. Paul, and San Jose (CA), #2 in Vancouver (BC) and Los Angeles, #3 in San Bernardino (CA), and #6 in San Francisco and Hamilton (ON). Internationally in 1990, "Unchained Melody" climbed to #1 in Australia, Austria, Ireland the Netherlands, New Zealand and the UK; #3 in Belgium, #4 in Switzerland, and #6 in France and West Germany.
In November, 2003, The Righteous Brothers were on tour. Some hours before a concert in Kalamazoo, Michigan, Bobby Hatfield died in his sleep in his hotel room. An autopsy revealed he died of a heart attack. At his funeral in Irvine, California, the service closed with a taped recording of The Righteous Brothers last big hit, "Rock And Roll Heaven". Since Bobby Hatfield died in 2003, Bill Medley has continued to perform. Hatfield has been replaced by Bucky Heard where he, with Bill Medley, have performed as the Righteous Brothers based at Harrah's in Las Vegas.
September 12, 2021
Ray McGinnis
References:
Bill Crandell, "Righteous Bros' Hatfield Dies: Rock and Roll Hall of Fame Singer was Sixty-Three," Rolling Stone, November 6, 2003.
Bill Medley, The Time of My Life: A Righteous Brother's Memoir, (DeCapro Press, 2014).
Mike Anton, Remembering a Blue-Eyed Soul Brother, LA Times, Los Angeles, CA, 2003.
Scott Iwasaki, Righteous Brother Bill Medley will share stories with Park City, Park Record, Park City, Utah, June 24, 2014.
Douglas Martin, "Hy Zaret, 99, Tin Pan Alley Lyricist, Is Dead," New York Times, July 3, 2007.
Michael McDonagh and Anne North, "Alex North Biography," alexnorthmusic.com.
Bill Medley, "The Story of Little Latin Lupe Lu," Music Starts Here.org. June 23, 2010.
Hinkley, David. Boxed set booklet liner notes, Phil Spector: Back to Mono (1958-1969, ABKCO, New York, 1991.
"CKLG Top 40," CKLG 730 AM, Vancouver, BC, November 5, 1990.
For more song reviews visit the Countdown.