#530: Unfaithful Diane by Don Deal
Peak Month: November 1957
5 weeks on Vancouver's CKWX Teen Canteen chart
Peak Position #2
Peak Position on Billboard Hot 100 ~ did not chart
YouTube.com: "Unfaithful Diane"
Lyrics: "Unfaithful Diane"
In 1938 Don Deal was born on a farm in Honey Creek, Iowa, a dozen miles north of Council Bluffs. He developed an interest in music while he was a child. His family relocated to California during 1952, first living in Bell, California, south of downtown Los Angeles. Then his family moved a few miles east to the LA suburb of Bell Gardens. Don got a job working as an assistant at Bert Keiffer's Music Store. One day while working at the store he met Eddie Cochran. They became good friends. One day Don Deal was singing at the back of the music store after finishing a shift. It happened that a talent scout named Smoky Rodgers heard Deal singing. Rodgers was blown away and convinced young Deal to move to San Diego. Deal was given a gig performing at the Bostonian Ballroom three nights a week. Deal also was put on a television show based in Tijuana, Mexico, where he appeared five times a week.
As Eddie and Don were living in the same area, they frequently met at each others homes to play music, and sing for each other their newly composed songs. Don Deal told a reporter "I really liked Eddie, he was a very clean-cut boy. When I first met him he was like the rest of us, playing country music. I never got into rockabilly like he did, until I started writing songs and got my recording contract. He had what you call 'star-itus', I guess just like the rest of us – maybe more so, because he was very ambitious. He wanted to be a star and I'm thankful he got to enjoy at least a little of that."
Don Deal recorded his first single "Cryin' In One Eye", and his backing musicians included Eddie Cochran and his brother on the 1956 recording. The tune on Cash Records was of the honky-tonk country genre.
In 1957 Don Deal switched record labels and released his first single in July on Era, "Unfaithful Diane".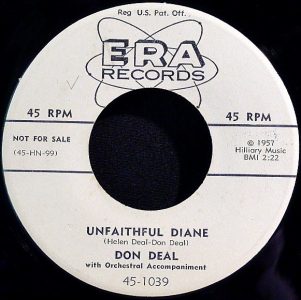 "Unfaithful Diane" was co-written by Don Deal and Helen Deal. Don Deal was just 19 when the single was released. So, Helen Deal could have been Don's sister, mother, or spouse, if he married in his late teens. As there is little information about Don Deal online, I'll have to wait for a reader to leave a comment if they can confirm Helen Deal's relationship to Don Deal.
"Unfaithful Diane" is a song about a woman who'll "never love only one man." She gets herself into the arms of a man, like the heartsick guy narrating the song. Diane has golden hair and blue eyes. According to the narrator's account, Diane is an "angel." In "Unfaithful Diane" the guy asks why his true heart should be so smitten with Diane. After all, he concedes "you'll never love me." The song title implies that he found out that she was in the arms of someone else, even while she was dating him.
Author of Unrequited: Women and Romantic Obsession, Lisa A. Philips, writes "Unrequited love is incredibly common." She cites studies that suggest over ninety percent of people, by their early twenties, have had the experience of their falling in love with someone not returned. In her book she explores how at its root, unrequited love is about indecision and being unwilling to move on despite obvious red flags and warning signs.
In a Psychology Today article in 2016, Jared DeFife, Ph.D., writes that at some point, no matter how in love you feel, integrity matters. If you start to do things that are totally out of character, your feelings of love for someone who isn't returning the vibe, may be a warning sign to stand back and get some needed clarity.
In "Unfaithful Diane" we don't know if the guy who is filled with heartache had any warning signs before he found himself in Diane's arms. Did any of his friends know anything about her? Or was she a 'new girl in town'? Whatever her 'reputation' was before he met her, it seems he's gotten a quick education about her modus operandi since she began to play the field after they began to date.
"Unfaithful Diane" climbed to #20 in San Francisco on October 6, 1957. The single debuted on Red Robinson's Teen Canteen record survey at #4 on October 27, 1957. His popular CKWX show was the most listened to rock 'n roll radio deejay show in Vancouver (BC) at the time. It peaked at #2 in November, '57.
Eddie Cochran played on Don Deal's next ERA single release, "My Blind Date". This single was a rockabilly tune, continuing to bring Don Deal closer to the mainstream of the emerging beat of rock 'n roll. The single was co-written by Don Deal, Helen Deal and Hank Cochran. Don Deal later recorded "Deceiving Doreen" who was "so mean" in 1958. It seems the song was not released by Era, but found its way onto a compilation by Rock Star Records in 2006 titled Don Deal: The Early Recordings 1956-1958.
Don Deal switched to Capitol Records by 1963 and released "A-11", a song about a selection on a jukebox, written by Hank Cochran. By this time Don Deal had left the rockabilly genre behind and was recording country music.
Over the years Don Deal released about a dozen singles between 1956 and 1968. Don Deal also wrote a number of songs that were recorded by Les Baxter, Perry Como, Eddy Arnold, Dean Martin, Sonny James and Hank Snow, among others. He appeared on American Bandstand in the late 50s, and performed at numerous sock hops in Southern California. But he never caught on like Eddie Cochran, Gene Vincent and other rockabilly artists he rubbed shoulders with.
Don Deal died in 2009. He was inducted into the Rockabilly Hall of Fame as recording artist #218.
November 20, 2019
Ray McGinnis
References:
The Black Cat, "Don Deal: The Eddie Cochran Connection," Blackcat Rockabilly.
Jared DeFife, "When the One You Love Doesn't Love You Back: The Powers and Perils of Unrequited Love and Romantic Obsession," Psychology Today, January 27, 2016.
Lisa A. Philips, Unrequited: Women and Romantic Obsession, (Harper, 2015).
Craig Harris, "Don Deal," All Music.com.
Don Deal #218, "RHOF Inductees with Certificates," Rockabilly Hall.com.
"Red Robinson's Teen Canteen Survey," CKWX 1130 AM, Vancouver, BC, November 9, 1957.
For more song reviews visit the Countdown.