#1255: Vickie Lee by The Untouchables
Peak Month: October 1960
7 weeks on Vancouver's CFUN chart
Peak Position #12
Peak Position on Billboard Hot 100 ~ did not chart
YouTube.com: "Vickie Lee"
Sheridan "Rip" Spencer was a student at Jordan High School in Los Angeles. His cousin, Brice Coefield, went to school at L.A. High. The cousins sang together and they chose to form a doo-wop group called the Sabers. In the fall of 1955 they had an audition with Cal-West Records. Rip was the second tenor, Brice was baritone and the bass singer was Walter Carter. Their recording, "Always Forever", was a song Rip had written and it didn't have a b-side. When they went home they got a classmate of Brice's named Billy Hamlin Spicer to be the first tenor. The record failed to chart and the Sabers changed their name to the Chavelles.
Brice's father, a postal worker, made a connection with an A&R man with Specialty Records named Bumps Blackwell on his delivery route. Soon the Chavelles recorded at the studio of Ted Brinson, who had earlier produced the Penguins #1 hit in January 1955 called "Earth Angel". It was during this time the Chavelles met Chester Pipkin, a singer with the Squires. With the Chavelles failing to catch on, Chester Pipkin was asked to join the group and they renamed themselves the Valiants.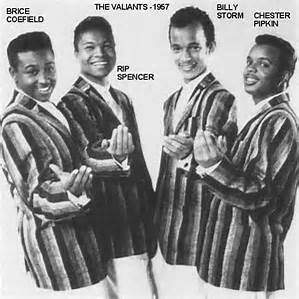 In the November of 1957 the Valiants released "This Is The Night" with Keen Records that climbed to #69 on the Billboard Hot 100 and #43 on the R&B charts. Billy Spicer sang the lead. At the time Dick Clark had remarked on American Bandstand that about one song in twenty made it onto the Billboard Hot 100, so for every hundred songs there were 1900 others that missed charting on the pop charts.
Incidentally, the b-side was a tune co-authored by the Valiants A&R man, Bumps Blackwell, called "Good Golly, Miss Molly". While Little Richard had recorded the song earlier, the Valiants' version was actually released first, with Billy Squire doing the lead vocal. The song was recorded faster than Little Richard's.
During this time the Valiants, Rip, Brice, and Chester got a couple of new members, Don Trotter (first and second tenor) and Ed Wallace (bass). Next they changed their name from the Valiants to the Untouchables. Rip says "we thought our singing was so great we just felt it was untouchable." Years later in interviews Rip was insistent the group wasn't named after the hit TV crime show that first aired on October 15, 1959, on ABC.
In 1959, two A&R men at Keen Records named Herb Alpert and Lou Adler contacted the Untouchables, expressing interest in producing for them. Rip Spencer recalls, "we got along pretty good and they presented to us a music track that was recorded on the East Coast—something happened to that group—they wanted us to listen to that track and see if we could make a song out of it." The record co-written by Alpert and Adler was "Poor Boy Needs A Preacher". The song, with it's Drifters influenced sound, was play listed as early as March 1960 in Pittsburgh (KQV), Philadelphia (WIBG), Los Angeles (KRLA) and Cleveland (WHK) where it charted best peaking at #17. Alpert and Adler also penned a few other songs including "Wonderful World" by Sam Cooke.
Alpert and Adler had an office on Sunset Strip, where the group would sometimes rehearse. Herb Alpert was just beginning to play the trumpet. Rip Spencer recollects "while we'd rehearse, Herbert would put his little licks in between. We used to tell Herbie, 'Hey man, don't do that, you're throwing us off.' He really couldn't play trumpet at that time, but boy, look at him now!" Along with their debut release, other songs for the Untouchables were co-written by Herb Alpert and Lou Adler including "New Fad", and their second single, "Vickie Lee".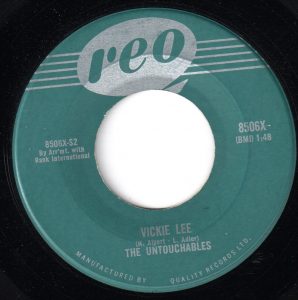 I know a chic and she lives next door,
she's a good-looker from her head to her toe,
and when she walks (ooh yeah) and talks (ooh yeah)
all the boys are talking 'bout Vickie, Vickie Lee.
Smiled at me on the way to school,
there's something about this chic that makes me a fool,
and when she swings bells ring….
She's the fox of the neighborhood,
I can't even catch her but I wish I could….
Hey hey, Vickie, (x2)
What you got that the boys all want.
If you're ever down on my street,
there's one little baby that you've just gotta meet
and when you look you'll see….
Vickie Lee charted in Seattle on KJR at #22, Spokane's KREM at #13, Jacksonville, Florida's WPDQ at #8 and in Vancouver on CFUN at #12. The b-side, a cover version of the Spaniels 1954 R&B hit, "Goodnight Sweetheart, Goodnight", was a minor hit in Cleveland, Dallas, New York City and St. Louis.
We don't learn from the lyrics what color of hair Vickie Lee had, but if she was a blonde she would have been called a blonde bombshell. This is a term often used to describe an exciting, dynamic, sexy woman with blonde hair, particularly blonde celebrity sex symbols. The expression seems to have come from, or at least was popularized by, a movie and originally referred to a specific blonde bombshell. In 1933, the platinum blonde Jean Harlow was one of the most popular actresses in Hollywood. That year, Harlow starred in a movie called Bombshell (at the time "bombshell" in American slang was already being used to refer to incredibly attractive, flamboyant women, with the first documented case of this in 1860). The Untouchables "Vickie Lee" has "got what the boys all want." Lloyd Price had a hit in 1959 called "Personality" that was a euphemism for someone with irresistible charms that an admirer will be a fool for. Like Lloyd Price, the Untouchables and "all the boys" were fools for "Vickie Lee".
The Untouchables third single, a cover of Billy Ward & The Dominoes 1951 hit "Sixty Minute Man", got some airplay in the winter of 1960 in radio stations in California. As with "Vickie Lee", none of their singles entered the Billboard charts. Their 1961 single release of "You're On Top" features the first recording with Herb Alpert, on a 14 second trumpet solo, beginning at 1:20.
The Untouchables did a lot of TV shows at Pacific Palisades and a lot of record hops. They disbanded in 1961 and with changing line-ups released records between 1962 and 1966 under the names the Happy Tones ("Summertime Nights") the Freedoms, the Del-Mars and the Ring A Dings.
By 1962 Herb Alpert had moved on to form the Tijuana Brass and land a Top Ten hit called the Lonely Bull. Meanwhile, Lou Adler who was friends with Phil Spector, arranged for some of the singers who were under contract to Lou to be leased to Phil in order to do a tune called "Puddin' In Tain." The song was written by Brice Coefield, Gary Pipkin, Lonnie Willis, and Rip Spencer (uncredited on the label, he penned the bridge). The name "Alley Cats" was given to them by Lou, and the group consisted of: Brice, Rip, Gary, and bass James Barker. The tune was released on Phil Spector's Philles label and was the biggest record Brice and Rip ever had. It peaked at #21 on the R&B charts and #43 on the Billboard Hot 100 in February of 1963.
Lou Adler went on to produce for a number of recording artists including The Mama's and the Papa's, Carole King (including her album Tapestry), Johnny Rivers ("Memphis", "Secret Agent Man", "Baby I Need Your Lovin'" and others) and Cheech and Chong.
In October 1990 Rip and Brice did a show at Los Angeles' Greek Theater, with two other vocalists. The Valiants/Untouchables were part of K-Earth's annual "Legends Of Rock 'N' Roll Concert." Others on the bill were Freddy Cannon, Joanie Sommers, Jack Scott, Bobby Lewis, Jody Reynolds, Ray Peterson, Sonny Knight, Frankie Ervin, Terry Stafford, Paul & Paula, Mel Carter and the Pentagons. In the 90s, Rip Spencer was also an independent record producer, working on an album with Levon Harris (grandson of Thurston Harris "Little Bitty Pretty One"), and a music publisher with the S.E. Spencer Music Company.
References:
The Valiants, "Good Golly, Miss Molly," 1957
Marv Goldberg (with interviews of Rip Spencer), Valiants bio, Unamarvy.com, 2009.
Reviews of This Weeks Singles, Billboard, July 18, 1960.
Rosalsky, Mitch. Encyclopedia of Rhythm & Blues and Doo-Wop Vocal Groups. Scarecrow Press, Lanham, Maryland, 2002, p. 589.
Leszczak, Bob. Encyclopedia of Pop Music Aliases, 1950-2000. Rowman & Littlefield Publishers, Lanham, Maryland, 2014, pp. 5-6.
The Happy Tones, "Summertime Nights,"1963.
Billy Storm, Soulful Kinda Music.net.
"C-FUN-Tastic 50," CFUN 1410 AM, Vancouver, BC, October 1, 1960.
For more song reviews visit the Countdown.