#27: Video Killed The Radio Star by the Buggles
Peak Month: January 1980
17 weeks on Vancouver's CKLG chart
Peak Position #2
Peak Position on Billboard Hot 100 ~ #31
YouTube.com: "Video Killed The Radio Star"
Lyrics: "Video Killed The Radio Star"
Trevor Charles Horn was born in the outskirts of the city of Sunderland, in the town of Hetton-le-Hole, in the county of Tyne and Wear in northeast England. At age eight he learned to play the double bass. Subsequently, he learned to play guitar and sight-read and play the recorder. At times he played in his fathers' band the Joe Clarke Big Band. At the age of 14 Trevor was in a band called the Outer Limits, named after the 1963 sci-fi television show The Outer Limits. After public school, he got work in a rubber factory, and later as a progress chaser in a plastic bag factory. In the latter job he was fired after three months. He soon got work in a band that played at a Top Rank Ballroom. He also performed songs he'd composed on guitar on BBC Radio Leicester. When he was twenty-one, Trevor Horn moved to London and playing in a band hired to re-record top 20 songs for BBC radio to fit the needle time restrictions at the time. Next, Horn got work for a year with Ray McVay's big band. This included performances at the world ballroom dancing championship and the television show Come Dancing. As well, he was hired as a session musician for rock groups and to record advertising jingles.
At 24, Horn began work in Leicester, where he had a nightly gig playing bass at a nightclub and helped construct a recording studio. In 1976, Horn was with the Northern Lights band that included vocalist Tina Charles. She soon had a hit record with "I Love to Love (But My Baby Loves to Dance)" and "Dance Little Lady Dance". Another member of Northern Lights was Geoffrey Downes.
Born in Stockport, in Greater Manchester, in 1952, Geoffrey Downes was raised in a musical family. His father was a church organist and his mother played piano. Downes learned keyboards, and in the mid-70s was in a band called She's French. Guitarist Jamie West-Oram went on to play in The Fixx of "One Thing Leads To Another" fame. Downes and Horn were bandmates in Fallen Angel and the T.C. Band, and next in a band called Chromium. Their bandmate on keyboards, Anne Dudley, was a later bandmate with Horn in the art-pop band Art of Noise.
In 1977, Horn met Bruce Woolley while playing in the house band at the Hammersmith Odeon in London. Horn, Downes and Woolley began making demos that year and in 1979 one of these was "Video Killed The Radio Star".
In 1979, Horn and Downes remixed "Back of My Hand", a hit single for the Jags that climbed to #17 on the UK Singles chart. As well, Horn and Downes formed a duo called The Buggles. They released their debut single "Video Killed The Radio Star" in 1979.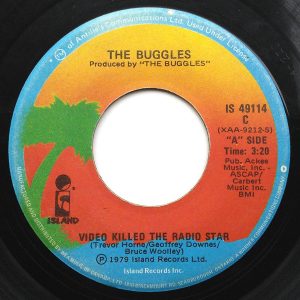 "Video Killed The Radio Star" was co-written by Horn, Downes and Bruce Woolley. Born in 1953 in the village of Shepshed, in a borough of Leicestershire, Woolley learned guitar. In 1974, he joined Ivor Kenney's Dance Band at Leicester Palais. In 1979, he co-wrote a minor hit for Dusty Springfield titled "Baby Blue". His co-writers were Trevor Horn and Geoffrey Downes. The song relates to concerns about, and mixed attitudes toward 20th-century inventions and machines for the media arts.
Writing in his book, Pop Music: Technology and Creativity: Trevor Horn and the Digital Revolution, Timothy Warner said that the "relatively quiet introduction" helping the listener detect a high amount of "tape hiss" generated through the use of analogue multi-track tape recorders, as well as the timbre of the synthesized instruments, give an indication of the technical process and time of producing the song.
In "Video Killed The Radio Star" the singer recalls how "I heard you on wireless back in '52." As he listens to the wireless radio, he has to adjust the tuning to get the clearest reception. Wireless communication is the transfer of information telecommunication between two or more points without the use of an electrical conductor, optical fiber or other continuous guided medium for the transfer. Wireless was initially used from about 1890 for the first radio transmitting and receiving technology, as in wireless telegraphy, until the new word radio replaced usage of the word wireless around 1920. However, radio sets in the UK and the English-speaking world that were not portable continued to be referred to as wireless sets into the 1960s. As the setting for "Video Killed The Radio Star" opens in 1952, the non-portable radio the singer is listening to is referred to as a wireless. Wi-Fi and Bluetooth are more recent advances in wireless technology.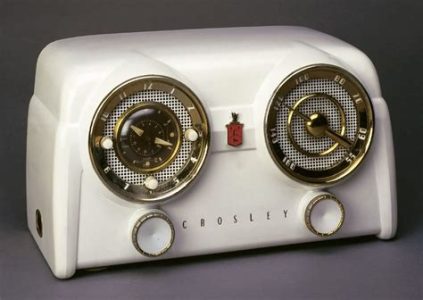 1952 Crosley non-portable radio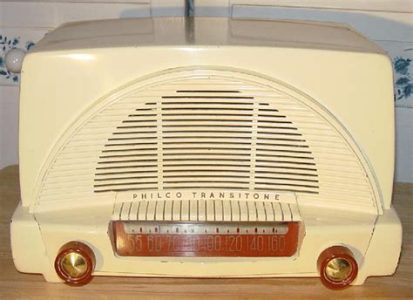 1952 Philco non-portable radio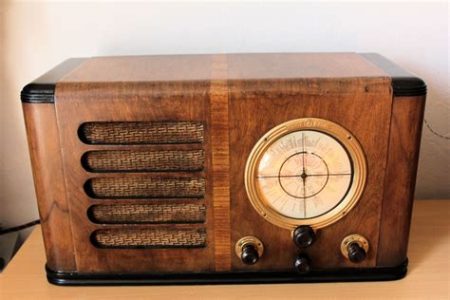 1952 Pilot radio
The male voice echoes the song's theme in the tone of the music, initially limited in bandwidth to give a "telephone" effect typical of early broadcasts, and uses a Mid-Atlantic accent resembling that of British singers in the 1950s and '60s.
In 1952, radio stars were pop recording acts whose songs listeners tuned into on the wireless (radio) at home or car radio. Though television was brand new, not a lot of people owned one. On November 14, 1952 New Musical Express created the first UK Singles chart with Al Martino's "Here In My Heart" at the top position. Many American recording artists had number-one hits in the UK in the 1950s. This includes Perry Como, Eddie Fisher, Kay Starr, Jo Stafford, Guy Mitchell, Frankie Laine, Frank Sinatra, Rosemary Clooney, Kitty Kallen, Doris Day and Dean Martin. But, homegrown singers from England, Ireland, Wales and Scotland also topped the UK Singles charts in the 1950s. These include Liverpool's Lita Roza with her cover of "(How Much Is That) Doggie In the Window", Trinidadian singer and London-resident Winnifred Atwell, David Whitfield, Dickie Valentine, Ruby Murray, Alma Colgan, Vera Lynn, Jimmy Young, Ronnie Hilton, Anne Shelton, Tommy Steele, Michael Holliday, Lonnie Donegan, Shirley Bassey, Adam Faith, Russ Conway and Cliff Richard.
The era of radio was supplanted by television. However, radio stars continued to thrive on the radio because popular music on TV was viewed on selected variety shows. It was the introduction of MTV where music videos were played non-stop. MTV competed with radio and many listeners of music chose to watch the MTV channel with the music video, letting their old habits of listening to music on the radio fade. In the song, we are told "pictures came and broke your heart." The broken hearted were the radio stars who were replaced by a new generation of music video savvy recording artists. The recording artists who couldn't make the transition to music video lost out to the new breed. As well, "Video Killed The Radio Star" tells us to "put the blame on VCR." A VCR can record a television program and allow the owner to play the show at a later time.
In an interview with Pop Break in 2011, Geoff Downes recalled after "Video Killed The Radio Star" had its chart run, "…a couple of years later, someone called me up and said, 'Your song was actually used as the first video on this new channel that started in New York City on cable.' I was sort of like, 'Yeah, okay, what's the deal with that?' Of course, what I didn't know was MTV was going to make a massive inroad into the whole psyche of American culture very quickly. So it's always something one views in hindsight rather than that it was a big exciting thing at the time — because it wasn't. Nobody knew how well MTV was going to do."
Downes added, "I think the whole idea of 'Video Killed The Radio Star' was how technology changes peoples' perceptions of music. It wasn't specifically about video — it was about how things get superceded. You look at things now, and it's quite prophetic — not just because the way video came but also the way peoples' perceptions have changed, the way we've buy music has changed. People don't walk into a record store anymore and buy music. They buy it online. And they don't always buy an album — they buy just one track. 'Video Killed The Radio Star' is interesting in that way. It's quite a prophetic piece."
"Video Killed The Radio Star" peaked at #1 in Hamilton (ON), Regina (SK), and Ottawa (ON), #2 in Vancouver (BC), and Saskatoon (SK), #4 in London (ON), #5 in Montreal, and Lethbridge (AB), #6 in Presque Isle (ME), #7 in Bangor (ME), and #9 in Cleveland (OH).
Internationally, "Video Killed The Radio Star" peaked at #1 in Australia, Austria, France, Ireland, Italy, Japan, Spain, Sweden and Switzerland. It climbed to #2 in Germany and New Zealand, #6 in Canada and South Africa, #12 in Belgium, #16 in the Netherlands, but stalled at #40 in the USA.
Separately, Bruce Woolley with his band the Camera Club (with Thomas Dolby on keyboards) released a single of "Video Killed The Radio Star".
In 1980, Horn and Downes joined progressive rock band Yes for the album Drama.
In 1981, Trevor Horn and Bruce Woolley co-wrote "Mirror Mirror (Mon Amour)" for Dollar. The single climbed to #4 on the UK Singles chart and #5 in Ireland. Another composition for Dollar in 1981, "Hand Held in Black and White", cracked the Top 20 in both Ireland and the UK.
In 1982, Geoffrey Downes joined the band Asia. He remained with Asia until 2014. Though Downes also
In 1983, Trevor Horn produced an album by Yes and their Top Ten hit "Owner Of A Lonely Heart". He also produced "The Look Of Love" and "Poison Arrow" for ABC. As well, Horn produced Frankie Goes To Hollywood's "Relax" and "Two Tribes".
In 1983 Trevor Horn co-founded Art of Noise, an avant-garde synth-pop group. In 1985 the single "Close (to the edit)" climbed to #8 on the UK Singles chart. Another single, "Moments In Love", made the Top Ten on the Dutch pop charts, and the Top 20 in Belgium. And in 1986, their cover of "Peter Gunn" which featured guitar by Duane Eddy climbed to #50 on the Billboard Hot 100. Elsewhere, the single peaked at #3 in New Zealand, #6 in Ireland, #8 in the UK, and #10 in Austria. Though Trevor Horn left the band, Art of Noise continued to have Top Ten hits including "Paranoimia" and "Kiss" featuring Tom Jones.
In 1985, Woolley and Horn were co-writers for the single "Slave To The Rhythm" for Grace Jones, as well as all the tracks on her album Slave To The Rhythm. In 1994 Woolley formed The Radio Science Orchestra (RSO). The RSO has collaborated on stage with Grace Jones, Thomas Dolby and others in the decades since.
Over the decades, Trevor Horn has produces records for Seal, Malcolm McLaren, Mike Oldfield, Tina Turner, Scottish indie pop band Belle and Sebastian, the Pet Shop Boys and Robbie Williams among others.
On 28 September 2010, Woolley joined Downes and Horn for the Buggles' 'live début', to raise funds for the Royal Hospital for Neuro-disability.
In 2011, both Downes and Horn reunited with Yes in the studio for the band's album Fly from Here. Geoffrey Downes made it into the Guinness Book of Records for playing the most keyboards on stage in one performance: 28. In 2011, Trevor Horn was appointed Commander of the Order of the British Empire (CBE) in the 2011 New Year Honours for services to the music industry.
In 2018 Trevor Horn released his debut solo album Trevor Horn Reimagines the Eighties. The album of covers includes his treatment of Grace Jones' "Slave to the Rhythm", "The Power Of Love" (by Frankie Goes To Hollywood), the Yes hit "Owner Of A Lonely Heart", Godley & Creme's "Cry", New Order's "Blue Monday" and others. Horn toured with Dire Straits Legacy in 2019 into early 2020. In late 2022, he published a memoir, Adventures in Modern Recording: From ABC to ZTT.
May 8, 2023
Ray McGinnis
References:
Richard Buskin, "Classic Tracks: The Buggles 'Video Killed The Radio Star'," Sound On Sound, December 2011.
Fiona Sturges, "Trevor Horn: The Artist of Noises," Independent, London, UK, October 29, 2004.
Will Hodgkinson, "Horn of Plenty," Guardian, November 5, 2004.
"Interview: Geoff Downs of Yes," Pop Break, September 8, 2011.
"Pop producer Trevor Horn appointed CBE," BBC, December 31, 2010.
"CKLG Top 20," CKLG 730 AM, Vancouver, BC, January 30, 1980.
For more song reviews visit the Countdown.