#50: Walking On Broken Glass by Annie Lennox
Peak Month: November 1992
19 weeks on Vancouver's CKLG chart
Peak Position #1
Peak Position on Billboard Hot 100 ~ #14
YouTube.com: "Walking On Broken Glass"
Lyrics: "Walking On Broken Glass"
Ann Lennox was born in Aberdeen, Scotland, in 1954. Lennox recalls, "When I was very young, we had a salmon pink Dansette record player. Someone gave me birthday money and the first record I think I bought was Mary Poppins followed by Procul Harum's "Whiter Shade of Pale". Both records are magical and transporting. I used to visit my grandparents in the countryside and would always go into the recesses of a cupboard to pull out a box full of old 78 rpm records which I'd play over and over again, especially the Vilja song from The Merry Widow, which I was obsessed with. My dad blew my mind when I was six years old because he built his own Gramophone. He had the albums for every Rodgers & Hammerstein musical and he switched his homebuilt record player on and you heard this crackling sound and then 'Boom!' I remember walking to school singing "I Enjoy Being A Girl". To buy a vinyl album, you had to record player and you have to have speakers, and this is a great thing because that means people are going to listen to your music not on a cell phone, but they're going to listen to it out of a sound system, which is what we all did when we were growing up. The important thing about vinyl releases is that people buy them and actually put them on the turntable and listen to a side, because we chose the tracks to be played in a particular order, and that was really important."
In the 1970s she studied at the Royal Academy of Music. Her flute teacher in a final report wrote "Ann has not always been sure of where to direct her efforts, though lately she has been more committed. She is very, very able, however." In the 70s Ann Lennox remarked "I have had to work as a waitress, barmaid, and shop assistant to keep me when not in musical work." In 1976 she was part of a band called Dragon's Playground, who appeared on ITV's New Faces talent show. Now billed as Annie Lennox, from 1977 to 1980 she was the lead singer for the Tourists. The band scored two Top Ten hits on the UK singles chart with a remake of the Dusty Springfield hit from 1963, "I Only Want To Be With You", and "So Good To Be Back Home Again". While with the Tourists, Annie Lennox collaborated with bandmate Dave Stewart.
Annie Lennox and Dave Stewart left the Tourists to form a new wave band they named the Eurythmics. In 1981 the duo's first album, In The Garden, was released with little commercial success. However, several singles in 1982, "This Is The House" and "Love Is A Stranger" got the attention of dance clubs and college radio stations. With the international Top Ten success of "Sweet Dreams (Are Made Of This)" in 1983, the duo re-released "Love Is A Stranger", which climbed to #6 on the UK singles chart later that year. The Eurythmics had a string of successful hit records, most of these making the Top Ten in the UK, Ireland, Switzerland, New Zealand, Australia and Sweden. These included "Who's That Girl?","Right By Your Side", "Here Comes The Rain Again", "Sexcrime (Nineteen Eighty-Four)", "Would I Lie To You?", "There Must Be An Angel (Playing With My Heart)", "Sisters Are Doin' It For Themselves" (with Aretha Franklin), "Thorn In My Side", "Beethoven (I Love To Listen To)" and "Revival". Of these bigger international hits, only three made the Top Ten on the Billboard Hot 100 in the USA.
Meanwhile, Dave Stewart produced the debut album by Feargal Sharkey, "A Good Heart". By the later half of the 80's the Eurythmics sound shifted from new wave toward rock n' roll with "Missionary Man" and "I Need a Man". Between 1983 and 1989 and finally in 1999, the Eurythmics charted six albums in the Top Ten Canadian album charts. These were Sweet Dreams (Are Made of This), Touch, Revenge, Savage, Revival and Peace. A seventh album, We Too Are One, peaked at #12 on the Canadian RPM album charts in 1989. The duos final album, Peace, resulted in a 1999 tour where the proceeds were to Greenpeace and Amnesty International.
After the Eurythmics split, Annie Lennox had a successful solo career. She has received eight Brit Awards, a UK equivalent to the Grammy Awards in the USA. Her Brit Awards include her 1992 debut solo album Diva, Bare (2003), and Songs of Mass Destruction (2007).
From Annie Lennox's Diva album she released "Why" in March 1992 which became a #5 hit on the UK singles chart, #8 in Vancouver (BC) and #34 on the Billboard Hot 100. Her second single from the album, "Precious", climbed into the Top 20 in Italy. Her third single from the album was "Walking on Broken Glass".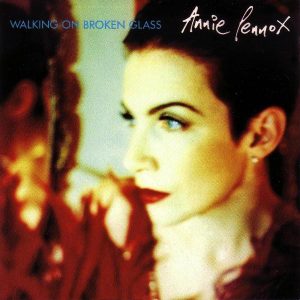 "Walking On Broken Glass" was written by Annie Lennox.
The song's theme of scorned love inspired a classic music video. Director Sophie Muller pulled from period films depicting the late 18th century—including Dangerous Liaisons and Amadeus. Lennox plays an aristocratic lady trying to regain attention from a former lover played by John Malkovich—the star of 'Dangerous Liaisons.' Lennox's other love interest is played by Hugh Laurie—the future 'House' star played Prince George on the TV comedy 'Blackadder.'
Lennox recalled, "This was a wonderful video to create. There were some wonderful people involved—John Malkovich and Hugh Laurie (before he had an American accent)! That was tremendous fun. The idea of it being a period piece, like Les Liaisons Dangereuses."
Lennox saw a parallel between the film—where a noble woman plots to take revenge against an unfaithful lover—and the song. "The alternative title for 'Broken Glass' could easily have been 'Hell hath no more fury than a woman scorned.' The video is very wry and tongue-in-cheek. People can take me a little seriously sometimes, but I do actually have a rather radical sense of humor."
The lyrics recall the woman's former lover being "the sweetest thing that I ever knew." But since she's been abandoned by him, it feels like she's walking on broken glass. Her desolation is described: "I'm living in an empty room with all the windows smashed." After all the hurt and pain that unfolded in the relationship, she sings "…take me from the wreckage. Save me from the blast. Lift me up and take me back." The fate of continuing to walk on broken glass will be the ruin of her: "I can't keep on walking…" But, there's no sense that he'll take her back.
"Walking On Broken Glass" peaked at #1 in Vancouver (BC), Sacramento (CA), and San Diego, #2 in Los Angeles, and Detroit, and #3 in Minneapolis/St. Paul. Internationally, "Walking On Broken Glass" peaked at #1 in Canada, #8 in Ireland and the UK, #11 in the Netherlands, #14 on the Billboard Hot 100, and #23 in New Zealand.
Her fourth single from the album, "Cold", made the Top 30 on the UK singles chart. A fifth single release from Diva "Little Bird"/"Love Song For A Vampire", the A-side which peaked at #10 in Vancouver and #49 on the Billboard Hot 100. "Love Song For A Vampire" was part of the soundtrack for the 1992 film Bram Stoker's Dracula and climbed into the Top Ten in France, Ireland, Italy, Poland, Spain and the UK.
Annie Lennox's chart runs for "Why" and "Little Bird" did marginally well enough on the Billboard Hot 100 just to miss qualifying for a review on this website. But, of "Why" music critics considered it an "emotional, hypnotizing ballad." While the Gavin Report in San Francisco said of "Little Bird" that Lennox's "hit streak is about to carryover into 1993 on the wings of a sensitively written and brilliantly produced song that expresses what many people feel from time to time. All that, and it's uptempo!"was considered."
In the spring of '93 she released a sixth single from Diva that didn't chart in the USA. It was titled "Money Can't Buy It".
With six singles (seven tracks) from Diva on the pop charts somewhere internationally, the album topped both the UK and Italian album charts. It also climbed into the Top Ten album charts in Australia, Austria, Canada, Germany, the Netherlands, New Zealand, Norway, Sweden and Switzerland. In 1995 she released her second studio album showcasing covers, including "No More I Love You's", originally a minor hit for UK new wave duo The Lover Speaks who stalled at #58 on the UK singles chart in 1986. She also covered the first pop record she bought, "A Whiter Shade Of Pale" which climbed to #16 on the UK singles chart in 1995.
In 2003, she met Nelson Mandela. She credits him for inspiring her to be an advocate for those in need. Charlotte Crips, writing for The Independent in 2017, reports, "after meeting Mandela, in 2004, she (Annie Lennox) became a passionate advocate for women and children, particularly those effected by HIV/Aids in Africa. " In 2010 Lennox was named the UNESCO Goodwill Ambassador for AIDS. On January 27, 2014, Annie Lennox and Dave Stewart appeared at the Los Angeles Convention Center. At an event billed as "The Night That Changed America: A Grammy Salute to The Beatles, they performed "The Fool On The Hill".
Between 2003 and 2014 Annie Lennox released four studio albums, three of which peaked in the Top Ten of the Canadian album charts. One of these, Songs Of Mass Destruction, got its title from the phrase "weapons of mass destruction" which President George W. Bush alleged Suddam Hussein of Iraq possessed – as an excuse to launch a war. Lennox described it as "a dark album, but the world is a dark place. It's fraught, it's turbulent. Most people's lives are underscored with dramas of all kinds: there's ups, there's downs – the flickering candle." She added, "Half the people are drinking or drugging themselves to numb it. A lot of people are in pain."
The last song Annie Lennox recorded was "Streets Of London" in 2017. In 2017, Lennox told The Independent, she has no future plans to make any more music. Lennox states, "I don't know if I'm done with music, but I have evolved into a person who needs to talk about things, more than sing about things."
March 13, 2023
Ray McGinnis
References:
Annie Lennox biography, Annie Lennox.com
Charlotte Crips, "Annie Lennox, Interview: the Singer Reflects on Eurythmics, Nelson Mandela and Global Feminism," Independent, November 9, 2017
Roisin O'Connor," 'How Did We Do All that?': Annie Lennox and Dave Stewart Discuss Eurythmics Legacy in New Interview," Independent, April 11, 2018.
Jim Faber, "Dave Stewart: 'What Annie Lennox and I Went Through was Insane'," Guardian, February 13, 2016.
"Vancouver's Official Top 40," CKLG 730 AM, Vancouver, BC, November 9, 1992.
For more song reviews visit the Countdown.