#834: She Wears My Ring by Jimmy Bell
Peak Month: May 1961
7 weeks on Vancouver's CKWX chart
Peak Position #4
Peak Position on Billboard Hot 100 ~ did not chart
Peak Position on Music Vendor Chart ~ #118
YouTube.com: "She Wears My Ring"
Lyrics: "She Wears My Ring"
James Sweenety Jr. was born in Nashville in 1922. He was the second oldest of thirteen children. At 5'8″ James was a gifted football player from a young age and was drafted into the U.S. Army in 1943. After being honorably discharged, he worked as a carpenter. To make some extra cash he became lead singer of a group called The Five Bars. Shortly after, they changed their name to The Varieteers. The quartette appeared in June 1948 on Appointment With Music, an NBC show hosted by Snooky Lanson on the local NBC affiliate in Nashville. On Lanson's show they sang a 1930's pop standard, "I'm All Dressed Up With A Broken Heart". The Varieteers had made a recording of the tune in 1947. In the following years the Varieteers had brushes with success. This included appearing in concert in Hollywood in 1953 with Spanish-American bandleader, Xavier Cugat and singer Abbe Lane. Over his career he recorded as Jimmy Sweeney, Jimmy Bell and Jimmy Destry.
Sweeney had a strong tenor voice and herecorded nine singles on his own between 1950 and 1958. Several singles were also credited to Jimmy Sweeney and the Varieteers. Initially, Jimmy Sweeney and the Varieteers resembled the Ink Spots and the Ravens, blending musical styles such as pop, rhythm and blues, jazz and gospel. Several of Sweeney's singles made the pop charts in Ottawa in 1956 ("These Years") and 1957 ("Tica Boo").
One of Sweeney's most impactful recordings was a demo he made for Sun Records in 1954. He recorded a song called "Without You." The demo didn't have any credit for either the singer or the composer. It happened that Sam Philips introduced the demo to 19-year-old apprentice electrician named Elvis Aaron Presley. Marion Keisker at Sun Records called Presley on June 26, 1954, and asked him to come over to Sun Records and sing a demo called "Without You" for Sam Philips to hear him sing. Presley was in the studio doors within minutes. When asked what he sounded like, Presley said "I don't sound like nobody." Presley tried to sing "Without You" like the uncredited singer on the demo. Failing to hit and sustain the notes the way the mystery singer did on the demo, Elvis complained "I hate him. I hate him. Why can't I sing like that?" Sam Philips patiently suggested Presley just be himself and Elvis ended up recording "That's All Right". It wasn't until 2017 that it was confirmed that the singer was Jimmy Sweeney by his daughter, Eugenia. Music critic, Greil Marcus and Elvis biographer, Jerry Hopkins, agreed. The sound that Elvis tried to imitate on that 1954 demo influenced his phraseology. Elvis sounded like Jimmy Sweeney's "Deep Blues" on Presley's chart-topping "Don't Be Cruel" in 1956.
By 1956 Jimmy Sweeney began to record songs that were more in the rockabilly and country and western vein. At the same time, his solo recordings owed much to the influence of both Roy Hamilton and Jackie Wilson. Later Sweeney recorded five singles under the name, Jimmy Bell, between 1960 and 1962 for the Hickory Record label based in Nashville. One of his singles, "Lunch in a Bucket," was written by John D. Loudermilk. One single, "Going Down to the River", he penned himself. Another song he recorded for Hickory on their REO label was "She Wears My Ring".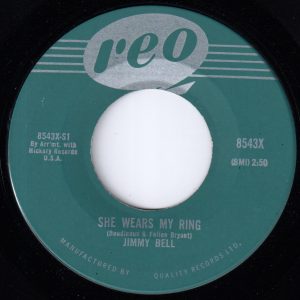 "She Wears My Ring" was written and composed by Nashville songwriting team, Felice and Bouldeaux Bryant. They had a string of hits including "Wake Up Little Susie", "Bye Bye Love", "Bird Dog" and "All I Have To Do Is Dream" among others, for the Everly Brothers. They wrote "Raining In My Heart" for Buddy Holly, and "Last Date" for Floyd Cramer. "She Wears My Ring" was recorded by Roy Orbison, Elvis Presley, Solomon King, and Australia's Johnny O'Keefe. The melody is based on La Golondrina, a Mexican song composed by Narciso Serradel Sevilla. La Golondrina is translated as The Swallow in English. It is a song about a swallow, rushed and fatigued, and tossed by the wind. The swallow is like a pilgrim that wanders far from its homeland. The Bryants wrote a completely different set of lyrics to the tune.
"She Wears My Ring" is a song about what it means for a woman to wear the ring a man has given her at their wedding. The song is sung with deep emotion by Jimmy Bell (aka Jimmy Sweeney), connoting the couple is still very much in love. The tradition of wearing a ring at a wedding ceremony goes back to 3000 BC and ancient Egypt. Originally, rings were braided from hemp or reeds. The braid was shaped into a circle. This was a symbol of eternity among many ancient cultures. According to Ancient-Origins.net, "The hole in the ring's center represented a gateway or door leading to future events. These rings were placed on the fourth finger of the left hand (known as the ring finger) as Egyptians believed a vein ran from that finger straight to the heart." Egyptian grooms placed a ring rings on his bride's finger to symbolize his "confidence in her ability to care for his house." as hemp and reeds didn't last very long, in time grooms gave their brides rings made of bone, leather or ivory. Over time wealthier grooms gave rings made of gold. In the 2nd C the Roman grooms gave the father of the bride a gold ring to pay for the "purchase" of his daughter. It was also the Romans who began to engrave rings. The ring symbolized permanence, strength and possession. In renaissance France, an engagement gift from the groom to the bride was a puzzle ring for "wedding bands." An article in Ancient-origins.net explains that "These wedding bands would be made of two interlocking bands—one for the bride, and one for the groom. The two halves would be connected at the wedding, and then the wife would wear it thereafter."
It was only during World War II that it became fashionable and expected that men wore wedding rings. Soldiers fighting in Europe wore their wedding ring to remind them of their sweetheart back home. Prior to the 20th century only a small number of bridegrooms wore rings. The wedding ring was understood as a symbol of the bride being the grooms possession. But with changing sensibilities, the groom wearing a ring given by the bride symbolized that he was also her possession. This ancient sentiment is reflected in the song, "She Wears My Ring". The ring is given as a sign that she is his "eternally." And to let everyone know "she belongs to me."
"She Wears My Ring" climbed to #4 in Vancouver, #5 on 1050 CHUM in Toronto and at least #9 at WHHM in Memphis. However, in America "She Wears My Ring" missed the Billboard Hot 100. It did climb to #24 on the Billboard R&B chart in July 1961, though credited to Jimmy Sweeney. "She Wears My Ring" was covered by Elvis Presley, Roy Orbison, Ray Price and Placido Domingo. The song remained popular in Vancouver in the 60's despite it being a hit only in Vancouver, Toronto and Memphis. Based on listener requests on Flashback Weekends on CFUN in the mid-1960's, "She Wears My Ring" was listed at #22 on the CFUN Final Top 40 Soundathon for March 1960 to April 1967 as counted down on CFUN's final broadcast at the time on September 17, 1967.
Jimmy Sweeney's daughter, Eugenia JoAnn Sweeney III has commented, "My father could very well have become a rock 'n' roll icon. He possessed the chops and good looks, but he lacked the two essentials: drive and ambition. Instead, he was quiet, humble, reserved and intense. When he was signed to the Hickory label, he took the professional name Jimmy Bell and for a while, he enjoyed moderate success. He traveled throughout the U.S. and Canada promoting his recordings and in so doing, gathered a legion of fans. Then, at the height of it all, he opted out and came home."
Jimmy Sweeney also worked for C.P. Rail for a time before returning to live in Nashville after securing a government job. He was forty years old. It was 1962. He finally had a hit record in a few radio markets. But he walked away from pursuing a career any further. Eugenia says when she asked her dad if he ever had any regrets about leaving behind the music industry and a recording career, he told her "no." Author Barbara Pruett has detailed how Sweeney wrote a over a half a dozen songs that Marty Robbins recorded in the late 50's and into the 60's. Some of these were credited to Jimmy Sweeney and some to Jimmy Bell.
Jimmy Sweeney died of cancer in 1992 at the age of 69.
March 12, 2018
Ray McGinnis
References:
Christopher Kennedy,The King's Singer, Mojo Music Magazine, London, UK, August 23, 2017, pp. 44-47.
Liz Leafloor, Why Do Couples Exchange Rings with Vows? The Elusive Ancient Origins of Wedding Rings, Ancient-Origins.net, October 9, 2015.
Stephen Robb, Wedding rings: Have men always worn them?, BBC, Stephen Robb, April 8, 2011.
Pruett, Barbara J. Marty Robbins: Fast Cars and Country Music. Scarecrow Press, Lanham, MD, 1990.
"Fabulous Forty," CKWX 1130 AM, Vancouver, BC, May 20, 1961
"The Final Fun 40," CFUN 1410 AM, Vancouver, BC, September 16, 1967
For more song reviews visit the Countdown.