#887: What's It Gonna Be by Dusty Springfield
Peak Month: January 1968
8 weeks on Vancouver's CKLG chart
Peak Position #9
Peak Position on Billboard Hot 100 ~ #49
YouTube.com: "What's It Gonna Be"
Lyrics: "What's It Gonna Be"
Mary Isobel Catherine Bernadette O'Brien was born in West Hampstead in north London, in 1939. Along with her oldest brother, Dion, she recorded her first tape of a song they sang while still children. Her dad was an unhappy accountant who dreamed of becoming a concert pianist, but never became one. While Mary's mother, according to the Karen Bartlett autobiography, Dusty: An Intimate Portrait, "was continuously drunk and sat all day in cinemas."As she grew up, Mary went to school at a Roman Catholic Convent. At the age of 18 she became a member of a female group named the Lana Sisters. The group sang backup to pop singer Al Saxton who had several Top 30 hits in the late 50's in the UK, including a cover of Sam Cooke's "Only Sixteen" and "You're The Top Cha". While Saxton enjoyed his moments of fame, Mary teamed up with her brother, Dion, and a friend of theirs named Tim Field. By the end of 1959 she had taken the stage name of Dusty Springfield. The trio, now known as The Springfields, got a record deal with Philips Records in 1961.
In 1962 The Springfields had an international hit with "Silver Threads And Golden Needles", which climbed ti #1 in Australia and went Top 20 in the USA. The song climbed to #3 in Toronto, #4 in Winnipeg, #14 in Montreal and #17 in Vancouver. Canadian Radio listeners liked the sound of that female voice they were hearing on the single and wanted to hear more. The Springfields were the first British group to have such success, predating The Beatles. In 1963 Dusty released her first solo single, "I Only Want to Be With You". She had a series of hit records including the Burt Bacharach tune, "Wishin' and Hopin'" in 1964. In January, 1965, Dusty in San Remo, Italy, as an entrant in Italian Song Festival where she reached the semi-final. At the festival she heard Pino Donaggio perform a song titled "Io Che Non Vivo (Senza Te)". Its English version, "You Don't Have to Say You Love Me" was recorded by American country singer, Jody Miller. Dusty fell in love with the song and recorded it. Her version became a #1 hit in the UK in the spring of 1966 and on the June 19, 1966, CKLG pop chart in Vancouver.
Dusty was a booster of American R&B music and her covers of soul singers across the Atlantic introduced the record buyers in the British Isles to people like Aretha Franklin and Gladys Knight. On one of her singles she was backed by Doris Troy of "Just One Look" fame. A forerunner of the Northern Soul genre, Dusty Springfield's covers of soul music was an ear-catching fusion and record-buyers rewarded her with her album, Dusty in Memphis, and others.
The Look of Love. The title track, "The Look of Love", was featured in the James Bond film, Casino Royale. A second single from the album was "What's it Gonna Be". It peaked at #49 in the USA and #9 in Vancouver. In the song the singer asks her lover to level with her and let her know if this is a lasting thing or if he's just playing the field.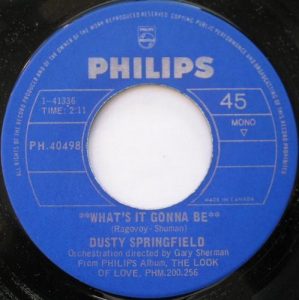 "What's It Gonna Be" was written by Mort Shuman and Jerry Ragovoy. Co-wrter, Shuman, was born in Brooklyn in 1938 of Polish, Jewish immigrants. He wrote many hits in the early rock 'n roll era including "A Teenager in Love" for Dion and the Belmonts, "Turn Me Loose"for Fabian, "This Magic Moment" for Jay & The Americans, "Save The Last Dance For Me" and "Sweets For My Sweet" for The Drifters, "(Marie's the Name) His Latest Flame" and "Little Sister" for Elvis Presley, "Suspicion" – a hit for both Terry Stafford and Elvis Presley, "Little Children" for Billy J. Kramer and The Dakotas, and Andy Williams 1963 hit "Can't Get Used to Losing You". Shuman produced the Off-Broadway musical, Jacques Brel Is Alive and Well and Living in Paris, which began it's four year run in Manhattan in 1968.
Co-writer, Jerry Ragovoy, was born in Philadelphia in 1931 to Hungarian, Jewish immigrants. He penned many songs for recording artists including "Pata Pata" for Miriam Makeba, "Cry Baby" for Garnett Mims and later Janis Joplin, the Big Brother and the Holding Company hit from 1968 called "Piece of My Heart". Ragovoy also wrote "Time Is On My Side", a hit for the Rolling Stones. Ragovoy also won a Grammy Award in 1972 for being co-producer of the Broadway musical about the African-American societal issues, Don't Bother Me, I Can't Cope. For awhile he owned a recording studio called the Hit Factory where Stevie Wonder recorded his album, Songs In The Key Of Life.
From March 21 to 30, 1968, Dusty Springfield appeared for ten consecutive nights in concert at Isy's Supper Club – 1136 West Georgia – in Vancouver.
During her career she had four Top Ten hits on the Billboard Hot 100 and eleven Top Ten hits on the UK Singles Chart between 1963 and 1987. Her last Top Ten hit was a collaboration with The Pet Shop Boys titled "What Have I Done To Deserve This?" In 1994 the crime fiction movie, Pulp Fiction, included "Son of a Preacher Man" in the soundtrack. As the film was a box office smash, it led to a revival in popular interest in Dusty Springfield's albums and hit records.
Her personal life was challenged by living in a pre-Gay liberation era. Her exploration of lesbian relationships made her one newspaper headline away from having her career disintegrate. She had relationships with numbers of women including fellow recording artists Norma Tanega (1966-73) and Carole Pope (1981). Springfield also had addictions to alcohol and drugs and was sent to a psychiatric ward on at least one occasion. Referred to as a "bachelor woman" by some in the press, Dusty Springfield told the press in 1970 she didn't care about who slept with who, "people are people" she said. Dusty Springfield died in 1999 after several years suffering with breast cancer. She was 59 years of age.
February 15, 2018
Ray McGinnis
References:
Dusty Springfield – Biography, Let's Talk Dusty.org
Roger Lewis, "The mad, bad and sad life of Dusty Springfield," Spectator, London, UK, August 2, 2014.
Dave Laing, "Jerry Ragovoy Obituary: US Songwriter Known for Time Is On My Side and Piece Of My Heart," Guardian, July 19, 2011.
"Mort Shuman Dies 52; Devotee of Jacques Brel," New York Times, November 4, 1991.
Penny Valentine and Vicki Wickham, Dancing With Demons: The Authorized Biography of Dusty Springfield, (St. Martin's Press, New York, NY, 2001).
"Boss 30," CKLG 730 AM, Vancouver, BC, January 6, 1968.
For more song reviews visit the Countdown.