#163: White Silver Sands by Owen Bradley Quintet
Peak Month: July 1957
14 weeks on Vancouver's CKWX chart
Peak Position ~ #3
Peak Position on Billboard Hot 100 ~ did not chart
YouTube: "White Silver Sands"
Lyrics: "White Silver Sands"
Owen Bradley was born in rural Sumner County, Tennessee, in 1915. He learned to play piano in his childhood, and started to play in local nightclubs and roadhouses while he was in his teens. In 1935, when he was 20 Bradley got a job at WSM-AM radio in Nashville, where he worked as an arranger and musician. He played piano, organ and trombone on WSM broadcasts. In 1942, Bradley was hired as the station's musical director. As well, he was increasingly sought after as the leader of his dance band, performing for well-heeled society parties all over the "Music City." It was also in 1942 that Owen Bradley co-wrote country singer Roy Acuff's hit "Night Train to Memphis", and "Deliver Me To Tennessee" for Woody Herman and His Orchestra.
In 1947, Bradley was hired as a songwriter and arranger at Decca Records. He wrote songs recorded by Eddy Arnold, Red Foley and others. As well, he worked alongside Decca producer Paul Cohen on recordings for Ernest Tubb, Kitty Wells and others. In time, Bradley would produce for some of the biggest stars in country music and country-pop.
The Owen Bradley Quintet began releasing singles in 1949 with "There's A Little White House" on the Decca Records' Coral label. In 1956, Owen Bradley produced a collection of tracks for Buddy Holly, including "That'll Be The Day". The first single releases, "Blue Days, Black Nights" and "Modern Don Juan", sold poorly, and Decca shelved the other tracks. When Holly found better success with the Brunswick label with producer Norman Petty, Decca re-released the 1956 tracks by Buddy Holly as an album in 1958. As well, in 1956 Owen Bradley's recording of "Moritat (A Theme From the 'Threepenny Opera')" was a Top Ten hit in Cincinnati, Ohio.
Owen Bradley wrote "Lonesome Train", recorded in March 1957 by the Johnny Burnette Trio. He also produced Patsy Cline's debut self-titled album with the single "Walking After Midnight".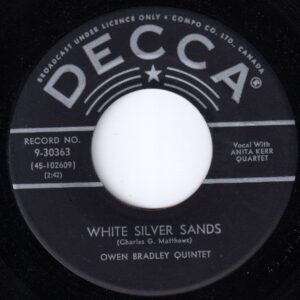 "White Silver Sands" was written by an obscure songwriter named Charles Matthews. He also wrote songs recorded by The Cheers, Gene Vincent, Eddie Cochran and others. "White Silver Sands" was recorded by Pat Boone, Bo Diddley, Jimmy Dean, Floyd Cramer, Hank Snow, Chet Atkins, Ace Cannon, Sonny James, Jerry Byrd, Brenda Lee, The Ventures, Don Rondo, The Lennon Sisters, and Ray Conniff. But it was Owen Bradley's version that climbed the pop chart in Vancouver.
The vocalists on "White Silver Sands" were the Anita Kerr Singers. Anita Jean Grilli was born in 1927 in Memphis. She married Al Kerr in 1947, and the couple moved to Nashville that year so he could work as a DJ at a local radio station. In 1948, Anita Kerr formed a quintet that began to back recording artists on Decca Records. This included Red Foley, Ernest Tubb, Eddie Arnold, and Burl Ives. The quintet appeared on Ozark Jubilee and the Grand Ole Opry. In 1956 the Anita Kerr Singers won a talent contest on the Arthur Godfrey's Talent Scouts. cut to a quartet at Godfrey's suggestion, the group travelled to New York City two weeks out of every six to appear with Godfrey on his daily television and radio broadcasts. The group contributed backup vocals on Patsy Cline's first studio album. A few years later, Kerr and her singers performed five times a week with Jim Reeves on his national radio program at WSM. In addition to Kerr, the quartet's roster featured tenor Gil Wright (1930 – April 30, 2017), baritone Louis Nunley (October 15, 1931 – October 26, 2012), and alto Dorothy "Dottie" Dillard (August 3, 1923 – May 6, 2015).
In 1957, the Anita Kerr Singers backed Elvis Presley on recordings of "Don't", along with the Jordanaires. They backed Patsy Cline on "Walking After Midnight". That year the Anita Kerr Singers backed Bobby Helms on his hit singles "My Special Angel" and "Jingle Bell Rock". In 1958, the quartet backed Brenda Lee on "Rocking Around The Christmas Tree". And in 1959, the Anita Kerr Singers backed The Browns on "The Three Bells".
In 1960, credited as the Little Dippers, the Anita Kerr Singers charted "Forever" to #9 on the Billboard Hot 100. That year, the Anita Kerr Singers backed Brenda Lee on "I'm Sorry", Floyd Cramer on "Last Date" and "On The Rebound", and Roy Orbison on "Uptown". In 1961 the quartet backed Faron Young on "Hello Walls", John D. Loudermilk on "Language Of Love", and Leroy Van Dyke on "Walk On By". They also backed Burl Ives on "A Little Bitty Tear" and "Holly Jolly Christmas". And in 1962, the Anita Kerr Singers backed Johnny Tillotson on "It Keeps Right On A-Hurtin'".
In 1965, The Anita Kerr Singers album We Dig Mancini won Grammy Award for Best Performance by a Vocal Group. Also at the ceremonies in 1965, George Beverly Shea's album Southland Favorites, to which The Anita Kerr Quartet contributed, won a Grammy Award for Best Gospel or Other Religious Recording (Musical). The following year, the Anita Kerr Singers single "A Man and A Woman" won a Grammy Award for Best Performance by a Vocal Group. In 1976, the Anita Kerr Singers album Gentle as Morning was nominated for a Grammy Award for Best Inspirational Performance. And in 1977, the quartet's album Precious Memories was nominated for a Grammy Award for Best Inspirational Performance. Louis Nunley was born in 1931 in Sikeston, Missouri. He began to record in 1949 in Nashville. Nunley was also a regular on the Statler Brothers Show. He was also a member of the Jordanaires for 45 years, joining them full-time from 1999 to 2012. Dottie Dillard died in 2015 at the age of 92. And Gil Wright died in 2017 at the age of 87. Between 1958 and 1988, the Anita Kerr Singers released 45 studio albums.
"White Silver Sands" is a song set in "a far and distant land." The lyrics tell us that a couple, "on the brink of love" kiss where the deep, pearly, waters wash upon white silver sands. The couple are in a locale where they can "Watch the gaucho's ride the pinto's, all across the pampas trail." A gaucho is a skilled horseman, reputed to be brave and unruly. The figure of the gaucho is a folk symbol of Argentina, Uruguay, Rio Grande do Sul in Brazil, and the south of Chilean Patagonia. Gauchos became greatly admired and renowned in legend, folklore, and literature and became an important part of their regional cultural tradition. Beginning late in the 19th century, after the heyday of the Gauchos, they were celebrated by South American writers.
Itinerant horsemen, hunting wild cattle on the pampas, originated as a social class during the 17th century. "The great natural abundance of the Pampa", wrote Richard W. Slatta in Cowboys of the Americas: "with its plethora of cattle, horses, ostriches, and other wild game, meant that a skilled horseman and hunter could live without permanent employment by selling hides, feathers, pelts, and eating free beef. This pampean largess shaped the gaucho's independent, migratory existence and his aversion to a sedentary regimen"
As the lyrics in "White Silver Sands" tell us the couple saw a Gaucho riding a pinto horse in the pampas, it is useful to recall where the pampas are. The Pampas (meaning "plain") are fertile South American lowlands that cover more than 460,000 square miles. They include the Argentina's five northeastern coastal provinces, all of Uruguay and Brazil's southernmost state, Rio Grande do Sul whose capital is Porto Alegre.
A pinto is a breed of horse, noted for its large patches of white and brown.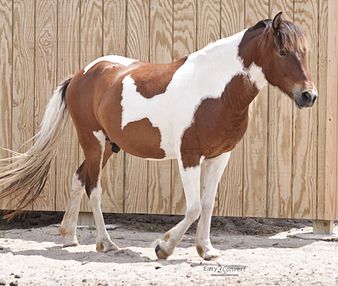 One of the most popular beaches in Rio Grande do Sul is Torres Beach: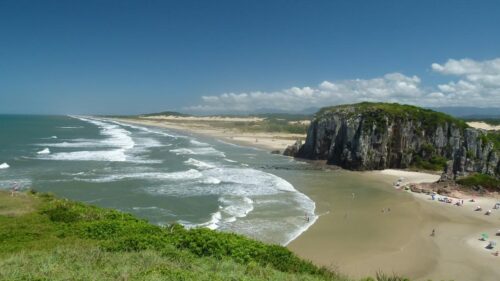 "White Silver Sands" peaked at #3 in Vancouver, #5 in Burlington (VT), #6 in Minneapolis/St. Paul, #7 in Pittsburgh, #8 in Toronto, #9 in Worcester (MA), and Ottawa (ON), and #10 in Baltimore.
Later in 1957, Owen Bradley had a Top 20 hit in Vancouver titled "The Hour Of Parting". And in 1958, he charted "Big Guitar" to #6 on the Red Robinson Teen Canteen survey on Vancouver's CKWX, #1 in Toronto, #2 in Pittsburgh, #5 in St, Louis, #9 in Denver, #10 in Minneapolis/St. Paul, and #46 on the Billboard pop chart.
In 1958, Bradley became vice president of Decca's Nashville division, and began pioneering what would become the "Nashville sound". Bradley became the Country music A&R director for Decca.
Over the years Owen Bradley arranged and conducted many singles and albums for a host of recording artists. This included "Sweet Nothin's", "I'm Sorry", "Dum Dum", "All Alone Am I", "Is It True", "Coming On Strong" and others for Brenda Lee, and "A Little Bitty Tear" for Burl Ives, "I Fall To Pieces" and "Crazy" by Patsy Cline, among others.
Owen Bradley also rented out Bradley Studios to other record labels. The studio became the birthplace of Capitol Records artists Sonny James recording of "Young Love", Ferlin Husky's "Gone", and the Gene Vincent recording of "Be-Bop-a-Lula", Marty Robbins's "Singing the Blues" and Johnny Horton's "The Battle of New Orleans" on Columbia, Conway Twitty's "It's Only Make Believe" and Mark Dinning's "Teen Angel" on MGM, and many others.
From 1966 to 1977, Bradley produced records for Conway Twitty, who had left MGM in '66. The combination worked. Twitty enjoyed a series of number-one Country chart hits including "Next In Line", "I Love You More Today", "To See My Angel Cry", "Hello Darlin'", "Fifteen Years Ago", "How Much More Can She Stand", "(Lost Her Love) On Our Last Date", "She Needs Someone to Hold Her (When She Cries)", "You've Never Been This Far Before", "There's a Honky Tonk Angel (Who'll Take Me Back In)", "I See the Want To in Your Eyes", "Linda On My Mind", "Touch The Hand", "This Time I've Hurt Her More Than She Loves Me", "After All the Good Is Gone", The Games That Daddies Play", "I Can't Believe She Gives It All to Me", "Play Guitar Play", and "I've Already Loved You in My Mind".
Bradley was inducted into the Country Music Hall of Fame in 1974.
In 1980 Bradley directed the soundtrack for the film Coal Miner's Daughter, starring Sisey Spacek and Beverly D'Angelo. And in 1985, Bradley was the director for the soundtrack for the Patsy Cline biopic Sweet Dreams starring Jessica Lange. In 1988, Bradley produced k.d. lang's album Shadowland.
In 1997, the Metro Parks Authority in Nashville dedicated a small public park between 16th Avenue South and Division Street to Owen Bradley, where his bronze likeness sits at a bronze piano. Owen Bradley Park is at the northern end of Music Row. Owen Bradley died in 1998 at the age of 82.
May 18, 2022
Ray McGinnis
References:
Ben Ratliff, "Owen Bradley, Country Music Producer, Dies at 82," New York Times, January 9, 1998.
"Owen Bradley Story," Country Music Hall of Fame Museum, January 2007.
"Oh boy: Why Buddy Holly Still Matters Today," Independent, January 23, 2009.
"Obituary: Louis Dean Nunley Sr.," Dignitymemorial.com, October 28, 2012.
"Dorothy Ann Dillard | 1923 – 2015 | Obituary," Gorman-Sharpf Funeral Home, May 8, 2015.
Robert K. Oermann, "Nashville-Related Music Obituaries – 2017," [Gil Wright, April 30, 2017] Music Row, December 21, 2017.
John King, "With the Anita Kerr Singers," 2011.
Richard Slatta, Cowboys of the Americas, Yale University Press, 1990.
"Top Fifty Songs for the Week," CKWX 1130 AM, Vancouver, BC, July 28, 1957.
For more song reviews visit the Countdown.