#389: Wings Of A Dove by Paul Clayton
Peak Month: January 1961
10 weeks on CKWX's Vancouver Chart
Peak Position ~ #3
Peak Position on Billboard Hot 100 ~ did not chart
YouTube.com: N/A
Lyrics: "Wings Of A Dove"
Paul Clayton Worthington was born in New Bedford – the whaling city – on the south coast of Massachusetts, in 1931. From his childhood, he heard his grandfather, Paul hardy – who was a whaler's outfitter, sing songs of the seafarers' life. While grandmother, Elizabeth Hardy, sang him folksongs she learned when she grew up in Prince Edward Island. When he turned eleven, Paul was given a guitar. From his teens, Paul started to research old folksongs after a visit to the New Bedford Whaling Museum. It was there that he discovered a collection of original manuscripts of seafaring songs. He told DJs at WBSM in New Bedford about his interest in folk music. This led to Paul Clayton Worthington hosting a weekly series of folk programs on WBSM. For the show, Clayton wrote his own material and sang live music on his program. At first the program was a ten minute spot, but was later expanded to one hour.
After high school, Paul Clayton attended the University of Virginia in Charlottesville, and got a degree in English and American Folklore. He assisted his professor Arthur Kyle Davis in research for his books Folksongs of Virginia and More Traditional Ballads of Virginia. While attending university, Paul Clayton lived in a rural log cabin in Brown's Cove, near Shanandoah National Park, some 21 miles northwest of Charlottesville. When he wasn't at university Clayton hitchhiked across the United States.
During 1950, Paul Clayton bought and learned to play the dulcimer. In 1951 he took a boat to Europe and "thumbed" around Britain and continental Europe. This earned him the nickname "the gypsy-scholar." While he was in London, UK, he spent time in folk circles and met Ewan MacColl, Scotland's Hamish Henderson, Irish poet and singer Patrick Galvin – who a few years later released Irish Songs of Resistance, and English folklorist and singer A.L. Lloyd. Clayton also met American folk singers Burl Ives, Peggy Seeger, Jean "The Mother of Folk" Ritchie and musicologist Guy Carawan – who later introduced "We Shall Overcome" to the Civil Rights Movement. While he was in the UK, Paul Clayton sang on the BBC.
In the early 50s Clayton started to travel to Greenwich Village in New York City, where a burgeoning folk scene was happening. One of the people he befriended was a blues and jazz singer named Dave Van Ronk.
In 1954 Paul Clayton released his first studio album of folksongs titled Whaling Songs & Ballads. In 1956 Clayton recorded his eighth studio album titled Bloody Ballads: British and American Murder Ballads on Riverside Records. Among his tracks was "Tom Dula". The song was based on an actual murder in Wilkes County, North Carolina, in 1866. Tom Dula was a Confederate soldier. His lover and coconspirator, Annie Melton, arranged to kill the victim Laura Foster (who was pregnant from Tom Dula, and also his other lover) – whose body was found half a mile from the murder scene. Col. James Grayson was actually a Tennessee politician who had hired Dula on his farm when the young man fled North Carolina under suspicion and was using a false name. Grayson did help North Carolinians capture Dula and was involved in returning him to North Carolina. The song was reworked by the Kingston Trio into a number-one hit on the Billboard Hot 100 in 1958 titled "Tom Dooley".
In 1957 Paul Clayton co-wrote a song called "Gotta Travel On", during a folksinging party in Chicago with Pete Seeger, Larry Ehrlich, and Dave Lazar. It was recorded by The Weavers as "Done Laid Around" in 1958. Later that year it was covered by country singer Billy Grammer. The single became a crossover country-pop hit. In Vancouver (BC) it spent twelve weeks in the Top Ten on the CKWX Sensational Sixty from December '58 to March '59, including four weeks at #1. Paul Clayton earned some royalty cheques, but the hit was Billy Grammer's. However, as word grew that Paul Clayton was a composer of "Gotta Travel On", he got invited to appear in 1959 on NBCs Today show hosted by Dave Garroway.
As Billy Grammer happened to have recorded on the Monument Records label, they offered Paul Clayton a chance to record some new material on a few albums in their studios. But before he got to working on the albums, Clayton cut a single which was a cover of the Ferlin Husky's "Wings Of A Dove".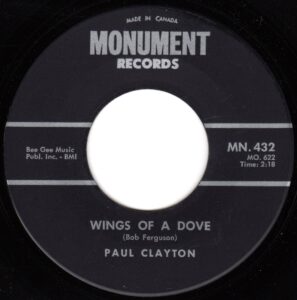 "Wings Of A Dove" was written in 1958 by Bob Ferguson, an A&R man who worked mostly for RCA. The song was recorded by country star Ferlin Husky in 1960. The song's lyrics promise that when people are beset with troubles, or ensnared by evildoers, God "sends down his love on the wings of a dove." A verse is dedicated to the Biblical story of Noah whose arc drifted in search of land for forty days and forty nights. However, after he sent a dove to search for land, it came back with a twig in its beak. This was a sign that God had not forgotten Noah and his family, and all the the animals and other species on the arc.
Paul Clayton's version of "Wings Of A Dove" had a more folk-inspired instrumentation, as might be expected.
Paul Clayton's "Wings Of A Dove" climbed to #3 in Vancouver (BC), spending six weeks in the Top Ten. It also climbed to #6 in Denver. Paul Clayton's version of "Wings Of A Dove" got some minor chart action in Houston, San Francisco, San Antonio and Akron (OH). But in over 45 states the single got passed over. Elsewhere in Canada it was Ferlin Husky's version of "Wings Of A Dove" which climbed to #2 in Ottawa (ON) and Calgary (AB), #3 in Toronto, and #5 in Montreal.
"Wings Of A Dove" did not appear on either of Paul Clayton's two albums with Monument Records: Paul Clayton Sings Home-Made Songs and Ballads (1961) and Paul Clayton: Folk Singer! (1965). In the latter album, Clayton recorded his own version of "Gotta Travel On".
In 1961 a new folksinger from Minnesota arrived in Greenwich Village named Bobby Zimmerman. On stage, he went by the name of Bob Dylan, and became best friends with Paul Clayton. Dylan admired Paul Clayton's scholarship and dedication to preserving traditional folksongs. In 1964 Dylan said of Clayton, "Because folksongs are a beautiful, beautiful, beautiful thing, really like the god-almighty arts … [Y]ou have to use it to learn about you, and whatever you want to do…English ballads, Scottish ballads… The only guy I know that can really do it is a guy I know named Paul Clayton, he's a medium, he's not trying to personalize it, he's bringing it to you… [Joan Baez] can do anything beautiful, she has that kind of thing. But Paul, he's a trance."
Paul Clayton's 1959 recording of "Who's Gonna Buy You Ribbons (When I'm Gone)" was a strong influence on Dylan's 1962 composition "Don't Think Twice It's Alright". The resemblance between the two songs led to a lawsuit by Clayton against Dylan, which led to an out-of-court cash settlement.
In January and May 1963, Paul Clayton appeared in concert on a couple of Sundays at The Showboat Lounge at 2477 18th Street in Washington D.C. Six nights a week it was the place crowds came to hear jazz musician Charlie Byrd. But on Sunday nights the venue was given over to live folk music. Clayton was billed as Paul Clayton and the Neanderthal Family. Author Bob Coltman was in the audience on one of those occasions. Coltman remarks that what made Paul Clayton's performance especially memorable were his "rants" between each song. "It was stand-up comedy of a vitriolic brilliance. He told some flimsy story about having joined the Dunkard religious persuasion so he could be a Dunkard pastor, a wordplay that sounds unfunny in print. But he spun it into a delightfully idiotic monolog that had the place rocking and sliding toward the Potomac…. His mouth ran like a faucet. Anyone else would have jabbered himself into a wastebasket, but his ferocious intelligence and sparkling wit, never quite under or out of control, were a tightrope walk into sublimity. This was the folk Lenny Bruce."
Bob Coltman reflects that Paul Clayton's singing style was not one of the traditional folksinger. Clayton had "a curious distance from his songs… Each performance was personally Paul – dry, droll, meditative, his mild, styleless, sincere style hiding a whiff of self-parody, full of unspoken irony." During his years at university, Clayton began to discover an attraction for the same sex. And on at least one occasion in the 1950s he was banned from a club for a "homosexual incident."
Between 1954 and 1961 Paul Clayton released 18 studio albums, a 19th studio album in 1965. But by 1963 Paul Clayton was very conscious that Bob Dylan's career had taken off, while his had come to a standstill. He was getting gigs, but there was no breakthrough. Folklorist Stewart Hendrickson writes "Dylan invited Paul to accompany him on a cross-country road tour in 1964 to Los Angeles via Chicago. Paul had no particular role except as a "mind-guard" – someone to keep Dylan's confidence up. There were several others also along as mindguards. It was a wild trip and made Paul feel like he had "stepped onto the wrong planet somewhere along the way." There were wild parties, crazy happenings, and drugs. Someone said that "Paul got stoned more often than anyone on the trip." For whatever reasons, Paul was exiled from Dylan's circle afterwards."
The tour in question was in February 1964. Bob Dylan and his bodyguard, Victor Maimudes, Paul Clayton and Pete Karman traveled in Dylan's new Ford station wagon through the South on the way to a few west coast dates. After delivering donated clothes to striking miners, they dropped in on poet Carl Sandburg in Flat Rock, North Carolina. From there, they went to visit with some activist friends after Dylans' Atlanta performance on February 5th. On route Dylan composed "Chimes of Freedom" in the back of the wagon. After a wild Mardi Gras romp in New Orleans on February 11th, Bob Dylan started to write a new song called "Mr. Tambourine Man". Then on February 12th, Bob Dylan gave a concert in Jackson, Mississippi, about three hours drive north of New Orleans. The tour ended in California.
Between 1959 and 1965 Paul Clayton released seven singles. These included "So Long (It's Been Good To Know You)", and "Yellow Bird".
From 1965 through 1967 Paul Clayton's use of drugs became an addiction. He was arrested for possession or marijuana, but got let off. Clayton was comfortable in small coffee houses, but not on larger stages where he felt like a fish out of water. On March 30, 1967, Paul Clayton died by suicide when he put an electric heater in his bathtub. Clayton was 36 years old.
In 1975 a posthumous collection of bluegrass recordings from 1952 was released titled Bill Clifton & Paul Clayton: The First Recordings, A Bluegrass Session.
In May 2015 there was an Off-Broadway play at the Triad Theater on West 72nd Street, Search: Paul Clayton, the Man Who Loved Bob Dylan. One part of the play features a road trip that ends in New Orleans where Paul Clayton makes a pass at Bob Dylan. This may have been a catalyzing incident that led to Clayton being exiled from Bob Dylan's circle. The play focused primarily on Clayton's mentorship of Bob Dylan from Dylan's entrance into the Greenwich Village folk scene up to 1965.
November 9, 2020
Ray McGinnis
References:
Bob Coltman, Paul Clayton and the Folksong Revival, (Scarecrow Press, 2008).
Stewart Hendrickson, "Paul Clayton – Unsung Hero of the Early Folksong Revival," NW Hoot, May 18, 2017.
Elyse Sommer, "Search: Paul Clayton, the Man Who Loved Bob Dylan," Curtain Up, New York City, May 5, 2015.
"Fabulous Forty," CKWX 1130 AM, Vancouver, BC, January 14, 1961.
For more song reviews visit the Countdown.