#814: From All Over The World by Jan & Dean
Peak Month: March 1965
7 weeks on Vancouver's CFUN chart
Peak Position #4
Peak Position on Billboard Hot 100 ~ #56
YouTube.com link: "From All Over The World"
Lyrics: "From All Over The World"
Jan and Dean were a pop duo who formed in 1958. They met in 1957 while they were students at Emerson Junior High School in Los Angeles. A year later they were on the football team of University High School. They had adjoining lockers and began singing and harmonizing in the showers with a number of other football players. Dean Torrence was drafted into the US Army Reserve in 1958. Jan Berry went on to record his first single with Arnold P. "Arnie" Ginsburg under the name Jan & Arnie. (Ginsburg happened to have a namesake, Arnie "woo woo" Ginsburg, who was a career DJ in Boston including on WMEX). The hit, "Jennie Lee", was penned by Ginsburg and inspired by a poster of a local Hollywood burlesque performer. Jan and Arnie performed on American Bandstand in May and the tune went to #8 on the Billboard charts. When Dean Torrence returned Jan & Dean recorded their first Top Ten hit, "Baby Talk", peaking at #10 in 1959 (#20 on CKWX in Vancouver).

Jan & Dean cut a striking figure on television. Tall, blonde, and physically handsome, the duo typically sported loafers, casual slacks, and ultra-hip matching sweaters or jackets. By all accounts, the finger-snapping, shuffle-stepping Jan & Dean stood out in sharp contrast compared to the dark-haired, suit-and-tie crooners who were cranking out hits on the East Coast. In Jan & Dean, Lou Adler had found a definite "West Coast" marketability — and the ride was just beginning.
His growing musical talents had taken Jan beyond the realm of "Jan & Dean." In May 1961, with a deal secured by manager and producer Lou Adler, Liberty Records released a single by The Gents called "Jump in the Line." The song was written primarily by Tony Minichiello and Manuel Sanchez — both of whom, like Berry, were alumni of University High School. It was produced by Jan Berry, with assistance from Don Altfeld — and both tunes were quite a departure from the established Jan & Dean sound. "Jump The Line" was a Chubby Checker-like rocker (with perhaps a hint of Harry Belafonte) with tight, three-part backing harmonies. Lou Adler was given official credit for producing The Gents' single. While it didn't burn up the charts, it showcased Jan's burgeoning talents in the studio. He was twenty years old.
After their hit single "Baby Talk," Jan and Dean recorded a number of songs in 1959 and 1960 that mostly met with limited or modest success. These included a recording of the folk standard "Clementine," and a cover of the 1953 R&B classic by The Crows called Gee." Jan and Dean had their first Top Ten hit in Vancouver, in August 1961, with "Heart and Soul". This was a pop standard from 1938 with music by Hoagy Carmichael and lyrics by Frank Loesser. The song did less well in the USA peaking on the Billboard Hot 100 at #25 on July 29, 1961. Earlier that summer the doo-wop group, The Cleftones, took "Heart And Soul" to #18 on June 24, 1961 on the Billboard Hot 100, though their version didn't chart in Vancouver.
Their next hit single in Vancouver was a cover of the 1958 hit by the Crescendos, called "Julie". Just before Jan and Dean turned to the surfing sound with their summer #1 hit in 1963 called "Surf City", the duo dusted off an oldie from the late 40s called "Linda". The original was by Buddy Clark which was the #4 song of 1947. Jan and Dean's "Linda" peaked at #21 on CFUN and #28 on the Billboard Hot 100. As for "Surf City", it was actually the first surfing song to reach #1, even before the Beach Boys had a #1 hit.
Jan and Dean would go on to have a series of hits identifying them with the Surfing Sound. Of their Top 30 hits, they had three prior to "Surf City" in the USA. But in Vancouver they had nine Top 30 singles. Prior to their surfing craze, Jan and Dean already were a hit in Vancouver. From "Surf City" onward they charted ten singles into the Top 30 on the Billboard Hot 100 and twelve singles into the Top 30 in Vancouver. These included "Little Old Lady From Pasadena" and "Dead Man's Curve".
In October 1964, they recorded a song for an upcoming concert in Santa Monica with stars from America and the UK. It was titled "From All Over The World".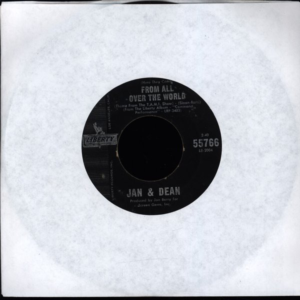 "From All Over The World" was the theme song for the T.A.M.I. Show where Jan & Dean performed and emceed. The "show" was a concert held at the Santa Monica Civic Auditorium October 28 and 29, 1964. The initials TAMI stood for Teen Age Music International. The concert line-up included Jan & Dean, Chuck Berry, Gerry & The Pacemakers, Smokey Robinson & The Miracles, Marvin Gaye, Lesley Gore, The Beach Boys, Billy J. Kramer & The Dakotas, The Supremes, James Brown and the Rolling Stones. The T.A.M.I. Show concert was recorded and was released as a home video by Shout! Factory in 2010. "From All Over the World" was the 1965 single released on the Jan & Dean album Command Performance. The song was written by P.F. Sloan who wrote had #1 hit from the same year called "Eve of Destruction", sung by Barry McGuire. The song referenced some of the towns the pop stars were coming from to perform in Santa Monica. These included St. Louis, Detroit, Liverpool, New York and Tennessee. The song was set to the familiar surfin' sound Jan & Dean were known for.
The song charted best in North America in Vancouver, at #4. It made #7 in Syracuse, NY, and #11 in Los Angeles. However, it seems a lot of radio markets weren't so interested in the spring of 1965 in a concert that took place in Santa Monica, California, the previous October.
In April 1966 Jan Barry had a near-fatal auto accident. This left Dean Torrence to record on his own. However, Screen Gems blocked his recording anything until Jan recovered. Though Dean Torrence co-wrote the song, "Yellow Balloon" and released a single under the billing, Jan and Dean, the song was dead in the water once Screen Gems warned Columbia Records not to promote the single. Consequently, one of the other co-writers, Gary Zekey, assembled a group named Yellow Balloon to make a recording of the single. It went on to be a Top 30 hit in the USA and a Top Ten hit in Vancouver.
Jan and Dean eventually reunited in the 1970's. In 1978, Deadman's Curve, a film biography shown on TV helped generate interest in the duo and they ended up touring again through the 80's, 90's and up until 2004. In March 2004 Jan Barry died of a seizure due to complications from his car accident in 1966. Since 2004 Dean Torrence has played with the Surf City All-Stars, a band dedicated to keeping the music of Jan and Dean and the Beach Boys alive. With this group he has ten upcoming concert dates, including one week-long cruise along the Mexican coast in March 2018. Torrence serves as a spokesman for the City of Huntington Beach, California, which is nationally recognized as Surf City USA due to Dean's efforts.
May 8, 2018
Ray McGinnis
References:
Mark A. Moore, The Jan & Dean Record: A Chronology of Studio Sessions, Live Performances and Chart Positions, (McFarland & Company, Jefferson, North Carolina, 2016).
Dave Laing, "Jan Berry: Teen Dream and Surf Pop Star," Guardian, UK, April 2, 2004.
Tour Dates, Surf City All Stars.com
"Deadman's Curve: The Jan And Dean Story," CBS, February 3, 1978.
"The Yellow Balloon Story," The Yellow Balloon Tripod.com.
"C-FUNTASTIC FIFTY," CFUN 1410 AM, Vancouver, BC, April 3, 1965.
For more song reviews visit the Countdown.