#230: You Mostest Girl by Bob Lee
Peak Month: September 1961
11 weeks on Vancouver's CFUN chart
Peak Position #2
Peak Position on Billboard Hot 100 ~ did not chart
YouTube: "You Mostest Girl"
Lyrics: "You Mostest Girl"
Bobby Lee Trammell was born in Jonesboro, Arkansas, in 1934. His parents were cotton farmers. His mother played the church organ at a Pentecostal Church, and his dad played the fiddle. In 1957, Trammell heard Carl Perkins and Johnny Cash in concert in Jonesboro. He was invited to sing a song, and was subsequently put in touch with Sam Phillips of Sun Records. Though he didn't get a record contract, Bobby Lee Trammell kept dreaming about being a recording star. He moved to California and got a job at a Ford Motors manufacturing plant in Long Beach. He heard Bobby Bare in concert and got a chance to sing on stage. He ended up getting a gig to perform regularly at the Jubilee Ballroom in Baldwin Park, in suburban Los Angeles. Trammell soon got a reputation for Elvis Presley-like spastic gyrations and wildness on stage that occasionally caused controversy. Trammell said: "I was much wilder than Jerry Lee Lewis or Little Richard."
Trammell was known for partially stripping on stage in ways deemed "vulgar", certainly out of step with audience expectations in the 50s. When he performed in a bar, he'd leap on the counter and kick off the glasses.
In 1958 Trammell released his first single, containing the self-penned tunes "Shirley Lee" and "I Sure Do Love You, Baby". The single sold well and was picked up for national distribution by ABC/Paramount. The song never hit the national charts, but may have sold as many as 250,000 copies. It also appeared on the CKWX record survey in Vancouver in February '58. Ricky Nelson covered "Shirley Lee" and Nelson's cover charted on CKWX in Vancouver in June 1958.
Trammell auditioned for The Adventures of Ozzie & Harriet, but wasn't chosen to join the cast. Separately, Ricky Nelson had been interested in hearing more of the songs Trammell was writing. However, Bobby Lee Trammell thought Nelson wasn't serious. During the recording of his second single in the spring of 1958, "You Mostest Girl", Trammell was backed by an orchestra and chorus, and he nearly quit his contract over the difficult recording session. The single charted in the Top 30 in Birmingham (AL).
In 1959 Trammell released a gospel-influenced single "Open Up Your Heart". Since Laurie London had a number-one hit in 1958 with "He's Got The Whole World In His Hands", maybe Trammell could have success with this genre, infused with rockabilly. But the single was not a hit. Next up, he released "Toolie Frollie", a dance with a nonsense riff that went "papa-oom-mow-mow." Though the song about "a brand new dance" called the Toolie Frollie wasn't a hit, the Rivingtons may have heard the song. The Rivingtons had a novelty hit in the summer of 1962 titled "Papa-Oom-Mow-Mow".
Trammell staged a protest on the top of a broadcast tower in Los Angeles, when local radio station KFWB refused to play his record "Woe Is Me". However, the tower became unstable. The police tried to talk Trammell down and he dropped his guitar into their midst. He was fined $250, and subsequently barred from performing in California.
From 1958 to 1960, Bobby Lee Trammell had been a recording artist with the Radio Record Co., ABC-Paramount, Warrior Records, Hot Records, and Vaden Records. With Arkansas-based Vaden Records, Trammell released a doo-wop tune titled "Been A Walking" in 1960.
After Trammell returned to Arkansas, he got into a dispute with Jerry Lee Lewis prior to a concert, and destroyed Lewis's piano. When word got around about Trammell's misbehavior, promoters were dismayed. From then on, Bobby Lee Trammell was effectively blackballed as a public performer everywhere.
In early 1961, Bobby Lee Trammell got his single "Hi Ho Silver" played for a couple of months on WKYB in Paducah, Kentucky. Later in '61, a second version of his 1958 single "You Mostest Girl" was released and credited to Bob Lee.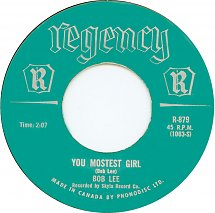 "You Mostest Girl" is a song full of sensual and sexual overtones. The narrator lists the many things his 'girl' does that he likes: 1) kisses, 2) hugging, 3) loving (in the middle of the night), 4) the way you thrill me… He asks his "mostest girl" to "give me lovin' like you did last night, when you chilled my spine."
The "mostest" is slang from the early rock era meaning: "To love someone more than anything that exists or has ever existed. This is more than 'the most,' and cannot be beaten, under any circumstances."
"You Mostest Girl" peaked at #2 in Vancouver (BC) and Halifax (NS), #28 in Winnipeg (MB), and in 1964 it charted to #17 in Saint John (NB).
In early 1962, Bobby Lee Trammell released "I Tried Not To Cry", a slow rockabilly tune. It was passed over by the nations' DJs. In the summer of 1962, Trammell's recording of his own song, "Arkansas Twist", topped the pop chart in Tulsa (OK), and climbed to #3 in Flint (MI). The A-side, "It's All Your Fault", was a Top 30 hit in Little Rock, Arkansas, earlier in the spring. But his followup, "Sally Twist", failed to chart. That fall "Come On" got some airplay in Arkansas and Oklahoma.
In 1964 Bobby Lee Trammell released a single titled "New Dance In France". The tune featured dubbed live audience clapping tracks. It was credited to Bobby Lee Trammell First American Beatle. In 1965 Trammell released two singles on Sims Records which were commercial failures.
And in 1966, "Skimmy Lou", co-written by Bobby Womack, got some chart action in Memphis. In the early 70s, Bobby Lee Trammell and a couple of minor hits on country & western charts in Virginia, North Carolina and Ohio.
In the 1980s, Bobby Lee Trammell was getting concert gigs in Europe during a rockabilly revival in the continent. However, in 1984 while wearing a Superman costume at the Rockhouse festival in Eindhoven, the Netherlands, Trammell tried to jump onto his piano. Instead, he fell and broke one of his wrists.
In 1997, Trammell became a Democratic politician and was elected to the Arkansas House Of Representatives in 1997. He left politics in 2002, after losing a bid for a seat in the Arkansas Senate. Bobby Lee Trammell died in 2008 at the age of 74.
November 29, 2021
Ray McGinnis
References:
"Bobby Lee Trammell: Exhibitionist Rock'n'roll Singer," Independent, March 8, 2008.
"Former Rockabilly Star, Politician Bobby Lee Trammell Dies," KAIT, Jonesboro, AR, February 21, 2008.
Rivingtons, "Papa-Oom-Mow-Mow", Wikipedia.org.
"C-FUN-Tastic 50," CFUN 1410 AM, Vancouver, BC, September 16, 1961.
For more song reviews visit the Countdown.