#38: You Only Live Twice by Nancy Sinatra
City: Edmonton, AB
Radio Station: CJCA
Peak Month: July 1967
Peak Position in Edmonton ~ #7
Peak position in Vancouver ~ #44
Peak Position on Billboard Hot 100 ~ #44
YouTube: "You Only Live Twice"
Lyrics: "You Only Live Twice"
Nancy Sinatra is the daughter of crooner Frank Sinatra and was born in New Jersey in 1940. When she was 5 years old he recorded a song about her titled "Nancy, With the Laughing Face". At the age of twenty she began her career appearing on The Frank Sinatra Timex Show: Welcome Home Elvis. This was a television special on the occasion of Elvis Presley's discharge from the U.S. Army after being drafted to into the services in 1958. Nancy was sent by her father to meet Elvis at the airport in front of a pack of photographers. In 1960, she also got married to singer and actor, Tommy Sands.
Nancy's father, Frank, has his own record label called Reprise. In 1961 she began making records for the label. Initially she was only a hit in Japan and Britain. She released eleven singles between 1961 and 1965 that were commercial failures, including a cover of "To Know Him Is To Love Him" and "The Cruel War". Her fame in North America came with the #1 single, "These Boots Are Made For Walking," in February 1966. Lee Hazelwood wrote the song and he went on to write numbers of Nancy Sinatra's other hit singles. When Nancy performed "These Boots Are Made For Walking", she appeared in a mini-skirt and go-go boots. Fans loved it, and that style of dress became her professional outfit for the rest of the decade. In 1966 she also appeared in a number of movies, including The Wild Angels with Peter Fonda, and The Ghost in the Invisible Bikini.
Sinatra had three more Top Ten hits in 1966-67. "Summer Wine" and "Sugar Town" was a double-sided hit record. Later in 1967 she had a #1 single in a duet with her father called "Something Stupid." It would also be a year where she was given the nod to record the theme song for that year's James Bond film, You Only Live Twice.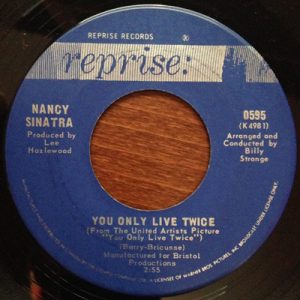 "You Only Live Twice" was written by Leslie Bricusse, with music by John Barry. Leslie Bricusse was born in Middlesex, England, in 1931. He was in the comedy troupe, Footlights, at Cambridge University in Cambridge, England. In 1961 he cowrote the musical Stop the World – I Want to Get Off. From the musical came the song "What Kind of Fool Am I?", which won Bricusse a Grammy Award in 1963. He won two Academy Awards in 1968 for Best Original Music Score for Doctor Dolittle, and in the Best Song category for "Talk To The Animals" from the film. In 1969, Bricusse received an Academy Award nomination for Best Score of a Musical Picture for Goodbye, Mr. Chips. But he lost out to Hello Dolly! In 1970, Bricusse again received an Academy Award nomination for Best Original Song Score for Scrooge. But he lost out to Let It Be. As well, he received an Academy Award nomination for "Thank You Very Much" from Scrooge, but lost out to "For All We Know" from Lovers and Other Strangers. In 1971, Bricusse received an Academy Award nomination for Adaptation and Original Song Score for Willy Wonka & the Chocolate Factory. But he lost out to Fiddler On the Roof. From Willy Wonka and the Chocolate Factory came "The Candy Man", which was a number-one hit for Sammy Davis Jr. In 1986, Leslie Bricusse was again nominated for an Academy Award in the Best Song category. This was for "Life in a Looking Glass" from That's Life. But he lost out to the Top Gun song "Take My Breath Away". In 1991, Bricusse received another Academy Award nomination for Best Song for the Home Alone song "Somewhere In My Memory". But the winning song was "Sooner Or Later" sung by Madonna in the film Dick Tracy. Finally, in 1992, Leslie Bricusse received his 9th Academy Award nomination for the song "When You're Alone" from the film Hook. It lost out to the title song from Beauty and the Beast. In 2021, Leslie Bricusse died in his sleep at the age of 90.
John Barry was born in York, England in 1933. In his late teens he joined the British military and played trumpet. After national service, Barry worked as an arranger for Jack Parnell's and Ted Heath's orchestras. He formed the John Barry Seven in 1957, and appeared on the British variety show Six-Five Special later that year. In 1958 they appeared on the TV show Oh Boy! In 1960 they had a #10 hit on the UK Singles chart titled "Hit and Miss". They also covered "Walk, Don't Run" later in 1960, and it peaked at #11 on the UK pop chart. In 1962, the John Barry Orchestra recording of "The James Bond Theme" climbed to #13 on the UK Singles chart. Meanwhile, Barry was employed by EMI from 1959 until 1962 arranging orchestral accompaniments for the company's singers, including teen idol Adam Faith. In 1960, John Barry scored the music for two films Adam Faith starred in, Wild for Kicks and Never Let Go. The latter starred Peter Sellers. John Barry also orchestrated the score for the 1962 Adam Faith movie Mix Me A Person. In 1962, the producers of the James Bond film, Dr. No, were disappointed with the score presented to them by Monty Norman. So Harry Saltzman and Albert Broccoli asked John Barry to arrange the Norman composition which became known as "The James Bond Theme". Subsequently, John Barry wrote and scored the music for From Russia With Love in 1963. Barry subsequently wrote the music for the following James Bond films: Goldfinger, Thunderball, You Only Live Twice, On Her Majesty's Secret Service, Diamonds Are Forever, The Man With the Golden Gun, Moonraker, and Octopussy. Barry also wrote music for the Bond movies A View To A Kill, and The Living Daylights.
In the years that followed, John Barry won Academy Awards for Best Song "Born Free", and Best Original Music Score for Born Free (1966); Best Original Score for a Motion Picture for The Lion In Winter (1968); Midnight Cowboy (1969); and Somewhere In Time (1980). Barry also was nominated for Academy Awards on nine other occasions, including for Goldfinger, Mary Queen of Scots, Out of Africa, and Dances With Wolves. John Barry also earned Grammy Awards for Best Instrumental Theme – Midnight Cowboy; Best Jazz Instrumental Performance – "Big Band" in The Cotton Club; Best Instrumental Composition – Out of Africa (1985) and Dances With Wolves (1991). John Barry died in 2011 at the age of 81.
"You Only Live Twice" is a song about two lives we all live: "one life for yourself, and one for your dreams." When a dream appears named love, it is essential not to focus on the "danger" it presents. Otherwise, that dream will disappear. The song bids us to make that one dream – of romantic love – to come true.
"You Only Live Twice" peaked at #1 in Lubbock (TX), #2 in Wichita Falls (KS), Enid (OK), and Toledo (OH), #3 in Jackson (MI), Sacramento (CA), and Sandusky (OH), #4 in Denver, Miami, Tuscaloosa (AL), San Francisco, and La Crosse (WI), #5 in Honolulu, #6 in Wilmington (DL), San Bernardino (CA), and Las Vegas, #7 in Edmonton (AB), Ann Arbor (MI), Pine Bluff (AR), Pendleton (OR), Fort Worth (TX), Battle Creek (MI), and Memphis, #8 in Regina (SK), Harrisburg (PA), and Sturgis (MI), #9 in Minneapolis/St. Paul, and Elmira (NY), #10 in Atlanta, and Salt Lake City, and #11 in Simcoe (ON), Grand Junction (CO), San Jose (CA), and Aberdeen (WA).
Nancy Sinatra also had Lee Hazelwood, her father, brother Frank Sinatra Jr., Dean Martin and Sammy Davis Jr. appear on a TV special called Movin' With Nancy. During the TV show Nancy Sinatra and Sammy Davis Jr. had a spontaneous unplanned kiss. It was one of the first interracial kisses on TV and caused a controversy at the time. In 1968, she also starred opposite Elvis Presley in Speedway.
In 1967, Nancy Sinatra managed to chart another five singles into the Top 30 of the Billboard Hot 100. But her chart making days were over as she released over forty more singles between 1968 and 2017. Nancy Sinatra has had members of the legendary Wrecking Crew as a backing band.
Karen Schoemer, contributor to the book, The Rolling Stone Book of Women in Rock, wrote, "Nancy's combination of pristine innocence and vamp-o-rama sex appeal was a perfect expression for the ('60s)." In May 1995, Nancy Sinatra was featured in a Playboy Magazine pictorial. She also re-launched her music career releasing an album. Since 2007, she has hosted a show on Sirius Satellite Radio titled Siriusly Sinatra.
November 6, 2023
Ray McGinnis
References:
"Nancy Sinatra bio," Nancy Sinatra.com
Barbara O'Dair, The Rolling Stone Book of Women in Rock, (Rolling Stone, 1997).
Adam Sweeting, "John Barry Obituary: Composer most closely associated with the golden age of James Bond but whose scores ranged from Midnight Cowboy to Dances With Wolves," Guardian, January 31, 2011.
Neil Genzlinger, "Leslie Bricusse, Prolific Writer for Stage and Screen, Dies at 90," New York Times, October 20, 2021.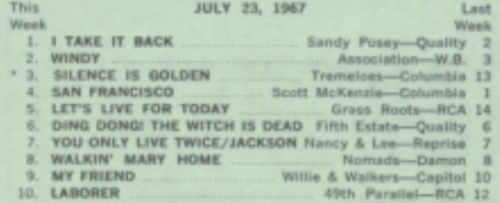 CJCA 930-AM, Edmonton (AB) Top Ten July 23, 1967