#387: You Won't Dance With Me by April Wine
Peak Month: May 1977
10 weeks on Vancouver's CKLG chart
Peak Position #3
Peak Position on Billboard Hot 100 ~ did not chart
YouTube: "You Won't Dance With Me"
Lyrics: "You Won't Dance With Me"
April Wine is a Canadian rock band that has released 34 singles, 16 studio albums and 9 live albums. They formed in Waverly, Nova Scotia, in 1969. The founding members were brothers David Henman (guitar) and Ritchie Henman (drums) and Myles Goodwyn (lead vocals, guitar). The Henman brothers cousin Jim Henman was also part of the band, but was replaced by bass player Jim Clench in 1971, a year after the band moved to Montreal and released their self-titled debut album. With the release of their second album, On Record, the band had a Top Ten hit nationally in Canada in 1972 with "You Could Have Been A Lady".
Miles Francis Goodwin was born in Woodstock, New Brunswick, in 1948. James Patrick Clench was born in Montreal in 1949. The Henman brothers were born and raised in Halifax, Nova Scotia.
In 1973 their third album, Electric Jewels, was a commercial disappointment. However, on their fourth album in 1974, Live, the April Wine had another Top Ten hit in Vancouver called "I'm On Fire For You Baby." The song latter appeared in the 2006 Canadian film, Trailer Park Boys: The Movie, directed by Mike Clattenburg.
Their fourth studio album, Stand Back, went double platinum with 2 million sales. The next single release was "I Wouldn't Want to Lose Your Love", from the Stand Back album. It climbed to #12 in Vancouver in early 1975. A second single from the album, "Tonite Is a Wonderful Time to Fall in Love", climbed to #5 on the RPM Canadian singles chart in 1975. However, the single didn't chart in Vancouver.
A number of changes in the band left Myles Goodwyn as the only founding member. Former Mashmakhan drummer, Jerry Mercer, replaced Ritchie Henman, and Garry Moffat took over from Dave Henman on guitar. Steve Lang took over on bass from Jim Clench. This line-up would record the band's fifth studio album in 1976, The Whole World's Goin' Crazy. It included a Top 20 hit in Vancouver titled "Gimme Love". This album went platinum before it was released.
In the winter of 1976-77, April Wine went back to the recording studio. The outcome was their sixth studio album Forever For Now. The band had Top Ten success in the spring of '77 with "You Won't Dance With Me".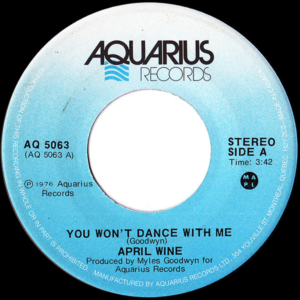 As with most tracks on April Wine albums, "You Won't Dance With Me" was written by Myles Goodwyn. The song is a 50s-style ballad that teens at a sock hop could waltz to. The song is about a guy who tries to phone his girlfriend, and other members of the family always say she's not at home. He thinks they're lying. When the couple does get together, the girlfriend keeps putting the boyfriend down. In pubic at high school dances, and on the street, she won't dance with him, or hold his hand. The dating relationship is on a downward spiral, as he no longer walks her home after school – or a date – and when they see each other at school, she treats him carelessly.
A number of people commenting on a YouTube post reported "this song is a true story about his [Myles Goodwyn's] girlfriend who got ticked because he played in the band and didn't give her enough attention." In which case, Goodwyn took her viewpoint and wove it into the narrative voice in "You Won't Dance With Me" of a boyfriend whose girlfriend doesn't give him enough attention.
"You Won't Dance With Me" peaked at #3 in Vancouver (BC) and Ottawa (ON), #5 in Toronto, #6 in Montreal, and #7 in Hamilton (ON).
In March 1978, April Wine released their seventh studio album titled First Glance. Off the album the band released four singles, the second of which was "Comin' Right Down On Top Of Me".
A subsequent single, "Roller", became their best charting single to date, breaking into the Top 40 on the Billboard Hot 100. The album became the bands best charting album on the Billboard 200 album chart and led to three separate tours respectively with the rock bands Rush, Journey and Styx.In 1981 April Wine had their most successful single, "Just Between You And Me", which climbed to #21 on the Billboard Hot 100.
Meanwhile, the album it was included on, The Nature of the Beast, represented the bands commercial peak. They continued to chart songs into the Top Ten nationally in Canada, notably with "Enough Is Enough" in 1983. Myles Goodwyn published a memoir titled Just Between You And Me.April Wine has received eleven Juno Award nominations. Yet, they've lost out on each occasion to other Canadian performing artists. The band continues to perform and, between August 2019 and mid-May 2020, April Wine had 21 tour dates booked. But numbers of these scheduled concerts were cancelled due to the coronavirus pandemic.
November 16, 2020
Ray McGinnis
References:
April Wine – History, April Wine.ca
Lauren La Rose, April Wine Frontman Myles Goodwyn Shares Highs and Heartaches in New Memoir, Toronto Sun, December 15, 2016.
Dave Buerster, Brian Greenway, David Henman, Robert Henman, Richard Perrault and Brian White, April Wine, Canadian Bands.ca
"David Elliott Bio," Davidelliottsongs.com.
"Trailer Park Boys: The Movie," Wikipedia.org.
"Vancouver's Official Music Survey," CKLG 730 AM, Vancouver, BC, May 24, 1977.
For more song reviews visit the Countdown.