#1311: Young Dove's Calling by The Couplings
Peak Month: February 1958
3 weeks on Teen Canteen chart
Peak Position #7
Peak Position on Billboard Hot 100 ~ did not chart
Cash Box Magazine #58 | Music Vendor Magazine #77
YouTube.com: "Young Dove's Calling"
The Couplings were a four-part harmony doo-wop group possibly from Ohio. They released only two songs on one 45 RPM single in early 1958. The B-side was "I Can See" which showed off their bass singer. The A-side was "Young Dove's Calling". That song was featured on a February 20, 1958, episode of American Bandstand where the group performed. Soon after "Young Dove's Calling" spent two weeks on the Cash Box magazine singles chart, peaking at #58. It also made it onto a third national music industry magazine called Music Vendor where it peaked at #77. However, the single failed to chart on the Billboard Hot 100. In North America the song got onto Cash Box and Music Vendor chart lists based on the Top 40 chart performances on a number of local radio markets where it made the Top 40. The Couplings charted "Young Dove's Calling" as high as #23 in Albany, NY, #16 in Detroit, #19 in Houston, #37 in Toronto and #22 in Buffalo. Its best chart performance was in Vancouver where it made it into the Top Ten peaking at #7.
One of the members of the Couplings, according to a conversation in a YouTube.com thread under a "Young Dove's Calling" audio, was Ron Murray who over five decades later works weekends at a flea market in Springfield, Ohio.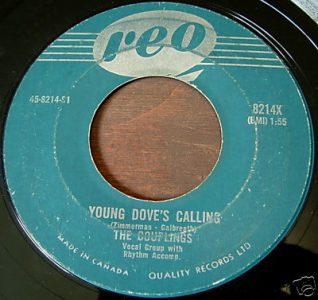 My young dove's calling, but I can't fly.
My young dove's calling, but I can't fly.
Listen young dove, don't you cry,
I'm gonna pull down a satellite from the sky.
My young dove's calling, but I can't fly.
My young dove's calling, but I can't fly.
My young dove's calling, but I can't fly.
Never saw a man in this world who could fly,
I only heard of one that ever did try.
My young dove's calling, but I can't fly.
My young dove's calling, but I can't fly.
My young dove's calling, but I can't fly.
Listen young dove, throw me a star,
and then I'll know right where you are.
My young dove's calling, but I can't fly.
My young dove's calling, but I can't fly.
My young dove's calling, but I can't fly.
Listen young dove, don't you cry,
I'm gonna pull down a satellite from the sky.
To you I'll fly, to you I'll fly,
to you I'll fly, to you I'll fly,
to you I'll fly.
In a concert on November 4, 1961, Bob Dylan (formerly Robert Allen Zimmerman) gave a concert at Carnegie Chapter Hall in New York City for $2 a ticket. In the concert program he stated "I started writing my own songs about four or five years ago. First song was to Brigit Bardot, for piano. Thought if I wrote the song I'd sing it to her one day. Never met her." If, as some conversation threads on YouTube.com are correct that the Zimmerman co-writing "Young Dove's Calling" is Robert Allen Zimmerman, then you have just listened to one of the very first songs written by legendary folk singer, Bob Dylan. In a Canadian Broadcasting Corporation (CBC) article on Bob Dylan on October 13, 2016, titled "75 Little-known Facts About Bob Dylan," staff writer Jon Dekel states of Robert Allen Zimmerman, "His performances were 'too shocking' for his high school Dylan's Hibbing High principal deemed his act too outrageous for the school talent show, pulling the curtain on the Grade 10 student due to the "unsuitable" nature of the music." Robert Allen Zimmerman was in Grade 10 from 1956-57 when he was performing songs by Elvis Presley and Little Richard. By 1956 Zimmerman was captivated by rock 'n roll. Did he write some lyrics in hopes of getting a pop song recorded in the winter of '57-58? While it is plausible that Dylan, who states that he started writing his own songs four or five years prior to 1961, could have been the Zimmerman referred to in the writing credits on the label of "Young Dove's Calling", I can't confirm the rumor.
"Young Dove's Calling" is about a dating couple of "dove's" who can't get together. Although one of the doves wants to meet up, the other one can't fly. The dove bird is sometimes associated or used as a symbol for love, and so referring to a heartthrob as a dove was a term of endearment for someone who are affectionate with who you kiss and hug. A popular phrase in the 50's was "lovey dovey." In 1954 the doo-wop group, The Clovers, had a #2 bit on the R&B charts with "Lovey Dovey." It included these lines: Well you're the cutest thing that I did ever see/I really love your features, wanna shake your tree. Lovey dovey, lovey dovey all the time." The song was referenced in Steve Miller's 1974 #1 hit, "The Joker", when he sings "You're the cutest thing I ever did see/I really love your peaches, wanna shake your tree. Lovey, dovey, lovey, dovey, lovey dovey all the time…" Miller changes the word "features" to "peaches" in his song. The term "lovey dovey" goes back several centuries. In a book published in 1819 called The Metropolis, by Eaton Stannard Barrett, there is a sentence which reads, "My dearest love–lovey, dovey, or odious duckey!" And in his book, Facts on File of Word and Phrase Origins, Robert Hendrickson notes that the term lovey dove "…is recorded first in England in 1769 as a term of affection: 'The domestic Lovies and Dovies.'"
An age-old simile for lovers is to refer to them as turtle-doves. In 1211, the Roman Catholic cleric from Normandy, Guillame le Clerc, his manuscript titled Bestiaire wrote: "Now I must tell you of another bird which is courteous and beautiful, and which loves much and is much loved. This is the turtle-dove. The male and the female are always together in mountain or in desert, and if perchance the female loses her companion never more will she cease to mourn for him, never more will she sit upon green branch or leaf. Nothing in the world can induce her to take another mate, but she ever remains loyal to her husband. When I consider the faithfulness of this bird, I wonder at the fickleness of man and woman. Many husbands and wives there are who do not love as the turtle-dove; but if the man bury his wife, before he has eaten two meals he desires to have another woman in his arms. The turtle-dove does not so, but remains patient and faithful to her companion, waiting if haply he might return." In this case a dove, or more specifically a turtle-dove, offers a way to speak of couples who are constantly drawn to one another and do not stray to fly away with other birds showing off their plumage.
In the song "Young Dove's Calling", the lyrics reference one dove promising to "pull down a satellite from the sky." The Soviet Union launched it into an elliptical low Earth orbit on 4 October 1957. Sputnik 1 was a 23 in diameter polished metal sphere, with four external radio antennas to broadcast radio pulses. It was visible all around the Earth and its radio pulses were detectable. This surprise success precipitated a political crisis and triggered the Space Race, a part of the larger Cold War between America and the Soviet Union. As a result of this October 4, 1957, political-technological event, the word satellite was introduced into popular usage. "Young Dove's Calling" may have been the first pop song to include the word satellite in it's lyrics, at a time when Americans were eager to catch up to the Russians in the race into outer space. With a reference to satellites and to asking the other young dove to "throw me a star," it seems the one dove may have flown quite high (or far away).
One other plausible context to the song concerns why the one dove "can't fly." Back in the late 50's it was not uncommon for an juvenile to be grounded by their parents to discipline them for bad behavior. Grounding one's son or daughter was a common discipline technique used with adolescents where they were not allowed to leave their home, or bedroom, except for required activities such as church, meals, chores, or doctor and dentist appointments or school (unless the they suspended or expelled from school). Though we don't know the specific reasons why the one dove can't fly to the other, it's possible it was due to being restrained by their parents and not just their own inability to make things happen.
Meanwhile, over in the UK, in April 1958, The Mudlarks chose to record a cover of "Young Dove's Calling" as a B-side to their cover of Lollipop. Soprano Mary Mudd, baritone Fred Mudd and tenor Jeff Mudd were the Mudlarks: a clean-cut family pop trio from Bedford, Bedfordshire, England. They started singing in public as the Mudd Trio in 1951 when they were just 12, 14 and 16 years old. Discovered by disc jockey David Jacobs and produced on Columbia Records by Norrie Paramor, they had a hit in 1958 with their second single, "Lollipop", a cover version of the Chordettes' hit in America. The Mudlarks follow-up, "Book Of Love", was originally by released by the Monotones, also made the UK Top 10. They were often seen on the pioneering UK television series 6.5 Special, and won the New Musical Express poll award as Top British Vocal Group for both 1958 and 1959. Jeff was called up by the army in early 1959 and David Lane replaced him until his return two years later. One of the few UK pop groups in the 50s, they recorded several more cover versions of US hits without further chart success.
It is possible that The Couplings ended up being the same group that was performing out of Dayton, Ohio, in 1964. If so, it would mean that they recorded one single in 1958 and had a six year hiatus before recording one more single in '64. The group calling themselves The Couplings in 1964 ~ either the same group or another group by the same name ~ released a doo-wop tune called "Mighty Oak". The album cover featured a pop duo, not a four-part harmony group. The Couplings 1964 release failed to chart nationally.
June 20, 2017
Ray McGinnis
References:
Howard Cook, Distributor News, Billboard Magazine, February 3, 1958, p. 24.
Billboard Magazine, February 17, 1958
Hendrickson, Robert. Facts on File of Word and Phrase Origins. Facts on File, New York, 2008.
Barrett, Eaton Stannard. The Metropolis: Or A Cure for Gaming. 1819.
le Clerc, Guillame. Bestiare. 1211
Joshua Filmer, A Brief History of Sputnik 1, Futurism.com, August 13, 2014.
"Red Robinson's Teen Canteen Survey," CKWX 1130 AM, Vancouver, BC, February 22, 1958.
For more song reviews visit the Countdown.