#1098: So Young by Ray Smith
Peak Month: October 1958
4 weeks on Vancouver's Teen Canteen chart
Peak Position #5
Peak Position on Billboard Hot 100 ~ did not chart
YouTube.com: "So Young"
Ray Smith was born in 1934 in the hamlet of Melber, Kentucky, thirteen miles from the town of Paducah where the Ohio River and the Tennessee River meet. Smith was the seventh son of a sharecropper who, in turn, was also the seventh son in Smith's grandfather's family. His dad later worked at the atomic bomb plant in Paducah. Smith left his home at the age of twelve. He worked as a gopher on a Coca-Cola Truck and then operated an oven at Kirchoff's Bread plant in Paducah. As he grew up Ray Smith worked as a curb hop at Price's Barbecue at 34th and Broadway where he would serve U.S. (KY) Senator Alben W. Barkley, who later became President Harry Truman's Vice-President. Next he worked as a sole back tacker and tack machine operator at the International Shoe Company.
Smith was in basic training in 1952 after joining the US Air Force at Sampson Air Force Base in Syracuse, New York. He sang the Hank Williams song "Lovesick Blues", at his sergeant's command, while in his shorts and shower clogs. His rendition got him entered in the army base's talent show where he won first prize. From that day on he took an interest in music. He taught himself to play harmonica, guitar and piano.
Smith was transferred to George Air Force Base in Victorville, California. In the nearby town of Barstow he I got his my first paying gig on Friday and Saturday nights at a performer at Nora's Desert Inn. He was paid $12.50 a night. In 1956 Smith formed Ray Smith and the Rock and Roll Boys with Smith playing bass and rhythm guitar. They did one night concerts and travelled across the lower 48 states. Ray Smith also got a TV show for two and one half years on WPSD, channel six, in Paducah, KY. It was called The Ray Smith Show. The sponsor of the show was Beardsley Chevrolet based in Bardwell, Kentucky, thirty miles southwest of Paducah.
As a result of this exposure, before Smith turned 20 years old, he recorded his first single in 1958 on Sun Record. The single was called "So Young".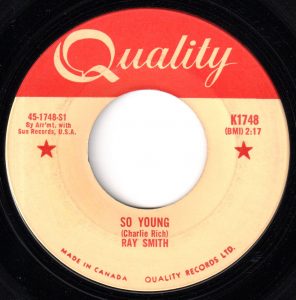 So young, so young, that's what they always say.
So young, so young, why do they talk that way?
I love you so, my love is oh so true.
If love is wrong then what are we to do?
So young, so young, why do they think it's a shame?
Though we're too young, we're not the ones to blame.
Sometimes we cry when whispers get our way.
Our love won't die no matter what they say.
So young, so young, why do they think it's a shame?
Though we're too young, we're not the ones to blame.
Sometimes we cry when whispers get our way.
Our love won't die no matter what they say.
With its release Ray Smith appeared on the Dick Clark Show at the Little Theatre in New York City. His appearance resulted in offers to guest star on other TV shows including American Bandstand. Smith also got signed to a month-long contract with Channel seven in Evansville, Indiana, to host his own show on Saturday afternoons for one month. Smith also got radio appearances with DJs in Toronto, Hamilton, Ottawa and Peterborough, Ontario. His debut single, "So Young", charted in Vancouver peaking at #5. The song made it to #7 in Ottawa and #9 in Duluth, Minnesota. But it was passed over most everywhere else and failed to crack the Billboard Hot 100.
On October 26, 1975, Ray Smith had an interview on the Dave "Daddy Cool" Booth. Booth is a rock 'n roll and R&B music deejay who got his moniker, Daddy Cool, when he began a successful radio show in Kitchener-Waterloo, Ontario. Smith said of the recording of "So Young" at the Sun Records studio back in 1958: "It really was a little hole in the wall but it had the best damned sound! It had the sound for that day and time. I remember I sung one song with a bucket over my head so that they could get the sound they wanted. Another time we did Sail Away with Stanley Walker singing tenor. We took five stacks of records, in fact it was Bill Justis's record of Raunchy, and stood Stanley up there on those so he could get even with me to sing in the mike. Hell, they'd do anything to get a sound! Another time on "So Young" I remember Charlie Rich was on piano. The intro and the ending was the same and I remember we faded out on that damned thing. After we'd faded, Charlie was still sitting there playing his lick. Everybody had done stopped and Sam yelled, "Charlie, we're done. We're finished!" Charlie was feeling good. He'd reach up, get a drink, never miss a lick."
"So Young" was one of a number of songs lamenting the older generation, and specifically parents, inability to understand and be supportive of young people who felt they were in love. In Ray Smith's tune the parental figures try to shame and blame the young lovers out of going steady. George Hamilton IV sang "Why Don't They Understand." In "A Teenager's Romance" Ricky Nelson sang "They tell us we're different, we haven't the right/To decide for ourselves, dear, what's black and what's white." And Tommy Sands' lament in "Teenage Crush" was "They call it a teen-age crush/They don't know how I feel/They call it a teen-age crush/They can't believe this is real." And in 1960 Paul Anka would chart "Puppy Love" to the Top Ten, lamenting the unfairness of taking away his dream as presumably the parents said they were too young to date. There were also plenty of songs celebrating a teenage love and people in love who were young. One example was the Sonny James hit in 1957 called "Young Love".
"So Young" was written by Charlie Rich. Rich was born in 1932 in Colt, Arkansas, and two years Ray Smith's senior. He came to Memphis in 1956 after serving in the U.S. Army. His wife, Margaret, knew Elvis Presley. She was inspired to take some tapes of Rich singing to Sun Records. Charlie Rich ended up being a session musician at Sun Records for over five years. He also wrote songs for Johnny Cash, Carl Mann, Bill Justis, Billy Riley and Ray Smith. He had a Top 30 single in 1960 called "Lonely Weekends." But it would be his cross-over to country music that earned Rich two #1 hits on the pop and country charts. In 1973 he topped the charts with "The Most Beautiful Girl" and "Behind Closed Doors".
Smith's second single on Sun Records, "Rockin Bandit" didn't chart. Smith's third single ended up being a double-sided hit in Vancouver on the Judd label. The A-side was "That's All Right" that peaked at #4 on CFUN. As the single started to descend down the record survey the B-side, "Rockin' Little Angel" took off on the C-FUN Hi-Fi 40 peaking at #15. "Put Your Arms Around Me Honey" was Smiths fourth 45 RPM disc release and fourth charted song on the Vancouver pop charts. In each of these songs Ray Smith's vocals had a strong resemblance to the cadence and inflection of Elvis Presley. His final appearance on the pop charts in Vancouver was with "Blonde Hair, Blue Eyes" at the end of 1960.
After recording with the Sun and Judd labels, Smith went on to record for a string of record companies between 1962 and 1966: Infinity, Vee Jay, Warner Brothers, Smash, Tollie, Celebrity Circle, Diamond. But none of the seven singles he released between 1961 and 1967 got much notice. Songs like "Candy Doll" were as catchy as many other tunes on the radio, but Ray Smith's new labels didn't give him the promotion his releases needed.
He continued to tour and recorded songs like the boogie-woogie tune "Room Full of Roses" in 1978 that became a hit in Europe. By the 70s Ray Smith had moved from the USA to Ontario, Canada. When he practiced at home he was playing a piano he won from Ronnie Hawkins on a coin toss for free. Smith was as good on the piano as Jerry Lee Lewis and seemed to be in line for solid touring with a revival of interest in late 50s and early 60s rock 'n roll. Sadly Ray Smith died by suicide in November 1979.
May 8, 2017
Ray McGinnis
References:
Narvel Felts Reflects on Ray Smith, Rockabilly Hall of Fame.com
Ray Smith bio, Rockabilly.nl
Ray Smith, Discogs.com.
"Red Robinson's Teen Canteen Survey," CKWX 1130 AM, Vancouver, BC, October 25, 1958.
For more song reviews visit the Countdown.