#1067: You're A Very Lovely Woman by the Merry-Go-Round
Peak Month: October 1967
7 weeks on Vancouver's CKLG chart
Peak Position #7
Peak Position on Billboard Hot 100 ~ #94
YouTube.com: "You're A Very Lovely Woman"
Lyrics: "You're A Very Lovely Woman"
In early 1967 a pop band called The Merry-Go-Round were formed in Los Angeles. It featured singer-songwriter Emitt Rhodes, drummer Joel Larson, lead guitarist Gary Kato and Bill Rinehart on bass. The band released just one album in the spring of '67 called The Merry-Go-Round. Their debut release was a single called "Live". It charted well in a number of radio markets in California including San Bernardino (#3), Oxnard (#2), Indio (#3), San Diego (#5), Los Angeles (#3), Redding (#2), Fresno (#3), Modesto (#3) and San Francisco (#6). The song also went Top Ten in radio markets in Arkansas, North Dakota, South Dakota, Massachusetts and Arizona. Though their debut single didn't crack the Top 30 in Seattle, it climbed to #1 in Vancouver in may of '67. The Merry-Go-Round performed at the Fantasy Fair and Magic Mountain Music Festival in 1967 on both days of the music festival. They closed the show on Saturday June 10 and were the second to the show closer on Sunday June 11. This music festival was a template for another festival later that month, the Monterey Pop Festival.
Joel Larson was born in San Francisco in 1947 and learned to play drums at the age of 12. When he was 18 years old, Larson joined a San Mateo band called The Bedouins who won a 1965 Battle of the Bands event in that city. The Bedouins were invited to audition at the San Francisco Whisky A Go Go. The nightclub owner, Elmer Valentine, had asked Dunhill Record owner, Lou Adler, to attend the audition. Adler was impressed and soon The Bedouins were renamed The Grass Roots and given a new folk rock sound. While with The Grass Roots, Larson's band were the studio musicians playing back-up to Barry McGuire's #1 hit "Eve Of Destruction". In 1966 The Grass Roots had a Top 30 hit in the USA called "Where Were You When I Needed You", which only got play listed below the Top 40 in Vancouver for the last week of May 1966.
Emitt Rhodes was born in Decatur, Illinois, in 1950. At age fifteen he was the drummer for Los Angeles based-garage rock band, The Palace Guard. They had several hits in Southern California, including a Top 20 hit in LA in the summer of '66 called "Falling Sugar". Gary Kato was a friend of friends of Emitt Rhodes and Gary began to jam with Emitt in the beginning of 1967.
Bill Rinehart had been a member of garage rock band, The Leaves, from Los Angeles. They had two Top 20 local hits in Los Angeles in 1965-66. One was "Hey Joe". Their follow-up hit, "Gonna Fight The War" was about being drafted to become a soldier and sent off to war. It was, perhaps, too ironic for pop radio. It didn't take off.
Their third single release was "You're a Very Lovely Woman". It got on the charts of numerous radio markets in California where The Merry-Go-Round had a following. It climbed to #11 in Yakima, Washington, and #7 here in Vancouver, Canada. It peaked at #94 on the Billboard Hot 100.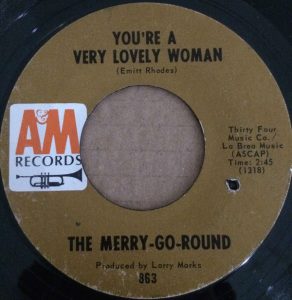 "You're A Very Lovely Woman" is a rather dark song. The singer finds the lovely woman, admittedly, has charms. However, the world she offers ~ one of wine and sin ~ is ugly. After having a fling with this lovely woman, he realizes that there are other things he misses. He recognizes there is another woman "a girl" who loves him. Staying with the "lovely woman" would only ruin his life, he concludes. In addition, the "lovely woman" wants him to forget the things he's been searching for that he's spent time and effort trying to find. It seems that he and the "lovely woman" don't have a lot in common, at least out of bed.
In his online article, "Compatibility And Chemistry In Relationships," Mark Manson writes, "Compatibility is a natural alignment of lifestyle choices and values between two people. A priest and a stripper have a major incompatibility and I doubt many end up dating each other. That's compatibility. Put simply, if I value women who are intelligent and educated and I meet a high school dropout who values guys who have big muscles and like to hunt deer, then we have a fundamental incompatibility that will probably never be overcome and we will never date one another." Nonetheless, sometimes people do choose to overlook issues of compatibility. Instead of looking for Mr. Right, they settle for Mr. Right Now. Maybe he is dumb as a stump, but those muscles convince the woman with the Ph.D. that one night in bed won't hurt. Maybe she is a Democrat, but the Republican-leaning suitor finds her kisses intoxicating. For most people, physical chemistry has to line up with some compatible zone of shared interests and values. A shared approach to life that has the couple on a trajectory of moving toward each other, instead of away from each other, is usually what keeps them together.
In the fall of 1967 the band released "She Laughed Loud" to dismal sales. In 1968 the band released "Come Ride, Come Ride", a psychedelic pop tune about riding a merry-go-round. With its flute solo-effects, it only got traction in Sarasota, Florida, where it climbed to #4. They had a minor hit with "Listen Listen" that made the Top 20 in Vancouver, though it spent only a month on the local charts. I remember it well since my younger brother bought the 45 and played it often for awhile in the spring of '68. A final hurrah was "'Til The day After", a song about never learning about the mistakes we collectively make as a society. Not a cheery song to phone a radio station for a listener request, as it contained lines like "no one is crying 'til someone's dying…" With a thud the group disbanded.
After the Merry-Go-Round dissolved Joel Larson joined The Turtles, playing drums on their Top Ten hits "Eleanore" and "You Showed Me". The former was written by Howard Kaylan who commented after it became a big hit, "Elenore was a parody of "Happy Together." It was never intended to be a straight-forward song. It was meant as an anti-love letter to White Whale [Records], who were constantly on our backs to bring them another "Happy Together." So I gave them a very skewed version. Not only with the chords changed, but with all these bizarre words. It was my feeling that they would listen to how strange and stupid the song was and leave us alone. But they didn't get the joke. They thought it sounded good." The song contained lines like "Elenore, gee I think you're swell/And you really do me well/You're my pride and joy et cetera," as well as the memorable ear worm "I think you're really groovy/Let's go out to a movie." Joel Larsen went on from The Turtles in 1970 to play with Lee Michaels and was the drummer on the summer 1971 hit song "Do You Know What I Mean" and Top 40 follow-up hit "Can I Get A Witness".
Emitt Rhodes went on to have a solo career. His first album was self-titled and Billboard Magazine called Rhodes "one of the finest artists on the music scene today" and later called his first album one of the "best albums of the decade." Emitt Rhodes reached #29 on the Billboard 200 Album charts. A single called "Fresh as a Daisy" climbed to #54 on the Billboard Hot 100. After several more album releases, Rhodes went on to become a recording engineer and record producer for Electra Records.
June 14, 2017
Ray McGinnis
References:
Eric Brightwell, One Album Wonders The Merry-Go-Round, June 7, 2015.
Frank, Emitt Rhodes – The American Dream (A&M) 1971, What is Frank Listening To.com.
Fantasy Fair and Magic Mountain Music Festival, Wikipedia.org.
"Boss 30," CKLG 730 AM, Vancouver, BC, October 7, 1967.
For more song reviews visit the Countdown.