#1391: You're Everything by Bob Luman
Peak Month: December 1962
8 weeks on CFUN chart
Peak Position #20
Peak Position on Billboard Hot 100 ~ did not chart
YouTube.com link: "You're Everything"
Lyrics: "You're Everything"
Bob Luman was born in Blackjack, Texas, in 1937. Before 1955 the only hits Bob Luman had were on the baseball field. He was an outstanding baseball player for his school team in Kilgore, Texas. He also fronted a band that performed the country hits. But after seeing Elvis Presley perform in Kilgore in May 1955, Luman was resolved that his hits going forward would be "Rockabilly hits."
In 1956 Luman won a talent contest in Tyler, Texas, after performing "Blue Suede Shoes" at the suggestion of Johnny Horton. Winning the contest led to a contract to replace Johnny Cash on the Louisiana Hayride. With that invitation, Luman turned down an offer from the Pittsburgh Pirates to join spring training. Bob Luman signed with Imperial Records in 1957, and his first session was at Sellars Studio in Dallas, where he recorded the Rockabilly classic, "Red Cadillac And A Black Mustache". That year Bob Luman appeared on the country TV show in LA called Town Hall Party. He also appeared in a rock 'n roll movie called Carnival Rock. He released a number of singles in the late 50s, including "Dreamy Doll" that climbed to #8 in Ottawa, Canada, in 1959.
In 1959 Ricky Nelson met Bob Luman and his band who were rehearsing down the hall in a studio at Imperial Records in Hollywood. So impressed was Nelson with the band that he gave them an offer they couldn't refuse and Nelson hired them away from Luman. So frustrated was Bob Luman with this turn of events that he announced at a concert that he was going to pursue a baseball career. Don and Phil Everly were in the audience and afterward convinced Luman to record "Let's Think About Living". The tune became a Top Ten hit for Luman in 1960.
Bob Luman was anticipating a break-through with a Top Ten hit. But then he was drafted into the United States Army just prior to the single's released. While he was in the army, Warner Brothers kept releasing singles. A number of these were hits in Vancouver, though not in the USA. These include "The Great Snowman", a #4 hit in April 1961, and "Private Eye", which climbed to #3 on the pop charts on CKWX that August. Luman charted a few more songs on the Vancouver pop charts the following years. "You're Everything", which peaked at #20 in December 1962, was his most successful. But as Luman was in the army he was not able to support his single releases with any concert tours. So in the USA "Let's Think About Living" was his only hit. "You're Everything" was Luman's eighth single release after "Let's Think About Living", all which failed to crack the Billboard Hot 100.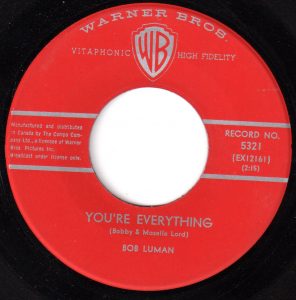 "You're Everything" is a song about unrequited love. What makes a man or woman desirable to another person is a complex and highly personal mix of many qualities and traits. But falling for someone who is much more desirable than oneself, whether because of physical beauty or attributes like charm, intelligence, wit or status, can lead to a kind of mismatch. In the case of Bob Luman's unrequited lover, he is hurt since the object of his desires hardly knows that he's alive. Clearly, the connection is very one-sided. Luman's character is only going to get hurt even more if he seeks after someone who pays very scant attention to him and gives no indication at all of a retuned interest. All he's left with is a fantasy about having the arms of the beloved around him and their lips touch his, only to discover it's just a dream.
Other popular songs of the time drew on this theme of unrequited love. In 1958, Conway Twitty had a #1 hit with "It's Only Make Believe", the following year The Skyliners sang "Since I Don't Have You" and in 1962 Jay and The Americans had the beloved breaking it to the person who adores them that dating isn't going to work out in "She Cried". The telling line there is "I thought that our romance was over and done, but to her it had just begun."
Coming off of the chart success of "You're Everything" in December '62, Bob Luman and Sue Thompson (her recent Top Ten hit in Vancouver in October '62 was "James Hold The Ladder Steady") were a singing duo that had a receptive Vancouver audience for any disc Hickory Records could send over to CFUN. In addition, in the arrangement of "You're Everything", Bob Luman produced a Roy Orbison sound-a-like tune. The instrumental ending "You're Everything" mimics the ending of "Running Scared", as well as the piano and Orbison-esque string arrangement that build to a crescendo in the chorus.
Bob Luman was invited to become a member of the legendary Grand Ole Opry in 1964. It was an uneasy relationship at times because Luman's turbo-charged, Rockabilly performances didn't always meet with the approval of the more traditional, mainstay Opry artists. Bob Luman's successful career included thirty-eight recordings on the national charts, including the memorable classic, "Lonely Women Make Good Lovers", that climbed to #4 on the Canadian and US country charts in 1971. Bob Luman released over sixty singles from the late 50s until 1978 when he died at the age of 41 of pneumonia.
July 1, 2017
Ray McGinnis
References:
Shaun Mather and Phil Davies, "Let's Think About Luman," Rockabilly Hall of Fame, February 1999.
Randy McDaniel, "What Ever Happened to Bob Luman?," KXRB, Sioux Falls, South Dakota, October 22, 2015.
Dik, Bob Luman, Black Cat Rockabilly, September 2012.
"C-FUNTASTIC FIFTY," CFUN 1410 AM, Vancouver, BC, December 15, 1962.
For more song reviews visit the Countdown.