#508: You're My One And Only Love by Ricky Nelson
Peak Month: August 1957
5 weeks on Vancouver's CKWX chart
Peak Position #2
Peak Position on Billboard Hot 100 ~ #16
YouTube.com: "You're My One And Only Love"
Lyrics: "You're My One And Only Love"
In 1940 Eric Hilliard Nelson was born. On February 20, 1949, while still eight years old, he took the stage name of Ricky Nelson when appearing on the radio program, The Adventures of Ozzie and Harriet. A child actor, Ricky was also a musician and singer-songwriter. who starred alongside his family in the long-running television series, The Adventures of Ozzie and Harriet (1952–66), as well as co-starring alongside John Wayne and Dean Martin in the western Rio Bravo (1959). He placed 53 songs on the Billboard singles charts between 1957 and 1973.
His first single release was "I'm Walking" which debuted on May 3, 1957 on CKWX in Vancouver (BC), and May 18 on the Cashbox pop singles chart. It climbed to #4 in Vancouver and #17 on the Billboard pop chart. The B-side, "A Teenager's Romance" peaked at #8 on the Billboard pop chart, but didn't chart in Vancouver.
Ricky Nelson sang all his single releases on The Adventures of Ozzie and Harriet. His next single was "You're My One And Only Love".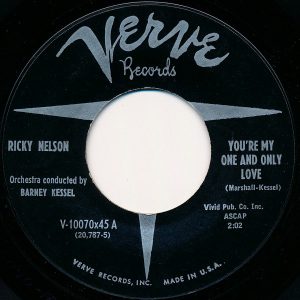 "You're My One And Only Love" was co-written by Barney Kessel and Jack Marshall. Kessel was born into a Jewish family in Muskogee, Oklahoma, in 1923. He learned to play guitar and when he was 14, he started playing with the Oklahoma A&M band, Hal Price & the Varsitonians. The band members nicknamed him "Fruitcake" because he practiced up to 16 hours a day. He moved to Los Angeles in 1942 and joined the Chico Marx Big Band. Marx had been one of the four Marx Brothers, of Vaudevillian fame. In 1944 Kessel appeared in a short film about jazz titled Jammin' the Blues. along with Lester Young, Red Callender and Illinois Jacquet. Barney Kessel recorded with Charlie Parker in 1947 and in the mid-40s played in both the Artie Shaw, Benny Goodman and Charlie Barnet big bands. By the early 50s Barney Kessel was part of the Oscar Peterson Trio. In 1953 Kessel played guitar on the jazz album Julie Is Her Name by Julie London. The album included the classic tune "Cry Me A River".
In the 50s Kessel was a session musician for Billie Holiday, Kay Starr, Lionel Hampton, Benny Carter, Anita O'Day, Ella Fitzgerald, Earl Grant, Frankie Avalon, Peggy Lee, Nat "King" Cole, the Robins ("Riot In Cell Block #9" and "Smokey Joe's Cafe"), the Coasters ("Young Blood" and "Searchin'"), Bobby Day ("Rockin' Robin"), Larry Williams ("Bony Maronie") and others. In the 1960s Kessel was a member of the Wrecking Crew and played as a session musician on many hit songs on the pop charts. Recording artists he played guitar for in the studio include Duane Eddy ("Because They're Young"), the Ronettes ("Walking In The Rain"), the Paris Sisters ("I Love How You Love Me"), the Righteous Brothers ("Unchained Melody", "Just Once In My Life", "You've Lost That Lovin' Feelin'"), Sonny & Cher ("I Got You Babe", "The Beat Goes On"), Ike & Tina Turner ("River Deep – Mountain High"), the Crystals ("He's A Rebel", "Then He Kissed Me", and "Da Doo Ron Ron"), Ben E. King ("Spanish Harlem"), the Beach Boys ("Wouldn't It Be Nice", "God Only Knows" and "Sloop John B"), Sam Cooke, Elvis Presley and many others. In 1973 he joined forces with his fellow jazz guitarists Herb Ellis and Charlie Byrd to form the group Great Guitars. In 1983 at 59 he made his New York nightclub debut as a leader. During his career Kessel released 45 jazz albums (studio and live). He died of a brain tumor at age 80 in 2004.
The other co-writer of "You're My One And Only Love" was Jack Marshall. Jack Wilton Marshall was born in El Dorado, Kansas, in 1921. He learned how to read music and play the guitar in his youth. In 1942 Marshall played guitar in the recording studio for Freddie Slack and his Orchestra on for "Cow-Cow Boogie". In 1948 he was a session musician for Julie Lee and her Boyfriends on the naughty R&B classisms "King Size Papa". Further session musician work involved recordings for Harry James and his Orchestra, Jack Teagarden, Frank Sinatra, Jody Miller, Nancy Wilson, Nat "King" Cole, Louis Prima, Mitzi Gaynor and others. In the 1950s he became one of Capitol Records producers. In 1958 he produced the live album Peggy Lee recorded featuring "Fever". In 1961 he was the conductor in the studio for Judy Garland's album Judy! That's Entertainment. He also conducted recordings for Kay Starr, Doris Day, Margie Rayburn and Dinah Shore. In the mid-60s Jack Marshall composed the theme music for the TV show The Munsters. His composition won him a nomination for a Grammy Award – Best Instrumental Composition Other than Jazz – in 1965.
"You're My One And Only Love" is a song about a person who is infatuated with someone else who doesn't know they are in love with them. The song contrasts how smitten the narrator is with the object of their secret affection – "You're my one and only love/I've loved you from the start" – with the person who is adored "you don't know I'm alive." This is indeed a romantic conundrum. Like trying to apply for a job without having any experience, the person who is lovestruck hasn't even been introduced to their heart's desire. It is hard to get someone to fall in love with us when they don't even know we're alive. And so the lovestruck person simply hopes and prays that one day this person who doesn't know they're alive will happen upon them and instantly fall head over heals in love with them too.
"You're My One And Only Love" peaked at #1 in Worcester (MA), #2 in Vancouver (BC), #3 in Seattle, Phoenix and Toronto, #6 in La Crosse (WI), #8 in Kansas City (MO), and #9 in Newport News (VA).
In 1958 he had his first #1 song on the Billboard Hot 100, "Poor Little Fool", which peaked at #2 in Vancouver. When he turned 21 years old on May 8, 1961, he changed his stage name from Ricky Nelson to Rick Nelson.
Nelson racked up a number of #1 hits in Vancouver, including "My Bucket's Got A Hole In It" in 1958, the double-sided disc with "It's Late" and "Never Be Anyone Else But You" in 1959, and the double-sided hit "Travelin' Man" and "Hello Mary Lou" in 1961. Other hits at the pinnacle of his singing career included "Lonesome Town", "Be-Bop Baby" and "It's Up To You".
With his weekly appearance on The Adventures of Ozzie and Harriet, Nelson was the first pop singer in the rock 'n roll era to use a TV show as a platform to promote his single releases. Between 1957 and 1959 Ricky Nelson had charted 15 songs into the Top Ten in Vancouver. His sixteenth Top Ten hit was "Young Emotions." The B-side of that single was "Right By My Side." While the tune didn't do very well in the USA, stalling at #59, in Vancouver the B-side peaked at #11. While the pretty "Young Emotions" written by Mack David, climbed to #7 here in town.
During 1960, Ricky Nelson was shooting a film titled The Wackiest Ship In The Army. Filmed in Pearl Harbor and the island of Kauai. The film's plot set during World War II, begins with Lt. Rip Crandall (Jack Lemmon), an expert yachtsman in civilian life, now based at Townsville, Queensland, Australia. He is surprised to be assigned command of a sailing ship, the USS Echo. The only crew member who knows how to work a ship with sails is eager young Ensign Tommy Hanson (Ricky Nelson), who cost Crandall a yacht race with a error in that race before the war.
In 1961 Ricky Nelson dropped the "y" from his name on his 21st birthday. He enjoyed further successes on the pop charts in the early 60's. But by early 1964, Nelson had his last Top Ten hit in the USA that decade titled "For You". His final Top Ten hit in Vancouver (BC), "Your Kind Of Lovin'", was a hit in 1966.
In 1967 Vancouver's premiere supper club was The Cave. Opened in 1938 at 626 Hornby Street, patrons could enjoy a delicious dinner between 5:30 p.m. and 7:30 p.m. A menu at the time offered a choice of appetizers: crab meat cocktail or fruit cocktail, followed by "daily soup" or tomato juice. Entree options included fried filet of sole, roast sirloin of beef, grilled pork chops, filet mignon, fried half spring chicken and roast duckling. With each of these dishes came carrots and peas, and mashed potatoes. And for dessert: jello with whipped cream and milk. At the start of 1967, The Cave printed a poster featuring an upcoming booking with "Mister Entertainment," Wayne Newton. On the bottom of the poster was the following notice: "Opening Wed. Feb. 15th for 10 days only Ricky Nelson." Though Nelson had changed credits on his records in 1961 from Ricky to Rick, in 1967 The Cave (and likely other venues) were still billing him as "Ricky."
In Vancouver (BC) Rick(y) Nelson managed to chart a single for 208 weeks out of 347 in a six and a half year span beginning in May 1957.His last hit was in 1972 titled "Garden Party". On September 5, 1976, Rick Nelson and the Stone Canyon Band appeared in concert at the Pacific Coliseum in Vancouver. Rick Nelson died in a small plane accident on December 31, 1985.
January 3, 2020
Ray McGinnis
References:
Dean Martin and Ricky Nelson sing "My Rifle, My Pony and Me" in Rio Bravo, 1959.
The Wackiest Ship In The Army, Columbia Pictures, 1960.
The Adventures of Ozzie and Harriet, ABC (1952-1966).
Penny Pagano, Probe Discounts Drugs as Cause of Air Crash That Killed Rick Nelson, LA Times, Los Angeles, CA, May 29, 1987.
Editors – Rolling Stone. Rick Nelson – biography, The Rolling Stone Encyclopedia of Rock & Roll. Simon & Schuster, New York, NY, 2001.
Peter Keepnews, "Barney Kessel, 80, a Guitarist With Legends of Jazz, Is Dead," New York Times, May 8, 2004.
"Benny Kessel" Discogs.com.
"Jack Marshall (Composer)," Wikipedia.org.
"Red Robinson's Teen Canteen Survey," CKWX 1130 AM, Vancouver, BC, August 18, 1957.
For more song reviews visit the Countdown.