#1113: A Rose and A Thorn by Andy Rose
Peak Month: November 1960
7 weeks on Vancouver's CFUN chart
Peak Position #13
Peak Position on Billboard Hot 100 ~ did not chart
In 2011 there was a 31-track volume from Cat King Kole Records covering recordings by Andy Rose. He was a Paul Anka-like vocalist whose lone claim to fame was "Just Young", a song that peaked at #69 on the Billboard Hot 100 in October 1958. A version of "Just Young" by Paul Anka charted at #80 during the same month. This was Andy's only record to chart on the Billboard Hot 100. On the Cashbox Magazine charts "Just Young" listed both Andy Rose and Paul Anka's recorded versions together and the song climbed to #28. In Vancouver the song peaked at #16 on CKWX and Andy Rose had some local fans.
Rose was signed with Aamco Records, a tiny New York label owned by Carl LeBow at 204 West 49th Street in Manhattan. It was formed on May 19, 1958. It was more of an album outlet during their existence focusing on Carribbean and Calypso music. In fact they only issued four singles, all in 1958, two of which were by Rose. The follow-up "My Devotion (The Promise)"/ "Classroom Cutie" on Aamco did not chart.
There were always financial problems and little ability to promote the single releases of Andy Rose. By June 18, 1959, Aamco Records filed for Chapter Xl bankruptcy.
Andy Rose's modest success with Aamco, especially for a label with limited promotional funds, led to interest from the much larger Decca subsidiary, Coral. They signed him in 1959. But despite releasing 10 singles between 1959 and 1962, and with all their promotional clout, Andy Rose could never nudge himself back into the Billboard Hot 100. All the following singles failed to crack the Billboard Hot 100. They were released in the following order: "I'm Waiting For You" and "With Feelings" (1959); "Lifetime Of Happiness" and "A Rose And A Thorn" (1960); "I'm Right Behind You"; "This Is The Nite"; "You Weren't There" (1961) and "I Was The One" (1961); "Same Old Orange Peels (On The Tabbi)" and "Being Young" (1962).
Of these hits his third release on Coral got the most attention and it wasn't much. "A Rose and A Thorn" had sparse airplay in the USA. The only radio markets where the song appeared in the Top 30 were WPDQ in Jacksonville, Florida, and KTSA in San Antonio. In Vancouver the song stayed around for seven weeks, enjoying three in the Top 20 and peaking at #13. Andy Rose wrote the song. The song is an allegorical tale about the dangers of falling in love with someone and not addressing relationship problems. A boy falls in love with a girl. Then he suddenly leaves her with no explanation. Later on, he meets another girl and falls head over heals "in love" with her. After awhile his new girlfriend leaves him without any warning or explanation. For listeners who had dated anyone who would rather flee a relationship then address emergent seeds of conflict, it was a cautionary tale.
Andy Rose began the song with the opening sentence with spoken word: "This is the story of the rose and a thorn."
The lyrics to the tale he sings are as follows:
A-well along time ago a little girl loved a boy.
And it filled her heart with so much joy.
And one day he left her, didn't tell her good bye.
Broke the little girls heart, made the poor little girl cry.
And a rose was a born, from the tears that fell.
All heavens cried with her, that's the story they tell.
When you see rainbows after a storm.
You know a love has died, a little girl cried, and a rose was born.
Well time moves along. The little boy met a girl.
She captured his heart and set him in a whirl.
Then one day she left him, didn't tell him good bye.
Broke the little boy's heart, made the poor little boy cry.
But a thorn was born from the tears that he shed.
And down through the ages to the roses their wed.
It's just a reminder, a sign meant to warn.
A little boy lied, a little boy cried and a thorn was born.
That's the story of the rose and the thorn.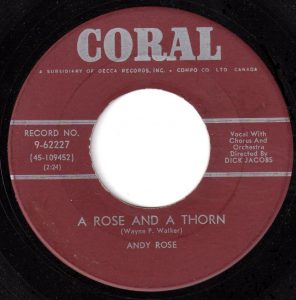 Both country stars Webb Pierce and Bobby Lord recorded the song in 1961.
The metaphor of roses and thorns have been favorites of a number of recording artists over the rock n' roll era. In 1961 Joe Dowell's "The Thorn and the Rose" told listeners he could look at the rose but couldn't touch because the thorn was in the way. Country singer, Jeannie C. Riley, sang "Roses and Thorns" about a man named Jacob Thorn and a woman named Rebecca Rose. The Thorn and Rose families are neighbors. As these families had a longstanding animosity over a fence line that they share, they never spoke to one another. In folk singer Eliza Gilkyson's "The Red Rose and the Thorn," she sings about a member of the audience at a concert who throws a red rose and a thorn from the balcony at the end of the final encore. Hard rock group, Poison, charted a single in 1988 called "Every Rose Has its Thorn." A couple struggles for words to say at a difficult moment in their relationship. There words are thorns despite the rose that is their relationship. When the words end up hurting they can be a catalyst for the relationships' demise.
For centuries the metaphor of the rose and the thorn has been present in English song lyrics. One of the most enduring examples is the Scottish folk song, "Barbara Allen." The folk tune goes back to at least the 1660's. It tells a tale of Barbara Allen who visits the bedside of a heartbroken young man, who pleads for her love. She refuses, claiming that he had slighted her at a prior affair. He dies shortly after. Barbara Allen later hears his funeral bells tolling. Stricken with grief for the part she plays in his dying of grief over his loss of her affections, she dies as well. The traditional lyrics include these final four verses:
"O Mother, O Mother, come make my bed
O make it both soft and narrow,
For sweet William died to-day
And I will die to-morrow."
"O Father, O Father, come dig my grave
O dig it deep and narrow,
For sweet William died in love
And I will die in sorrow."
Sweet William was buried in the old church tomb,
Barbara Allen was buried in the yard;
Out of William's heart grew a red rose,
Out of Barbara Allen's grew a brier.
They grew and grew to the old church tower
'Til they could grow no higher;
And at the end tied a true lover's knot
And the rose wrapped 'round the brier.
In 1964 Andy Rose tried twice more to release singles with different record labels hoping for a break. He released "Everybody But You" on Ember Records and next released "Hey Scooter" on Golden Crest Records. On his last single release he was billed as Andy Rose & The Thorns. But no cigar. That's the story of Andy Rose and his foundering recording career as a teen idol. It's just a reminder, a sign meant to warn, you won't necessarily become a chart topper even if you have classic good looks, can sing and write your own songs.
For more song reviews visit the Countdown.