#870: Cry Myself To Sleep by Del Shannon
Peak Month: July 1962
8 weeks on Vancouver's CFUN chart
Peak Position #6
Peak Position on Billboard Hot 100 ~ #99
Charles Weedon Westover was born on December 30, 1934. He was known professionally as Del Shannon. Westover was born in Grand Rapids, Michigan. He learned ukulele and guitar and listened to country music. He was drafted into the Army in 1954, and while in Germany played guitar in a band called The Cool Flames. When his service ended, he returned to Battle Creek, Michigan. There he worked as a carpet salesman and as a truck driver in a furniture factory. He found part-time work as a rhythm guitarist in singer Doug DeMott's group called Moonlight Ramblers, working at the Hi-Lo Club. Ann Arbor deejay Ollie McLaughlin heard the band. In July 1960, Westover signed to become a recording artist and composer on the Bigtop label. Westover changed his name to Del Shannon. It was a combination of Shannon Kavanagh (a wannabe wrestler who patronized the Hi-Lo Club) with Del, derived from the Cadillac Coupe de Ville, which Westover's carpet store boss drove.

Apparently, Charles Westover asked a girl named Karen to go with him to the Senior Prom. She said yes, but two weeks later dumped him for another guy who was Westover's rival. Westover, who was 140 pounds and 5'6" was devastated and never got over it. Almost all fourteen of Del Shannon's singles released from "Runaway" (1961) to "Two Kinds of Teardrops" (1963) were about sadness, break-ups, and loneliness. During his career Del Shannon had just three songs in the Top Ten of the Billboard Hot 100 and four more singles that reached the Top 30. However, in Vancouver Del Shannon charted three songs to #1, six more songs into the Top Ten and seven more songs into the Top 30. In Vancouver, any Del Shannon 45 RPM had a good chance at being a big seller.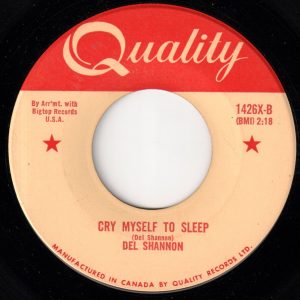 The party's over everybody go home,
I'm sorry but I'd like to be alone.
'Cause every time I see her I have to weep,
I'm gonna cry myself to sleep.
I threw this party never thought she'd come by,
all she wants to do is see me cry.
And when I see her I just have to weep,
I'm gonna cry myself to sleep.
Cry-y-y-y-y…
Did ya notice how she danced with every guy but me,
she loves to see me in misery.
I used to be her little buttercup,
but now she comes around just to break me up.
So everybody won't you please go home,
the party's over and I'd like to be alone.
'Cause when I see her I just have to weep,
I'm gonna cry myself to sleep.
Cry-y-y-y-y…
Did ya notice how she danced with every guy but me,
she loves to see me in misery.
I used to be her little buttercup,
but now she comes around just to break me up.
So everybody won't you please go home,
the party's over and I'd like to be alone.
'Cause when I see her I just have to weep,
I'm gonna cry myself to sleep.
Cry-y-y-y-y…
"Cry Myself to Sleep" is said to have inspired Elton John to compose "Crocodile Rock." "Cry Myself To Sleep" peaked at #29 in the UK, #99 on the Billboard Hot 100 and #6 in Vancouver. Honolulu is the only other radio market where the song made the Top 30 in North America. "Cry Myself To Sleep" is a song about a guy who is feeling consumed by being rejected by the object of his affections.
When a guy is rejected by a female in a dating situation it may occur for the following reasons:
1) She is one of those rarer females who is just very rude, cold-blooded and cruel. You try your best to be friendly and she cuts you off at the pass with lines like "why are you taking to me" or "F#!k off." It seems that Del Shannon's character in this song has had the misfortune of getting involved with a heartless girlfriend who loves to see him in misery and dances with everyone but him just to hurt him. He sings "every time I see her I just have to weep." Clearly, this is not a match made in heaven. The sooner he figures out she doesn't care for him and moves on, the better he'll be.
2) Most of the time when a woman turns a guy down she will do it in a fairly gentle manner. For instance she'll talk to him for a few seconds and then say something like, "y'know what I've got to run, nice talking to you." And then she leaves. Or perhaps the guy approaches her at a club or a dance, but she keeps turning to her friends and ignoring him. Eventually, most guys get the point.
3) Some rejections feel incongruent. At first a guy is relating to a female who talking seemed into him. But after a few dates she tells the guy that it's a "no-go." Maybe she'll tell him that she has got a boyfriend or that he just isn't her type. This kind of rejection is actually one of the most difficult for guys to deal with because just when you think you're gonna get somewhere with her it feels like you got the rug pulled out from under you.
4) Some rejections come with the dawning realization on her part that she's "not that into you." This is the worst. You've gotten to know her, and maybe even taken her on several dates. Then she comes around and tells you she's "just not that into you." Usually, this is because her initial feelings about you have changed. She had a good impression, but then you got needy, or insecure, or you weren't as fun or sexy as she thought. Guys can sometimes turn this around if different expectations about being polite and gentlemanly have been a turn-off when she was wanting to see some display of appropriate confidence or romantic overture that was missing.
5) Some rejections are self-imposed. The woman of your dreams is waiting for you to make some move to indicate to her that you'd like to be "more than friends." However, you just never get around to making any moves. You're inner psyche resembles that scene in Back To The Future where Marty McFly confides to Lorraine "I just don't think I can take that kind of rejection." In this scenario a guy is letting his own fear and self-doubt keep him from going for what he wants. He's missing out on some of the best experiences in life he could have, not because others are rejecting him, but because of his own anxieties about how things might unfold. Consequently, in the absence of any overtures from the guy, a woman concludes this guy just wants to be friends.
Most guys will get over initial feelings of rejection, concluding it just wasn't meant to be. However, Del Shannon's character in "Cry Myself To Sleep" is fated to be alone and cry-y-y-y-y.
In 1963 Del Shannon flew to England where he toured heavily on the success of "Little Town Flirt" and to promote "Two Kinds of Teardrops." He also visited Sweden, where he was popular. By the spring of 1963 Del Shannon had seven Top Ten hits in the UK. On 18 April 1963, the Beatles were one of 15 acts to play at Swinging Sound '63, an all-star concert at the Royal Albert Hall in London. They played "From Me to You," a song just released earlier that week, and "Twist and Shout." Del Shannon was also on the line-up that night. When the concert was over Shannon told John Lennon that he was going to record "From Me to You" to give the group some exposure in America. At first, Lennon was flattered, but he quickly changed his mind. Lennon was aware that a cover version by Del Shannon might hurt the Beatles' chances of having a hit with "From Me to You" in America. In early June, Bigtop Records released Del Shannon's version of "From Me To You," which became a Top 20 hit in Vancouver. At the end of 1964 Del Shannon had one last significant hit titled "Keep Searchin'." Shannon had a few more minor hits but misjudged where to place some of his composing talent. He decided not to record the melancholy "I Go To Pieces" that then became a hit for Peter and Gordon.
Del Shannon struggled with alcoholism and still managed to pursue a career despite having no hits after 1964. In 1968 Shannon became a member of Alcoholics Anonymous vowing to quit his addiction to alcohol. Shannon and Bryan Hyland were roommates for several years in the late 60's when Shannon tried to help Hyland who was in his own career slump. Shannon produced Hyland's comeback hit in 1970, "Gypsy Woman," a remake of a 1961 R&B hit by The Impressions written by Curtis Mayfield.
After a rare concert at The Roxy Theatre in West Hollywood in 1976, The Los Angeles Times wrote, "Shannon's haunting vignettes of heartbreak and restlessness contain something of a cosmic undercurrent which has the protagonist tragically doomed to a bleak, shadowy struggle." Years later he was sought out by Tom Petty who had discussed with Shannon joining the Travelling Wilbury's after the death of Roy Orbison in December 1988. Shannon declined. Del Shannon next cancelled a revival tour to England. In mid-January 1990 he was prescribed Prozac by his therapist and began taking the medication. He grew steadily more agitated, paced around and had trembling hands. Without leaving a note, Shannon died by suicide three weeks later in early February 1990.
For more song reviews visit the Countdown.