#759: 1941 by Tom Northcott
Peak Month: February 1968
7 weeks on Vancouver's CKLG chart
Peak Position #6
Peak Position on Billboard Hot 100 ~ #88
1 week Hit Bound
YouTube.com: "1941"
Lyrics: "1941″
Tom Northcott is a Vancouver folk-rock singer with hits on the local pop charts from the mid-60s into the early 70s. He became known to a Canadian audience by his regular appearances on CBC Television's Let's Go music program in 1964-68. He was nominated as best male vocalist for a Juno Award in 1971. Later he co-founded Mushroom Studios in Vancouver and produced records. His hits are played regularly on Canadian oldies music stations.
Born in Vancouver in 1943, when he was in his teens Tom Northcott was gaining a reputation performing on the Vancouver coffeehouse circuit in the early '60s. In particular, he was a regular in the Kitsilano neighborhood, the nexus of the hippie scene north of San Francisco. In 1965, Northcott took over from Ronnie Jordan as the lead singer for the Vancouver Playboys, a group that wore identical suits. The Vancouver Playboys were an exciting new band that fused the Beatles look with music resembling of The Ventures (of "Walk Don't Run" fame). Northcott founded one of Vancouver's first labels, Syndrome Records. Warner Record executives in Los Angeles were amazed at Northcott's savvy and offered him distribution. While the Playboys toured the country that summer and fall, the label served home to their first single, "Cry Tomorrow". It was the first of eleven Top 30 hits on local AM radio stations in Vancouver.
But by the end of the year Northcott left the band. With a 12-string guitar, Northcott formed The Tom Northcott Trio with drummer Chris Dixon and Rick Enns on bass. They were soon regulars on CBC TV's Let's Go program. Meanwhile they were selling out the top clubs in the area like The Afterthought in Kitsilano. The Tom Northcott Trio traveled to California and played gigs in San Fransisco and Los Angeles. This exposure got them further performances as and they opened for The Who, The Doors and Jefferson Airplane. In December 1965 they released "Just Don't" to overall good reviews. It charted on both CKLG and CFUN peaking in January 1966. His next song, "Goin' Down", with the Tom Northcott Trio, has been reviewed at position #1133 on this Countdown.
His biggest hit song was the sunshine pop psychedelic tune, "Sunny Goodge Street" from 1967. The song, written by Donovan and first recorded on his album, Fairytale, became Tom Northcott's signature tune.
For a follow up to his local success Northcott drew from American folk-singer, Harry Nilsson, and his song "1941", from his December 1967 album Pandemonium Shadow Show. Northcott quickly made his own recording. "1941" first appeared on the CKLG Boss 30 in Vancouver on January 13, 1968.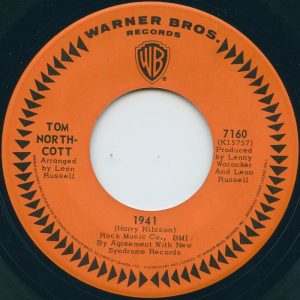 Set in 1941, the song offers a chronology, revealing a pattern: 1) a happy father has a son, 2) three years later he leaves the marriage, 3) A year later, in 1945, the mom and son are still alive (in living from month to month) and 4) at the age of five the son and his mom struggle to survive, 6) when the son turns 14 the father has joined a circus, 7) While with the circus the father has a girl in every town, 8) The father finally meets the girl of his dreams, 9) The father gets remarried, 10) In 1961, the father is happy to have a second son, 11) In 1964, the father leaves his second marriage. The lyrics end with the question: But what will happen to the boy when the circus comes to town?
In July 1992, a headline in The Independent read: The Baby Came but the Sex Went: Many Marriages Fail in the 18 Months After Childbirth, Often Because Most Men are Unsure of their Postnatal Role. The writer of the article, David Cohen, interviewed five fathers about their experience after the baby came. Cohen reported:
"Saul, a 33-year-old managing director from Brighton, says that since the birth of his daughter 23 months ago, his wife is no longer interested in sex. 'I lie in bed and say: 'I know what it is – you're not attracted to me any more.' She says that it's nothing personal, that she loves me, but there's no demonstration of that fact. We used to have a vigorous sex life – three to four times a week. To have the tap turned off, without warning, after 10 years together, is the most devastating, painful thing. It's caused a massive tension between us. I feel like I've been dispensed with – as if my function is finished.'
Saul's experience is not uncommon. According to Ann Herreboudt, a London postnatal counsellor, about 40 per cent of the first-time mothers she sees have no sexual relations with their husbands for up to two years. 'And if you take into account the latter stages of pregnancy, it's even longer,' she says. 'Most say their husbands are fed up, but only half the women are concerned about it. That's a big mistake. More marriages break up in the first 18 months after childbirth than at any other time. And although there are no surveys, it's safe to assume that sex, or the lack of it, is a major contributing factor.'
As part of The Good Men Project, Jed Diamond wrote in 2012 that boys grow up to become men looking for the "Mommy connection" they never had. They enter the marriage hoping their spouse will fill the hole that's been missing. Diamond writes:
Most of us didn't get enough love and nurture from our mothers who were influenced by a culture that taught the importance of "independence" and "self-sufficiency." We also didn't get enough from our fathers who often followed the patterns they grew up with and became emotionally absent early in our lives. When we find "Ms. Right" we're hoping, usually unconsciously, that she'll nurture and love us like our Moms and Dads never did.
We don't know exactly why the father in the song, "1941" left the marriage. But if the mother in the song was among the forty percent of first-time mothers who have no sexual relations for up to two years after the birth, it could be that the lack of a sex life was a contributing factor. In the song, after the father leaves the marriage, he has a girl in every town. Eventually, he meets a girl, presumably much younger than he is after sewing his wild oats, and settles down. Even though he now has a new family, he still can't handle the confines of his new marriage. It could be his second, much younger wife, also was among the forty percent of first-time mothers who don't seek out sex in their first few years with their husband. But, the husband, in this case may just not be capable of sustaining a committed relationship. Or, as Jed Diamond writes, the father in "1941" may be searching for the "Mommy connection" he never found. Whatever the reason, Harry Nilsson's lyrics leave gaps in the story to leave us as listeners to infer and muse about the reasons he left his second marriage.
The final line suggests that what the father passes down in his genes to his son may be the same urge to sew wild oats and not be able to settle down either. In a news story in 2011 run by NBC, it is suggested that promiscuous fathers can pass on a Playboy gene to their sons and daughters. The headline read: The Playboy Gene: Promiscuity Can Be Inherited. Jennifer Viegas wrote that a study by the Department of Behavioural Ecology and Evolutionary Genetics at the Max Planck Institute for Ornithology was published in a journal, Proceedings of the National Academy of Sciences. The study found that promiscuous fathers have children who are more likely to cheat on their spouses. The study involved a comparison of the sexual behavior of humans with several species of birds.
"1941" peaked at #6 on the CKLG charts in Vancouver. The radio markets where "1941" got airplay in the USA included Louisville, Kentucky, and Detroit and Dearborn, Michigan, where the song peaked in these markets at #18. It peaked at #20 in Denver, Colorado, and Columbus, Ohio, and #21 in Phoenix, Arizona. Beyond this the song got scant attention south of the border. Tom Northcott's subsequent hit single in Vancouver was"Girl From The North Country", written by Bob Dylan. Northcott had a #2 hit in November 1969 with "The Rainmaker".
By 1971 Tom Northcott had scored ten consecutive Top 30 hits in Vancouver and was on a streak of six consecutive singles reaching the Top Ten. But in 1971 he had his final Top 30 hit, "Spaceship Races", which missed the Top Ten peaking at #15. The song was written by the songwriting team of Gerry Goffin and Carole King. The week "Spaceship Races" peaked on the CKLG and CKVN charts, Carole King's double-sided single "It's Too Late"/"I Feel the Earth Move Under My Feet", and her album, Tapestry, were number one single and album on those local charts.
Northcott changed careers in the early 1970s and got a license to become a commercial fisherman in British Columbia. At the end of the decade Northcott ran for public office under the banner of the Social Credit Party of British Columbia in the New Democratic Party stronghold of East Vancouver. He lost the campaign. Once again he switched careers and, after studying law at university, he specialized in maritime and admiralty law. Northcott is now retired and living in Kamloops, British Columbia.
July 24, 2018
Ray McGinnis
References:
Mark Allan, Ron Grahame, Susan Jacks, Dennis McFadden, Fred Robinson, Tom Northcott, Canadianbands.com
Dennis MacFadden, "Vancouver Playboys" ~ Pacific Northwest Bands, October 2008
"Boss 30," CKLG, January 13, 1968.
David Cohen, "The Baby Came But the Sex Went: Many Marriages Fail in the 18 Months After Childbirth, Often Because Most Men Are Unsure of their Postnatal Role," Independent, London, July 8, 1992
Jed Diamond, "The Crisis of the Disappearing Dad: The Hidden Reasons Men Leave Their Families," Good Men Project September 3, 2012.
Jennifer Viegas, "The Playboy Gene: Promiscuity Can Be Inherited," NBC, June 13, 2011.
"Boss 30," CKLG 730 AM, Vancouver, BC, February 17, 1968.
For more song reviews visit the Countdown.