#1375: Aces High by The Classics
Peak Month: August 1964
8 weeks on Vancouver's CFUN chart
Peak Position #19
Peak Position on Billboard Hot 100 ~ did not chart
YouTube.com: "Aces High"
The Classics were the house band for CFUN 1410-AM in Vancouver (BC). They formed in 1962 with Howie Vickers on trombone and lead vocals, Tom Baird on keyboards, Claire Lawrence on saxophone, organ and flute, Brian Russell on guitar, Glenn Miller on bass guitar, and Gary Taylor on drums. Fred Latremouille also played drums with the band. Tom Baird was born in Vancouver in 1943. Before he joined the CFUN Classics, he had previously been a vocalist with Roger Jerome and The Casuals. The Classics became the house band on the CBC variety show Let's Go. They were managed by Les Vogt.
In 1964 they released the first of three singles titled "Aces High".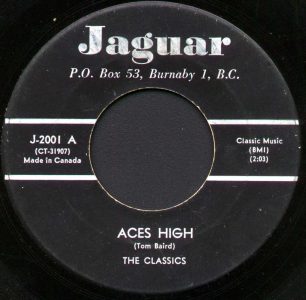 "Aces High" was written by Tom Baird. The tune was typical of a new sound in the mid-sixties that mixed some surf rock, jazz rock and "mod" sound. The instrumental climbed to #19 on the C-FUNTASTIC FIFTY.
Other instrumentals gracing the pop charts in Vancouver from the early to mid-sixties included several from the Tornados, Link Wray, Santo and Johnny, Jerry Byrd, Bert Kaempfert, Floyd Cramer, The Titans, The Roller Coasters, Tijuana Brass, Duane Eddy, The Wailers, George Martin Orchestra, The Chessmen, The Arrows, The Chantays, The Surfaris, Lonnie Mack, Kai Winding, Al Hirt, The Marketts, The Ventures and others.
Just three weeks after "Aces High" dropped off the CFUN chart on September 12, 1964, The Classics charted a new single titled "Till I Met You". It was also written by Tom Baird. It lasted just five weeks on the chart, peaking at #18. A final single release, "Why Don't You Say You Love Me" didn't chart anywhere. It was once again written by Tom Baird.
By the end of 1966 Howie Vickers decided it was time for something new and The Classics disbanded. What emerged in 1967 was a new psychedelic rock group named The Collectors. In the spring of 1967, Vickers was asked to put together a house band at the Torch Cabaret in Vancouver. Along with Claire Lawrence on horns, they recruited guitarist Terry Frewer, drummer Ross Turney and Brian Newcombe on bass. Within a couple of months, fellow Classics member Glenn Miller replaced Newcombe on bass and Bill Henderson, a student at UBC, replaced Frewer on guitars, and with Vickers now handling vocals, they matured their sound, they gradually replaced the R&B sounds and the covers with their own material, and graduated out of that one club and began playing the rest of the west coast, on both sides of the border. They did particularly well in California, where audiences were warm to the complex arrangements mixed with harmonies and extended solos and musical ad-libs.
They signed with Tom Northcott and New Syndrome Records, but Vickers, Lawrence and Miller were still under contract to The Classics' old Stateside Valiant Records. It was Valiant's execs that gave the group their name, after giving them the choice of "The Collectors" or "The Connection," after they'd recorded a handful of tracks in Vancouver. They released the folk meets psychadelia single "Make It Easy" with "Don't Feel Bad" as the b-side that summer. "Looking At A Baby" was next up shortly after, which cracked the top 40. Its followup was "Fisherwoman", which peaked at #15 at home, a couple of months later.
Tom Baird went on to co-write "Does Your Mama Know About Me" for Bobby Taylor and the Vancouvers, with Tommy Chong (later of Cheech and Chong). And he wrote "Latromotion" for Fred Latremouille. Other songs Baird wrote were recorded by Mel Carter, Diana Ross and The Supremes, The Four Tops, Jimmy Ruffin, Soupy Sales, Shirley Bassey, Barbra Streisand, Maureen McGovern, Vicki Carr, Gladys Knight & The Pips, Rare Earth, The Fifth Dimension, Charity Brown, Copperpenny and Three Dog Night. Baird arranged Stevie Wonder's hits "Signed, Sealed, Delivered" and "We Can Work It Out", Smokey Robinson and The Miracles One Dozen Roses album. As well, R. Dean Taylor's 1972 hit "Taos, New Mexico", and early recordings by The Commodores. He also arranged recordings for Jerry Butler, The Undisputed Truth. He also arranged Diana Ross's number one hit in 1973, "Touch Me In The Morning".
Tom Baird died in a sailing accident in November 1975. Baird had been doing some work with Pete Rivera (aka Peter Hoorelbeke) of Rare Earth, and they planned to go sailing together. Tom was a novice sailor. Pete was with him that day but had to run home for a minute and Tom apparently got off into open waters while practicing. After the Coast Guard had given up looking for him, Pete hired an airplane and searched for him for two days. Tom's body was eventually found by fishermen. It appeared he had been hit in the head with one of the sails and was probably knocked unconcious into the water where he drowned.
For years Howie Vickers had contracts writing advertising jingles at Little Mountain Studios in Vancouver. Going by his real surname, Vickberg, Howie, served for several terms on the municipal council of the Township Of Langley. Claire Lawrence went on to play with many recording acts including Shari Ulrich, Connie Kaldor, Roy Forbes, Susan Jacks and others. Lawrence produced The Great Canadian Gold Rush show on CBC TV in the 1970's. He also scored the music for the popular CBC TV show The Beachcombers, between 1986 and 1990. More recently, Lawrence produced Jazz Beat on CBC from 2000 to 2006. Glenn Miller died in 2011 of complications related to muscular dystrophy. He had spent several decades in Toronto helping people get off drug addictions.
October 20, 2019
Ray McGinnis
References:
Bill Henderson, "The Classics," Canadian Bands.com.
"The Classics – Vancouver, BC (62-66)," pnwbands.com.
Claire Lawrence bio, Rate Your Music.com.
Tom Harrison, "Glenn Miller R.I.P.," Vancouver Province, Vancouver, BC, March 10, 2011.
"The Classics," Royal City Music Project.com.
"Tom Baird," discos.com.
"C-FUNTASTIC FIFTY," CFUN 1410 AM, Vancouver, BC, August 29, 1964.
For more song reviews visit the Countdown.