#229: Angela Jones by Johnny Ferguson
Peak Month: April 1960
10 weeks on Vancouver's CFUN chart
Peak Position #2
Peak Position on Billboard Hot 100 ~ #27
YouTube: "Angela Jones" – Johnny Ferguson
YouTube: "Angela Jones" – John D. Loudermilk (composer)
Lyrics: "Angela Jones"
John Lambeth Ferguson III was born in Nashville in 1937. He graduated from Hillsboro High School Ferguson began his musical career in the late 50s while he was a disc jockey on a variety of small stations in and around the Nashville, Tennessee. He had begun doing work as a DJ while still in high school for WNAH, WAGG and WSM-TV. As a writer, he managed to have a couple of his songs recorded by country acts Judy Lynn and Pat Kelly. In 1958 Ferguson recorded "Sad Sad Day", a rockabilly tune, on Decca Records. The B-side was "Candy Love", which had some Buddy Holly-esque vocals. However, the single got little notice. A second Decca release in 1958 was "Til School Starts Again". It was a commercial flop. However, a demo of one of his songs that persuaded Arnold Maxin, the managing director at MGM Records, to sign him.
In the late 50s Johnny Ferguson worked as a DJ at WJAT in Swainsboro, in the southeast part of the state of Georgia. In 1959 Ferguson released "Afterglow" on MGM. The single was his third commercial flop. However, he was encouraged by the initial response to release "Angela Jones" in the winter of 1959-60.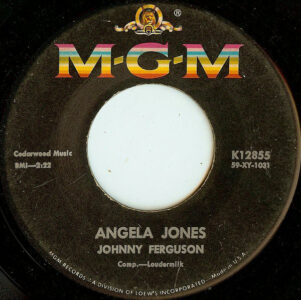 "Angela Jones" was recorded by Johnny Ferguson in October 1959 and written by John D. Loudermilk. John D. Loudermilk was born in Durham, North Carolina, in 1934. Although he had a middle initial, D, the "D" wasn't short for any middle name. His father was an illiterate carpenter, John D Loudermilk Sr. When John D. Jr. was, seven his dad gave him a ukulele made from a cigar box. Young John D Jr. learned to play guitar in his youth and began to write poems and songs. His poetry was inspired after he began to read the works of Kahlil Gibran. In his late teens, in the early 50's, John D Jr. wrote a poem titled "A Rose And A Baby Ruth." It concerned a teenage couple who have a quarrel and the boy gives his girlfriend a rose and a Baby Ruth candy bar to make up. Loudermilk put notes to the poem and played the sung version on a local TV station. This caught the attention of country singer, George Hamilton IV. The song was published in 1956 and became a Top Ten hit on both the Country and Pop charts on Billboard Magazine.
In 1957, Loudermilk penned "Sittin' In The Balcony" for Eddie Cochran. Once that became a hit, Loudermilk's songwriting career was launched. He co-wrote "Waterloo," a #1 country hit and #4 pop hit in 1959 for country singer, Stonewall Jackson.
In the early 60's Loudermilk continued to have success as a songwriter. Sue Thompson had two Top Ten hits on the pop and country charts in 1961 written by Loudermilk: "Sad Movies (Make Me Cry)" and "Norman." The Everly Brothers also scored a Top Ten hit in 1961 by John D. Loudermilk, titled "Ebony Eyes". And Bob Luman had a Top Ten hit in Vancouver in 1961 by Loudermilk called "The Great Snowman." The singer of "Teen Angel", Mark Dinning, had a #6 hit in Vancouver in '61 with "Top 40, News, Weather And Sports," another Loudermilk composition. Loudermilk also had a Top 40 hit on the Billboard Hot 100 titled "Language Of Love".
In 1962, Loudermilk had several more hits recorded by other singers, including "If The Boy Only Knew" by Sue Thompson. Kris Jensen had a hit with "Torture". Loudermilk also recorded several more songs he penned: "Angela Jones", "Calling Dr. Casey" and "Road Hog".
John Loudermilk had other songs on the US charts in 1962. "Thou Shalt Not Steal" was a minor hit in the USA and did not chart in Vancouver. However, in 1964 it was a Top 20 hit for Dick and Dee Dee. That same year Loudermilk's 1960 composition, "Tobacco Road", became a Top Ten hit in the UK for the Nashville Teens. Johnny Tillotson had a Top Ten hit in early 1964 with "Talk Back Trembling Lips" written by Loudermilk. And in 1965, another one of his songs, "This Little Bird", became a Top Ten hit in Vancouver and the UK for Marianne Faithfull. In 1967, Loudermilk won a Grammy Award for Best Liner Notes for his album Suburban Attitudes in Country Verse. And a song he wrote in 1962, "Then You Can Tell Me Goodbye", became a Top Ten hit for The Casinos. In March of 1968, Glen Campbell had a Top 40 hit and a #1 hit in Vancouver with Loudermilk's tune, "I Wanna Live". And in 1968, another of Loudermilk's songs got critical acclaim when Don Fardon released "Indian Reservation". The song was a #1 hit for Paul Revere And The Raiders in 1971.
"Angela Jones" employs a lyrical devise where the rhyme in the second line is inferred but not sung. The inferred rhyme in the first verse is the word "kiss." And the second verse the inferred rhyme would be completed with the word "wife."
I'll meet at your locker when schools dismissed
I'll carry your books home with you, just give me one little
Doo n doo doo, doo n doo doo doo doo, doo n doo doo, Angela Jones…
You know I love you darlin, more than I do life
Someday I'll get a preacher, and let him make us man and
Doo n doo doo, doo n doo doo doo doo, doo n doo doo, Angela Jones…
The song is about a crush a boy in high school has on Angela Jones. He plans to meet Angela Jones at her school locker at the end of the school day. He offers to carry her books home on the condition that she'll give him a kiss. We don't know how Angela Jones feels about the boy. However, he's already making future plans for them to get married – at least that's the way he pictures things. In the third verse it becomes clear that Angela Jones may not think this boy is the only fish in the sea. He prays to God in heaven each night, worrying that she might one day forget him and "give somebody else your (love)." However, the happy resolution in the fourth verse lets the listener know that Angela Jones does feel for the boy after all:
I love your kind of lovin, it's always been true
I love the way you whisper, I'll always be in love with
Doo n doo doo, doo n doo doo doo doo, doo n doo doo, Angela Jones…
The device in "Angela Jones" is called a 'mind rhyme.' This was also a device in the 1946 song "Shaving Cream" by Benny Bell, which was a Top 30 hit in 1975.
"I have a sad story to tell you
It may hurt your feelings a bit
Last night when I walked into my bathroom
I stepped in a big pile of …shhhhh
. . . aving cream."
Signs that you've got a crush on someone in school include: 1) friends teasing you about your non-verbal and verbal interactions with the person you have a crush on, 2) The look – the intensity of the eye contact with the person you have a crush on. That one eye contact is enough to floor you and keep you thinking about him/her all day long. Even better, remember that time when you looked at him exactly when he was looking at you? Isn't it making your heart race and give your lips a goofy smile, right now?, 3) Waiting for him/her to enter the classroom: Not seeing your crush at a school since morning used to be terrible. Sometimes you even thought that all this hairdo and perfume has gone for a waste (or those extra push-ups before going to school), and then you see him/her entering the class… what a rush?, 4) Bushing: a sure sign to the person you have a crush on that they are having an impact on you when you see them (unless they are oblivious), and to your friends who rib you more for having "the hots" for someone at school, 5) Goofiness: things like in Grade 8 kicking your crush in the shins to get them to notice you, stealing their backpack in order to get them to chase you and then kiss them when they catch up to you, really bad jokes, love hearts… And poetry: "You're the one who understands, with eyes as big as frying pans."
In an article titled "10 Unique Feelings You Get When You Have Your First Crush," Chaitali Patak writes one of these is "a lot of butterflies in your stomach constantly." There is a great desire to see your crush daily. She adds, "given a chance, you would stare at them for hours…" And adds, "every romantic film you watch or song you listen to reminds you of them." And "when you do talk to them for the first time, you can't stop yourself from re-playing that memory in your mind time and again."
Over the decades, there have been many songs about people having a crush. These include "I Wanna Hold Your Hand" by the Beatles (1963-64), "I Second That Emotion" by Smokey Robinson and the Miracles (1967), "You Really Got Me" by the Kinks (1964), "Only The Good Die Young" by Billy Joel (1977), "Cupid" by Sam Cooke (1961), "Can't Take My Eyes Off You" by Frankie Valli (1967), "Brand New Key" by Melanie (1971), "Johnny Angel" by Shelley Fabares (1962), "It's Only Make Believe" by Conway Twitty (1958), "Oh Julie" by the Crescendos (1958), "Born Too Late" by the Poni Tails (1958), and others.
There were numbers of songs where school was the setting for a budding romance. These include "School Bus" by Kris Jensen, "Waiting In School" by Ricky Nelson, "School Days" by Chuck Berry, and others.
"Angela Jones" peaked at #2 in Vancouver (BC) and Duluth (MN), #3 in Ottawa (ON) and Edmonton (AB), #4 in Seattle, #5 in Cleveland, #6 in Missoula (MT) and Tifton (GA), #7 in Williston (ND), #8 in Waterbury (CT), #9 in Toronto and Corpus Christi (TX), #11 in Milwaukee, and #12 in Portland (OR).
In 1960 in the UK, "Angela Jones" was covered by Michael Cox, who had a #7 hit with the song. It was translated into French by Pierre Jil whose cover titled "Doux Doux Doux" was a hit in France. A more upbeat lounge version of the song in French was also recorded by José Francis. While in 1960 in Sweden, Ollie Bergman recorded a Swedish-language version. As well, Owen Griffiths and the Rockettes did a cover of the song in 1961 in New Zealand. Songwriter, John D. Loudermilk, recorded "Angela Jones" and it climbed to #10 in Vancouver (BC), and #6 in Fargo (ND) in the fall of 1962. Over in Belgium, in 1963 Robert Cogoi recorded "Dou, Dou, Dou, Doux". In 1964, in the Netherlands, Hanny & Andry recorded a Dutch-language version titled Doe-de-loe-doe". In 1966 Australian Jamie Mahar had a minor hit with his cover of "Angela Jones". In 1969 Milk (aka Johnny Cymbal) had a regional bubblegum hit with "Angela Jones" in Kentucky and Michigan.
Johnny Ferguson's followup release was a single with a cover of the 1954 R&B hit by the Four Tunes titled "I Understand Just How You Feel", with the B-side a song he cowrote with Mel Tillis titled "Flutter Flutter". Ferguson's cover of the Four Tunes hit made the Top 20 in Grand Rapids (MI) and the Top 40 in Louisville (KY) in the summer of 1960.
In February 1961, Johnny Ferguson charted another John D. Loudermilk tune titled "The Valley Of Love" to #6 on CFUN. Vancouver was the only radio market in the USA and Canada where the song made the Top 40. After the single failed to excite outside of Vancouver, Ferguson was dropped from the MGM label.
In his July 2015 obituary it is written "John was an accomplished songwriter whose biggest hit was "Angela Jones" in which he recorded. Throughout life, he loved to play the guitar and sing. In fact, he sang right up until his passing."
December 3, 2021
Ray McGinnis
References:
"Johnny Ferguson," Discogs.com.
"Johnny Ferguson," rocky-52.net.
"Johnny Ferguson," AllMusic.com.
boppinbob, "Johnny Ferguson born 22 March 1937," From The Vaults, March 22, 2015.
Julie Thanki, "Songwriter John D. Loudermilk Dead at 82," The Tennesseean, Nashville, TN, September 22, 2016.
Chaitali Phatak, "10 Unique Feelings You Get When You Have Your First Crush," March 10, 2015.
"Shaving Cream," Wikipedia.org.
"John D Loudermilk Obituary: Singer and Songwriter Best Known for Tobacco Road, a Big Hit for the Nashville Teens in 1964," Guardian, September 27, 2016.
"Songs Written by John D. Loudermilk," www.ihesm.com.
"In Memory of John Lambeth Ferguson – March 22, 1937 – July 22, 2015," Woodlawn-Roesch-Patton Funeral Home, July 24, 2015.
"Hi-Fi Forty," CFUN 1410 AM, Vancouver, BC, March 26, 1960.
For more song reviews visit the Countdown.