#123: Bad Boy by Marty Wilde
Peak Month: March 1960
13 weeks on Vancouver's CFUN Chart
Peak Position ~ #3
Peak Position on Billboard Hot 100 ~ #45
YouTube: "Bad Boy"
Lyrics: "Bad Boy"
Reginald Leonard Smith was born in 1939 in Greater London. He was performing under the name Reg Patterson at London's Condor Club in 1957, when he was spotted by impresario Larry Parnes. Parnes gave his protégés stage names like Billy Fury, Duffy Power and Dickie Pride, hence the change to Wilde. The 'Marty' came from the 1955 Academy Award winning Best Picture, Marty. Wilde gave an audition of the Jimmy Rodgers hit "Honeycomb", and got a record contract on the spot. Both "Honeycomb" and Wilde's cover of "Oh-Oh I'm Falling In Love Again" got airplay in the UK, but didn't crack the pop chart.
From mid-1958 to the end of 1959, Wilde was one of the leading British rock and roll singers, along with Tommy Steele and Cliff Richard. Wilde's backing group was called the Wildcats. At various times they featured Big Jim Sullivan on lead guitar, Tony Belcher on rhythm guitar, Bobby Graham or Bobbie Clarke on drums, plus Brian Locking on bass guitar and Brian Bennett on drums, who both later joined the Shadows.
In the summer of 1958, Wilde's cover of the Jody Reynolds tune "Endless Sleep" peaked at #4 on the UK pop chart. In March 1959, Wilde's cover of the Ritchie Valens song "Donna", climbed to #3 on the UK pop chart. Wilde continued his successful string of Top Ten hits in the UK with a cover of Dion & The Belmonts "A Teenager In Love" (#2 UK) and Phil Phillips "Sea Of Love" (#3 UK).
In 1959, Marty Wilde appeared in the British thriller Jet Storm, about airline passenger and scientist, Ernest Tilley, who wants another passenger on the plane killed for a hit-and-run where his daughter died. Tilley has hidden a bomb on board and threatens to blow it up in an act of vengeance, not only killing Brock but also all passengers and crew.
Marty Wilde's last single release in 1959 was "Bad Boy".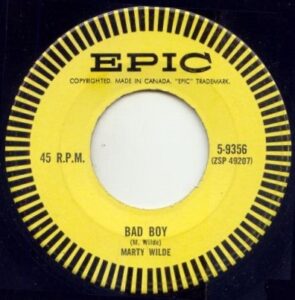 "Bad Boy" is a song about a young male whose Dad thinks he's "a bad boy." The people on his street concur. It seems the cause for this judgment is because "I got a girl and we stay out late, almost every night. Well, the people just stare and they declare: Well well, it just ain't right." Despite the cards being stacked against him in the court of public opinion, the young man insists that if people knew how much he loves his girlfriend they'd understand that he "could be a good boy who's just in love."
"Bad Boy" peaked at #3 in Vancouver, and Minneapolis/St. Paul, #4 in Dubuque (IA), #6 in Cambridge (MA), and Bakersfield (CA), #8 in London (ON), and #9 in Kansas City (MO), La Crosse (WI), and Albany (NY). "Bad Boy" climbed to #7 on the UK pop charts on December 17, 1959. His chart run in Vancouver began on January 30, 1960.
Other tracks from Bad Boy included a cover of the Bill Parsons hit "All American Boy", the Everly Brothers "Love Of My Life", and Jerry Lee Lewis' "High School Confidential".
On the strength of his hit single, Wilde released his debut album Bad Boy. The liner notes exclaimed "he has dark brown hair and blue eyes, and is an impressive six-feet-four in stature. American audiences have recently had a chance to find out what all the Wilde enthusiasm is about with the release of Bad Boy as a single. Now the same song serves to introduce an album with which Marty has been exciting his countrymen….Marty's effect on TV screens was overwhelming and brought forth an avalanche of fan mail, telegrams and phone calls."
At the end of 1960, Marty Wilde was back in the UK Top 20 with "Little Girl". This was in early 1961 followed by a Top Ten cover of Bobby Vee's "Rubber Ball". That year Marty Wilde appeared in an adventure film set and filmed in South Africa titled The Hellions.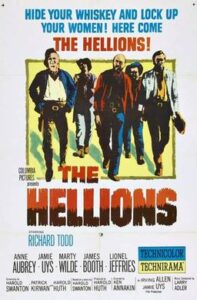 Wilde appeared regularly on the BBC variety show 6.5 Special, and was the main regular artiste on the Saturday ITV music programs Oh Boy! and Boy Meets Girls. There he met and married Joyce Baker, one of the Vernon Girls who were also show regulars. Their courtship was made public but, after the marriage, Wilde's popularity as a teen idol declined. His final appearance in the Top 30 in the UK was with a cover of the 1950 Frankie Laine hit "Jezebel". In 1963, Wilde appeared with Freddie and the Dreamers in the pop music film What a Crazy World.
Between 1963 and 1966, Marty Wilde released eight singles, each failing to crack the UK pop charts. A whole new group of recording acts: the Beatles, Gerry and the Pacemakers, Brian Poole and the Tremeloes, Billy J. Kramer and the Dakotas, Freddie and the Dreamers, and others began to dominate the charts. Though Cliff Richard and Billy Fury had some staying power, Marty Wilde was seen as yesterdays teen idol.
In 1969 Marty Wilde, under the pseudonym Shannon, recorded "Abergavenny". The single made the Top Ten in Vancouver, Australia and the Netherlands.
In 1974 Marty Wilde appeared with David Essex, Adam Faith, Keith Moon and Edd Byrnes. On the eve of the assassination of President John F. Kennedy, two friends meet at a fun fair and decide to hit the road as a rock 'n roll band. The plot breezes through some of the unrest during the Sixties in the USA.
Like many of his contemporaries, Wilde continued to perform in nostalgia tours in the UK and beyond. In 2007, he celebrated 50 years in the business with another UK tour which featured his youngest daughter Roxanne Wilde, and the issue of a compilation album, Born To Rock And Roll – The Greatest Hits. It included a duet with Kim Wilde of Elton John's "Sorry Seems to Be the Hardest Word", which was released as a promotional only single. The tour culminated in a concert recorded at the London Palladium, and was most notable for reuniting all the remaining Shadows: Hank Marvin, Bruce Welch, Jet Harris, Brian Locking and Brian Bennett.
Marty Wilde is the father of Kim Wilde, who has sold over 30 million records including her cover of the Supremes "You Keep Me Hangin' On".
August 26, 2022
Ray McGinnis
References:
Katherine Hassell, Marty Wilde: 'Passing on my Love of Music was my Greatest Gift', The Guardian, London, UK, October 6, 2017
Fiona McQuarrie, Taking a Trip: Marty Wilde's "Abergavenny," Writing on Music, Vancouver, BC, May 19, 2016.
"Abergavenny," Song Facts.com
Marty Wilde bio, Marty Wilde.com.
Trailer, Marty, United Artists, 1955.
"Hi-Fi Forty," CFUN 1410 AM, Vancouver, BC, March 19, 1960.
For more song reviews visit the Countdown.