#921: Bang A Gong by Witch Queen
Peak Month: June 1979
7 weeks on CKLG's Vancouver Chart
Peak Position ~ #11
Peak Position on Billboard Hot 100 ~ #68
YouTube: "Bang A Gong"
Lyrics: "Bang A Gong"
Witch Queen was a band from Montreal. They were assembled as a studio band by Montreal-based producers Gino Soccio and Peter Alves at the height of the disco craze. Soccio was born in 1955 in Verdun, Quebec. In 1976 Soccio was a local session musician, aspiring composer and University of Montreal student in philosophy. His musical tastes were primarily progressive rock, jazz and classical music. However, local Montreal producer Pat Deserio hired Soccio to contribute keyboards on the musical project Kébekélektrik (pronounce it like "Quebec Electric"). Soccio was asked to craft a disco record containing four songs: an arrangement of Maurice Ravel's "Bolero", a popular cover of Space's "Magic Fly", and two original compositions, "Mirage" and "War Dance". The latter became a hit on the US Billboard Hot Dance Chart in 1978.
Soccio told the Montreal Gazette in 1981 "I couldn't understand how 'War Dance' became a hit. I'd written that song right off the top of my head as filler for the album. But I figured if I could do it on these records I could do it for myself. I didn't like the music at first – I used to be the guy wearing the 'Disco Sucks' t-shirts. But I acquired a taste for it and now I wouldn't do anything else."
After his experience as the keyboard player and composer for the "War Dance" hit credited to Kébekélektrik, Soccio went on to form Witch Queen. He lent his skill at fusing Eurodisco with Afro-American R&B. Witch Queen's first release was "Bang A Gong".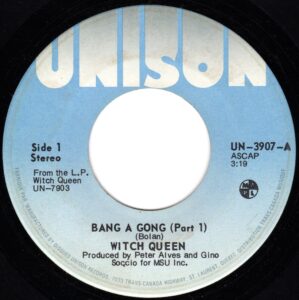 "Bang A Gong" was written by Marc Bolan. He was born Mark Feld in 1947 – in Stoke Newington, a town in the borough of Hackney, in northeast London. His father, Simeon Feld, was an Ashkenazi Jew whose roots went back to Russia and Poland. His mom's heritage was English. In September 1956, when he turned nine, Mark Feld was given a guitar and started a skiffle band. By around November of 1958 Feld played guitar in a trio called "Susie and the Hula Hoops", inspired by a fad that began in July '58 when 100 million plastic hoops were sold worldwide by mid-December '58. Their singer was a 12-year-old girl named Helen Shapiro, who at the age of 14 had her first Top Ten hit in the UK in February 1961 with "Don't Treat Me Like A Child" – followed by others including "Walking Back To Happiness" and "Tell Him What He Said". In 1962 Mark Feld was interviewed by Town magazine and featured in a number of photos – along with several of his friends – about the new mod scene.
By early 1963, Feld was expelled from school for bad behavior. He started wearing make-up, hanging out at Scene Club in Soho. The Rolling Stones and The Who both performed at the Scene Club early on, and Pete Townsend said in an interview "I remember Marc Bolan with full make-up on, working as a rent boy to buy clothes, in and around the Scene Club. He was about 15." In 1964 Feld did some modeling for Littlewood's Catalogue for a brochure for menswear retailers John Temple. He is reported as saying that he was also a cutout model for the John Temple shop window displays too. He was soon known around town as a "John Temple Boy", with his recognizable face.
In 1964 he recorded a song titled "All at Once" that was released posthumously in 2008. The song was in the style of UK hit-maker Cliff Richard. Feld dressed as an elegant hippie in an emerging fashion-style being called Boho-chic. He wore a corduroy peaked cap, like he'd seen Bob Dylan wear in magazines. For awhile Feld became known as Toby Tyler and recorded more material – including a cover of Dylan's "Blowin' In The Wind" – that was released in 1993. In 1965 Toby Tyler (aka Mark Feld) got a record contract with Decca Records. He was so taken with Bob Dylan that it was decided at Decca to give him the stage name Marc Bolan – "Bo" from "Bob," and "lan" from "Dylan."
In the spring of 1965 Bolan appeared as an extra in the British TV series Orlando as a mod. In November 1965, Marc Bolan released his first single with Decca titled "The Wizard". Several more singles followed with little commercial success. In 1967 Bolan joined John's Children – a psychedelic rock band who had a Top 20 hit in Vancouver in the winter of 1966-67 titled "Smashed Blocked" – and wrote their 1967 single "Desdemona". John's Children got airplay on the pirate ships Radio Caroline and Radio London, but were banned on the BBC.
John's Children split up in May 1967 after a disastrous April tour to Germany with The Who, when they were fired part way through. Later in 1967 Bolan founded a psychedelic folk group called Tyrannosaurus Rex, influenced by Donovan, Bob Dylan and others. In 1970 T. Rex had a #2 hit non-album single on the UK chart titled "Ride A White Swan". It was featured in the 2000 film Billy Elliot. They followed up in 1971 with another non-album single released titled "Hot Love". In 1971, T. Rex released their first album billed as T. Rex titled Electric Warrior. From the album came the debut single "Get It On (Bang A Gong)". It peaked at #1 on the charts in the UK and Ireland, climbed to #3 in West Germany and Switzerland, and #6 in Norway. But in North America the single was released as "Bang A Gong (Get It On)". The song climbed to #12 in Vancouver.
T. Rex had a number more hits, mostly in the UK and Europe. On September 16, 1977, Marc Bolan was driving home after a late night with his girlfriend Gloria Jones in his Mini 1275GT. They'd been at Morton's Club in Berkeley Square and she was driving. Jones struck a fence post after crossing a small bridge, and then crashed into a tree. Bolan died at the scene of the accident, while Gloria Jones survived. Marc Bolan was 29 years old. The car crash site has subsequently become a shrine to his memory, where fans leave tributes beside the tree. It is known as the Marc Bolan's Rock Shrine.
On stage Witch Queen featured a female lead singer. There were two male backing vocalists. And there were two shirtless musclemen who occasionally lifted up the female lead vocalist as she kept singing on their shoulders.
"Bang A Gong" is about a sexy female who is described by the narrator as "dirty and sweet…slim and…weak," and "windy and wild." She is an "untamed youth…that's the truth." Bolan's song is all about sex. However, the imagery is comically vague. It would be difficult for even the most straight-laced listeners to take offense. Bolan's delivery with T. Rex is savage, and he keeps calling the girl "dirty and sweet." However, you have to stretch to find sexual connotations in a "hubcap diamond star halo," "the teeth of a hydra" or a "cloak full of eagles." The biggest suggestion is in the title: "Bang A Gong (Get It On)".
With Witch Queen, "Bang A Gong" has a bit of a twist with a female lead singer. The subject of the songs' lyrics is still a female who is "dirty, sweet and you're my girl." Consequently, and perhaps (perhaps not) unintentionally, the song is given a same-sex nuance.
"Bang A Gong" by Witch Queen peaked at #3 in Kosciusko, Mississippi, and the Top Ten in Ottawa (ON). In Vancouver (BC) it peaked at #11, and made the Top 30 in Chicago and Miami.
In the fall of 1979, Witch Queen released a disco cover version of "All Right Now", (a 1970 number-one hit by the UK rock band Free). Although it got a few months of airplay on CKLG in Vancouver, the song didn't chart.
As Witch Queen's "Bang A Gong" was released, Gino Soccio released his debut album Outline. His double-sided single "Dancer"/"Dance To Dance" became a number-one hit on the Billboard Hot Dance Club Play chart from April 7th to May 12th, 1979. And in 1981 Soccio was back on top of that chart from June 13th to July 18th, 1981, with "Try It Out"/"Hold Tight". In between these two million selling dance hits, was "S-Beat"/"Heartbreaker" – a #4 hit on the Hot Dance Club Play chart in 1980. Soccio had one more success on the chart with "It's Alright", "Remember" and "You Move Me" all climbing to #2 in 1982. These singles were all tracks on Gino Soccio's fourth studio album Face to Face.
Soccio told the Montreal Gazette "The fact is dance music has always been with us, whether you call it disco, New Wave, or R&B. It's all an extension of the lifestyle disco started, a lifestyle that celebrates getting dressed up, getting out of the house and into the clubs to dance." When he was just 23 in 1979, Gino Soccio would travel regularly to New York and San Francisco to check out the dance clubs. He recalls he'd "check out the crowd reaction to a record, check to see if everyone goes crazy, or if they clear off the dance floor in droves. Clubs are still the ultimate testing ground for a record. If the crowd there likes a song, it's got a good chance of becoming a hit."
In 1981 when Gino Soccio released his third album, Closer, it was his devotion to disco when others were abandoning it that paid off. "I've stuck with the music, and consequently, I have a very strong following. I sold 180,000 copies of Closer before anyone had heard a note of it, because the people knew they could count on me to deliver."
As a result, Gino Soccio made enough income from sales of his disco records that when he was 24-years-old in 1980, he was able to buy his parents a house in LaSalle for a Christmas present. Earlier in 1980 Soccio had contributed to the soundtrack for the film by the Italian director Frederico Fellini City of Women. In 1984 Soccio released another album, Remember. But by the end of the decade, he was again a producer and session musician. The last project he appeared to have done (remember, this is "mystery saga in progress") was a cover of the French hit, "Une Belle Histoire".
In 2013 5 Magazine wrote that Gino Soccio had "granted an interview within the last couple of years to a French language publication in Canada but apparently will not allow it to be published. The interviewer has shared that there are two basic issues: a bitterness that disco was tossed aside by so many record labels, and that things went askew with a project he was leading in support of indie music with the Canadian government. There are also blog threads which claim that Gino Soccio doesn't even own instruments any more!"
5 Magazine discovered that "GinoSoccio1955 is a YouTube account with some unreleased demo tracks and commentary. If we are to believe it, Gino states that he is "making an effort to be more involved in this new technology. When I have some spare time I will be posting more songs and personal videos to confirm my identity as well as a website. [Signed] Gino Soccio."
February 6, 2021
Ray McGinnis
References:
"Kébekélektrik," Discogs.com.
John Griffin, "Disco Alive And Well And Living in Verdun," Montreal Gazette, August 15, 1981.
Del, "Whatever Happened to Gino Soccio?," 5 Magazine, July 31, 2013.
Paul Du Noyer, "Pop Napoleon: Mark Bolan of T. Rex," The Word, 2005.
"T Rex Band Member Dies," BBC, January 13, 2003.
Branden C. Potter, "The Untold Truth of T. Rex," Grunge.com, October 27, 2020.
"John Temple Boy," Marcbolanphotos.com.
"CKLG Top 20," CKLG 730 AM, Vancouver, BC, April 18, 1979.
For more song reviews visit the Countdown.