#1013: Blue Ribbon Baby by Tommy Sands And The Raiders
Peak Month: September 1958
7 weeks on Vancouver's Teen Canteen chart
Peak Position #5
Peak Position on Billboard Hot 100 ~ #50
YouTube.com: "Blue Ribbon Baby"
Lyrics: "Blue Ribbon Baby"
In 1937 Thomas Adrian "Tommy" Sands was born in Chicago. His dad was a piano player and his mom was a big-band singer. His family moved to Shreveport, Louisiana, when he was seven. He began playing the guitar at eight and within a year had a job performing twice weekly on a local radio station. At the beginning of his teen years, he moved to Houston, Texas, where he attended Lamar High School and joined a band called Jimmie Lee Durden and the Junior Cowboys. It was made up of Sands, Durden, and Billy Reno. They performed on radio, at county fairs, and did personal appearances. He was only fifteen when Colonel Tom Parker heard about Tommy Sands and signed him to RCA Records. Sands became an overnight sensation and instant teen-idol when he appeared on Kraft Television Theater in January 1957 as "The Singin' Idol." On the episode Sands played the part of a singer who was very similar to Elvis Presley, with guitar, pompadour hair, and excitable teenage fans. The song Tommy Sands sang during the show was titled "Teen Age Crush". Soon it climbed to #2 on the Billboard Hot 100 and in Vancouver.
Sands had a number of regional hits in 1957-58 in Vancouver. These included "Hep Dee Hootie (Cutie Wootie)" (February '57: #5 Vancouver), "Ring-A-Ding-Ding" (April '57: Vancouver #5, #50 USA), "Goin' Steady" (May '57: #10 Vancouver, #16 USA), "Fantastically Foolish" (June '57: #10 Vancouver), "Man, Like Wow!" (November '57: #7 Vancouver) and "Sing Boy Sing!" (January '58: #10 Vancouver, #24 USA).
"Blue Ribbon Baby" was another big hit for Tommy Sands in Vancouver only peaked at #50 in the fall of 1958 on the Billboard charts. But in Vancouver where listeners couldn't get enough of rockabilly, Tommy Sands tune peaked at #5 in September '58. It was Tommy Sands eighth charting song in a row that made the Top Ten in Vancouver.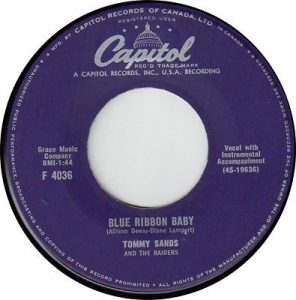 "Blue Ribbon Baby" is a song about a gal who is at a weekend rock 'n roll dance who is a shoo-in to win what would likely have been an amateur dance competition, for that part of the evenings' entertainment. Dick Clark's American Bandstand helped popularize dancing to rock 'n roll, which was already happening at record hops, soda shops and weekend dances across the USA and in Canada. Suddenly teens from coast to coast in North America were seeing and copying the way the kids in Philadelphia danced, and that regional style soon became a national dance style. Viewers could see regulars on American Bandstand, like Carol Scaldeferri, who was often followed by cameramen on the dance floor. Featured dancers, pairs or individuals, would get fan mail and Clark would sometimes read this on his show.
In the 50's it was typical at a Friday night or Saturday night dance to have an amateur dance contest for a portion of the evening. This would come later in the evening after activities like a "snowball dance." The snowball dance began with a couple dancing on their own on the dance floor. Once the music was paused and the music stopped for a moment, these two dancers would go to the side of the dance floor and grab the hand of someone who wasn't dancing and return to the dance floor. Now there were four people up dancing on the dance floor. This snowball dance would gather momentum with eight, then sixteen, then 32 and more dancers on the dance floor. The snowball dance would continue with momentary pauses in the music until everyone in the dance hall was up on the dance floor dancing. When it came time for the actual amateur "dance competition" later in the evening, this went on for awhile. But only long enough to peak interest of those who weren't dancing. Couples could win prizes for First, Second and Third. Once the dance competition winners were announced, everyone else got back on the dance floor.
1950's amateur dance competitions at a local record hop, high school, community hall or other setting had couples dancing to a number of dances. Teens' dancing during the 1950s was widely varied in steps and styling. Most of it was still swing-based, but swing had been diverging into local styles and regional variations each decade for thirty years. In one high school it might be low and smooth, in another, wild and angular. In some areas it was constant swing moves, while in others it was dancing with steps in place, simply holding your partner's hand, with no swing moves. Other dances included The bop, a sequence of moves that usually referred to a family of low swiveling Charleston-like steps danced in place, sometimes without a partner. There was still the Jitterbug from the 1940's. Other dances in the 50's included the Lindy, the Boogie-woogie, the Calypso or Cha-cha, the Stroll, the Madison, the Hully Gully, the Hully Gully Cha-cha-cha, the Bunny Hop, and by 1959 a new dance called The Twist.
The blue ribbon is a symbol of high quality. The association comes from The Blue Riband, a prize awarded for the fastest crossing of the Atlantic Ocean by passenger liners and, prior to that from Cordon Bleu, which referred to the blue ribbon worn by a particular order of knights. The spelling blue riband is still encountered in most English-speaking countries, but in the United States, the term was altered to blue ribbon. Ribbons of this color came to be awarded for first place in certain athletic or other competitive endeavors at county and state fairs. The term also is applied to distinguished members of a group or commission who have been convened to address a situation or problem in governance, such as a "blue ribbon commission" or "blue-ribbon panel." In the song "Blue Ribbon Baby," all the guys on the dance floor, like Jimmy, Jerry, Buddy and Phil are eyeing the gal whose tied a blue ribbon in her hair. And according to the song she does "take first prize."
One of the co-writers of the song, "Blue Ribbon Baby", was Allison Dewar, from Ottawa. On April 24, 2017, a relative of mine who lives in Ottawa, Peter Cameron, wrote me the following email that gives the background about the songwriter credited as Allison Dewar:
"It's taken a while, but I finally have tracked down the information I've been looking for on Graham Turnbull, who wrote the song "Blue Ribbon Baby." Graham is a hard guy to track because he used so many different names. My brothers and I remembered that he wrote "Blue Ribbon Baby" under the name Allison Dewar, his father's first and second names. Later, he adopted other names, but ultimately… settled on Scott (or Scotty) Turner. Graham lived next door to us on Holland Avenue in Ottawa in the early 1950's. His parents and mine became close friends and stayed in touch over the years. As kids, we were thrilled to see Graham perform on the big variety shows of the day… I recall Ed Sullivan, Perry Como and possibly others. At the time Graham was the lead in a group of 4 or 5 young guys that I think played under the name The Sharks. His major music association at the time was as leader of the back-up band for Tommy Sands.
I remember well his visit in the early 60s, after he had acquired some modest fame. He regaled us with stories of his pals in the music business. The one story I remember was that Bobby Darin had asked him to move his car from LA to Phoenix, and Graham got to drive Bobby Darin's really fast car on roads with no speed limit. When I was 13-14 years old this was a very memorable tale. My brother also remembers that Graham moved from Ottawa to go to school in the US on a track and field scholarship. We heard later that he moved to Nashville and set up a recording company…."
Graham Morrison Turnbull was born in 1931 in Sydney, Nova Scotia. He was a track and field athlete and represented Canada in the long jump at the 1954 British Empire Games in Vancouver at the newly constructed Empire Stadium on East Hastings Street. While recuperating from a serious sporting injury in 1955, Turner taught himself to play guitar. Though he enrolled in a post graduate program at Texas Tech University, Lubbock in 1956, he would not stay long. In 1956, Turner befriended Buddy Holly. Between 1956 and 1958 Turner and Holly co-wrote 13 songs, most famously "I'm Gonna Love You Too". However, on the single release Turner was not listed among the credits. However, the sheet music for the song he co-wrote with Holly ensured he had a claim on royalties from the song over the years. He co-wrote songs with other songwriters including Doc Pomus, Mac Davis, Herb Alpert and Harry Nilsson.
In 1959 Scotty Turner (as Allison Dewar a.k.a. Graham Turnbull was now going by) played 12-string guitar on the studio recording of "Primrose Lane", a Top Ten hit for Jerry Wallace that year. Turner wrote over 400 songs during his songwriting career. They were recorded by various artists including The Del-Vikings, Jimmy Dean, Bonnie Guitar, Wanda Jackson, Charlie Pride, Tammy Wynette and others.
In 1963, Turner joined A&M Records as a writer/producer. From there, he went on to be general manager of Central Songs publishing company in Hollywood, and eventually became executive producer of the country division of Liberty/Imperial Records in Hollywood. When Liberty was bought by another corporation, Turner moved to Nashville in 1968 to continue work with Liberty/Imperial/United Artists.
In 1967, now billed as Scott Turner, having dropped the "y," he produced Aaron Neville's album, Like It 'Tis, following up Neville's #2 hit record "Tell It Like It Is". Turner produced records for Harry Nilsson, Gene Vincent, Roy Clark, Tennessee Ernie Ford, Herb Alpert & The Tijuana Brass, The Lettermen, Teresa Brewer, The New Christy Minstrels, Dean Martin, Eddy Arnold and others. Over the years Scott Turner was a guest on a variety of TV shows including The Perry Como Show, The Milton Berle Show, The Mike Douglas Show, Oprah Winfrey's A.M. Chicago and Entertainment Tonight.
The recording artist for "Blue Ribbon Baby," Tommy Sands gained sudden fame after "Teen Age Crush." It brought an offer to sing at the Academy Award show in 1958. His teen idol looks landed him a motion-picture contract to star in a 1958 musical drama called Sing, Boy, Sing, the feature film version of "The Singin' Idol" episode on the Kraft Television Theater. Sands ninth Top Ten single in a row in Vancouver, "The Worryin' Kind", was his last Top Ten hit in Vancouver. "The Worryin' Kind" peaked at #9 in November 1958, but missed the Billboard charts. In contrast, Tommy Sands only had one Top Ten hit in the USA and only three in the Top 40, while he charted eleven songs in the Top 40 in Vancouver, of which nine made the Top Ten. In 1959 Tommy Sands had a song chart on the CKWX survey in Vancouver for six weeks, "I'll Be Seeing You", a pop standard from the 1938 Broadway musical Right This Way. Between 1957 and 1964 Tommy Sands released twenty singles and three more between 1966 and 1969.
Tommy Sands was known not only as a singer but as an actor. In addition to Sing Boy Sing!, he appeared in Mardi Gras (1958), as Tom, Tom the Piper's son in Babes in Toyland (1961); As a college guy involved in a romance, co-starring with Fabian in Love In A Goldfish Bowl (1961); As a US Army Ranger on the beaches of Normandy in World War II in The Longest Day (1962); As a seaman in a US Naval vessel in Ensign Pulver (1964); Starring in a World War II movie about Japanese and American soldiers on an island titled None but the Brave (1965) and a western in 1967 titled The Violent Ones.
In 1960, Sands married Nancy Sinatra while he was still serving in the US Air Force Reserves. The couple divorced in 1965. Sands had a number of guest appearances in a number of TV shows including Hawaii-Five-O. But generally, Tommy Sands found it hard to get any breaks in Hollywood, and there was little interest in anything he recorded post-British Invasion and with rock concerts in Monterey and Woodstock. In an interview with People Magazine in 1989, Sands revealed that after he relocated in Honolulu "he anesthetized himself with LSD, uppers, downers—virtually any mind-blowing drug he could buy. By the mid-'70s he finally went straight, got a degree in music and cinema at the University of Hawaii and remarried." At the time Sands told People he hoped to publish an autobiography but that never came to be.
Sands' pioneering contribution to the genre has been recognized by the Rockabilly Hall of Fame.
September 6, 2017
Ray McGinnis
References:
Peter Cameron, email to Ray McGinnis
Tommy Sands – bio, Rockabilly Hall of Fame.com
Babes in Toyland, Walt Disney Productions, 1961
The Longest Day, 20th Century Fox, 1962
Ensign Pulver, Warner Brothers, 1964
None but the Brave, Warner Brothers, 1965.
Nancy Sinatra Tommy Sands Wedding Newsreel, Las Vegas, NV, September 11, 1960.
John Patterson, 'I wish I'd been a bad girl', The Guardian, London, UK, June 2, 2008.
Patricia Freeman and Michael Small, Joey Dee, Past Master of Twist, Plans a Refuge for Those Caught Between Rock and a Hard Place, People Magazine, New York, NY, November 20, 1989.
Scott Turner – Bio, Wikipedia.org.
"Red Robinson's Teen Canteen Survey," CKWX 1130 AM, Vancouver, BC, September 6, 1958
For more song reviews visit the Countdown.