#1064: Boots or Hearts by the Tragically Hip
Peak Month: April 1990
10 weeks on Vancouver's CKLG chart
Peak Position #14
Peak Position on Billboard Hot 100 ~ did not chart
YouTube.com: "Boots Or Hearts"
Lyrics: "Boots Or Hearts"
In the early 1980's bass player Gord Sinclair and guitar player Rob Baker were students at Kingston Collegiate Vocational Institute in Kingston, Ontario. They had performed at the collegiate's Variety Show in a band they called The Rodents. In 1984 Baker and Sinclair were in their early twenties. The Tragically Hip formed in 1984 in Kingston, Ontario when the duo added drummer Johnny Fay and lead singer Gordon Downie. Their name came from a skit in the movie Elephant Parts, directed by former Monkee's guitarist Michael Nesmith. The Tragically Hip added Paul Langois, a guitar player, to their line-up in 1986. When they performed at the Horeshoe Tavern in Toronto in the mid-80's, they were sign to a recording contract with MCA after the company president, Bruce Dickinson, saw the band at the tavern. A self-titled EP (Extended Play) was released in 1987 with a couple of singles that got some airplay. The group was launched.
On August 5th and 6th, 1988, the Tragically Hip performed at the Town Pump in Vancouver.
In 1989 the band released their first studio album, Up To Here. The Tragically Hip proceeded to release five singles from the album: "Blow at High Dough", "New Orleans Is Sinking", "Boots Or Hearts", "38 Years Old" and "Trickle Down". The first four of these singles received respectable airplay across Canada. "New Orleans Is Sinking," a fictional tale, got some airplay on mainstream rock stations in the USA.
On October 21st, and again on December 31, 1989, the band gave concerts at the 86th Street Music Hall. In 1990 the Tragically Hip appeared in concert on March 23rd at the 86th Street Music Hall, and on December 31st at the Vancouver Convention Centre.
Of the songs off their first studio album, "Boots Or Hearts" charted the best here in Vancouver.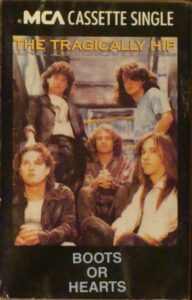 "Boots Or Hearts" is a song based on a simile. A simile is a figure of speech that directly compares two things that are seen to resemble one another. In this case a relationship has fallen apart. One person has returned home and the person they've been going out with won't even return their phone call. The singer thinks of how quickly things can fall apart once they begin to unravel. Boots can lose their tread, and if not properly glued at the factory the boots can literally fall apart just sitting in a closet as the glue dries out. It seems that when it comes to boots, consumers don't save money by purchasing cheaply made products. As a band from Kingston, Ontario, where the winters can last four months or more, The Tragically Hip knew the importance of reliable boots. What is not so easy to see from the outside is that the same applies to human hearts. In the song things have deteriorated to the point that neither one of them cares about each other, or the relationship.
In 1919 Irish poet, W.B. Yeats, wrote a poem called The Second Coming. In it he writes "things fall apart, the center cannot hold." In his case, Yeats was thinking about the tarnished estimation of humanity in the aftermath of the First World War and sixteen million deaths. While the Tragically Hip are only singing about one relationship that went off the rails, we glimpse that falling apart watching the evening news. We sense how fragile things are as we hear stories of other couples who've broken off their relationship or filed for divorce.
In the world of personal coaching there is a conflict resolution model called the Pinch-Crunch Theory. When understood between two partners, the Pinch-Crunch Theory can be helpful as a way to raise early on small matters that could become bigger if not addressed. One person could say to their partner, "I'm feeling like there's a pinch / issue / snag / bumpiness that exists. It's not a problem, but I'd like to discuss it together. I'd like to use looking at this issue as a way to approach things going forward. Can we talk? If this isn't a good time can we schedule some time that works for you?" Clearly, in the song "Boots Or Hearts", the opportunity to bring up snags the couple can sort out more easily has passed them by. All they can agree on is that they no longer care. Though now things have unraveled to the point where phone calls go unanswered.
In 1991 the band released Road Apples which featured the hit singles "Little Bones", "Twist My Arm" and "Three Pistols". As part of their Road Apples Tour, the Tragically Hip had a five-night stand at the Commodore Ballroom in Vancouver from July 16th to 20th, 1991.
The Tragically Hip appeared in concert on December 2, 1992, at the PNE Forum. The band performed in Vancouver on July 17, 1993, on Seabird Island.
They released four more studio albums during the 1990's. The band charted 16 songs into the Canadian RPM Top 30, including seven Top Ten hits such as "Courage". In the mid-90s "Ahead By A Century" became their first #1 hit in Canada. They repeated their feat of getting a chart topping single in Canada with "In View" in 2006. Between 1990 and 2017, The Tragically Hip have received sixteen Juno Awards in Canada for a range of honors including Best Single, Best Rock Album and Group of the Year.
The songs "Gift Shop" and "Poets" climbed to #4 on the Canadian RPM singles charts in 1996 and 1998. In 1999, the band had a #3 hit across Canada with "Bobcaygeon". "Courage (for Hugh MacLennan)" was the first of fifteen singles to crack the RPM Top Ten on either the Pop chart or the Canadian Alternative/Rock chart. The final song to crack the Top Ten nationally was in 2016 with "In A World Possessed By The Human Mind".
On July 1, 1992, July 13, 1995, and July 17, 1997, the Tragically Hip appeared at the Thunderbird Stadium. They also gave concerts variously on February 25, 1995, November 8, 1996, and November 15th, 2000, all at the Pacific Coliseum; On September 19th and 20th, 2002, at the Queen Elizabeth Theatre; On June 25, 2004, at Richard's on Richards; May 26th, November 3rd, 4th, 6th and 7th, 2006, all at the Commodore Ballroom; March 11th, 1999, and November 14, 2004, and July 12, 2007, all at General Motors Place; On July 22nd, and 23rd, 2009; and September 9th, 10th and 12th, 2013, all at the Orpheum Theatre; And at the Rogers Arena in Vancouver on February 6, 2015. They also gave a concert in the Vancouver suburb of Burnaby on July 15, 2011, in Deer Lake Park.
In 2016 Gordon Downie was diagnosed with cancer and the Tragically Hip did what the media billed as a farewell tour. The Tragically Hip appeared in concert in Vancouver at Rogers Arena on July 24th and 26th. On October 13, 2016, Downie and his brother Mike, along with the Wenjack family, announced the founding of the Gord Downie and Chanie Wenjack Fund to support reconciliation between Indigenous and non-Indigenous peoples. The fund is a part of Downie's legacy and commitment to Canada's First Peoples. Chanie Wenjack was a young aboriginal boy who died trying to escape a residential school, who became the centre of Downie's Secret Path project. The Gord Downie and Chanie Wenjack Fund is a registered charity.
At a gathering of the Assembly of First Nations on December 6, 2016, National Chief Perry Bellegarde honoured Downie with an eagle feather, a symbol of the creator above, for his support of the indigenous peoples of Canada. Bellegarde also bestowed on Downie an honorary aboriginal name, Wicapi Omani, which is Lakota for "man who walks among the stars." Downie spoke before the House of Commons on July 2, 2017, to speak in solidarity with Canada's young indigenous people. Downie died in October 2017.
June 15, 2017
Ray McGinnis
References:
Michael Barclay, "Remembering the Life and Legacy of Gordon Downie (1964-2017)," MacLeans.ca, October 18, 2017.
John Mazerolle, "Tragically Hip's Gord Downie dead at 53," CBC, October 18, 2017.
Tragically Hip bio, Canadian Bands.com.
William Butler Yeats, The Second Coming, 1919.
Allen Johnson, "'Pinch Theory' Offers Reasoned Approach to Managing Conflict," Journal of Business, Kennewick, WA, August 2016.
"Tragically Hip ~ Canada concert dates," setlist.fm.
"CKLG Top 40," CKLG 730 AM, Vancouver, BC, April 9, 1990.
For more song reviews visit the Countdown.